Table of Contents
The Yamaha 350 Warrior is a powerful and versatile all-terrain vehicle (ATV) that was first introduced in the late 1980s. It quickly gained a reputation as a reliable and capable ATV quad 4 wheeler that could handle a wide range of terrains and conditions. Today, the Yamaha Warrior 350 remains a popular choice among off-road enthusiasts who value its performance, durability, and versatility.
The Warrior 350 has a sleek and modern design that is both stylish and functional. This ATV features a low-slung profile that provides a stable center of gravity, making it easier to maneuver in tight spaces and over challenging terrain.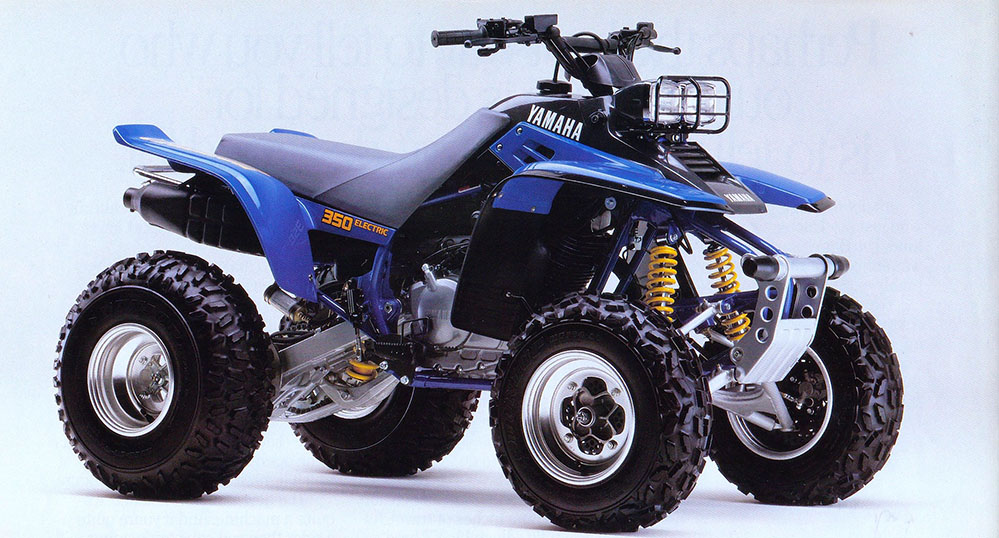 The front of the 350 Yamaha Warrior was dominated by a large, aggressive-looking front bumper that provided excellent protection for the ATV's engine and other components. The bumper also served as a mounting point for a variety of accessories, such as lights and winches, making it a versatile and practical addition to the ATV Yamaha's design.
The seat is comfortable and well-padded, with a height of just 30.1 inches, making it easy for novice riders of all sizes to mount and dismount the ATV Yamaha. The Warrior 350 also features large, all-terrain tires that provide excellent traction in any condition.
The Yamaha Warrior 350 has a fuel tank capacity of approximately 2.4 gallons. This means that, depending on usage, riders can expect to get anywhere from 50 to 100 miles per tank of gas. The fuel tank is also located in a convenient location for easy refueling.
When the Yamaha Warrior 350 was first introduced in 1987, it had a manufacturer's suggested retail price (MSRP) of around $3,500. Over the years, the price has fluctuated.
On average, a used Yamaha Warrior 350 in good condition can be found from $1,500 to $3,500, which is a cheaper quad than most other models. Of course, prices may vary depending on the seller, location, and other factors.
---
Yamaha Warrior 350 Key Specs
Make: Yamaha
Type: ATV
Year: 1987 to 2004
Price: $3,500
Engine: 348 cc, 4-stroke
Power: 19 HP
Transmission: 6-speed
Fuel Tank Capacity: 2.4 gal. (9.1 l)
Wet Weight: 397 lb. (180.1 kg)
---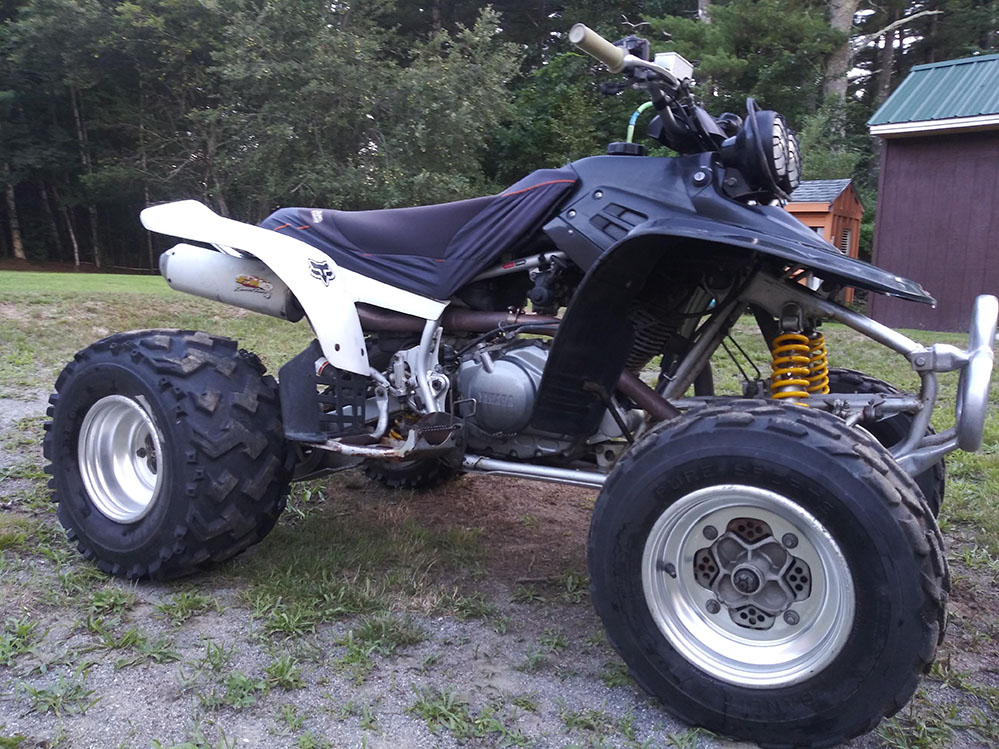 Yamaha Warrior 350 Specifications
Engine
| | |
| --- | --- |
| Engine Type | Air-cooled single-cylinder SOHC engine of four strokes |
| Displacement | 348 cc |
| Power | 19 horsepower |
| Bore x Stroke | 83 x 64.5 millimeters |
| Compression Ratio | 9.2:1 |
| Starter Type | Electric |
Drivetrain
| | |
| --- | --- |
| Transmission | 6-speed, manual |
| Primary Drive | Chain |
Dimensions, Chassis & Weights
| | |
| --- | --- |
| Overall Length | 72.6 inches (1,844 mm) |
| Overall Width | 42.5 inches (1,080 mm) |
| Overall Height | 42.5 inches (1,080 mm) |
| Front Tires | 22×7-10 |
| Rear Tires | 22×10-9 |
| Front brakes | Dual hydraulic disc |
| Rear brakes | Hydraulic disc |
| Wheelbase | 47.2 inches (1,200 mm) |
| Ground Clearance | 4.9 inches (124.5 mm) |
| Seat Height | 30.1 inches (764.5 mm) |
| Wet Weight | 397 lb. (180.1 kg) |
| Fuel Tank Capacity | 2.4 gal. (9.1 l) |
| Oil Capacity | 2.6 Quarts |
Performance And Handling
Yamaha Warrior 350 was an impressive ATV with exceptional performance and handling capabilities. Here is what it can offer.
Yamaha Warrior 350 Top Speed & Acceleration
This Yamaha quad is powered by a 348cc engine displacement, 4-stroke, single-cylinder engine that delivers 19 horsepower. The Yamaha Warrior 350 top speed is approximately 63 miles per hour (mph).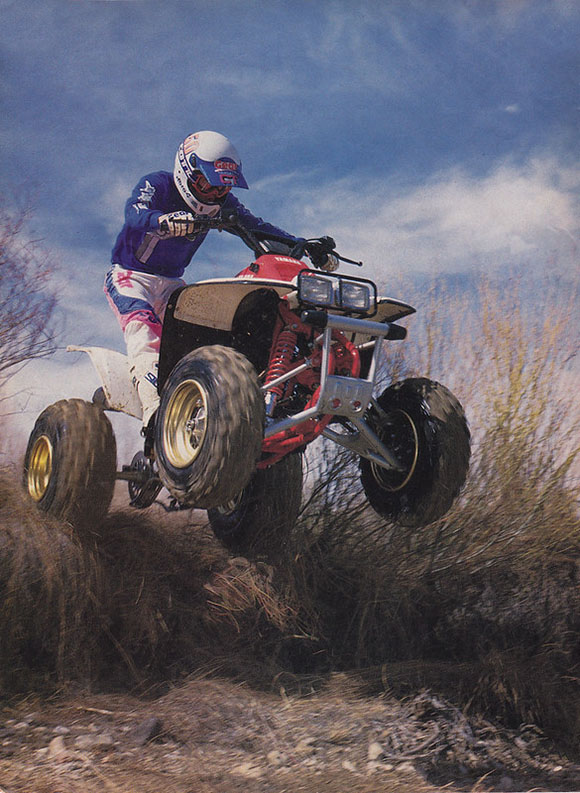 We could reach this top pace on a smooth road, but the speed fluctuated in different weather and with different riders of our team (meaning the rider weight has a say in this). This is a respectable top speed for an ATV of its size and class, and it is more than enough to provide riders with an exhilarating ride.
This engine is paired with a five-speed manual transmission that provides smooth shifting and efficient power delivery. The combination of this powerful engine and smooth transmission makes for an exceptional acceleration experience.
Braking Performance
The Yamaha Warrior 350 is equipped with hydraulic disc brakes on both the front and rear wheels.
This means that when you apply the brakes, a hydraulic system transfers the force to the brake calipers, which clamp down on the brake discs to slow down the wheels.
This type of braking system is known for its reliability and consistency, providing consistent stopping power in all conditions.
The front brakes on the Yamaha Warrior 350 consist of dual hydraulic discs with a diameter of 180 mm each. This setup allows for precise braking force control and quick stopping power, making it ideal for navigating rough terrain.
The rear brake, on the other hand, is a single hydraulic disc with a diameter of 180 mm, which provides additional stopping power and stability.
Suspension & Handling
The Yamaha Warrior 350 features a lightweight yet durable chassis that is designed to provide a stable and responsive ride.
This Yamaha Warrior is also praised for its exceptional suspension system. Users have noted that the quad bike can handle even the toughest terrain with ease, thanks to its dual A-arm front suspension and mono-shock rear suspension.
In particular, the front suspension is a double-wishbone design with 6.3 inches of travel, while the rear suspension is a mono-shock design with 7.1 inches of travel.
This suspension setup is designed to absorb shocks and vibrations from rough terrain, providing a smooth and comfortable ride even over challenging terrain.
The Warrior 350 also features dual hydraulic disc brakes in the front and a hydraulic disc brake in the rear, providing reliable stopping power in any condition.
Warrior 350: Final Thoughts
Users have highlighted the Yamaha Warrior 350's versatility and fun factor. The quad bike is capable of handling a wide range of terrain, from rocky trails to sand dunes, and can be used for both recreational and work-related purposes. Users have also noted that the Warrior 350 is a blast to ride and provides an exhilarating off-road experience.
The Yamaha Warrior 350 has a wheelbase of approximately 49.4 inches, which is considered relatively short for an ATV of its size. According to user reviews, this shorter wheelbase can offer several advantages, such as improved maneuverability and quicker turning ability.
Furthermore, most users agree that the Yamaha Warrior 350 offers a comfortable riding position. The vehicle's seat is designed to be wide and supportive, providing ample cushioning for extended rides.
Additionally, the seat height is high enough to give riders a commanding view of the terrain around them, which can be helpful for navigating rough terrain.
One drawback that some users have noted is that the Yamaha Warrior 350's footpegs are positioned slightly forward, which can be uncomfortable for riders with longer legs. However, most users find this is a minor issue that can be easily overcome by adjusting their riding position or installing aftermarket footpegs.
And complaints about the Yamaha Warrior 350's weight seem to be a hot thread on many ATV forums. Weighing in at 397 pounds, the quad bike is not a good match with small riders. This is really a deal-breaker for off-road riding, where riders need to be able to navigate tight turns and narrow paths quickly. In return, it can handle up to 400 pounds, though.
Yamaha Warrior 350 Photos & Videos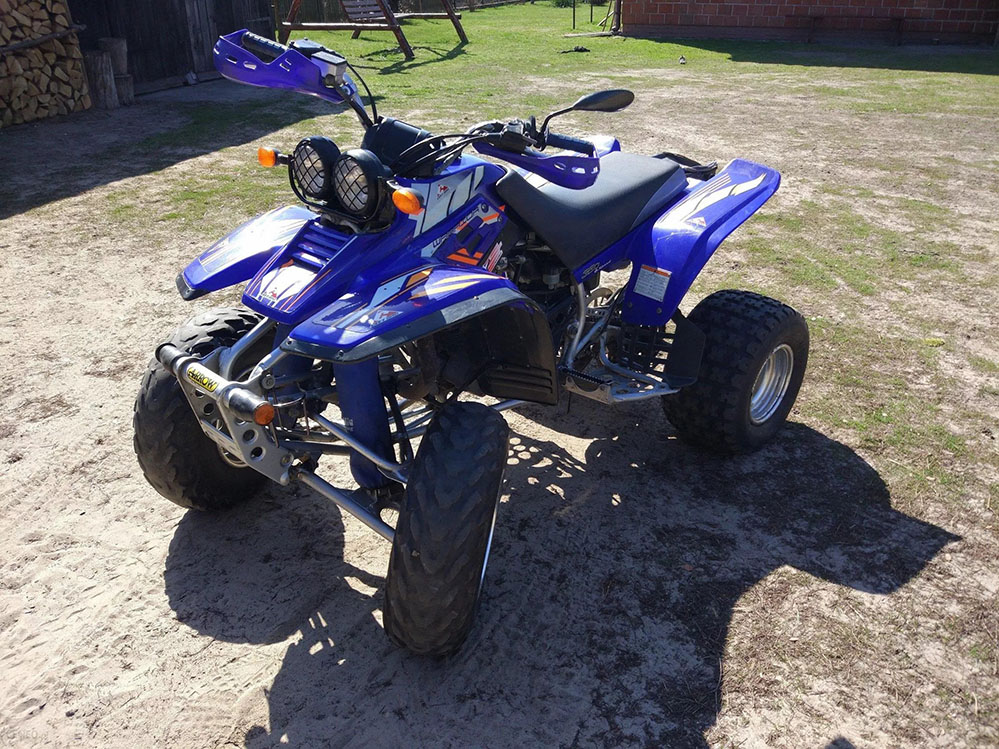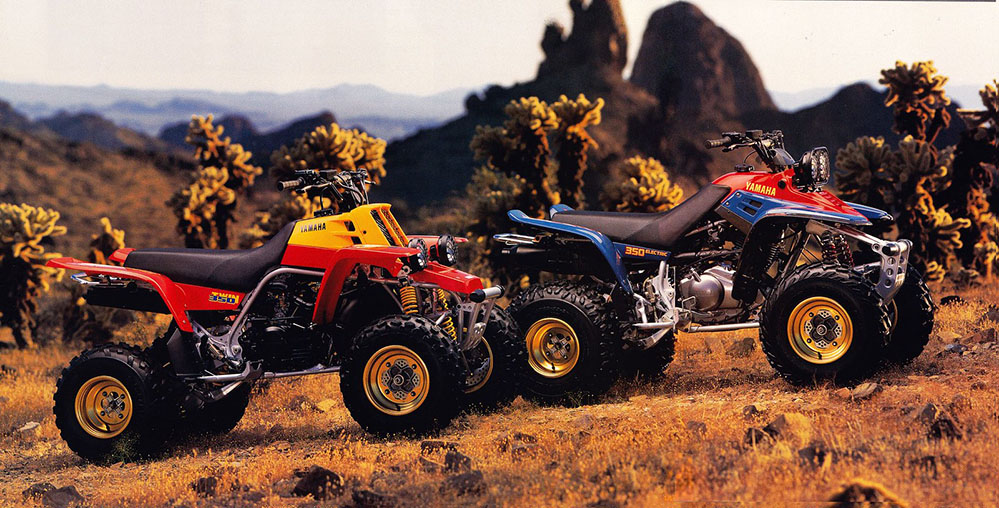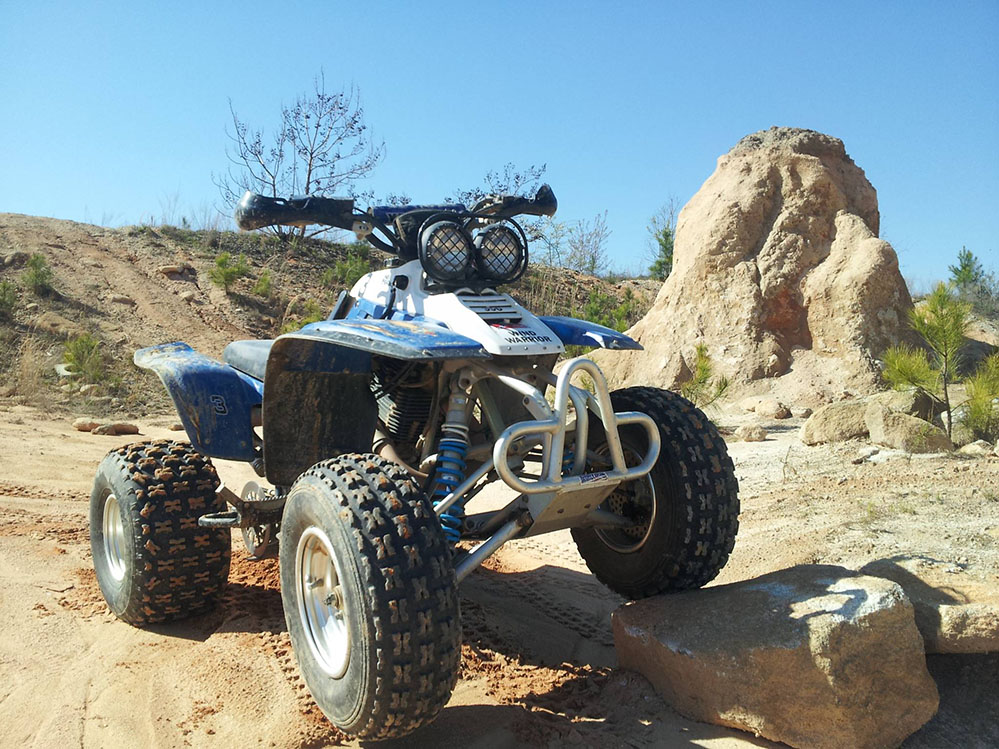 ---
For more: