Table of Contents
Honda TRX 400Ex Overview
1. History
Honda introduced this sports ATV for the first time in 1999 – a dramatic upgrade from its outdated sister TRX 300EX. With a more stylish design, improved suspension, and larger engine, the TRX 400EX became an overnight sensation for racing and off-road enthusiasts.
The first generation (1999-2004) features single-cylinder, liquid-cooled four-stroke engines with fully adjustable suspensions and medium-sized rear/front discs. Though it received rave feedback, some complaints had been made about the less-than-powerful fuel ratio and stalled tank from time to time.
As a result, Honda worked consistently for one year to introduce 400EX's second generation in 2005, which proudly introduced some significant updates. Higher ratio, better camshaft profile, and more premium springs; their combined power manifested better handling and a more comfortable riding experience.
Several 2nd-gen models continued to be released until 2008, available in numerous colors (white, black, and red are the most dominant). New decals and graphics were also distributed and implemented to give this sporty beast a more aggressive and modern look.
Sadly, good things did not last forever; unable to keep up with the competitive ATV trends, this Honda 400 four-wheeler was discontinued in 2009 to be swapped for TRX 400X – which had similar suspension and stroke engine but different brakes and body styles.
Despite being abandoned by Honda for quite some time, its popularity suddenly resurfaced around 2013-2014. The model is highly recommended in every ATV topic forum, and you can still find second-hand models in some popular vehicle aftermarkets.
2. Usage
400EX's optimal speeds and racing capabilities make them quite a sight in races. However, track surfaces are not the only terrains available for them; one may use these ATVs to transport things from one place to another or embark on off-road adventures, too. Your purchase, your choice! Given that it falls into experienced hands, these machines can do tasks that no other substandard quads can.
---
Honda TRX 400EX Summary
Make: Honda
Type: ATV
Year: 1999 – 2009
Color: Black, Red
Engine: 397cc, 4-stroke
Power: 28 HP
Transmission: 5-speed
Fuel Tank Capacity: 2.6 gal. (9.84 l)
Dry Weight: 386 lb. (175.09 kg)
---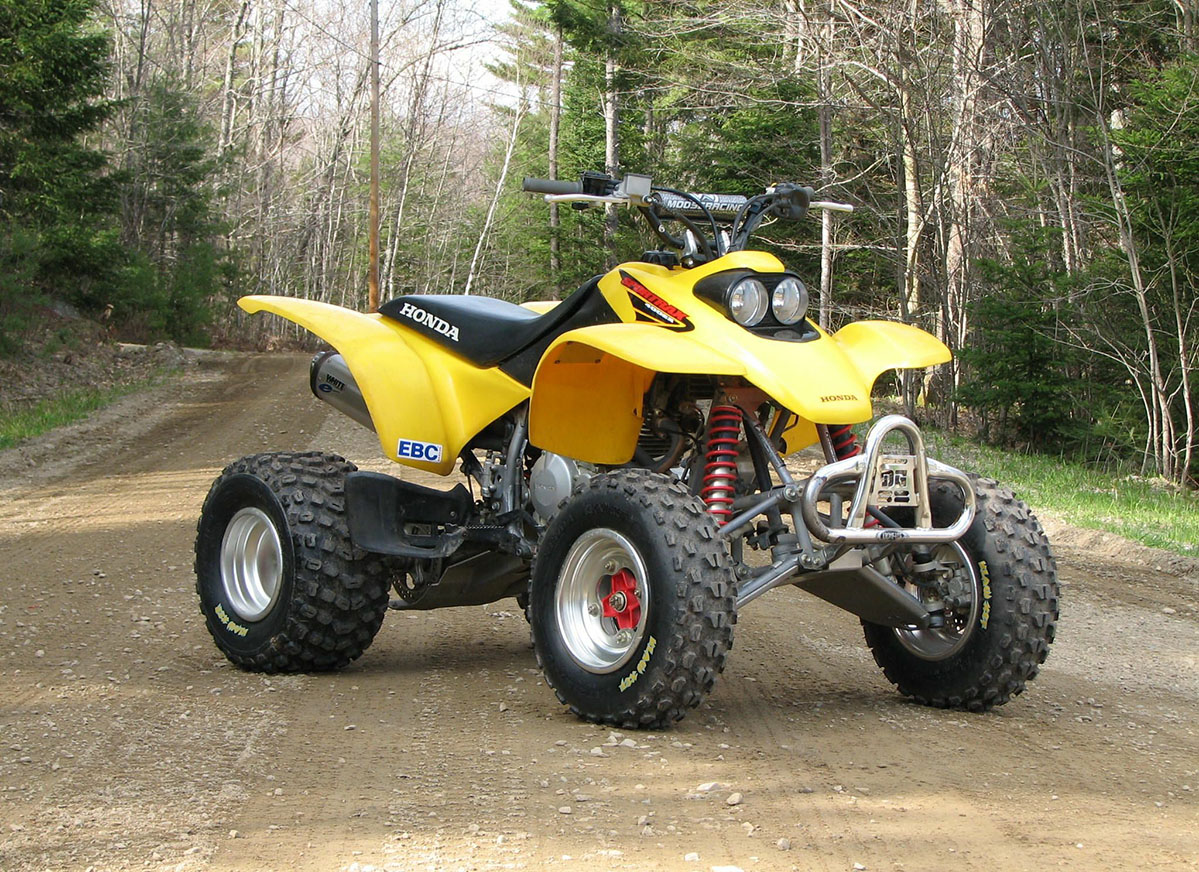 Honda TRX 400EX Specifications
Engine
| | |
| --- | --- |
| Engine Type | RFVC air-cooled dry-sump single-cylinder four-stroke |
| Displacement | 397cc |
| Power | 28 horsepower |
| Bore x Stroke | 85mm x 70mm |
| Compression Ratio | 11:1 |
| Fuel System | 38mm piston-valve with accelerator pump |
| Starter Type | Electric |
| Ignition | CD with electronic advance |
Drivetrain
| | |
| --- | --- |
| Clutch | Manual |
| Transmission | 5-speed with Reverse |
| Cooling | Air-cooled |
| Final Drive | O-ringsealed chain |
Chassis, Dimensions & Weights
| | |
| --- | --- |
| Turning Radius | 10.5 feet (3200.4 mm |
| Overall Length | 72.2 in. (1834.68 mm |
| Overall Width | 45.3 in. (1150.62 mm |
| Overall Height | 43.7 in. (1110.98 mm |
| Front Suspension | Independent double-wishbone with Showa shocks, five-position spring preload adjustability; 8.2 in. (208.28 mm) travel |
| Rear Suspension | Pro-Link fully adjustable single Showa shock; 9.1 in. (231.14 mm) travel |
| Front Tires | Dual hydraulic 174mm discs |
| Rear Tires | Single 220mm disc |
| Front brakes | Dual hydraulic 174mm discs |
| Rear brakes | Single 220mm disc |
| Wheelbase | 48.4 in. (1229.36 mm) |
| Ground Clearance | 4.3 in. (109.22 mm) |
| Seat Height | 31.9 in. (810.26 mm) |
| Dry Weight | 386 lb. (175.09 kg) |
| Fuel Capacity | 2.6 gal. (9.84 l), including 0.4-gal. reserve |
Quality Review
Honda TRX 400EX Top Speed
Though some coaxing might be required (this ATV has been around for quite some time, after all), TRX 400EX can reach a maximum speed of 72 MPH gleefully. Such numbers easily outperform even some of the most recent ATV models – which speaks volumes about Honda's ability to jump ahead of its era.
Our testers attribute this impressive performance to the single-cylinder, four-stroke engine with a 397cc displacement, which provides ample high-speed power. The top-range horsepower (approximately 28 HP) is another lovely bonus, ensuring the ATV can maintain its velocity throughout long distances without falling out.
And, of course, how could we skim over the transmission? Its 5-speed manual system allows us to optimize and shift gears at diverse settings, matching the gear ratio with the corresponding weather condition/terrain. Whether thick snow or muddy roads, the machine can tear through everything with zero hassles.
Some spotlights should also be given to the tires (22 x 7-10 front; 20 x 10-9 radial rear). This compact yet balanced scale ensures excellent grip and traction, which might seem insignificant on mainstream roads but become our lifesaver on slippery tracks and wet terrains.
The strong and potent rubber only extends its durability even longer; expect the ATV to rev up to maximum speed for a decade or two, given good maintenance!
Suspension
Contrary to popular belief that innovative features can only be found in modern ATVs, we are quite impressed to discover Showa double-wishbone and 5-position preloads in this decade-old machine.
With zero vibration on the way, this superb suspension setup provides maximum grip and stability even at the highest speeds, critical for adequate power control through rough terrains. Even better, this Showa shock comes in different adjustable settings; feel free to tweak it according to your styles/preferences to match the current weather and road conditions!
Design and Weight
TRX 400EX snatched our hearts away with its smooth and curved lines – which are not just there solely for aesthetic purposes. These panels are tightly fit together, leaving zero exposed edges or gaps that may foster drags or turbulence.
That way, its air resistance is reduced to a minimum, powering this beast through all different climates and weather. Speed maintenance also becomes a breeze!
And who doesn't fall in love with the smartly-designed controls – where the most critical functions (start button, brake levers, clutch, etc.) are all placed near your left handgrip for immediate maneuvering?
Likewise, the gear pedal, choke lever, and fuel valves lie neatly on the engine's left side, while throttle levers, front brakes, and front brake reservoirs settle conveniently on the right side. Unless you have no prior experience, it only takes an average-skilled rider ten minutes at best to familiarize himself with this ATV.
And lastly, we also appreciate the ATV's compact size and light weight (only 375 pounds, lighter than even some sports motorbikes). Such a feathery load reduces the engine stress and tire pressure, boosting acceleration timings in a blink.
TRX 400EX: Final Thought
Riding TRX 400EX is a pleasure rarely found in any other vehicle. And given the super cheap price, we can confidently say it's a good bargain!
Nevertheless, do not forget that these machines are at least 14 years old (and DISCONTINUED, for that matter). Since they have received virtually no upgrades since 2009, expect some of these issues to occur:
Rough idling
Flat tires (especially on fox racing tracks)
Blown fuse/ exhaust systems
Beginners and first-timers will likely freak out when they happen, so we only suggest these utility models for those with at least some prior experience handling a standard ATV.
Honda TRX 400Ex Photos & Videos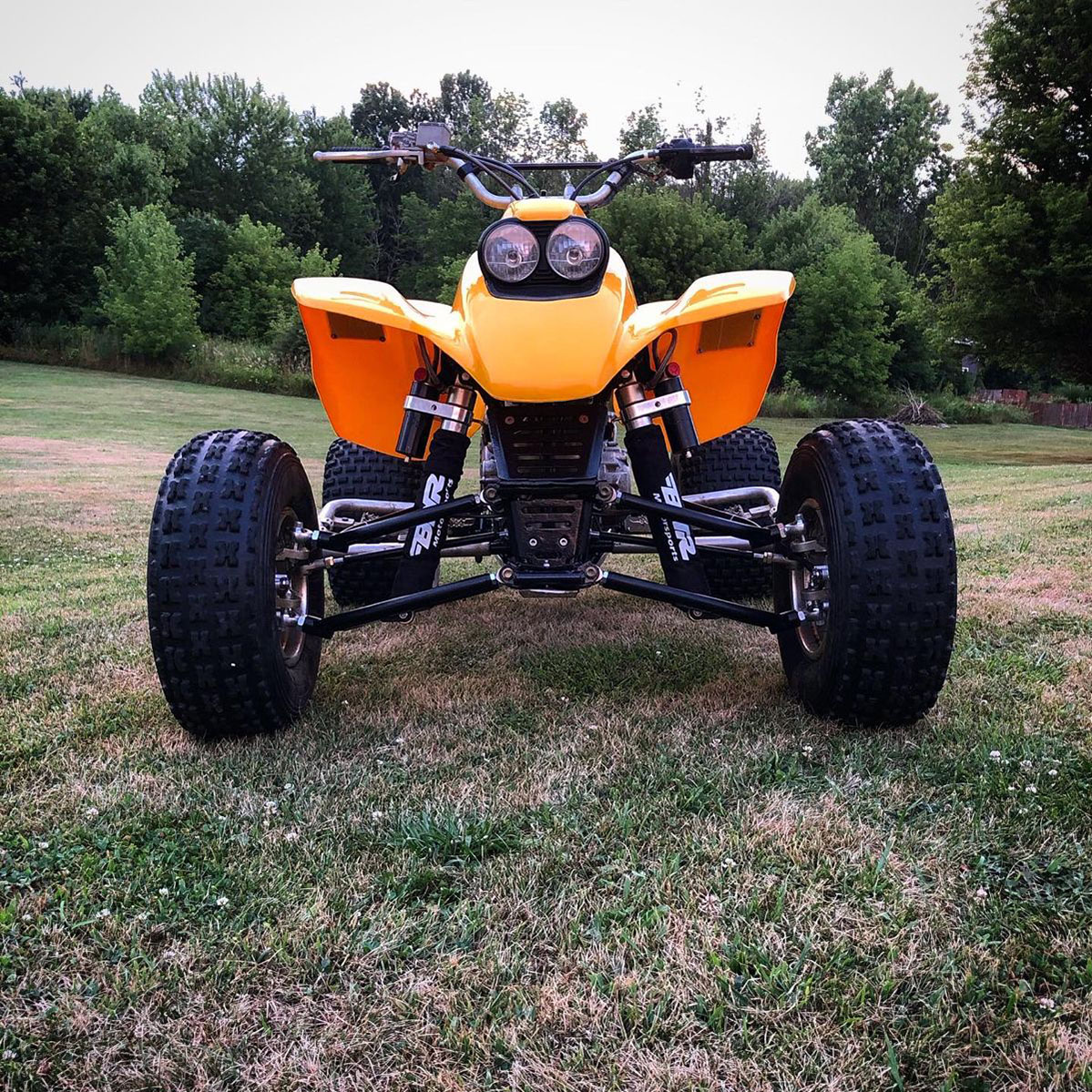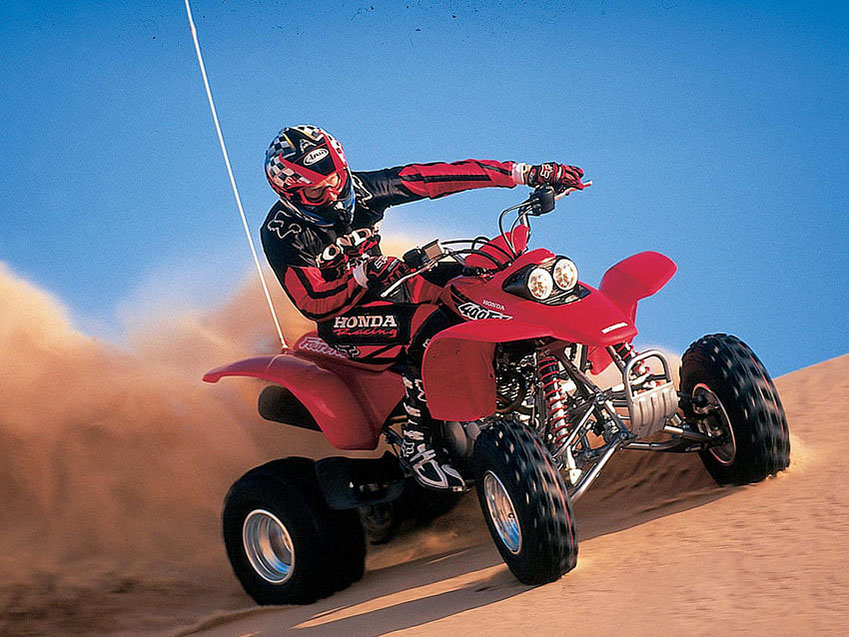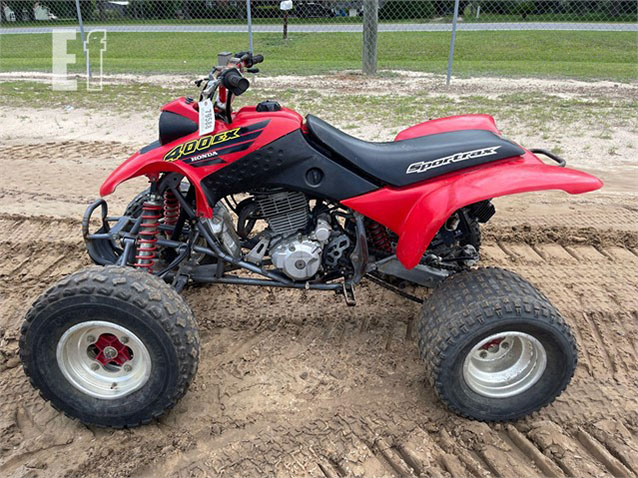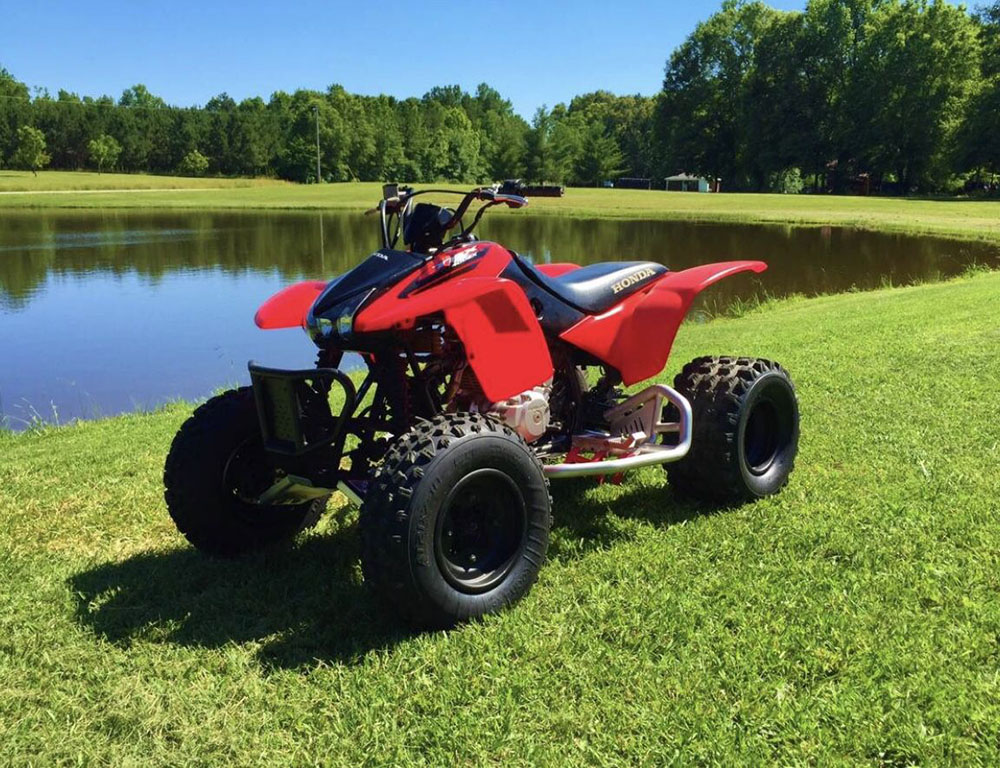 ---
See more: