The roar of a British motorcycle's engine is more than just a sound. It's a symphony of history, innovation, and passion. With its origins in the early 20th century, the British bike industry has given birth to an array of iconic brands that have captivated the world.
In this comprehensive article, we'll journey through the landscape of English motorcycle brands, delving into their rich histories, famous models, unique selling points (USPs), and more.
Table of Contents
Top British Motorcycle Manufacturers
British motorcycles have a distinguished history of winning races, a sleek appearance, and excellent performance. Everywhere in the world, riders still adore them.
British Motorcycle Brands Still Continue
AJS
A. J. Stevens & Co. Ltd, a British car and motorcycle manufacturer, operated from 1909 to 1931. Joe Stevens founded the company in Wolverhampton, England. AJS has a rich history of innovative engineering, with the brand's early racing successes adding to its legacy.
Yet, it later saw its name carried forward by Matchless, Associated Motorcycles, and Norton-Villiers until 1969 for four-stroke motorcycles. AJS was revived in 1974 for two-stroke scramblers and now for compact roadsters and cruisers. The company achieved 117 motorcycle world records under the name AJS (from 1909 to 1931).
Pros
Robust build quality, reliability
Classic design that stands the test of time.
Impressive fuel economy
Con
Sourcing spare parts can sometimes be a challenge.
Standout Models
The AJS Model D: famously ridden by the likes of Wal Handley, showcases the brand's early achievements.
The AJS Stormer off-road models and the AJS E95 Porcupine: rare gems, exemplify the brand's prowess.
The Silver Streak: A supersport motorbike with a 500cc single-cylinder powerplant – a real silver blade in the air with chrome-coated parts.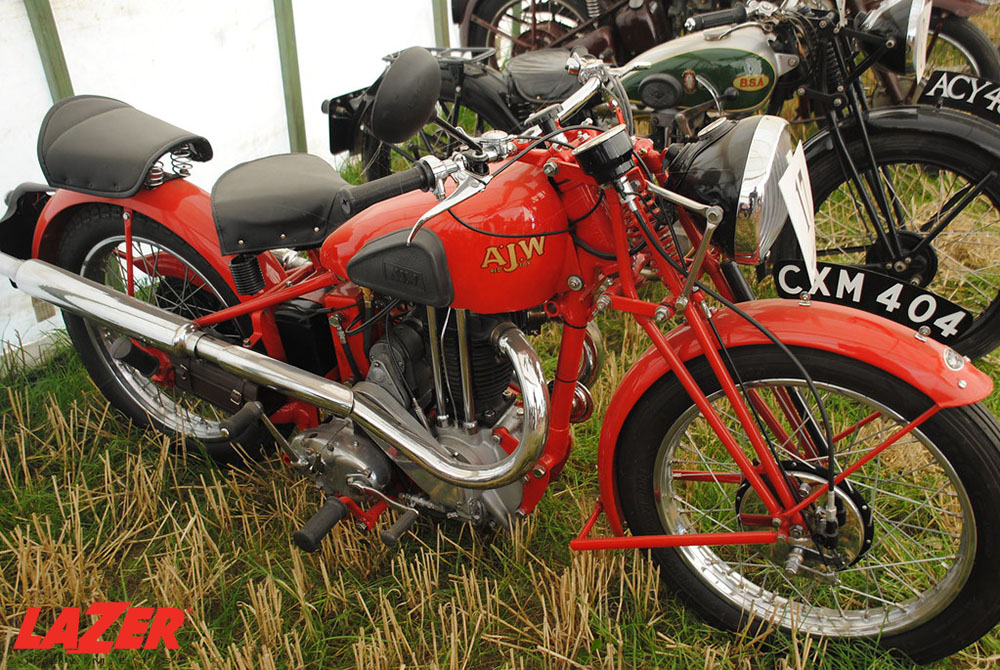 Ambassador Motorcycles
Ambassador Motorcycles was established by racer Kaye Don post World War II. It aims at creating hand-built custom machines that reflect the unique tastes of riders.
The company made small motorcycles using Villiers and JAP engines, also importing Zundapps from Germany. They began big motorcycle production in 1947 with 197 cc Villiers engines. By 1953, they introduced a model with electric starters. Four years later, the first Ambassador twin debuted.
Pros
Unique and customizable designs tailored to personal preferences
Lightweight construction
Con
Those outside Britain cannot easily purchase these bikes due to limited availability.
Standout Models
There are not many Ambassador bikes you can encounter on the market, but the brand still launched new models to cater to their customers.
The Ambassador Supreme showcases a nostalgic design (cafe-racer style) and powerful performance (300cc engine powered by Suzuki).
The Envoy 400 is another classic motorcycle in 2021 but with enhanced power output with a 399cc engine crafted by Shineray Group.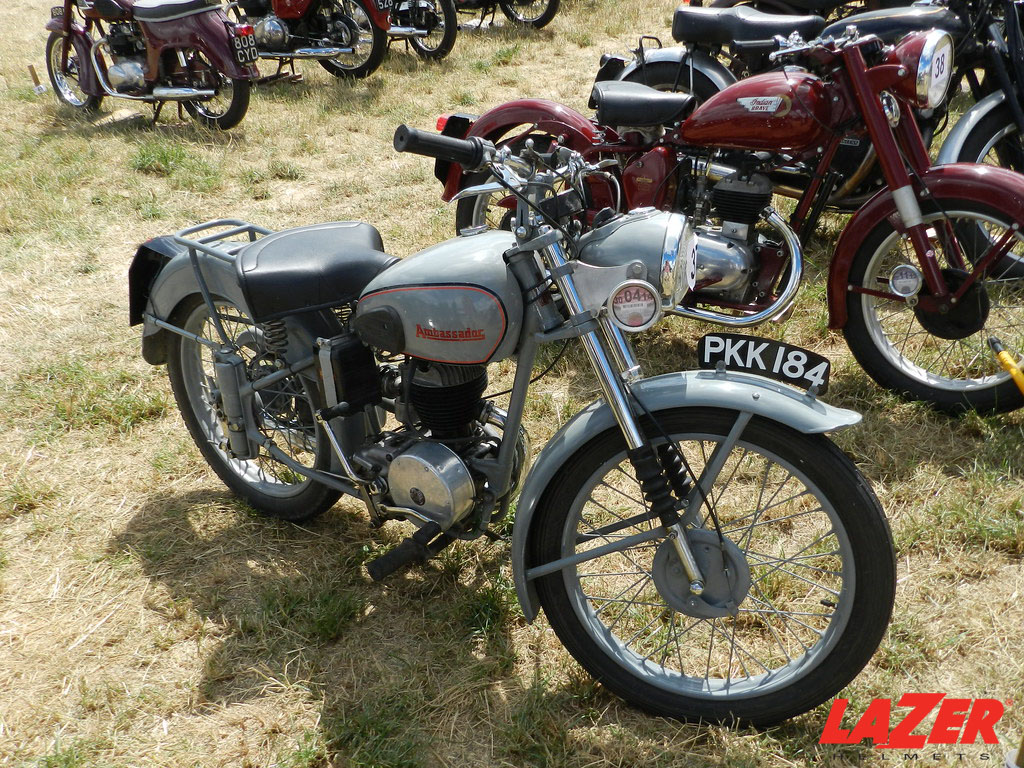 Ariel Motor Company
Ariel Motor Company Ltd. is a small-scale, high-performance vehicle manufacturer in Somerset. In June 2014, they introduced the Ariel Ace motorcycle – a Honda 1237cc V4 engine and gearbox. Since 2015, the bike has been manufactured in comparable quantities to their current car-based offerings.
But Ariel's unique selling point extends beyond motorcycles. The Ariel Atom, a boundary-pushing high-performance sports car, embodies the brand's innovative spirit.
Pros
Light motorcycles
Agile handling
Performance-oriented features
Innovative technology
Cons
Costly
Not as comfortable as some other motorcycles
Limited range
Abroad dealerships aren't always available for motorcycle enthusiasts outside the UK.
Standout Models
Ariel Motor Company motorcycles are not for everyone, but they are sure to turn heads. If you are looking for a high-performance bike that is also unique and stylish, an Ariel is a great option.
The Ariel Red Hunter, a pre-war legend, boasts a classic design and spirited performance.
The Ariel Square Four, with its innovative four-cylinder engine.
The modern Ariel Ace embodies Ariel's penchant for pushing the envelope.
BSA (Birmingham Small Arms)
BSA Motorcycles formed a part of the Birmingham Small Arms Company Limited. This corporation was a significant player in the military industry from the early to mid-20th century. BSA's legacy shines through its innovation, reliability, and significant contributions to civilian and military motorcycling history.
They introduced their initial model, the BSA 3½, a 3.5 HP motorized bicycle, available from 1910 to 1913. This bike was used during WWI for local courier duties.
BSA Cycles became BSA Motorcycles in 1953. They continued crafting dependable, robust motorcycles until the BSA parent company faced bankruptcy in 1972.
Pros
High versatility
Smooth handling
Appealing appearances
Cons
High price
Not always available on the market
Standout Model
Veteran motorcycle lovers can't miss the BSA Gold Star. It is a racing legend, setting records and capturing imaginations. The original Gold Star dominated between 1938 and 1963. In 2021, the company decided to bring back this big star to the market.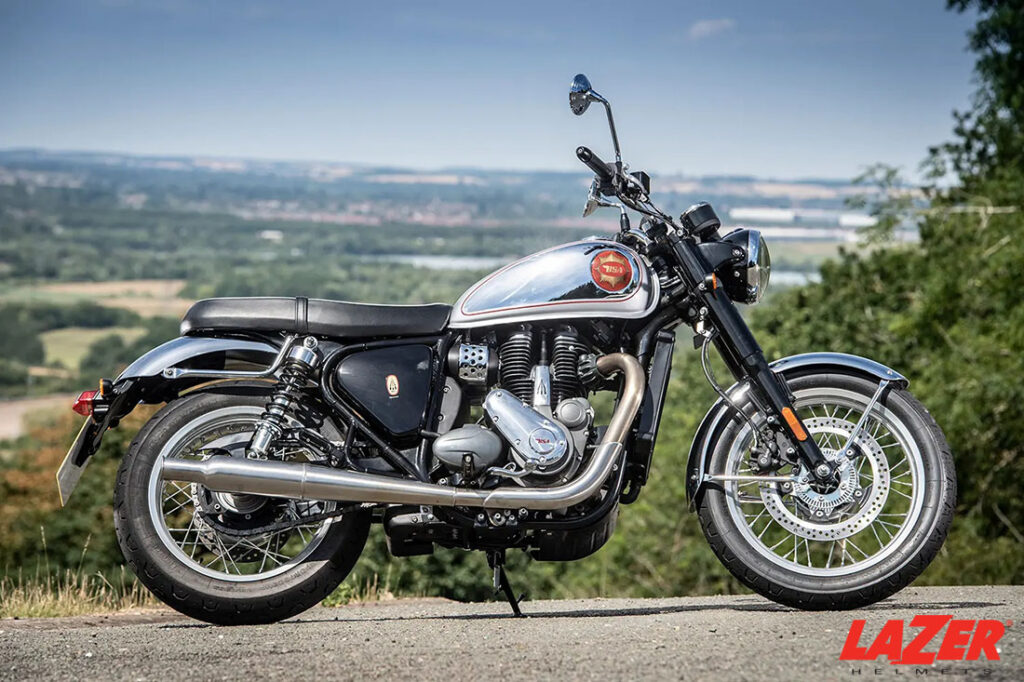 Norton
The Norton Motorcycle Company has been a motorcycle manufacturer in Birmingham, England since 1902. Norton began producing motorcycles using engines from France and Switzerland. 
Norton stands out by blending classic design and cutting-edge technology, creating motorcycles that combine the best. Among their production, the Commando dominated as a bestseller and ranked Top 1 Motorcycle of the Year multiple times in the country.
Pros
A perfect combination of classic design with modern performance.
High quality and performance
Racing pedigree
Iconic, reliable brand
Cons
High price
Availability outside the UK can be limited for international riders.
Standout Models
Norton Manx (1947-1969): A famous motorcycle for road racing with a 500cc single-cylinder engine. It is considered one of the best motorcycles ever made.
Norton Commando 750cc (1968 – 1977): The new 750cc Norton Commando Model featured an engine/gearbox/swingarm unit mounted on rubber isolators within the frame. This design reduced rider vibrations, resulting in a smoother and more comfortable ride.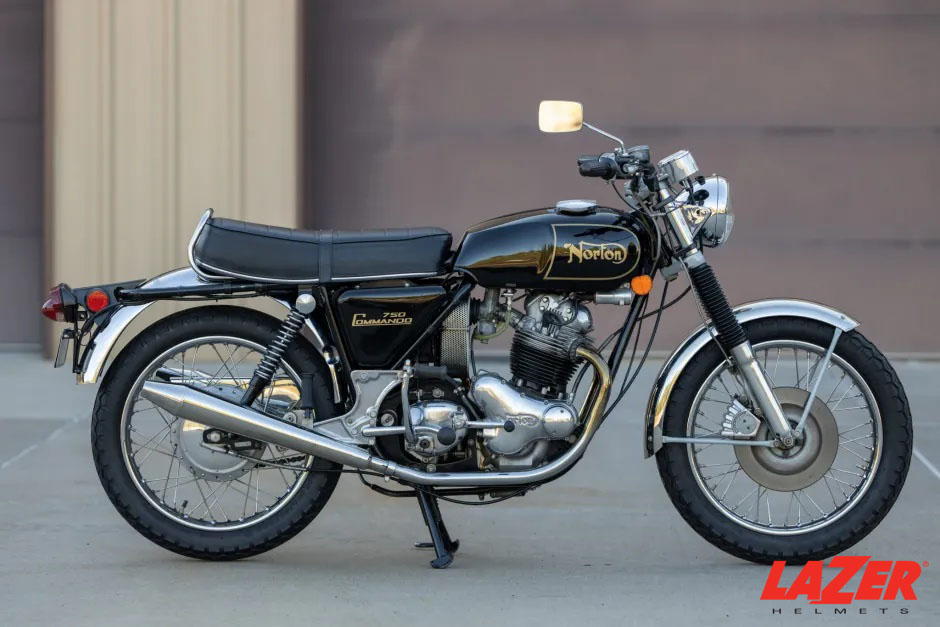 Royal Enfield
The Enfield Cycle Company Limited in Worcestershire sold motorcycles and bicycles under Royal Enfield. They also used the name Enfield separately. In 1901, they crafted the first Royal Enfield motorcycle. Today, the company belongs to an Indian company.
The Royal Enfield Bullet of this British manufacturer is the longest-lived motorcycle design in history. This manufacturer exceeds other names regarding the nostalgia and the essence of classic motorcycling.
Pros
Classic charm
Retro motorcycles with modern features
Affordability
Reliable and easy to maintain
Good after-sales service
Wide dealer network
Cons
Not as powerful as some other motorcycles
Not as fuel-efficient as some other motorcycles
Some riders might desire more advanced features found in other brands
Standout Models
Royal Enfield motorcycles are popular for riders in India and Southeast Asia. They are also gaining popularity in other parts of the world, such as Europe and the United States.
The Royal Enfield Bullet: appeal transcends generations. This 346cc motorcycle has a single-cylinder 4-stroke engine. The handcrafted chrome details will hook you at first sight.
The Royal Enfield Interceptor 650 and Continental GT 650: These modern designs still honor the brand's heritage.
Triumph
Triumph Motorcycles Ltd, founded by John Bloor in 1983, is the UK's biggest homegrown motorcycle maker. It continues the legacy of Triumph Engineering, operating since 1902. They also have significant production in Thailand and sold 63,400 motorcycles in the year leading up to June 2017.
Triumph wins motorcycle lovers' hearts thanks to its powerful engines, iconic design, and cultural significance.
Pros
Established history
A wide range of models
A blend of classic design and modern performance
Excellent customer service
Stores available everywhere
Cons
Expensive cost
Not very fuel-efficient
Standout Models
Any motorcycle enthusiast would throw a leg to own one of these classic Triumphs:
The Triumph Bonneville (1959 – now): its timeless design and dependable, slick performance. With its illustrious history, it pays homage to speed records at Bonneville Salt Flats.
Triumph Rocket 3: the world-record famous model. It's the most powerful commercial motorbike in the world with a three-cylinder engine and 2500cc.
British Motorcycle Brands Discontinue
AJW Motorcycles
AJW Motorcycles is a British motorcycle manufacturer founded in 1909 by Alfred William Johnson. The company was originally known as A.W. Johnson Motorcycles, but it changed its name to AJW in 1922 and put an end to its legend in 1931.
AJW motorcycles were known for their high quality and performance, and they were popular with both racing enthusiasts and everyday riders. They also earned fame for their stylish design and affordable price. These motorcycles are a good choice for riders looking for a reliable, easy-to-maintain motorcycle.
Pros
High quality and performance
Stylish design
Affordable price
Reliable and easy to maintain
Wide range of models to choose from
Cons
Not as well-known as some other motorcycle brands
Parts and services can be difficult to find
Not as many dealerships as some other brands
Standout Models
Although AJW motorcycles are not made anymore, they remain highly desired by collectors and fans. If you're searching for a stylish and top-notch motorcycle, an AJW can be an excellent choice.
AJW 250cc (1950s): A popular model known for its smooth handling and powerful engine.
AJW 350cc (1960s): A more powerful model popular with racing enthusiasts.
Beardmore Precision
James Weir and William Beardmore launched the business in 1924 in Scotland. A modest number of bikes, mostly for racing, were made by Beardmore Precision. In 1932, the company closed due to financial losses. This disappearance makes their motorcycles even rarer.
This lesser-known brand leaves behind a legacy of craftsmanship, adding depth to the diverse history of British motorcycles.
Pros
High caliber and effectiveness
Innovative style
Uncommon and desirable
Cons
Costly
Less useful than some other motorcycles
Rare parts and services
Standout Models
Beardmore Precision 350cc type F (1924): The first model of the company. It had a 246cc sidevalve single engine and could reach up to 50 mph speeds.
Beardmore Precision 500cc (1925): A special model with innovative design at that time – fuel tank built on the frame and leaf sprung suspension for shock absorbing.
Brough Superior Motorcycles
George Brough, a passionate motorcyclist and engineer, founded this brand. Between 1919 and 1940, Brough Superior motorcycles were made in Nottingham.
In the 21 years of manufacturing, this British motorcycle manufacturer produced 3048 bikes (19 models); about a third of that production still exists.
Brough Superior's exclusivity and unparalleled craftsmanship have earned it among the most revered names in motorcycle history.
Pros
Outstanding quality and performance
Luxurious and stylish design
Smooth and comfortable ride
Built to last
Highly collectible
Cons
Expensive
Not as practical as some other motorcycles
Rare and collectible, so hard to find one for sale
Standout Models
The Brough Superior SS100, or the "Rolls-Royce of motorcycles," symbolizes luxury and performance.
The Brough Superior Pendine, named after a historic Welsh beach, continues the brand's legacy of excellence.
Matchless
Matchless was one of the oldest producers in the British bike industry. The company operated in London from 1899 to 1966. During that time, various models had been rolled out, from 2-stroke to 4-stroke twins. In the 1980s, Matchless was revived and combined with AJS and Norton.
With a well-established history, the brand's success streak has become the beacon for motorbike manufacturers these days. The first hit in this streak is when Charlie Collier rode a Matchless model and won the very first Isle of Man TT (a single-cylinder race) in 1907.
Besides the top-notch quality and motorcycle performance, Matchless's legacy in racing pedigree appeals to all motor lovers.
Pros
Excellent quality and performance
A variety of models
Appealing designs
Reputable history in racing
Cons
High cost
Not really reliable
Standout Models
While Matchless motorcycles are a thing of the past, their story took a turn in 2017 with a revival. The fresh generation of Matchless bikes upholds the brand's reputation for top-tier quality and impressive performance, ensuring the legacy lives on.
Silver Hawk: A popular sports motorcycle with a 592cc V-four cylinder engine.
G80CS (1967): A well-known scrambler motorcycle powered by a 500cc single-cylinder engine.
Scott Motorcycle Company
The Scott Motorcycle Company was owned by Scott Motors (Saltaire) Limited in West Yorkshire. This well-known manufacturer was in charge of bikes and light engines for the British bike industry.
In 1908 Alfred A. Scott founded The Scott Engineering Company to create Scott motorbikes until 1978.
Scott's cutting-edge designs gained a worldwide reputation. The firm was also known as the pioneer of overhead camshaft engines.
Pros
Developed shaft drive and telescopic forks
Stylish design
Cons
Pricey
Hard to find accessories and parts
Standout Models
As mentioned, Scott Company pioneered many bike innovations. It's no doubt that their models are exceptional:
Super Squirrel: A popular light motorcycle with either a 498 cc or 596 cc engine.
Flying Squirrel: An impressive sports motorcycle with a 600cc 2-stroke water-cooled engine, reaching up to 70 mph.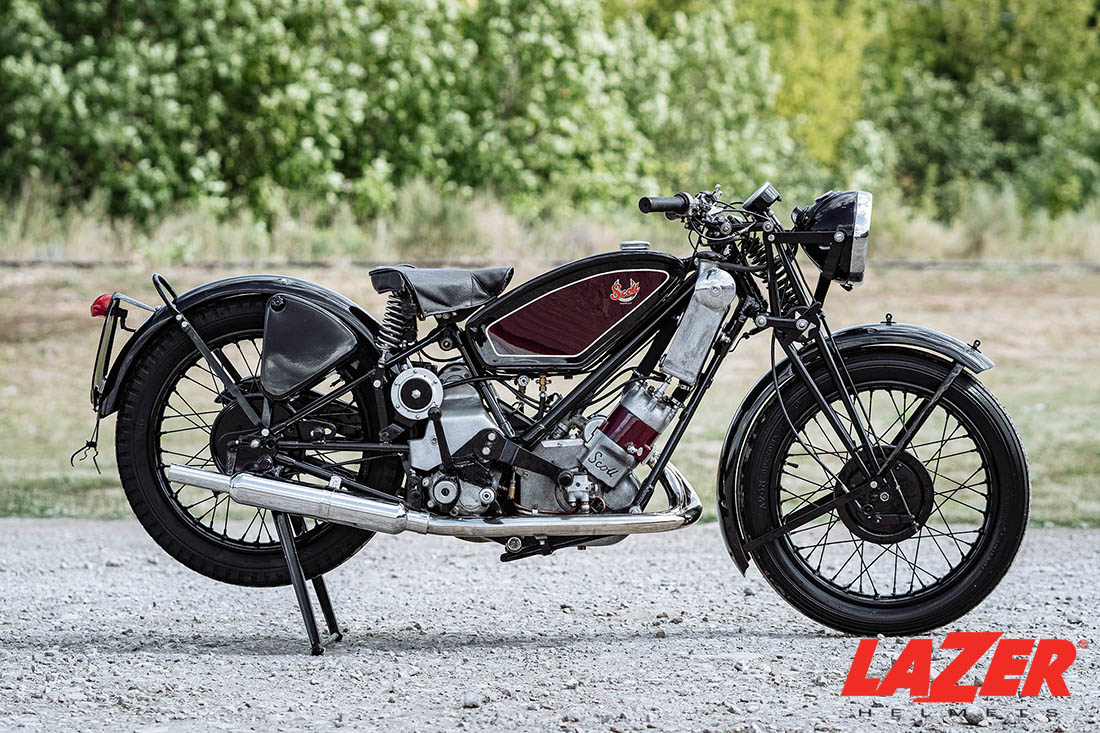 Silk Engineering
Silk Engineering was founded by George Silk and operated from 1976 to 1979. In 1976, this private motorcycle manufacturer created the iconic Silk 700S – the most expensive racing sport bike at £1,355. Due to financial losses, the company went out of business within three years.
The company distinguished itself by incorporating state-of-the-art technology into its bike creations, often placing its motorcycles ahead of contemporary trends.
Pros
Powerful engine
Innovative design
Very rare, high-value and collectible
Cons
Highly expensive
Not many bike models
Standout Model
Despite 3 years of operation, Silk Engineering's production still left a milestone in the British industry. But its bike collection is quite limited. Notably, the Silk 700S is the costliest racing motorbike in 1976 with a 653cc 2-stroke twin engine. It could reach up to 110mph.
Velocette
Velocette was born in Birmingham, England, and shines uniquely. Though small compared to giants like BSA and Norton, their handcrafted excellence matched mass production.
Racing prowess, innovations like foot shift, and rear suspension innovation marked them. Unfortunately, Velocette's journey dimmed, closing in February 1971. Velocette's name is synonymous with classic British motorcycling, and collectors and enthusiasts celebrate its racing achievements.
Pros
Durable
A broad range of models
Prestigious heritage
Good handling
Cons
High-priced due to rareness
Not widely available
Standout Models
As one of the oldest brands in the country, Velocette's products are now quite rare. An iconic name of Velocette is the Thruxton – A renowned café racer powered by a 500cc parallel-twin engine.
Vincent Motorcycles
Vincent Motorcycles, a British marvel, thrived from 1928 to 1955. Founded by Philip Vincent, it inherited the HRD name and crafted exceptional bikes.
Their 1948 Black Shadow reigned as the planet's swiftest production motorcycle. Renamed Vincent Engineers (Stevenage) Ltd. in 1952 due to a US venture, financial woes led to closure in 1955.
Senior motorbike aficionados all fall for Vincent's v-twin marvels and innovation. These unique selling points keep its legacy alive even after discontinuation.
Pros
One-of-a-kind V-twine engine
Excellent durability and performance
Attractive design
Cons
Expensive cost
Rare accessories and parts
Standout Models
Despite its closure in 1955, Vincent's legacy lives on. Today, many of their products are still sought-after by collectors and enthusiasts, including:
Black Shadow (1948-1955): An iconic roadster motorcycle possessed a 998cc V-twin engine. It was known for its powerful performance and stylish design.
Comet (1935-1955): A smaller and more affordable version of the Black Shadow with a 499cc air-cooled single-cylinder engine that can pump out 28 HP at 5,800 RPM.
FAQs
What Motorcycles Do The British Army Use?
At the moment, the British Army doesn't use motorcycles. The Armstrong MT500 was the final motorbike used by the British Army until 2001. A 500cc Rotax engine provided power to the British-made MT500 motorcycle. It was utilized for many things, such as casualty evacuation, patrol, and surveillance.
Are Royal Enfield Motorcycles British?
Royal Enfield motorcycles were British initially, but they're now in India. Established in 1901 in England, the company produced motorcycles until 1971.
Eicher Motors acquired it in 1994 and revived production in India. Despite manufacturing moving to India, the brand maintains its British connections, with its headquarters in Chennai and a design center in England.
Conclusion
As the road stretches, the legacy of British motorcycle brands continues to roar with the same intensity as their engines. Each brand has unique characteristics and contributions, from vintage models to modern designs. And all these British motorcycle companies have played a crucial role in shaping the culture, technology, and passion of motorcycling.
Hey there, motorcycle lovers. Which are your favorite British bikes? Please share with us in the comment section below!
See more motorcycle brands: