In This Article:
Suzuki Quadracer LTR 450 is a top-of-the-line all-terrain vehicle (ATV) that has gained a reputation for its high performance and reliability. Introduced in 2006, the LTR 450 has become a popular choice among professional riders and enthusiasts alike.
The Suzuki Quadracer 450 has a sleek and aerodynamic design, with a low profile and aggressive styling that sets it apart from other ATVs. The machine is equipped with a range of advanced features that contribute to its superior performance, including a fully adjustable front and rear suspension and a powerful front disc brake system.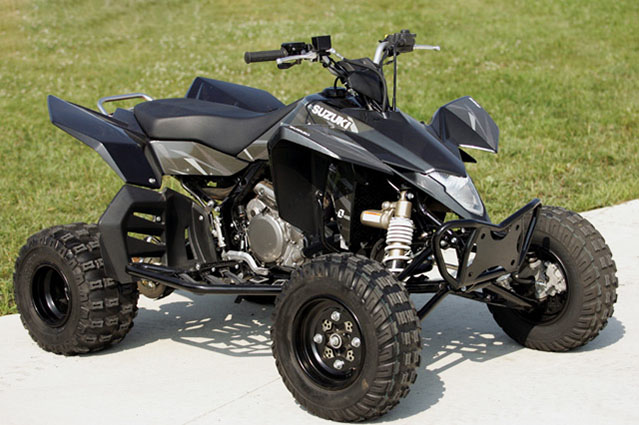 The ATV's sleek and streamlined design allows it to cut through the air with minimal resistance, reducing drag and improving speed. The front fenders are made to channel air away from the racer, reducing wind resistance and enhancing stability at high rates.
Also, the motorcycle's frame is made of lightweight aluminum, which helps to reduce the overall weight of the machine without sacrificing strength or durability. In addition, the LTR 450 features a streamlined body design that reduces wind resistance and further enhances the machine's performance.
The Suzuki Quadracer LTR-450 features a OEM fuel injector system that is designed to deliver precise amounts of fuel to the potent engine. This helps to improve the throttle response, power delivery, and overall performance. It also makes the LTR 450 more efficient, reducing liquid fuel consumption and emissions. This is better for the environment and more cost-effective for users who want to enjoy their machine for extended periods without refueling frequently.
The Suzuki LT-R450 also comes with a number of convenient features that enhance its usabilities, such as a digital instrument panel, electric start, and reverse gear for easy maneuvering. The machine is also created with rider comfort in mind, with a plush, contoured seat and wide footrests that offer ample legroom and support.
---
Suzuki Quadracer LTR 450 Key Specs
Make: Suzuki
Type: ATV
Year: 2006 to 2012
Color: Yellow, White
Price: $4,500 (Pre-owned)
Engine: 450 cc
Power: 41 HP
Transmission: 5-speed
Fuel Tank Capacity: 2.6 gal. (10 l)
Dry Weight: 368 lb. (167kg)
---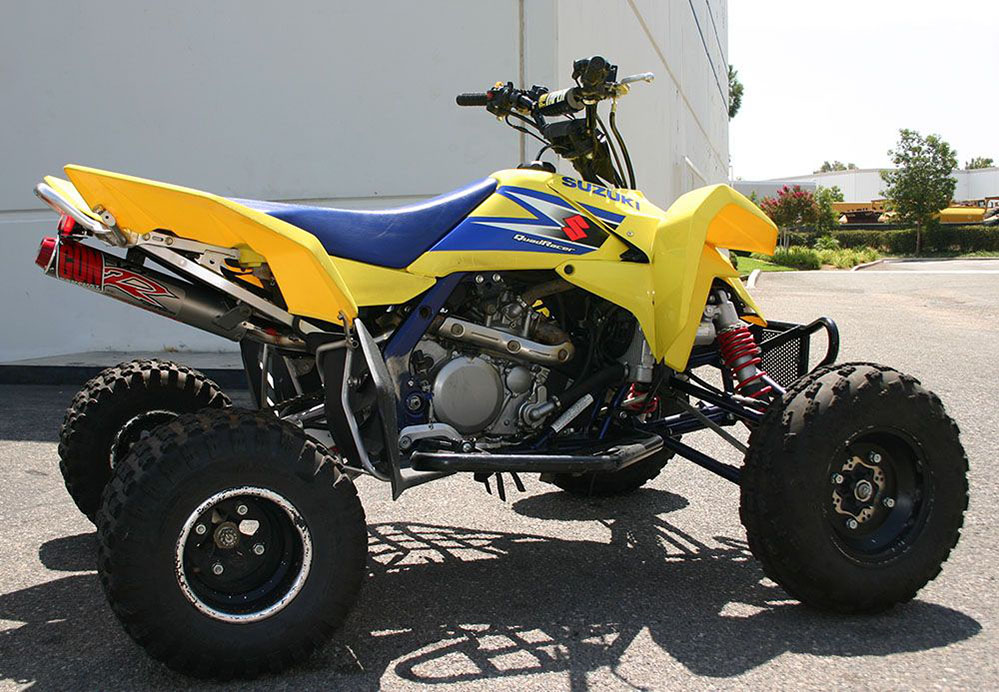 Suzuki Quadracer LTR 450 Specifications
Engine
| | |
| --- | --- |
| Engine Type | 4-stroke, single cylinder, liquid-cooled, DOHC, 4-valve |
| Displacement | 450cc |
| Power | 41 horsepower |
| Bore x Stroke | 95.5mm x 62.8mm |
| Compression Ratio | 11.7:1 |
| Fuel System | Fuel Injection |
| Starter Type | Electric |
| Ignition | CDI |
Drivetrain
| | |
| --- | --- |
| Transmission | 5-speed constant mesh |
| Lubrication system | Semi-Dry sump |
| Primary Drive | Chain |
| Final Drive | chain |
Chassis
| | |
| --- | --- |
| Front Suspension | Independent, double A-arm, fully adjustable preload, compression & rebound damping |
| Rear Suspension | Linkage-type, gas/oil damped, fully adjustable spring preload, adjustable compression and rebound damping |
| Brakes Front | 6.3 in. (160 mm) Dual hydraulic discs |
| Brakes Rear | 7.5 in. (190 mm) Single hydraulic disc |
| Tires Front | AT20 x 7 R10 |
| Tires Rear | AT18 x 10 R8 |
Dimensions
| | |
| --- | --- |
| Overall Length | 72.6 in. (1,845mm) |
| Overall Width | 49.0 in. (1,245mm) |
| Overall Height | 42.7 in. (1,085mm) |
| Wheelbase | 50.6 in. (1,285mm) |
| Ground Clearance | 9.4 in. (240mm) |
| Seat Height | 30.7 in. (780mm) |
| Dry Weight | 368 lb. (167kg) |
| Fuel Tank Capacity | 2.6 gal. (10 l) |
| Oil Capacity | 1.8 quarts |
Performance And Handling
The Suzuki LT-R450 Quadracer is a high-performance ATV that can provide exceptional power, speed compression, and handling on the trails. Let's learn more about its advanced technology and precision engineering.
Suzuki LTR 450 Top Speed
The Suzuki LTR 450 is a high-performance ATV that can reach top speeds of around 74 mph and a maximum power output of 41 horsepower. To achieve this, Suzuki has designed the ATV with a powerful 450cc 4-stroke DOHC single cylinder engine with fuel injection and liquid cooling. Riders can easily tackle a range of terrains thanks to the engine's pairing with a 5-speed manual transmission that provides smooth and precise shifting.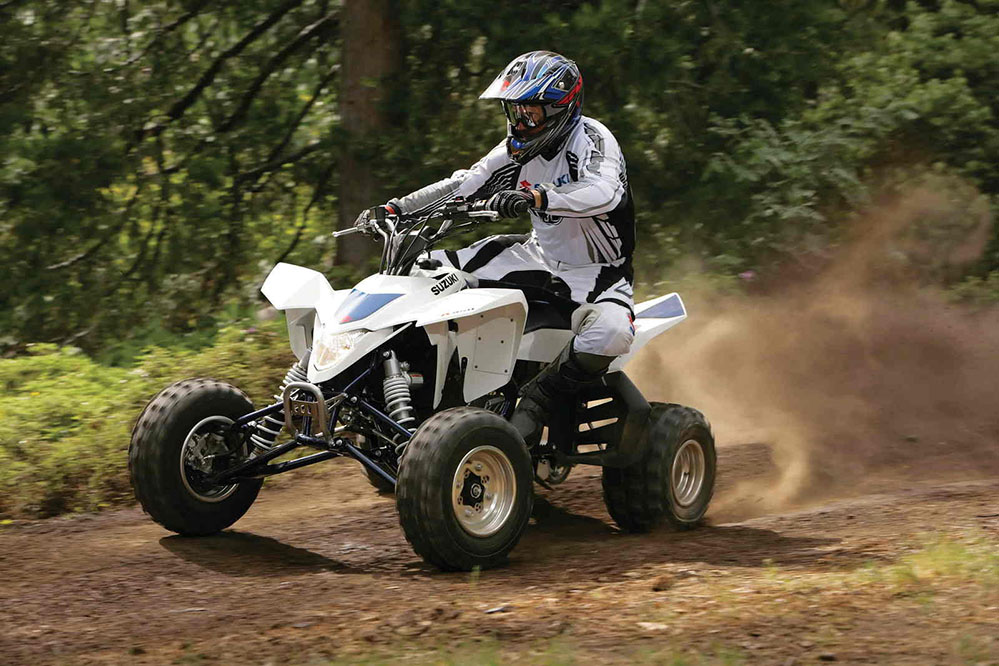 Thanks to its powerful engine, the LTR 450 is capable of reaching impressive speeds and accelerating from 0 to 70 mph in just 11 seconds, according to our test drive on an asphalt road. This exceptional acceleration allows the quad racer to quickly achieve top speeds and navigate through challenging terrain with ease.
Braking Performance
The LTR 450 features a hydraulic disc brake system on both the front and rear wheels. This provides riders with exceptional stopping power and control, even at high speeds. The brake calipers are made of aluminum, which helps to reduce weight and improve performance.
The brake rotors are also made of high-quality materials, such as stainless steel, to provide optimal durability and heat dissipation. The front brake rotor is larger than the rear, which helps to balance the braking force and brings greater stopping power when needed.
Suspension And Handling Characteristics
The Suzuki 450 Quad also features an advanced suspension system consisting of independent double A-arms in the front and a swingarm with a remote reservoir gas shock in the rear. This system offers excellent handling, even in rough and uneven terrain.
The LTR 450's wide stance and low center of gravity also play a crucial role in its cornering ability. This 450cc race machine is designed to stay low and stable during turns, allowing riders to maintain control and speed without sacrificing stability.
LTR 450: Final Thoughts
Many state that the design of this ATV race quad is what makes it stand out from other vehicles. In addition to protection, the bodywork of the Suzuki Quadracer LTR 450 is designed with ergonomics in mind. The seat is positioned in such a way that it provides excellent support for the rider, reducing fatigue during long rides.
The LTR 450 Suzuki features wide handlebars that are positioned at a comfortable height for most riders. The handlebars are designed to provide a natural and comfortable grip, allowing riders to maintain a secure grip on the machine at all times. Additionally, the footpegs are positioned in a way that allows for good traction and grip, offering a more comfortable and secure ride.
The Suzuki Quadracer LTR 450 comes with a 2.6-gallon fuel capacity, which is relatively small compared to other ATVs on the market. Users have noted that the LTR 450's fuel tank is sufficient for most off-road riding, with the average range per tank being around 45 miles.
Furthermore, this Suzuki motor does not feature a reverse gear, which can be a significant drawback for some users. This can make it challenging to navigate tight or confined spaces, as well as to recover from unexpected obstacles or accidents.
The Suzuki Quadracer LTR 450 features limited storage space, which can be a drawback for users who need to carry equipment or supplies on their rides. The machine has no built-in storage compartments, and users may need to purchase additional racks or bags to carry their gear.
Suzuki Quadracer LTR 450 specs Photos & Videos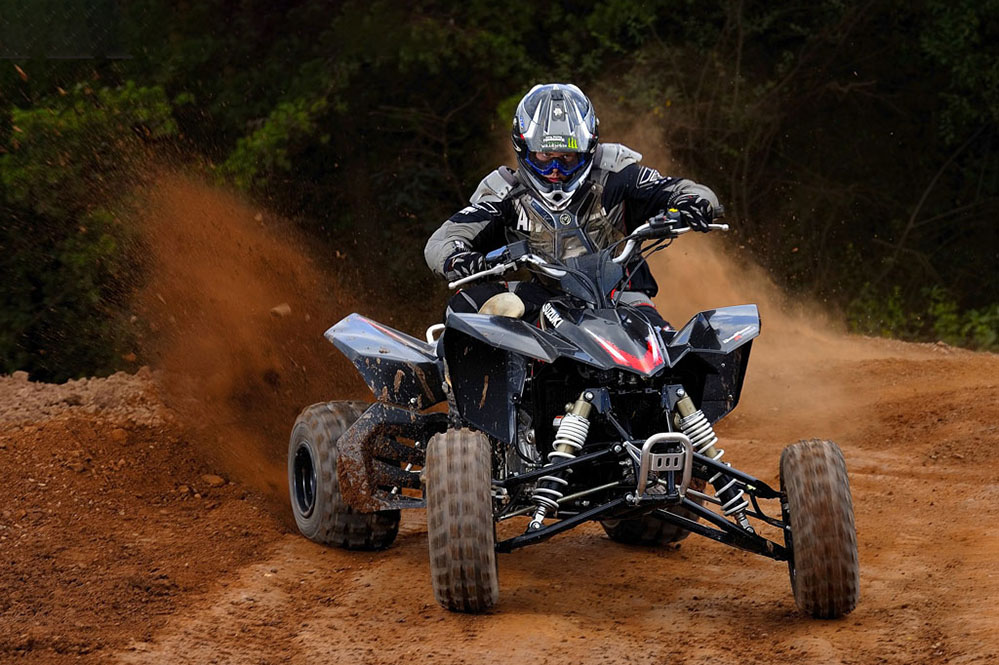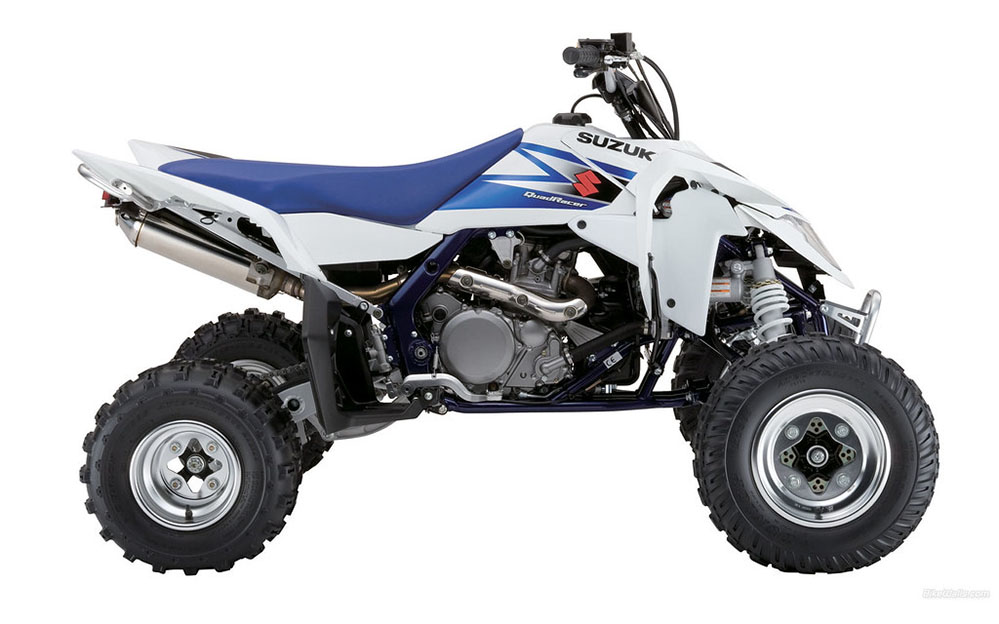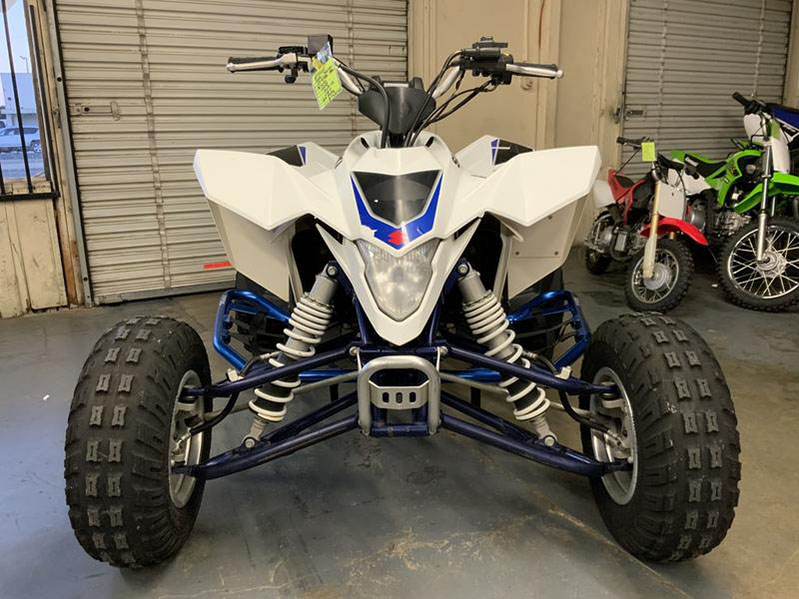 ---
See more: