Table of Contents
The Banshee 4 wheeler 350 is an iconic two-stroke ATV that was manufactured by Yamaha between 1987 and 2006. Despite being out of production for over a decade, the Banshee remains popular among ATV enthusiasts for its exceptional performance and unique design.
One of the most notable features of the Banshee 350 is its sleek and aerodynamic bodywork. The ATV features a low, streamlined profile with sharply angled fenders and a narrow seat that is designed to provide maximum control and maneuverability.
The bodywork is made from a high-quality plastic that is both durable and lightweight, which helps to reduce the overall weight of the ATV.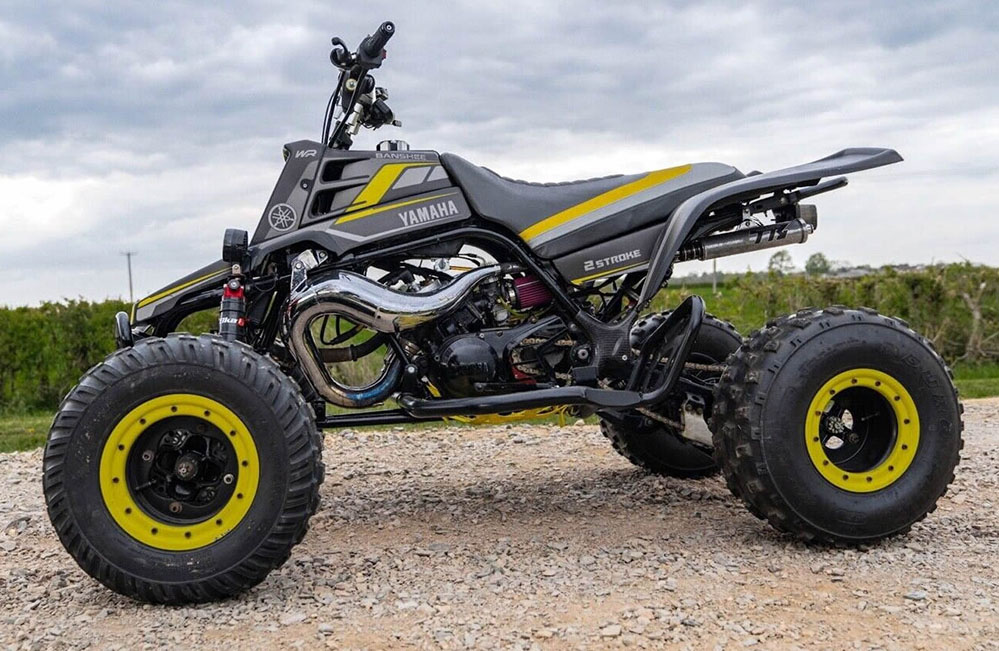 Speaking of weight, the Yamaha Banshee four-wheeler 350 is known for its relatively light weight compared to other sport ATVs of its time. The Banshee weighs in at around 386 pounds, which is impressive considering its powerful engine and sturdy chassis.
The lightweight design of the ATV makes it nimble and responsive on the trails, allowing riders to navigate through tight turns and rough terrain easily.
The Yamaha Banshee 350 has a 3.2-gallon fuel tank, which is relatively small compared to other ATVs. The smaller fuel tank is due to Banshee's lightweight design and high-performance engine, which requires less fuel to operate efficiently.
The purchase price of a used 350 can vary depending on its age, cosmetic condition, and modifications. On average, a used vehicle can cost anywhere from $3,500 to $8,000. Still, it can be higher for models in exceptional condition or those with aftermarket exhaust systems, suspension upgrades, or custom paint jobs.
---
Yamaha Banshee 350 Key Specs
Make: Yamaha
Type: ATV
Year: 1987 – 2012
Color: Black, White & Silver
Price: $3,500 to $8,000 (pre-owned)
Engine: 347cc
Power: 34 HP
Transmission: 5-speed
Fuel Tank Capacity: 3.17 gal. (12.00 l)
Wet Weight: 385.8 lb. (175.0 kg)
---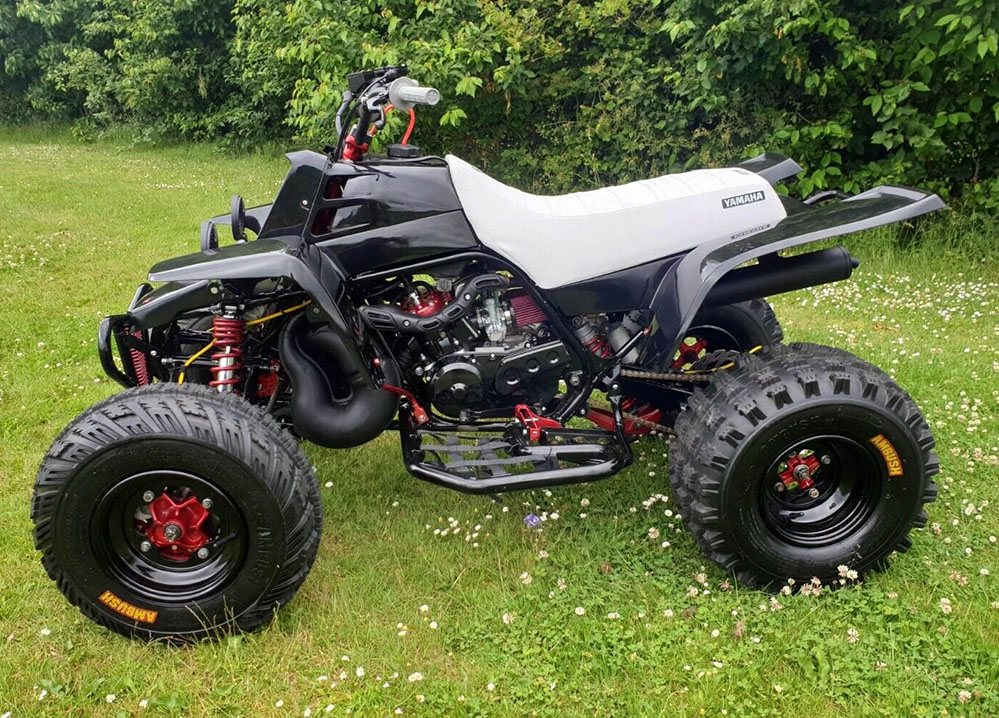 Yamaha Banshee 350 Specifications
Engine
| | |
| --- | --- |
| Engine Type | Single cylinder, two-stroke |
| Displacement | 347cc |
| Power | 34 horsepower |
| Bore x Stroke | 2.5 x 2.1 in. (64.0 x 54.0 mm) |
| Compression Ratio | 6.5:1 |
| Fuel System | Carburettor. Mikuni VM 26 SS (2) |
| Starter Type | Kick |
Drivetrain
| | |
| --- | --- |
| Transmission | 5-speed |
| Cooling system | Liquid |
| Lubrication system | Premix |
| Final Drive | Chain |
Chassis, Dimensions & Weights
| | |
| --- | --- |
| Overall Length | 73.0 in. (1,855 mm) |
| Overall Width | 43.3 in. (1,100 mm) |
| Overall Height | 42.5 in. (1,080 mm) |
| Front Tires | 21/7-10 |
| Rear Tires | 20/10-9 |
| Front brakes | Double disc |
| Rear brakes | Single disc |
| Wheelbase | 50.4 in. (1,280 mm) |
| Ground Clearance | 4.5 in. (114 mm) |
| Seat Height | 31.5 in. (800 mm) |
| Wet Weight | 385.8 lb. (175.0 kg) |
| Fuel Tank Capacity | 3.17 US gallons/12 liters |
Performance And Handling
Yamaha Banshee 350 is a high-performance all-terrain vehicle (ATV) designed for riders who want to experience adrenaline-pumping off-road adventures.
Yamaha Banshee 350 Top Speed & Acceleration
Yamaha Motor Company equipped the Banshee 350 with a 2-stroke, liquid-cooled, 347 cc engine that delivers 34 horsepower. The engine is paired with a 6-speed manual transmission and features a kick-start system.
The Yamaha Banshee top speed is around 75 mph, making it one of the fastest ATVs available on the market. Also, the Banshee is one of the few sports vehicles to feature dual exhausts, giving it a distinctive look while enhancing its smooth performance and class power delivery.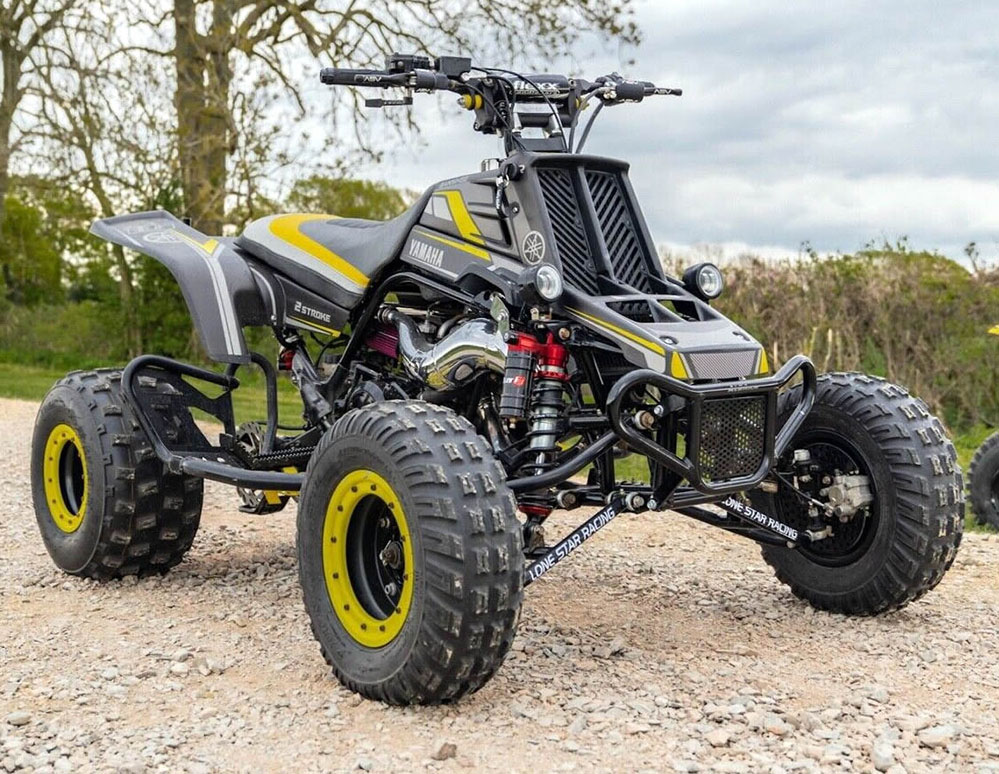 In our test drive, this quad could reach 73 mph in 12 seconds on an even road. So it would somewhat lag on bumpy and rugged terrain.
Braking Performance
This Yamaha ATV comes with a hydraulic brake system that consists of dual front disc brakes and a single rear disc brake. The front brakes are operated by a handlebar-mounted lever, while the rear brake is operated by a foot pedal. The hydraulic system ensures the brakes are responsive and provide excellent stopping power.
The brake system also includes a parking brake, which is operated by a lever on the left side of the handlebars. The parking brake engages the rear brake, providing additional security when the ATV is parked on an incline.
Suspension And Handling Characteristics
The suspension system consists of an independent double-wishbone front suspension and a mono-shock rear suspension. It also has a short wheel base and a low center of gravity, making it incredibly agile and responsive to rider input.
The Banshee 350's chassis is designed to provide maximum stability and control, allowing riders to maneuver effortlessly, even at high speeds.
In terms of steering, the Banshee 350 features a lightweight and responsive steering system that is quick to respond to rider input. The handlebars are positioned in such a way as to provide excellent leverage and control, making it easy to maneuver even in tight spaces.
Banshee 350: Final Thoughts
This Yamaha Banshee has a dry weight of 386 pounds, which is relatively light compared to other racing ATVs in its class. Many find this lightweight design makes this compatible vehicle highly maneuverable and nimble, enabling them to navigate through tight trails and challenging terrain.
The riding position of the Banshee 350 is often praised for its ergonomics. The handlebars are set in a way that allows for easy control of this ATV item, and the footpegs allow riders to shift their weight while cornering comfortably.
Many claim that the Banshee 350 has a comfortable seat that provides adequate cushioning for long rides. However, some riders have noted that the seat could be wider to provide better support for the thighs. Additionally, some have mentioned that it could be more slip-resistant to prevent sliding when riding on steep inclines.
The lighting system on the Banshee 350 includes a halogen headlight that provides bright illumination for the rider. The headlight is located in the front to provide maximum visibility on the trail. The headlight is controlled by a switch on the handlebars that allows the rider to turn it on or off as needed.
The Banshee has a massive aftermarket community, with a seemingly endless supply of custom parts and accessories available for it. This makes it easy for owners to customize and personalize their machines to their liking. From engine upgrades and suspension modifications to cosmetic enhancements, the possibilities for customizing a Banshee are endless.
Despite its many advantages, we have noticed some flaws on the Banshee 350. The ATV can be quite loud, which can be an issue for some riders, especially when riding in areas with noise restrictions. Additionally, the Banshee 350's two-stroke engine can be finicky to maintain and requires frequent attention to ensure all-out performance.
Yamaha Banshee 350 Photos & Videos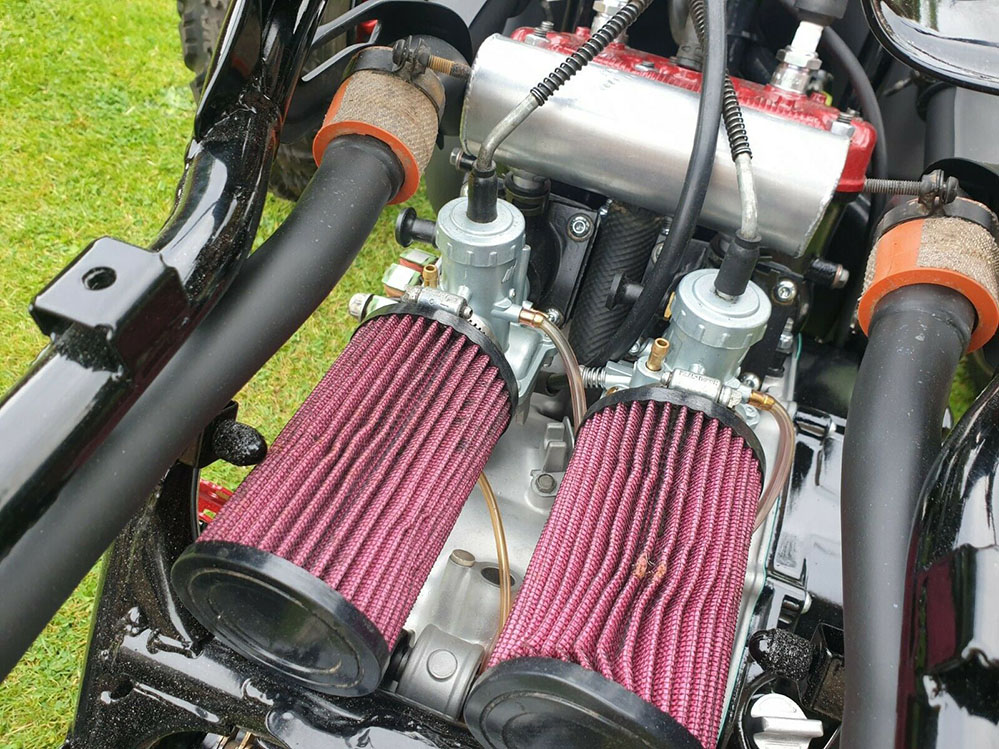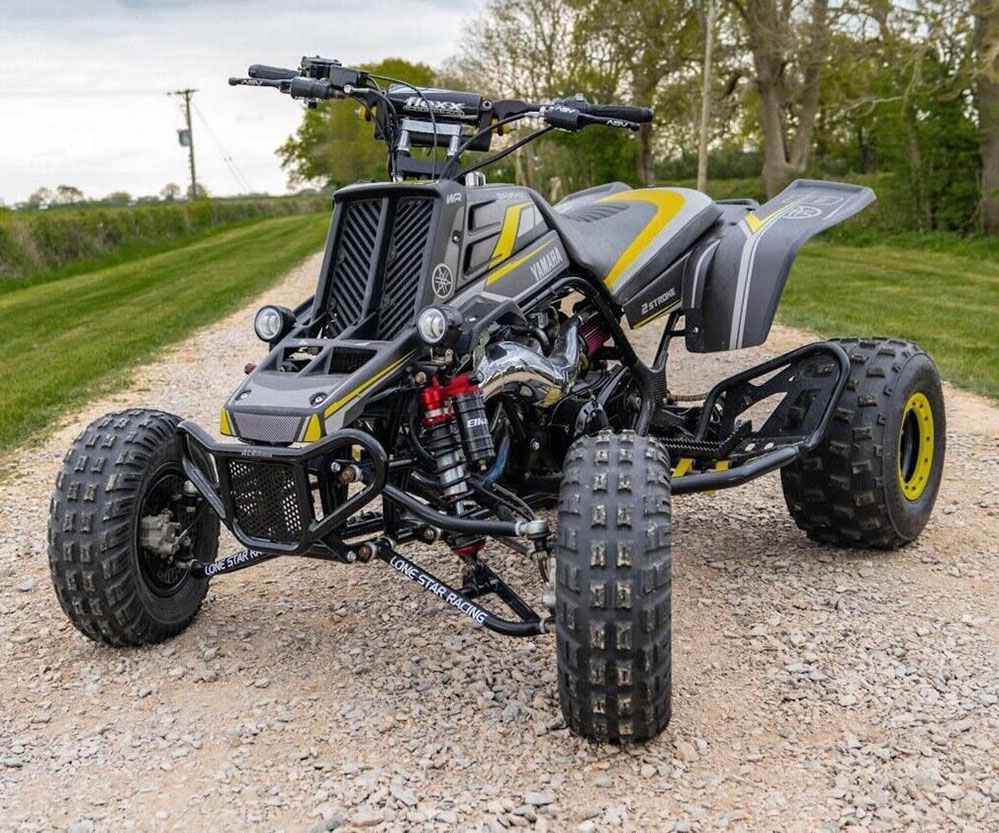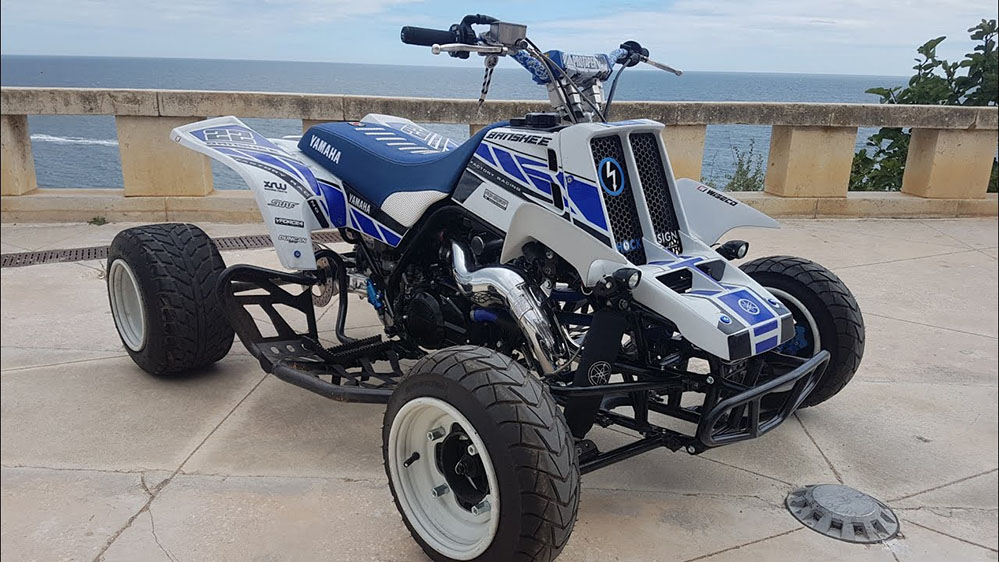 ---
See more: