Table of Contents
Honda TRX 450R Overview
ATVs are no strangers to those seeking a vehicle for off-the-beaten paths, and Honda is the pioneer in bringing these quad bikes to life. They were originally meant for transporting supplies and crops on rugged, uneven farms, so there is no doubt that these quads have now evolved into an off-road vehicle.
Among them, the Honda TRX 450R is a high-performance ATV that has been popular among riders and racers alike for many years. This powerful machine is designed to provide maximum performance and control, allowing riders to push their limits and tackle challenging terrain with ease.
The Honda motors are built with durability and reliability in mind. The frame is constructed from high-quality aluminum, providing excellent strength and rigidity while keeping the weight of the machine down. The bodywork is also designed to be lightweight and durable, with a sleek, aggressive look that is sure to turn heads on the backwoods trails.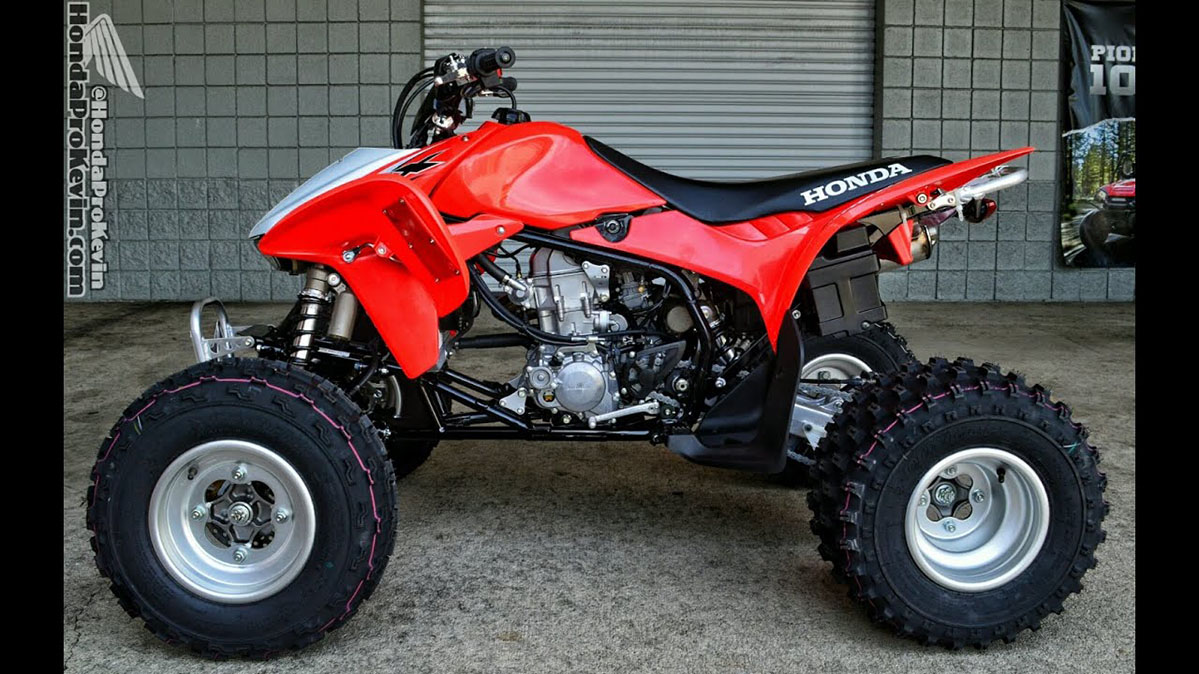 The TRX 450R also features several other design elements that help to enhance its performance and functionality. For example, the machine is equipped with a quick-turn throttle system that enables riders to quickly and easily adjust their throttle response to match the terrain they are riding on. It is also equipped with a wide, comfortable seat that provides excellent support and control, even during long rides.
With the TRX 450R, 2014 marked the end of production. Yet, you can still get one for yourself at a price of around $4000-$5,800. Notice that the retail price can vary depending on the utility model year and any additional features that may be included.
---
Honda TRX 450R Key Specs
Make: Honda
Type: ATV
Year: 2004 to 2014
Color: Red, White, Black, Blue
Price: $4000-$5,800
Engine: 449.49 cc
Power: 39 HP
Transmission: 5-speed
Fuel Tank Capacity: 2.6 gal. (9.84 L)
Dry Weight: 357.15 lb. (162 kg)
---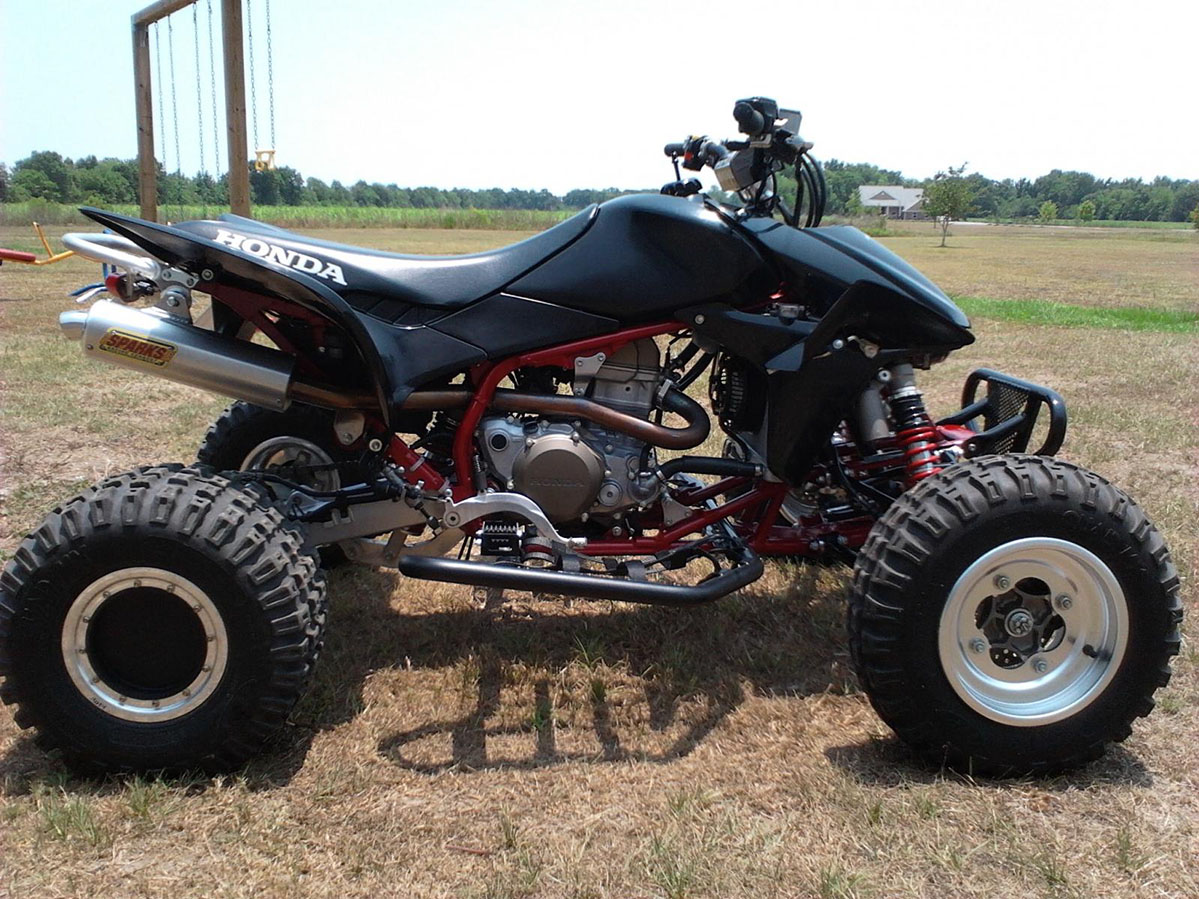 Honda TRX 450R Specifications (2006 – 2008)
Engine
| | |
| --- | --- |
| Engine Type | 4-Stroke, Liquid-Cooled, SOHC, 4 Valve Cylinder Head, Single-Cylinder |
| Displacement | 449.49 cc |
| Power | 39 horsepower |
| Bore x Stroke | 96.0 mm x 62.1 mm |
| Compression Ratio | 12.0:1 |
| Fuel System | Keihin 40 mm flat-slide with trottle position sensor (TPS) |
| Starter Type | Electric (kick version available) |
| Ignition | CD with electronic advance |
Drivetrain
| | |
| --- | --- |
| Transmission | 5-speed |
| Final Drive | O-ring-sealed chain |
Chassis, Dimensions & Weights
| | |
| --- | --- |
| Overall Length | 73.3 in. (1862.22 mm) |
| Overall Width | 46.3 in. (1175.02 mm) |
| Overall Height | 43.3 in. (1099.82 mm) |
| Front Suspension | Independent double-wishbone with Showa shocks, featuring adjustable spring preload, rebound and compression damping |
| Rear Suspension | Pro-Link with single Showa shock featuring adjustable spring preload, rebound and compression damping |
| Front Wheel Travel | 8.4 in. (213.36 mm) |
| Rear Wheel Travel | 9.3 in. (236.22 mm) |
| Front Tires | 22 x 7-10 knobby radial |
| Rear Tires | 20 x 10-9 knobby radial |
| Front brakes | Dual hydraulic 17 mm discs with twin-piston calipers |
| Rear brakes | Single hdraulic 19 mm disc with single-piston caliper |
| Wheelbase | 50.2 in. (1275.08 mm) |
| Ground Clearance | 4.4 in. (111.76 mm) |
| Seat Height | 32.3 in. (820.42 mm) |
| Dry Weight | 357.15 lb. (162 kg) |
| Fuel Tank Capacity | 2.6 gal. (9.84 L) |
Performance And Handling
This all-new Honda TRX450R is known for its impressive performance and handling capabilities due to its advanced technology and features.
Honda TRX450R Top Speed
The Honda TRX 450R is powered by a 4-stroke liquid cooled 450cc engine that delivers impressive performance and adequate power. With a displacement of 450cc, this engine brings consistent power across a wide range of RPMs.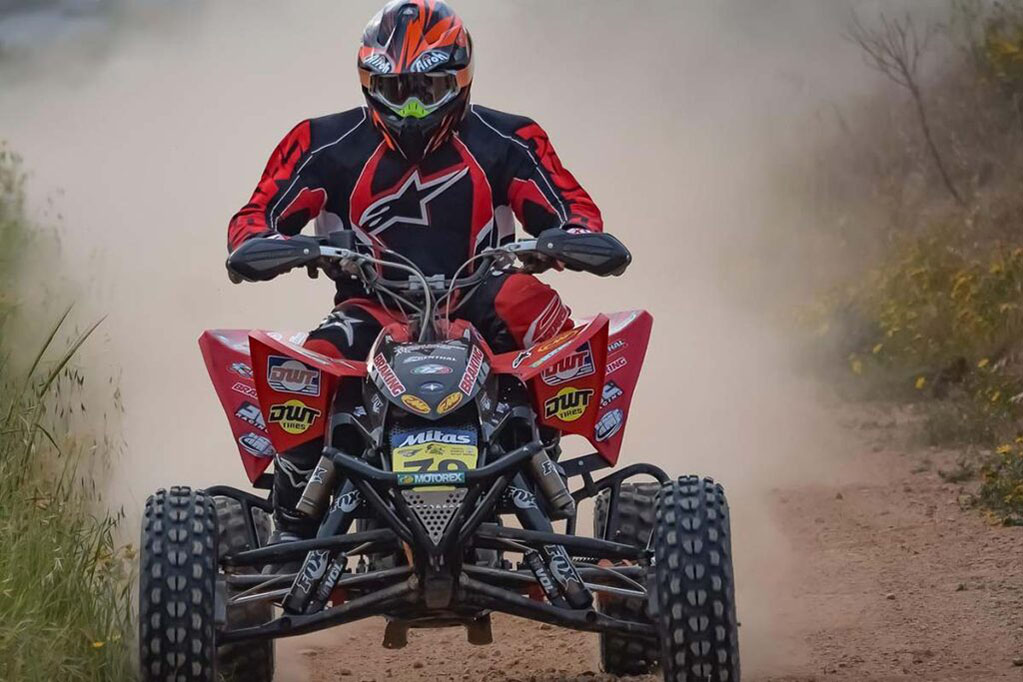 It can reach speeds of up to 74 mph on a straight and flat surface, and acceleration is quite smooth. Some of our team members can even reach 80+ mph with this beast. This makes it one of the fastest ATVs on the market, and it's a popular choice for riders looking to experience the thrill of high-speed off-road riding conditions.
Plus, this four-stroke engine is also equipped with Honda's Programmed Fuel Injection (PGM-FI) system, which helps optimize fuel efficiency and useable power delivery.
Braking Performance
The TRX 450R has a high-performance braking system that includes dual hydraulic front disc brakes and a single hydraulic rear disc brake. The front brakes have a diameter of 174 mm, while the rear brake has a diameter of 190 mm.
The infront brakes are managed by a hand lever located on your right hand, while there is a foot pedal on the quad's right side to control the rear brake. This setup gives the rider precise control over the braking performance of the TRX 450R.
Suspension And Handling Characteristics
The adjustable suspension system of the bike includes independent double-wishbone front suspension and a Pro-Link rear system. The front suspension provides 8.4 inches of travel, while the rear suspension provides 9.0 inches of travel. This layout offers excellent handling and stability in several terrains, including rough, rocky, or uneven surfaces.
Besides, the Honda TRX 450R features high-performance tires that provide excellent traction and handling. With the 22 x 7-10 inches front tire and 20 x 10-9 inches rear tire, they can bring maximum grip and are suitable for various terrains, including loose dirt, mud, or gravel.
TRX 450R Final Thoughts
One of the most commonly praised aspects of the Honda TRX 450R is its power and performance. Riders consistently rave about the machine's fast acceleration and impressive top speed, making it ideal for track racing or riding on open trails. Users report that the vehicle is highly responsive and easy to control, allowing them to navigate technical terrain with ease.
The TRX 450R has a fuel capacity of 2.7 gallons, which is relatively small for an ATV of this size and performance. However, this smaller tank size is not necessarily a disadvantage for experienced riders prioritizing weight and agility over fuel ratio economy. Some users report that the smaller tank size is not an issue, as they are able to refill the tank during breaks on longer rides easily.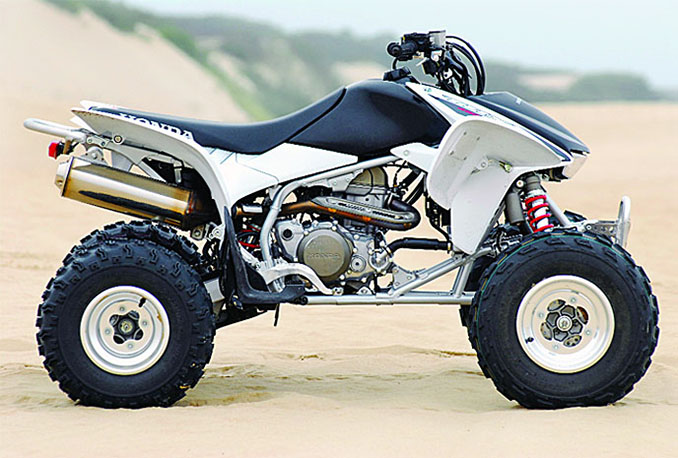 Another benefit of the bodywork of the 450R is its potential for customization. Many users enjoy the ability to personalize their ATVs with different colors and graphics, which can be easily applied to plastic bodywork. Additionally, there are many aftermarket parts available for the TRX 450R that can further enhance its appearance and performance.
Besides, the seat is designed to provide a comfortable ride, even during extended periods of use. Users report that the seat is well-padded and offers ample support for the rider's back and buttocks. Some users also appreciate the fact that the seat is relatively narrow, allowing for greater mobility and maneuverability while riding.
The handlebars are relatively low and forward, which places the rider in a slightly crouched form. This rider position can be comfortable for riders accustomed to sporty, aggressive riding. Still, it may take some getting used to for riders who are used to more upright riding positions.
Also, while the bodywork of the Honda TRX 450R is generally well-received, some users still have criticisms. One common complaint is that the front fenders can be difficult to remove and replace, which can be frustrating for maintenance and repairs. Plus, some have reported that the plastic bodywork can become scratched or scuffed easily, detracting from the appearance of the ATV over time.
Honda TRX 450R Photos & Videos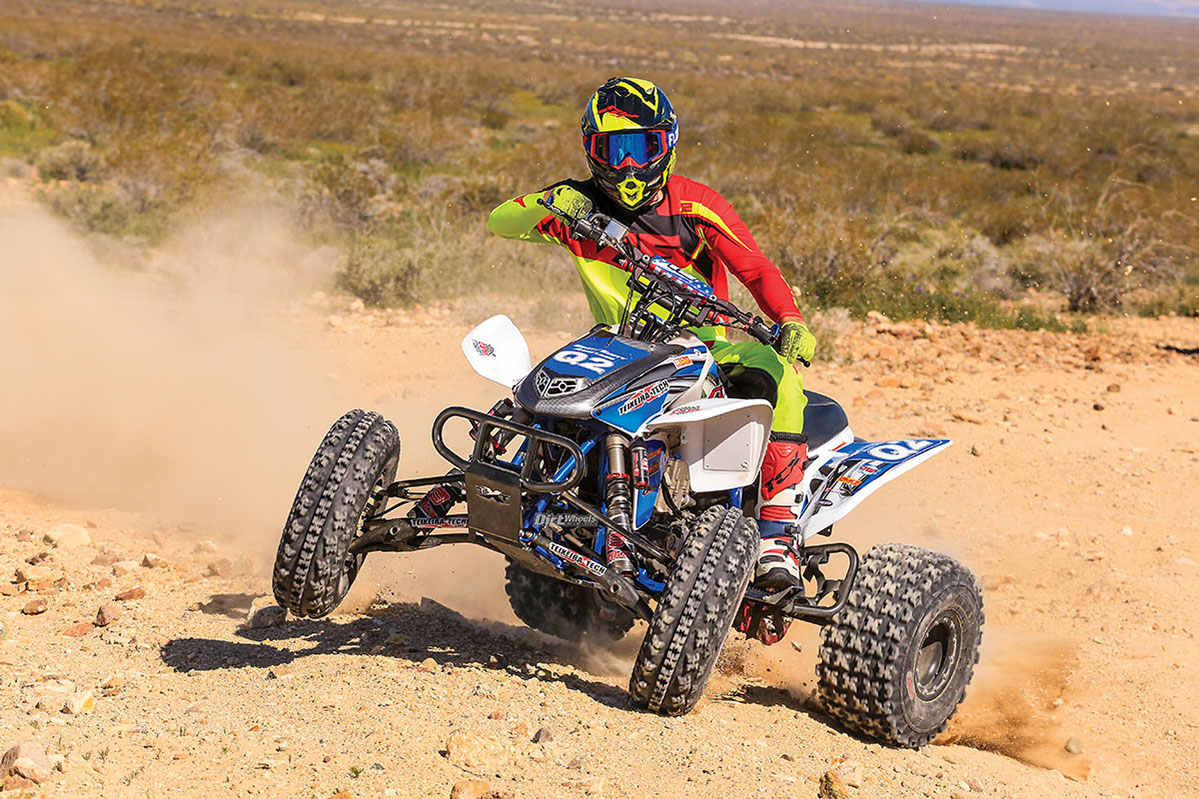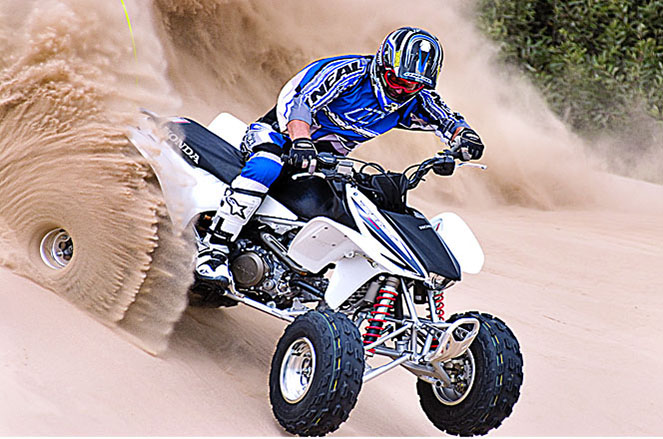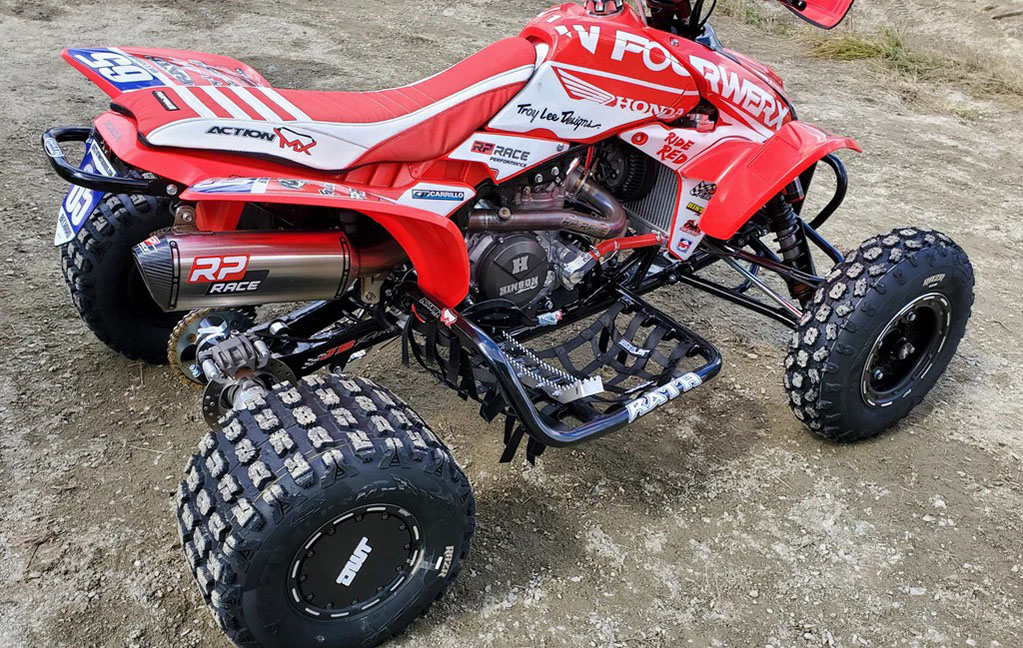 ---
See more: