Increasing accidents and road casualties in these years necessitate the inclusion of motorcycle helmets more than ever. And no, seasoned motorcyclists would not just pick a random helmet at a shop and call it a day; they strive to find the highest-quality ones that do the job and, of course, fall within their budgets.
Keep scrolling to learn how much they usually cost and where to buy motorcycle helmets.
Table of Contents
How Much Does A Motorcycle Helmet Cost?
The range of prices fluctuates between $100-$1000 (full face, modular), $50-$500 (open-face, off-road/dirt bike), $25-$350 (half helmet), and $100-$800 (dual sport). Helmets cheaper than these pricing ranges often indicate low quality.
1. Full-Face Helmets:
Price: $100 to $1000 (rarer models might reach $1200)
Though at the slightly more expensive end of the spectrum, full-face helmets totally justify their pricing: they cover your entire head (face included) to offer optimal protection for your chin, face, and skull.
Some outstanding characteristics:
Robust construction
Hard outer shells (made of polycarbonate or fiberglass)
Inner foam linings to absorb impacts
Chin bars extend across the face's lower portion to keep chin/jaw injuries at bay.
Clear face shields save your eyes from insects, debris, wind, etc.
(Optional) Removable, washable liners, ventilation systems, and adjustable visors that can be swapped
With a wide range of competitive edges, full-face helmets have always been lauded as the best, safest options out of the bunch. If riding is your favorite hobby, do not hesitate to spend a bit more than average for the highest-quality headwear.
2. Open-Face Helmets:
Other Names: Jet Helmets, Three-quarter (3/4) Helmets
Price: $50 to $500
As the name suggests quite blatantly, open-face helmets only provide major protection for your head's sides and tops. The chins and faces are left totally exposed, which partly explains the low pricing range!
These headwear options feature:
Shells that cover the head crown, extending to the back and down the ears
Hard outer shells (polycarbonate or fiberglass, similar to full-face)
Inner foam liners to absorb impact
Ample face and chin exposure (no face shield and chin bar)
(Optional) Built-in visors, detachable, to protect you from sunlight, debris, or wind
Riders appreciate open-face helmets due to their unrestricted wind exposure – a terrific choice for people that want to add more adventurous flairs to their trips. Still, safety-wise, it's easy to understand why they are not always recommended.
3. Modular Helmets:
Other Names: Convertible helmets; Flip-up helmets
Price: $100 to $1000
Modular helmets impress even further by combining competitive edges of both open-face and full-face headwear, offering you the freedom to alternate between two configurations via the flipped-up, hinged chin bars. Specifically:
In full-face modes: Modular helmets function just like a typical full-face headwear, with the chin bars locked in down positions to offer complete protection/coverage for the jaw, chin, and face. They also incorporate clear face shields (which you can close or open at free will) to keep debris and wind from the eyes.
In open-face modes: Those who seek better ventilation or communication with fellow riders (without pulling off the helmet) can switch to this mode. Simply flip the chin bars up to convert the helmet, exposing your face to the air.
Due to this impressive flexibility, some models have pricing tags as high as $1000. Still more convenient and space-saving than buying an open-face AND a full-face helmet, though.
4. Half Helmets: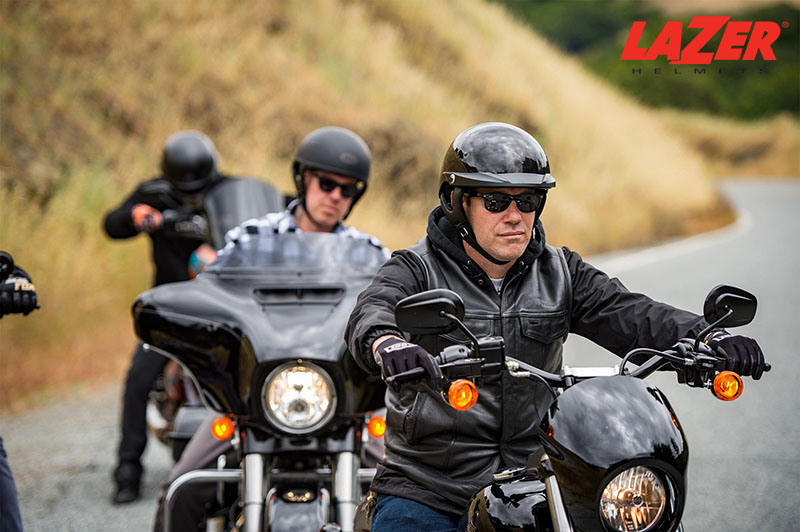 Other Names: Beanie helmets, Skull caps
Price: $25 to $350
If the lack of chin and face protection in 3/4 helmets already appalls you, then 1/2 helmets are surely even more scandalous, only covering the head's utmost top portion.
Sure, they can protect your skulls from shocks and impacts and DO offer protective layers against wind and debris. However, most of the head's lower part, face, and chin are left totally exposed. No wonder most commercial models on the market are ridiculously cheap.
Some major characteristics to keep in mind:
Compact and lightweight designs
Cheap-quality fiberglass/polycarbonate materials
Inner foam liners (though not as thick as other helmet options)
Thin and low profile, snug heat fit
Chin strap to keep the helmet firm on the spot
Needless to say, half helmets do not come close to any other options on our list – what with minimal coverage and simplistic designs.
The alarming lack of face shields (and sometimes even chin bars) heightened the risks of potential chin/jaw/ face injuries in collisions and crashes. In the worst-case scenarios, casualties will be involved.
Hence, we never recommend half helmets for emergencies, high-speed rides, or any situation requiring beyond-average protection. Only use them for very short-distance trips or in extremely low-traffic areas.
5. Off-Road Helmets:
Other Names: Dirtbike helmets, Motocross helmets
Price: $50 to $500
As the term "off-road" indicates, these helmets are specifically designed for off-road/motocross ridings and disciplines. They offer maximum functionalities and protection in demanding, rugged environments expected on most off-road terrains.
Hence, it's natural to expect innovative features that distinguish them from other types of helmet, which increases the overall pricing range. Cases in point are:
Extended, large visors to increase coverage during off-road rides. Protection from debris, branches, and sunlight aside, they also help deflect roosts (rocks and dirt kicked by other fellow riders, for instance) and give your goggles extra space.
Reinforced, prominent chin bar that covers the jaw and lower face
Ventilation ports that ensure proper cooling airflow during intense conditions. Higher-end models have accompanied airflow channels to dissipate heat, as well.
Big eye ports and extra add-ons (peaks, strap guides, etc.) to keep your goggles firm on the spot
Durable yet lightweight construction: these helmets comprise composite materials, carbon fiber, or fiberglass to deliver impressive impact absorption while reducing fatigue during longer rides.
6. Dual Sport Helmets:
Other Names: Hybrid helmets, Adventure helmets
Price: $100 to $800
A demanding headwear in both aesthetics and functionalities (and, well, the pricing), dual-sport helmets easily cater to both off-road and on-road riding conditions.
More specifically, this versatile model combines off-road and full-face helmet features for a better protection-comfort balance, suitable for riders that engage in diverse riding environments.
Off-road features:
Prominent chin bars (for improved facial protection)
Eye ports to accommodate off-road goggles
Extended visors
Full-face features:
Removable, clean face shields
Inner foam linings
Robust outer shells
This powerful combination ensures no road hazards (debris, wind, etc.) can plague you, regardless of your riding terrain. So do not be put off by their price; once putting them to trial, you will understand why these helmets are increasingly popular in recent years.
Are Expensive Helmets Necessarily Better Than Cheap Ones?
Yes – guaranteed that they come from trustable brands with verified performance, numerous innovative features, and – most importantly – fit your head size.
Do not let yourself fall for scams and spend a fortune on substandard headwear; in those cases, "expensive" clearly does not go with "better qualities."
Also, consider your riding terrains. Buying a super expensive $500 off-road helmet, for instance, is not a worthy investment if you mostly engage in paved, on-road terrains in your daily rides. A $100 full-face helmet can do the job just fine without breaking the bank.
Where To Buy A Motorcycle Helmet Near Me?
Motorcycle helmets are accessible on numerous famous market platforms, such as Revzilla, Cycle Gear, Walmart, Amazon, Helmet Shop, and Chapmoto. They offer diverse headwear options from varied brands with different price ranges and styles, catering to all preferences and demands.
With such an overwhelming array of options, you must learn how to narrow your search with a smart buying guide (which we will discuss in the next section). Also, do not forget to compare the price and check customer feedback.
Tips to Choose The Right Helmet
Size your head shape with measuring tapes (easily found in household bathrooms and kitchens) to where your helmet falls within the XS-3XL range.
The helmets must meet DOT safety standards and incorporate all the basic features of a quality helmet, such as ventilation, head coverage, visors, robust materials, etc.
1. Sizing
Most helmet brands divide their sizes into categories from XS to 3XL. If you're unsure about which size your head falls into, measuring your head at home is quite a straightforward process (guaranteed you have sewing-style measuring tapes; try to find them in the pin box or below the kitchen/bathroom sink).
Wrap the tape on your head (above the ears and eyebrow regions, as they are the thickest parts).
Cinch the tape to make it snug (do not over-tighten it, by the way)
Now slowly pull the tape off the head – without adjusting the measurement – and check the readings. To keep inconsistency at bay, it would be best to measure twice.
Once done, scour through the following table to confirm your size category:
| | | |
| --- | --- | --- |
| Size Category | Head Measurement (inches) | Head Measurement (cm) |
| XS | 20.8-21.2 in | 53-54 cm |
| S | 21.6-22 in | 55-56 cm |
| M | 22.4-22.8 in | 57-58 cm |
| L | 23.2-23.6 in | 59-60 cm |
| XL | 24-24.4 in | 61-62 cm |
| XXL | 24.8-25.2 in | 63-64 cm |
| 3XL | 25.6-26 in | 65-66 cm |
See more: Motorcycle Helmet Size Chart
2. Safety Ratings
A safe helmet must meet or even surpass DOT (U.S. Department of Transportations) standards for helmet protection. And aside from DOT, either of these two will be very welcomed:
ECE22.05: Economic Commissions for Europe, set for helmet protection in Europe
Snell M2015: Snell standards were established after Pete Snell, a famous sports racer, died of accident-related head injuries. Their strict guidelines are considered by many as even better than ECE or DOT.
3. Features
Aside from the basic components (refer to the above section about helmet type and pricing for more info), you may consider higher-end models with extra features and technologies. Some prominent examples:
Emergency cheek pads to protect the cheeks and jaws; in the unfortunate case of accidents, these pads also make it easier for the doctors or medical personnel to remove the helmet from your head.
MIPS (Multi-directional Impacts Protection Systems) – a slip-plane feature within the helmet that reduces impacts and rotational forces.
Blue-tooth connections to answer phone calls or listen to the music.
Should You Buy A Helmet Before Or After Buying A Motorcycle?
Buying a helmet before buying a motorcycle would be the best option. That way, your head will be properly protected while you ride your newly-purchased bike from the shop back to your house.
If this is your first time buying a bike, purchasing both (the helmet and the bike) in one go is alright.
Conclusion
My guide has listed the average prices for each type of motorcycle helmet and recommended several convenient motorcycle helmet shops near me.
Remember that expensive helmets do not always equate to better performance and vice versa; it all boils down to the right timing and right place. Keep in mind my buying guide, and write to me if you still need help.
See more: