Motorbike accident risks have never decreased in the past decades (worse, they even seem to increase tenfold), which is why equipping yourself with high-quality headwear is highly recommended.
Nevertheless, please do not assume that there are only one or two types of helmets; many different motorcycle helmet types have been introduced to the marketplace thus far, confusing many novices and first-timers.
Which one should be the best option performance-wise? Our expert team is here to help with the issue.
Table of Contents
Three Benefits of Motorcycle Helmets
Though not every country or state makes helmets a compulsory part of a motorcycle, it's difficult to imagine traversing highways or busy roads without them.
1. They Protect You Against Head Injuries
The most notable advantage of motorcycle helmets is how they cushion your entire head against accidents during vehicle operation on the street. Whether the crash is between two motorbikes or a car and a bike, bikers are likely to suffer from injuries inflicted on the head, which might even lead to death or lifetime disabilities!
According to Forbes, states that applied helmet laws has witnessed a 33% decrease in head injuries from 1999 to 2019 in the US. In the same period, there were 7000 more deaths in states with no helmet laws. Now you understand why they are strongly recommended!
2. They Protect You Against Harsh Weather Conditions
Dust and wind can easily distract you – especially in long-distance traveling. But with motorcycle helmets, such hassles vanish instantly.
The headgear's visor can deflect those particles from hampering your vision, enabling you to see the road more clearly. In cold weather, rains are kept out to maintain heat, and on sunny days, the sun glares are cut down for eye protection. You couldn't ask for more than that!
Even better, roaring wind noises near your eyes are reduced to lessen their stings against your eyes and face. You can also expect little to zero harm from small rocks, dirt, insects, or any flying object.
3. They Give You Great Visibility
Motorbikes are rarely alone on their lanes. They must share their roads with many heavier, bigger vehicles, making it difficult to observe the street beyond cars and trucks. That's why many accidents occur due to drivers/motorcyclists not seeing each other.
Thankfully, large helmets with outstanding designs and reflective trips make your presence more visible – especially in pre-dawn or early-evening hours. Other cyclists can recognize you and avoid your bike path from afar, leaving no chance for crashes or collisions.
People with long hair also have vision impairment as their hair keeps getting into their eyes. Now that a sturdy helmet has helped riders keep their wild hair firmly in one place, there will be no longer distraction (and any disaster that might follow).
What Are The Most Common Types of Motorbike Helmets?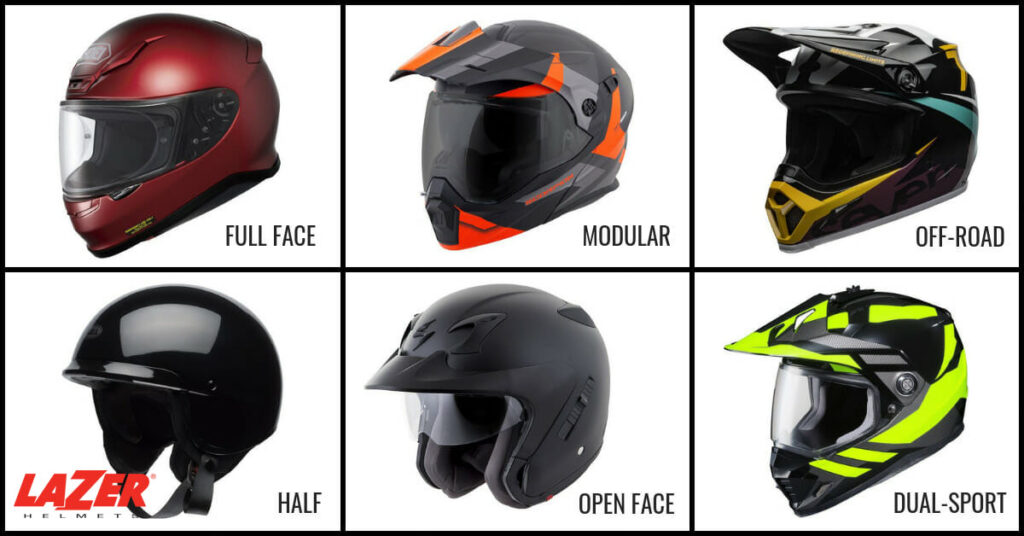 1. Full-Face Helmets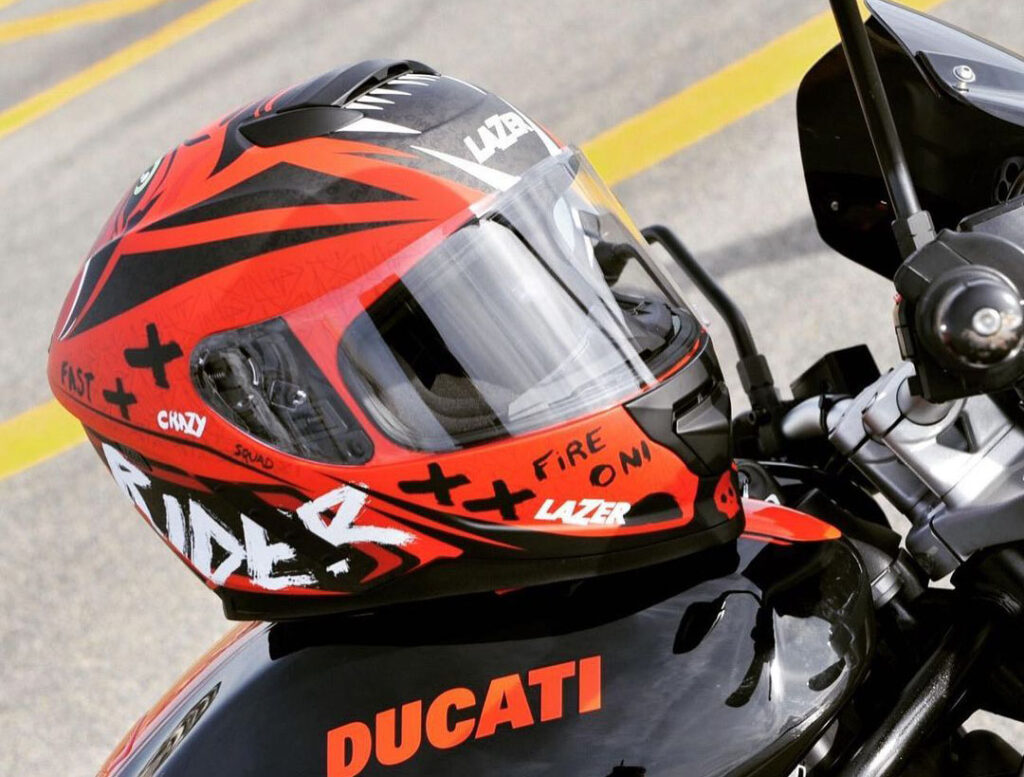 As the name suggests, these helmets offer impressive coverage for your neck and head and hence, are considered the most secure option out of the entire list. Full-face headgear is the best choice for those who wish to safeguard their heads against ALL potential impacts – no matter the riding style or terrain.
One distinguishing compartment of full-face helmets is their chin bars – an important safety feature many others do not have.
This is noteworthy – after all, studies have discovered that the chin suffers from 50% impact during accidents! Imagine how great it would be to have your jaw and chin 100% covered all the time by full-face helmets.
These helmets also have ventilation systems to reduce visor fog, keep your body cool, and evaporate smell and sweat. In colder months, you can close them to cut off the airflow and sustain heat.
Even better, new models have incorporated improved features, including high-visibility structures and adjustable visors that can adapt to varied sunlight conditions.
Pros:
Maximum protection (the best out of the list).
Suits all terrains and riding styles
Insulated sounds (no distraction)
Cons:
Feels claustrophobic and stuffy
Visor fog issues in cold weather
Might not fit your eyeglasses (if you wear any)
No sun visors
2. Flip-Up (or Modular) Helmets
Flip-up helmets – also called Modular – are an amazing combination of full-faced and regular helmets, allowing the visor and chin bar to flip up and reveal the helmet's front (hence their name).
Their fittings and materials do not really differ from their full-faced counterparts, including visors for better eye protection (sometimes, there are also extra internal visors to keep sunlight at bay).
However, their overall load tends to be heavier than full-face due to additional hinge features built into the front area. This hinge structure renders their safety slightly inferior to full-face, unable to sustain a consistent entity like the latter. But in compensation, we can say flip-up helmets are several notes better than 1/2 or 3/4 helmets – all thanks to the premium chin protection.
On another note, modular helmets are equipped with upright positions, which explains their popularity among adventure riders, cruisers, and tourers. Newer models enjoy better straightforward eye openings and lower chin bars to enhance visibility. And that's not all; anti-fog coatings and dual visor programs are also some welcomed additions!
Pros:
Easy conversion between full and open-face
Great ventilation
Suit both cold and warm weather
Cons:
Heavy
The structure is less sturdy than that of full-face helmets
Not safe for high riding speeds
3. 3/4 (Open-Faced Helmets)
Open-faced (commonly known as the 3/4 helmets) will only cover the head's sides and top back. Your face is left entirely exposed.
These headwear types are common among cruisers, tourers, cafe racers, and scooters. It's not hard to figure out why: they can feel the strong wind on their face and skin much easier this way.
However, the safety factor is compromised because there are no chin bars like modular and full-faced options. Brace yourself to encounter road debris and weather conditions, too, since 3/4 headwear does not offer coverage for these hassles. Rather, they only arrive with full-face or partial visors to prevent sunlight. Certain models even have none, forcing you to purchase them separately.
As fewer safety features are involved here, most 3/4 helmets are several notches lighter than full-faced ones regarding overall weights – though some people may not recognize this slight reduction.
Pros:
Great ventilation
Let you drink, smoke, eat, and talk without putting off the helmet.
Wide vision field
Lightweight
Cons:
Your chin and face are vulnerable to injuries
Limited coverage for cold weather
Terrible at reducing/canceling noises
Feels unstable/uncomfortable at high riding speeds
4. 1/2 (Half) Helmets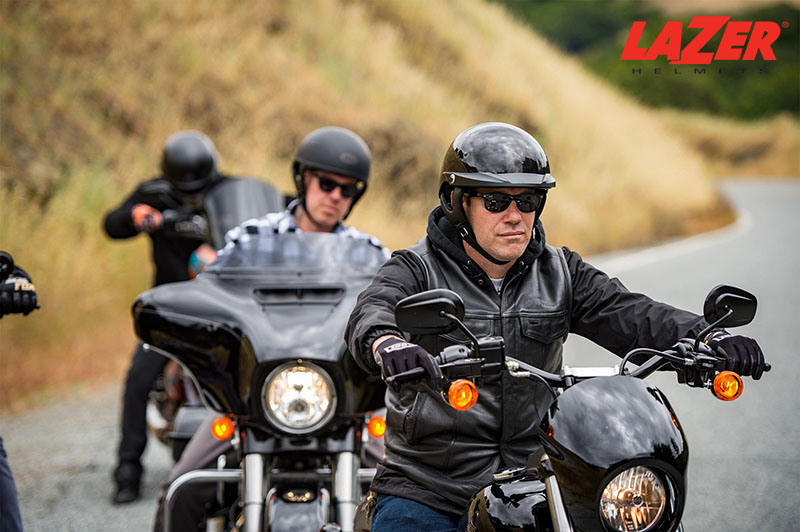 Half helmets offer even less coverage than the options above, only protecting the head top and areas from the brows to the forehead (very minimal protection, we know!). Some models might offer a little more consideration to the ear and neck back, but most of your face is still exposed.
No face shield or visor is equipped, either; your only solution is to purchase goggles or riding glasses for eye protection. Even worse, these helmets leave no room for you to install add-on technologies (ex: speakers), so do not expect significant upgrade options for them.
With such a less-than-stellar safety level, most 1/2 helmets do not meet DOT standards or other popular security criteria (There are a few exceptions, but they are rare). One redeeming feature, though, is that their airflow is much better than 3/4 or full-face helmets.
Pros
More immersive experience
Easy to talk to other riders
No need to take them off to eat, drink, or wipe sweat
Impressive ventilation
Cons:
No full protection (especially for the chin and face)
Leave you vulnerable to the weather
Purchases of other protection gears are a must
5. Off-road (MX, Motocross, or Dirt Bike) Helmets
The title already reflects the nature of these headgear, designed to help riders handle dirt roads and streets. They thrive better in terrains that demand knobby tires than on highways and cities.
Thus, there's no doubt that their designs are miles apart from 3/4 and full, armed with accentuated chin bars and larger visors to support better airflow. Since their goal is maximum ventilation during warmer months, lush comforts and paddings are nowhere to be found here – unlike other helmets.
Eye protection features are obviously also unavailable, meaning you must prepare goggles or riding glasses beforehand. Goggles are the better choice for mud and dirt terrains, though, whose tight seals can easily ward off debris intrusion.
Regarding composite options, the choices are endless: carbon fiber, Kevlar, and fiberglass, just to name a few. They all provide impressive strength at minimum weight to prevent fatigue issues for your neck and head after long riding days.
Extra tips: Do you want to wear neck braces or body armor during the trip? Then try both these gears and the helmet in unison to double-check their fittings; only purchase the headwear when this criterion is guaranteed.
Plus, test the helmet in pair with the goggles to ensure they seal your face securely; not every helmet has the same eye-area shape, after all, meaning it cannot fit every goggle design. It will be terrific if there are matching helmet-eyewear sets; ask the manufacturer!
Pros:
Can fit sunglasses or goggles
Easier breathing and better air circulation
Reduced fatigue issues for the neck and head – great for long rides
Cons:
Often have no visor
Limited insulation against the cold
6. Dual Sport (Enduro, Hybrid, ADV, Crossover) Helmets
These products are a mixture of full-face and off-road helmets, with larger eye visors than full-face that can still snap up to fit in goggles if needed. What a double kill!
Even better, their chin bars are far less protrusive than off-road ones, guaranteeing less airflow and better soundproofing. The aerodynamic design of their visors is another bonus that keeps the helmet firm under strong weather – instead of lifting in the winds.
And don't forget the extra comfort and interior padding – which acts like a halfway barrier between full-faced and off-road. For people whose riding terrains are mixed, that's indeed great news: feel free to use dual-sports helmets for both off-road and on-road purposes!
Pros:
Can fit goggles due to the flip-up visors
Decent protection for the chin and jaw
Great noise insulation
Cons:
Expensive due to numerous configurations and features
Less ventilation than some other type of motorcycle helmet
Can be heavy (but still much lighter than their full-faced rivals)
7. Intelligent/Smart Helmets
Sure, your road safety should still be above all other factors. But incorporating extra enhancements to improve your riding comfort and experience doesn't hurt, either!
With smart helmets, many things other than traffic safety are brought to the table. Extra technological features like tracking systems, voice assistance, emergency buttons, and Bluetooth connectivities allow you to travel more smoothly and safely.
Many models even arrive with features that let you take photos, record videos, listen to songs, or even make/receive phone calls without using your hands. Even better, these helmets are usually operated on solar power or batteries – the most energy-efficient solution you could find!
Pros
Better padding and upgraded hardware to prevent accidents
Smart devices for better hand-free operation
Innovative features to foster driving convenience (communication, entertainment, and navigation systems)
Cons
The add-ons can be distracting while riding
The price is much higher than other types
How to Choose The Right Helmets?
Since there are so many helmet types, buying one that suits your needs and styles might be a bit tricky. Keep in mind these three criteria whenever you browse through options:
1. Their Fittings
Whatever headgear you like, ensure it fits your head properly. Try the helmet on and adjust its strap until you feel comfortable. Otherwise, poor fits will sacrifice the helmet's protection – no matter how great the rest of its features are.
View more: how to measure head for motorcycle helmet
2. Their Compatibility With Your Riding Styles
The seven categories introduced above simplify this process greatly, steering customers towards choices more suitable for their specific needs. Nevertheless, there might be some exceptions: for instance, riders can still wear dual sport helmets for casual roads or road helmets for dirt trails.
Other than classifications based on protection coverage, some experts also divide helmets into three groups based on prices and weights:
Recreational helmets (1/2, 3/4): basic, lightweight, and cheap, great for casual rides.
Road helmets (flip-up, full-face): Aerodynamic, well-ventilated, and light for daily trips to schools, work offices, etc.
Mountain helmets (off-road, dual-sport): Well-ventilated with extended coverage for the head (since mountain bikers likely fall backward). A bit heavier than the other two.
3. Their Specialized Features
Ask yourself which other features you desire. Do you prioritize advanced designs and improved protection technologies? Are you searching for innovative add-ons like action cameras or built-in straps? Note that the more specialized compartments you want, the higher the helmet's price.
Can Motorbike Helmets Expire Even If You Don't Use Them?
Yes. The materials and resin included in the helmet's structure will deteriorate and wear down over time – regardless of whether you use them. It would be best to purchase a new one after 5-7 years (counted from the production dates).
For more: how long do motorcycle helmets last?
Do All Riders Have To Wear Helmets? US Motorcycle Helmet Laws
According to the Insurance Institute for Highway Safety, only Illinois, Lowa, and New Hampshire don't state any motorcycle-helmet-related laws.
States require all riders to put on this gear: California, District of Columbia, Georgia, Louisiana, Maryland, Massachusetts, Mississippi, Nebraska, Nevada, New Jersey, New York, North Carolina, Oregon, Tennessee, Vermont, Virginia, Washington, and West Virginia.
Riders of 18 or younger must wear helmets in Delaware, while the Missouri raises the bar to 25-year-olds and younger.
9 states ask 20-year-old-and-below bikers to ride with a helmet on: Michigan, Pennsylvania, Rhode Island, South Carolina, Texas, Utah, Arkansas, Florida, and Kentucky.
For the rest of the US, only riders older than 17 years old can travel helmetless.
FAQs
Which Type Of Motorcycle Helmet Is Best/Safest?
Full-face helmets have long been regarded as the safest helmet type thanks to their full coverage and protection.
Is A 20-Year-Old Motorcycle Helmet Still Good?
No. You should replace it every 3-5 years.
Which Helmets Are Not Allowed?
Half helmets. Consider ruling out this candidate on your shopping list.
Conclusion
From full-face to open-face helmets, many benefits and features are introduced to ensure all your preferences and demands are met. Assess their designs and offerings carefully before making your purchase!
Do not underestimate their impeccable abilities in safeguarding you against brain injuries. Some regions/states DO allow riders to abandon them when reaching a certain age (21, for instance), but we still suggest you bring these dirt bike helmets anywhere you go.
They might feel like a nuisance at first, but trust us; someday, you will be thankful for their presence!
You might also like these articles: