Most average helmets are cheap, giving people a false sense of security that thieves will never attempt to steal them away. Well, how wrong that assumption is!
Helmet thefts have become more widespread in recent months, partly due to the criminals' improved skills and partly because of the riders' own carelessness. Time to wake up; do not fall into such amateur mistakes!
The most straightforward way to sidestep these disasters is to learn how to lock helmet to motorcycle. Keep scrolling for tips.
Table of Contents
How To Secure A Helmet To A Motorcycle? Five Common Helmet Locks
Learn how to attach helmet to motorcycle within minutes using one of the five types of helmet locks introduced below:
Method 1. Use A Built-In Motorcycle Lock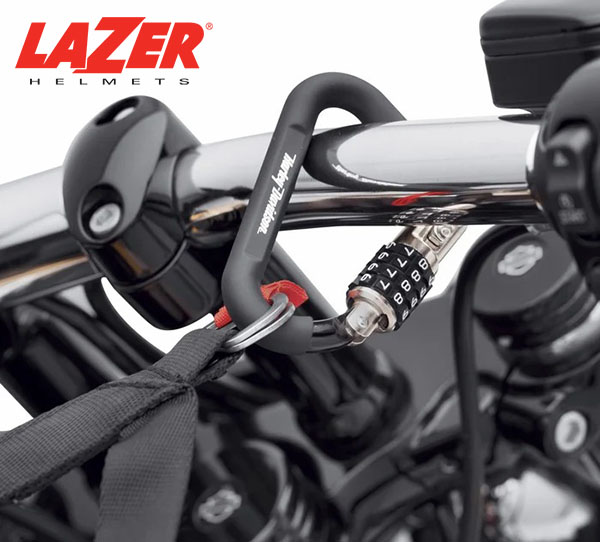 Unbeknownst to some people, many modern bike types comprise built-in locks to keep the helmet and bike firmly in place. Check whether yours also has one!
These clasps often arrive with separate hooks or keyholes drilled under the seats, making it extremely convenient to hook your helmet in a blink without hassles.
You only have to insert your helmet buckles through the locks and snap them shut! Easy/user-friendly processes are the strongest advantage of this method.
Nevertheless, we have detected a major issue: built-in bike locks are likely to work well with helmets that include D-ring double buckles only. 
So for people whose headwear undergoes different retention systems, these locking strategies are not meant for you. Either change your helmet or turn to other solutions.
Method 2. Use Padlocks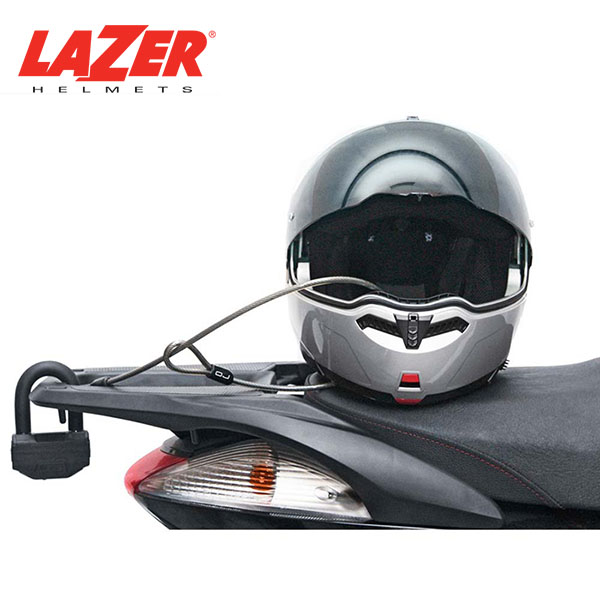 Another option highly recommended by experts and seasoned riders is to use padlocks for the helmet, which will strip off your worry of theft and loss. Even better, padlocks are usually very cheap – even to tight-budget customers – and fit snugly into any bike compartment!
So if you decide to use padlocks, ensure they slot conveniently into an appropriate place on the motorbike. Also, padlocks come in many sizes, so check them carefully to avoid unfortunate mismatches.
There are two main steps to take note of: first, pass the buckle through these padlocks. After that, lock the bike. These simple moves are more than enough to make criminals struggle when breaking the bike helmet locks and do all the stealing.
Method 3. Use Helmet Lock Devices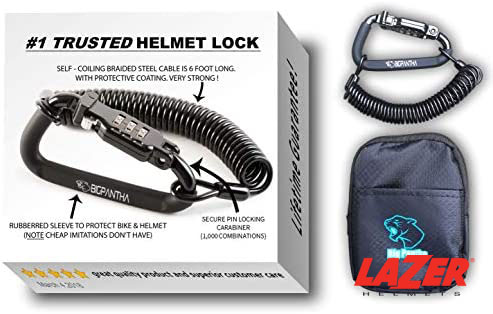 Helmet lock devices are one of the most useful equipment in deterring criminals from your bike and helmet, being more secure the two methods above. And since they are lightweight and small, be confident that their prices are not demanding and suited to users of all budgets.
A typical helmet-lock product arrives with impressively strong cables to secure the helmet tightly. Its locking mechanism involves either the keys or combination codes; ask yourself which is your preference.
To keep the helmet safe, thread these cable locks through your helmet's bottom part (with its visor wide open). Then secure them to the bike's frame (or any motorbike part of your choice). Once threading the helmet properly, lock it with codes or keys.
The great news is that these methods can apply to every helmet type (well, except half-faced and open-faced since they do not have sufficient space for the steel cable to pass through). So if your helmets are half- or open-faced, consider a wide variety of other options on the list instead.
Method 4. Use Gun Locks
How about trying pistol locks or gunlocks? They fit wonderfully into every bike segment, so feel free to pick the most convenient place for you!
After deciding where to secure the bike helmets, thread the locks around the helmet's chin bar. Next, place them on the bike's frame. Lock the helmet, and your bikes and headwear are now both safe and sound!
One note: From our experience, you should avoid placing the helmet close to the fuel tank. Vapors often escape here, severely damaging all inner liners of your expensive helmets.
Also, remember that a huge drawback of gunlocks is their fleeting nature; these devices do not last long and sometimes can even become unsteady. Other more permanent solutions will still be the best for you.
Method 5. Use Bicycle Chain Locks
Let's dive into the final option of securing helmets to bikes: bicycle chain locks! Though a bit heavy-duty, these innovative tools will do the job as you want them and secure your helmets safely.
They achieve such a feat due to the chain's extended length, making it easier to bind the helmets in a particular spot. Reports and investigations also conclude thieves encounter much more trouble tackling these types of clasps.
So how can we use these locks successfully? You only need to pass the helmet's bottom part and lock them to the motorcycle frame.
We don't have to dive further into the method's strongest upside – the super bulky construction that prevents the bike from being lifted off the floor. But ironically, that heavy-duty structure is also considered a downside: due to its exceptional dimension, the device might not fill well under the bicycle seat.
Small Tips to Consider:
Some of these small tricks and notes have actually been mentioned briefly in the previous sections – but for our readers' sake, we will stress them once more.
For padlocks: confirm they fit just right onto the bike's lower half, such as the passenger pegs.
For built-in lock options: purchasing helmets with D- ring fasteners would be the best idea. Other strap styles, such as ratchet locks, are totally incompatible with the motorbike's stock locks.
For half-faced, open-faced, and open-visor helmets: never use motorbike locks on them. They will damage your headwear in a blink!
Keep your locks and helmets away from smoke, vapor, etc., if you don't want to experience dramatic falls in their performance.
See more: How To Measure Head For Helmet?
When Is It Safe to Leave Helmets Unlocked?
There's no need to install locks and chains if you decide to wear/bring these helmets everywhere you go.
Another option to guarantee the level of security is to install thief alerts on the bike – which will screech and make loud noises whenever someone gets near.
Still, these noises can be a huge nuisance – especially for casual observers who just accidentally pass by your bike and do not want to steal anything.
See also: What Is A Pinlock On A Helmet?
Conclusion
Our professional expert team has explored and introduced five ways to lock helmet on motorcycles. They are convenient and time-efficient, with simple tools easily accessible in most online and physical stores. Choose the option that suits you best!
Does locking the helmet seem bothersome to you? Then you still have another choice: bring it along everywhere you go or install alerts/alarms on the bike.