To ride a motorbike safely, you need to know and follow many rules; among the hundreds of things, wearing a sturdy helmet is a must. But do you know how to measure head for helmets?
Obviously, choosing the wrong item will make you uncomfortable and risk your life during a trip. Moreover, the ability to ensure safety for users is also significantly reduced. That's why you should learn how to measure it accurately right here.
Table of Contents
What Size Helmet Do I Need?
You can follow these three simple steps to have the expected outcome:
Determine your head shape.
Measure with a flexible tape.
Note the dimension and check the motorcycle helmet size chart.
Determine Head Shape
The first step in the motorcycle helmet sizing guide is determining your head shape. Is everyone's head round?
The helmet shape is very important when choosing a suitable one. Every manufacturer creates a headgear to fit each specific form. These are frequently divided into three common head shapes: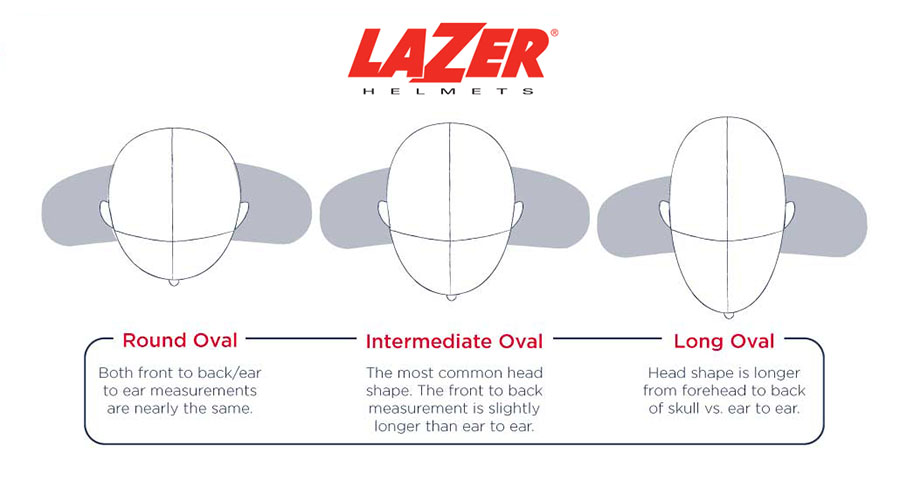 Round Oval: Designed to fit you with nearly identical side-to-side and front-to-back measurements.
Long Oval: Designed for a head that is longer from front to back than from side to side.
Intermediate Oval: Designed to fit a head that is longer front-to-back than side-to-side. Because this is the most common shape, most motorcycle helmets belong to this category.
Measure Head Size With A Flexible Tape
Undoubtedly, a tailor or streamless tape is the most effective tool for this.
Our cloth tape or centimeter tape is flexible and easy to wrap around the rider's head and is marked in proper increments for proper sizing. Use it to determine which dimension is best for you.
Measure the forehead after wrapping the measuring tape around the fullest part, which for most people will be about a half-inch above your eyebrows and ears.
It would be better if you had one to help you with this task. They will assist you in having more accurate measurements.
Note The Dimension And Check With The Size Chart
Jot down the head measurement, then check it according to the size chart. It's advisable to look for the specific chart for the item you're considering, as each manufacturer has a helmet sizing chart that is particular to its models.
| | |
| --- | --- |
| Size | Circumference |
| X-Small | 53cm – 54cm (20.87" – 21.26") |
| Small | 55cm – 56 cm (21.65" – 22.05") |
| Medium | 57cm – 58cm (22.44" – 22.83") |
| Large | 59cm – 60cm (23.23" – 23.62") |
| X-Large | 61cm – 62cm (21.02" – 24.41") |
| 2X-Large | 63cm – 64cm (24.8" – 25.2") |
| 3X-Large | 65cm – 66cm (25.6" – 26") |
| 4X-Large | 67cm – 68cm (26.4" – 26.8") |
| 5X-Large | 69cm – 70cm (27" – 27.5") |
Motorcycle Helmet Size Chart
How To Check If You Have A Proper Helmet Fit?
Style Of Helmet
The first step is choosing the suitable type. There are various types or styles of motorcycle helmets, each of them, such as a mountain bike helmet, has advantages specific to the rider's needs and riding style.
The item type you select will depend on its intended use. Certainly, each kind is made to withstand particular kinds and forces. Some popular helmet styles include: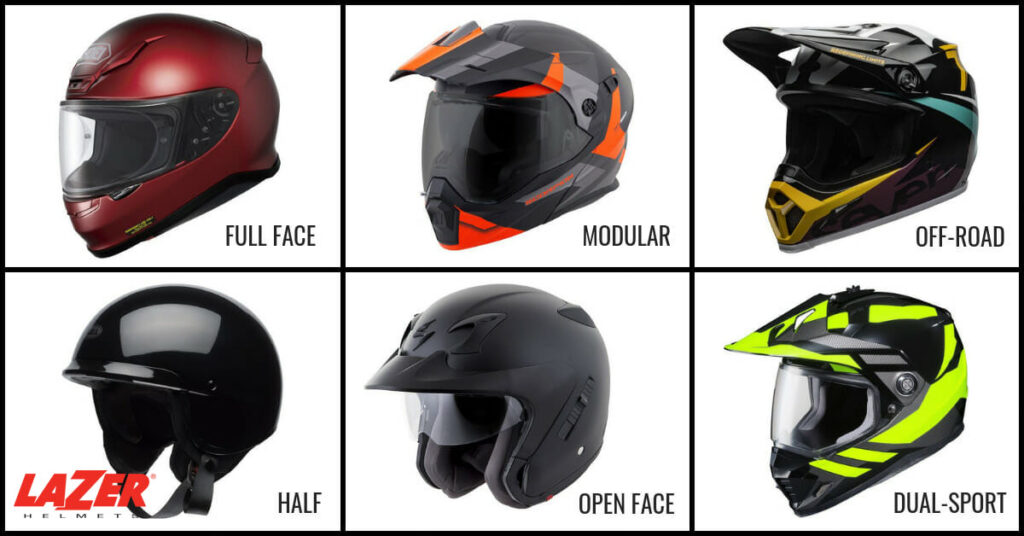 Open Face
Full Face
Modular
ADV Dual Sport
Half Shell
Take The Suitable Size And Try It On
The majority of items are made to fit a variety of circumference sizes. You might see a dimension label corresponding to a chart that lists head circumference measurements, such as small, medium, or large.
Try the item you like before buying to ensure you got a fitting helmet design. It should completely cover your forehead and the back of it, and the product should meet certain safety standards.
Squeeze Test
Its shell's interior is padded with polystyrene, which cushions impacts and safeguards your head. This needs to fit fairly closely so that there isn't a space between it and your skull. Therefore, a new item should feel snug when you try it on after you connect the chin strap. To ensure comfort, wear it on your head for a few minutes.
Twist And Rock Test
Accidents often twist the helmet around, especially when it's too loose.
Push it up from the front or the back while it is still on and the strap is securely fastened. The helmet might not be the best bet for you if it moves excessively in either direction.
The Loosening And The Fastener
A new foam liner will become less snug over time as it slightly contracts from use. Therefore, when you buy a new item, it should embrace your skull enough to prevent it from moving around but not feeling too tight.
The double-D ring fasteners found on race helmets are standard fastening mandated by many racing governing bodies. There are much more straightforward and user-friendly alternatives, so they aren't the go-to choice.
Whatever fastener you decide on must be adjusted and fastened fairly tightly to keep this gear on your head in the event of an accident.
Wear It For About 30 Minutes And Recheck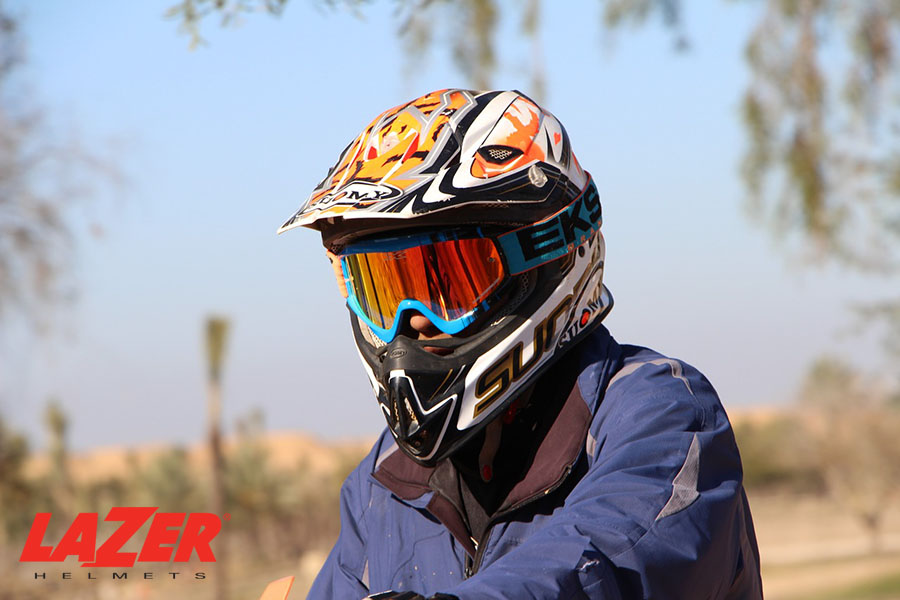 Wear the item you choose for fifteen to thirty minutes. Tightness is acceptable, but if you need to remove it to relieve pain, that product isn't right for you. Directly at the forehead or immediately above the temples are where discomfort is most frequently felt.
Try a different product if you have a noticeable red line across your forehead after taking off your helmet or have any headache. Once you experience the pressure from this item, it is not rounded sufficiently for you.
FAQs
What Should I Do When My Helmet Doesn't Fit?
It's advisable to have the proper measurements for a cost-saving and time-saving investment. However, what if you find it doesn't fit your head?
To customize your fit, you can change its inner lining. "Chipmunk cheek" pads can be purchased from an online retailer, but you may need to spend more. When your current helmet is a little loose in the jawline, it's worth investing in thicker cheek pads to fill the gap.
If you try on some helmet models and notice a common pressure point, such as the front of your brow, you may be wearing too round ones, and you should choose a long oval or intermediate oval shape to make it more comfortable.
Can I Make The Helmet Fit Tighter?
Yes. Suppose You have followed the motorcycle helmet sizing guide, but your product is still larger than your circumference, the solution is:
Replace the inner lining: Choosing a thicker removable padding will help the helmet hug your head more tightly. From there, it will fit and bring a more comfortable feeling.
Change the shape: Measure the dimension again and choose the most suitable form. If you can't figure it out, the best way is to go to the store and try on what feels best to you.
What If I Wear A Wrong-Size Helmet?
When it is too tight, they will stick to your head. This makes you prone to headaches, especially if traveling long distances. Along with that is the limitation in turning it on for observing the surroundings.
In contrast, a wider one will not guarantee your safety. In the off chance of a crash, it will likely fall off your head and not protect your skull.
Are Size Charts Of Brands Different?
Yes. Many people find a fitted item with size Medium in brand A, but when they try on the same size in brand B, they will feel tight/wide. This is because of the way brands are sized differently.
To avoid this, you need to get your measurements first. Then, based on each helmet manufacturer's size chart, check which is the most suitable size for you.
Bottom Lines
And that's all. You've got a detailed motorcycle helmet fit guide. We advise you to have your friend or anyone to support you do this task, as you can have a more correct dimension.
Remember that you should depend on the brand's specific size chart to find the best-suited item for yourself.
See more: