In This Article:
The 2023 Hayabusa is a highly anticipated motorcycle release from Suzuki that promises to live up to its name as one of the fastest-production motorcycles in the world. With its sleek bodywork, powerful engine, and advanced electronics, the new Hayabusa is poised to set new standards for performance and style.
One of the most valuable features of the Hayabusa's engine is its Variable Valve Timing (VVT) system, which adjusts the valve timing for improved power delivery and fuel efficiency. The bike also features Suzuki's proprietary Drive Mode Selector, which allows riders to choose between three different engine maps for varying riding or road surface conditions.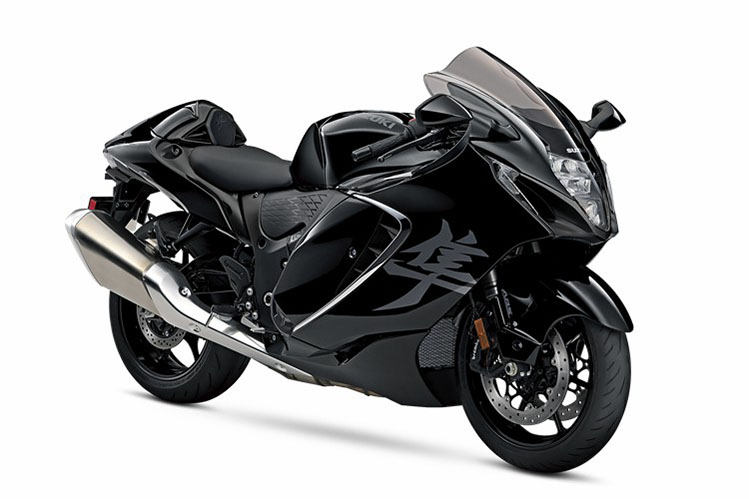 Besides, the 2023 model comes with a sleek and aerodynamic design that has become synonymous with the model. It has a new front cowl design, LED lighting, and a fuel tank that improves rider comfort and superb wind protection. The Hayabusa also features a new digital LCD display, which provides riders with real-time information on the bike's performance and settings.
The Hayabusa's bodywork is not just about aesthetics, however. It has been created to improve performance as well. The bike's aerodynamic fairing design has gone through extensive wind tunnel testing to reduce drag and provide better stability at high speeds. The exciting styling bodywork also enhances the bike's handling, with a lower center of gravity and improved weight distribution.
The 2023 Hayabusa version has a sporty riding position to provide excellent engine brake control and stability at high speeds. The rider sits on a comfortable and supportive rear seat positioned just behind the fuel tank.
The handlebar mount is relatively low, giving the biker an aggressive forward-leaning posture that is ideal for high-speed riding. The footpegs are positioned towards the rear of the bike, allowing the rider to tuck in their legs for advanced aerodynamics.
The MSRP (Manufacturer's Suggested Retail Price) for the 2023 Suzuki Hayabusa is around $22,799, according to Suzuki. However, there may be some changes in pricing due to updates in technology, materials, Suzuki genuine accessories, and other effective features. It's also possible that the price could be slightly higher due to inflation and other economic factors.
---
2023 Suzuki Hayabusa Key Specs
Make: Suzuki
Model Year: 2023
Type: Supersport touring
Color: Black, gray & white
MSRP Price: $18,799
Warranty: 12-month limited warranty
Extension: Longer coverage periods
Engine: 1340cc, 4-stroke
Power: 187.75 hp
Mileage: 15 km/h
Transmission: 6-speed constant mesh
Fuel Tank Capacity: 5.3 Gal. (20 L)
Seat Height: 31.5 in. (800 mm)
Curb Weight: 582 lb. (264kg)
---
2023 Suzuki Hayabusa Specifications
Engine
| | |
| --- | --- |
| Engine | 1340cc, 4-stroke, liquid-cooled, 4-cylinder, DOHC |
| Power | 187.75 horsepower |
| Torque | 111 lb-ft (150 Nm) at 7,000 rpm |
| Bore x Stroke | 3.19 in. x 2.56 in. (81.0 mm x 65.0 mm) |
| Compression Ratio | 12.5:1 |
| Fuel System | Fuel injection with Ride-by-Wire throttle bodies |
| Starter | Electric |
| Lubrication | Wet sump |
Drivetrain
| | |
| --- | --- |
| Clutch | Wet, multi-plate type, SCAS-equipped |
| Transmission | 6-speed constant mesh |
| Final Drive | Drive chain, RK GB50GSVZ5, 114L |
Chassis
| | |
| --- | --- |
| Suspension Front | Inverted telescopic, coil spring, oil damped |
| Suspension Rear | Link type, single shock, coil spring, oil damped |
| Brakes Front | Brembo Stylema, 4-piston, twin disc, ABS-equipped |
| Brakes Rear | Nissin, 1-piston, single disc, ABS-equipped |
| Tires Front | 120/70ZR17M/C (58W), tubeless |
| Tires Rear | 190/50ZR17M/C (73W), tubeless |
| Fuel Tank Capacity | 20.0 L (5.3 US gal.) |
| Color | Metallic Matte Black No. 2 & Glass Sparkle Black, Pearl Vigor Blue & Pearl Brilliant White, or Metallic Thunder Gray & Candy Daring Red |
Electrical
| | |
| --- | --- |
| Ignition | Electronic ignition (transistorized) |
| Spark Plugs | NGK CR9EIA-9 (or DENSO IU27D) |
| Headlight | Multi-plane and projector LED |
| Tail Light | LED |
Dimensions
| | |
| --- | --- |
| Overall Length | 85.8 in. (2180 mm) |
| Overall Width | 28.9 in. (735 mm) |
| Overall Height | 45.9 in. (1165 mm) |
| Wheelbase | 58.3 in. (1480 mm) |
| Ground Clearance | 4.9 in. (125 mm) |
| Seat Height | 31.5 in. (800 mm) |
| Curb Weight | 582 lb. (264 kg) |
Competitor
Performance And Handling
The 2023 advanced version is a premium flagship sportbike with ultimate performance and handling capabilities.
2023 Suzuki Hayabusa Top Speed
The Hayabusa is capable of reaching a top speed of around 186 miles per hour. This incredible top speed is achieved through a combination of the bike's powerful engine, aerodynamic design, and advanced technology. The Hayabusa is powered by a 1340cc inline-four-cylinder engine that delivers an impressive 188 horsepower and 111 lb-ft of torque output. The engine is paired with a six-speed mesh transmission that features a bi-directional quick shift system and an adjustable clutch.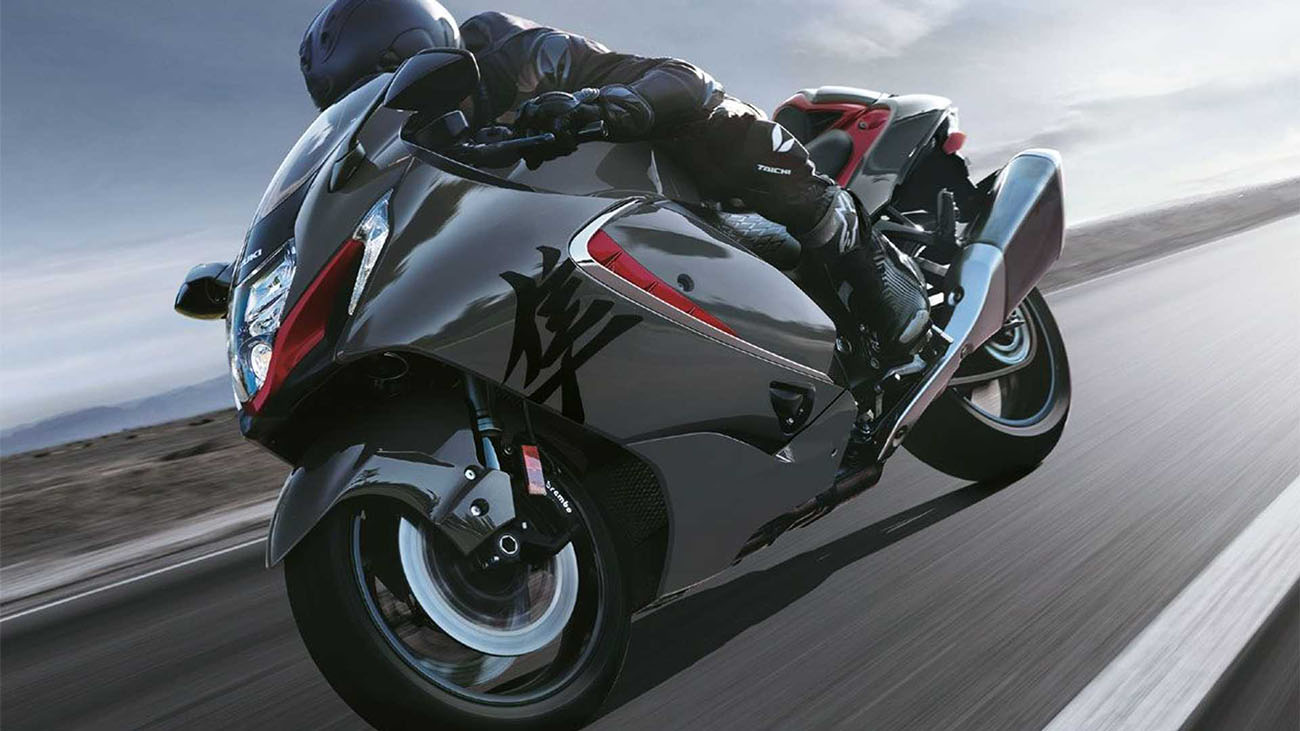 Also, this engine has been updated for the 2023 tasteful version, with improvements to the primary fuel injector system, twin silencer exhaust system, and other components. Plus, the exhaust camshaft has a longer list of valves, and both camshafts' timing has been adjusted to minimize valve opening overlap, which increase in power performance for a balanced sportbike experience.
Braking Performance
The Hayabusa's braking system features dual Brembo front discs with radial-mount monobloc brake calipers and a Nissin rear 1-piston, single disc rear brake. The bike also has a Bosch Anti-Lock Brake System (ABS) that provides extraordinary control and advanced performance.
This system comes with several different modes, including standard, rain mode, and track mode. These modes adjust the ABS settings to provide optimal performance in various conditions (ex: uneven roads). For example, the rain mode reduces the sensitivity of the ABS to prevent skidding on wet or slipper surfaces. In contrast, the track mode provides maximum control over braking and allows for aggressive riding.
Cornering And Handling Characteristics
The Hayabusa's handling is one of its standout key features. The bike is made to provide exceptional stability and cruise control, even when cornering at high speeds. The low-slung design, combined with the bike's adjustable KYB-supplied suspension and tires, provides a stable and secure platform for bikers to navigate through tight corners and turns.
The Hayabusa's handling is also aided by several advanced rider aids, including a six-axis Inertial Measurement Unit (IMU) that provides real-time data on the bike's movement and orientation. This information is used to adjust the bike's traction control system, ABS, and other features, ensuring that the user always has an optimal controlled and stable ride.
2023 Hayabusa: A Brief Review
Overall, the most common theme among bikers is the Hayabusa's impressive engine power and speed. They state that the acceleration and top speed are mind-blowing. Plus, they also appreciate the bike's ability to reach high rates quickly and easily while still feeling stable and controlled.
The 2023 Hayabusa weighs in at approximately 582 pounds with a full tank of gas. This is a bit heavier than some of its competitors in the hyperbike category, but many claim that the Hayabusa is also larger and more comfortable for long-distance rides.
The Suzuki Hayabusa features a large fuel tank with a capacity of 5.3 gallons. According to user reviews, this motorcycle offers impressive fuel efficiency, with average fuel consumption of around 35 mpg. This means that riders can enjoy long rides without worrying about frequent refueling stops and can save money on fuel expenses.
While many users were impressed with the Hayabusa, some noted a few drawbacks. One of the most common complaints was the bike's weight, making it difficult to maneuver at low speeds.
The bike's large size and width were also mentioned as a potential issue for riders in tight spaces or urban environments. We also realized that the bike's styling design hadn't changed much over the years, leading to a feeling of stagnation among some riders. And the speed is quite lackluster, considering its over-1000cc engine (some below-1000cc engines allow for over 200 mph speeds).
2023 Suzuki Hayabusa Photos & Videos
Photos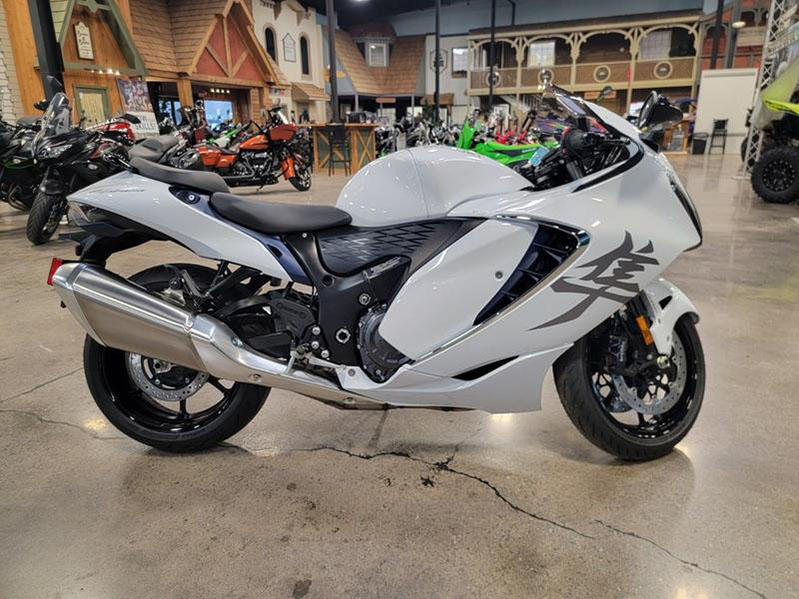 Videos
---
---
*Disclaimer: The prices mentioned in this article may vary depending on the dealership and location. Additionally, the specifications mentioned, such as horsepower and top speed, may vary from different sources as they are often tested under different conditions.