Table of Contents
Most sportbikes introduce a full-fledged color spectrum for a wide range of preferences – but rarely have we seen one that considers purple an option. Yamaha R3 became the first model to break the norm, promising to haunt the common streets in its fancy Phantom Purple variety!
And what if you do not really vibe with this new purple pop? No worries; returning to the traditional Midnight Black or Team Yamaha Blue is still possible.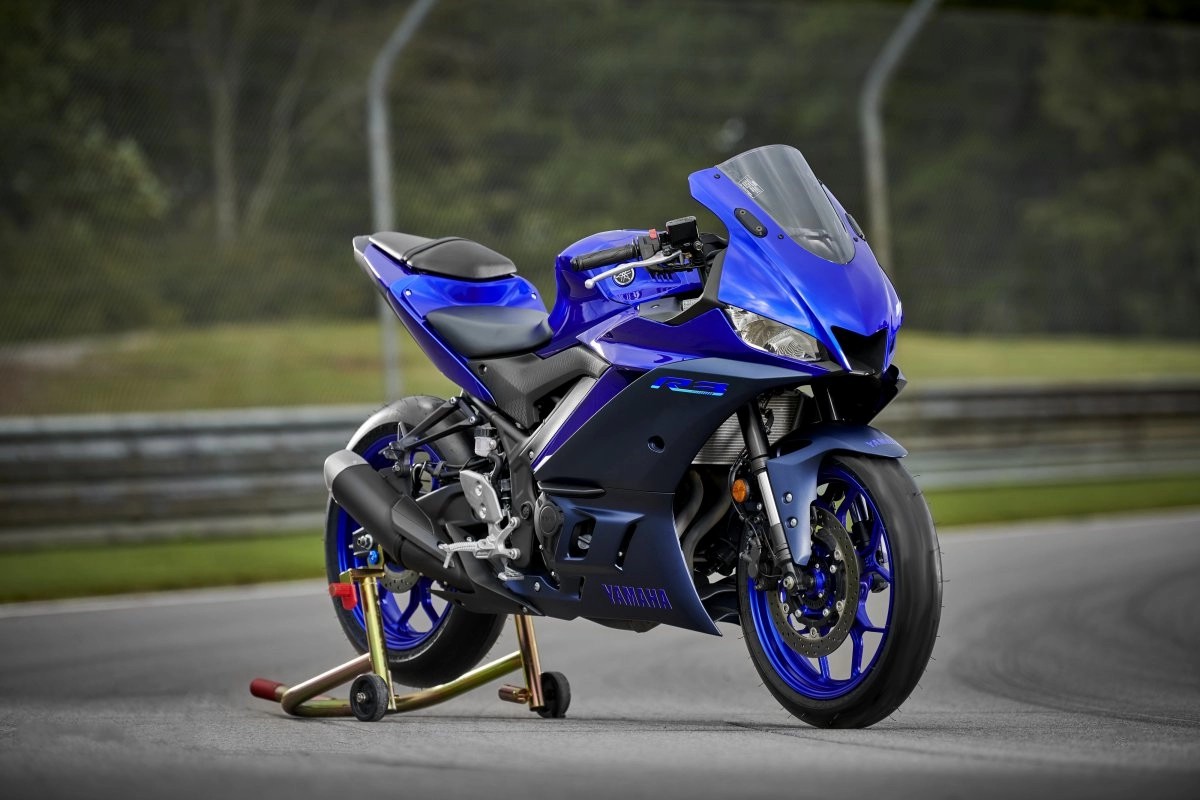 No changes to the engine or chassis are spotted for this 2023 model, but it's alright; that means Yamaha will stick to the highly-critical attributes that have granted its immense success for years.
Responsive disc brakes, aggressive egos, and GPR Dunlop tires all contribute to R3's track dynamics, accompanied by a 321cc, 42 HP parallel twin to make your commuting experience efficient and entertaining.
---
2023 Yamaha YZF-R3 Key Specs
Make: Yamaha
Model Year: 2023
Type: Supper Sport
Color: Intensity White, Phantom Purple
MSRP Price: $5,499
Warranty: 1 Year (Limited Factory Warranty)
Engine: 321cc
Power: 42 HP
Mileage: 61.88 mpg (26.31 km/l)
Transmission: 6-speed
Fuel Tank Capacity: 3.7 gal. (14 l)
Seat Height: 30.7 in. (780.78 mm)
Wet Weight: 375 lb. (170.1 kg)
---
2023 Yamaha YZF-R3 Specifications
Engine
| | |
| --- | --- |
| Engine Type | 321cc liquid-cooled, 4-stroke, DOHC inline twin-cylinder; 4-valves per cylinder |
| Power | 42 horsepower |
| Torque | 21.8 lb-ft (29.6 Nm) |
| Bore x Stroke | 68.0mm x 44.1mm |
| Compression Ratio | 11.2:1 |
| Fuel Delivery | Fuel injection |
| Transmission | 6-speed; multiplate wet clutch |
| Final Drive | Chain |
| Fuel Capacity | 3.7 gal |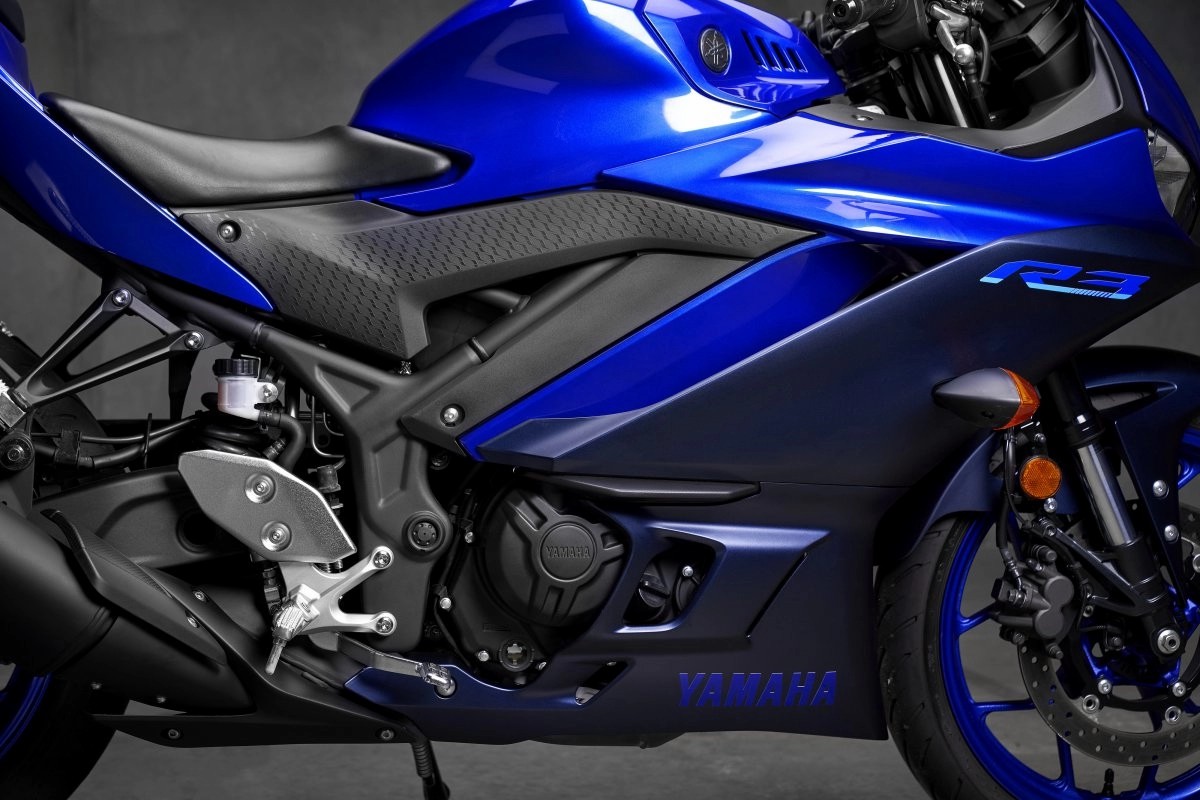 Chassis
| | |
| --- | --- |
| Suspension/Front | Inverted telescopic fork; 5.1-in travel |
| Suspension/Rear | Monocross single shock, adjustable preload; 4.9- in travel |
| Brakes/Front | 298mm hydraulic disc with ABS |
| Brakes/Rear | 220mm hydraulic disc with ABS |
| Tires/Front | 110/70-17 Dunlop® Sportmax GPR-300F |
| Tires/Rear | 140/70-17 Dunlop® Sportmax GPR-300R |
Dimensions
| | |
| --- | --- |
| LxWxH | 82.3 in. x 28.7 in. x 44.9 in. (2090.42 mm x 729.98 mm x 1140.46 mm) |
| Seat Height | 30.7 in. (780.78 mm) |
| Wheelbase | 54.3 in. (1379.22 mm) |
| Rake (Caster Angle) | 25.0° |
| Trail | 3.7 in. (94 mm) |
| Max. Ground Clearance | 6.3 in. (160 mm) |
| Fuel Capacity | 3.7 gal. (14 l) |
| Fuel Economy | 56 mpg (23.81 km/l) |
| Wet Weight | 375 lb. (170.097 kg) |
Competitors
2023 Yamaha YZF-R3 Features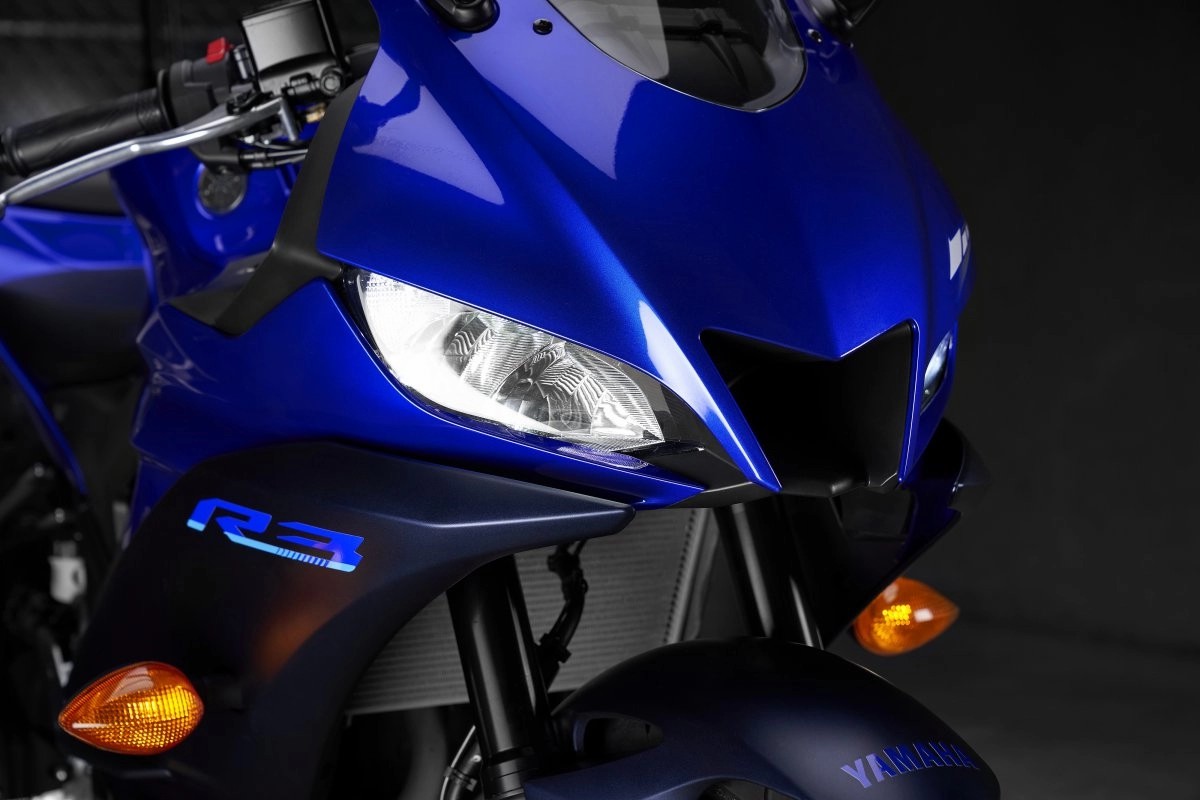 ADDITIONAL FEATURES
Digital Instrumentation
The compact multi-function meter informs the rider of gear position, fuel capacity, real time and average fuel economy, water temp, clock, and an oil change trip meter—all presented in a clean, modern layout.
LED Lighting
Light Emitted Diode (LED) elements are used for both the taillight unit and headlights. Not only do LEDs offer long life with minimal power draw, they provide brilliant illumination for confidence and visibility day or night.
Refined Sportbike Ergonomics
Thanks to the low-profile fuel tank design and relatively compact handlebar position, the rider is able to naturally grip the machine for confidence, especially when tucking aggressively behind the windscreen on the racetrack.
Sleek R-Series Styling
The R3's aggressive design continues the legendary styling born from the YZR-M1 MotoGP® machine and improves overall aerodynamics at high speeds too. The glaring face of the R3 features compact LED headlights with a central air duct that maximizes cooling airflow for the engine.
CHASSIS/SUSPENSION
Inverted Front Fork
The YZF-R3 features an inverted fork with optimized spring and damping settings, significantly improving fork rigidity, front-end feedback and control. The design also includes a YZR-M1-inspired top clamp for improved supersport style.
Monocross Rear Shock
The single-shock design further centralizes mass and is tuned to strike a balance between ride comfort and sporty performance, for capability across a wide range of uses, from urban commuting to track days. It's also adjustable for spring preload which accounts for passengers or cargo.
Perfectly Balanced
Thanks to the engine placement and overall machine dimensions, the YZF-R3 features a near 50/50 front/rear weight distribution for enhanced performance, especially in dynamic canyon-carving or racetrack riding environments.
Potent Braking with ABS
The 298mm floating-mount front disc brake ensures excellent stopping power, supported by a 220mm rear disc, and an anti-lock braking system boosts rider confidence and prevents wheel lock-ups in reduced-traction conditions.
Sportbike-Spec Wheels & Tires
Stylish 10-spoke cast aluminum wheels minimize unsprung weight for improved suspension responsiveness and refined handling. Grippy Dunlop® radial tires offer enhanced traction and feedback for sporty riding too.
ENGINE
Advanced Cylinder Construction
Yamaha's unique DiASil—a high-silicon aluminum alloy—engine block is used to ensure excellent heat dissipation, with an innovative offset cylinder design that reduces horsepower loss and improves both power and fuel efficiency.
Compact Exhaust System
The short muffler design features modern styling and helps to centralize mass, improving agility for ultra-responsive handling.
High-Revving Engine Architecture
With a compression ratio of 11.2:1, double overhead cams (DOHC) and four-valve cylinder heads, the YZF-R3 motor is designed for quick-revving performance and high-rpm efficiency to deliver an exciting ride with a broad spread of power.
Modern Fuel Injection
Downdraft induction fuel injection system provides easy starting, excellent fuel economy and responsive performance in all conditions.
Potent Twin-Cylinder Powerplant
Yamaha's 321cc liquid-cooled, inline 2-cylinder engine delivers excellent power and performance throughout the rpm range. With a 180-degree crank design and integrated counterbalancer, the layout minimizes vibrations for a smooth, refined engine character.
Six-Speed Transmission
A smooth-shifting six-speed gearbox ensures the rider always has the right ratio, whether riding through tight canyon corners or racetrack straightaways.
Strong, Lightweight Pistons
Forged aluminum pistons—the same technology used for the YZF- R1—mean lighter weight and excellent strength at extreme temperatures, ensuring reliability at higher rpm.
TOP FEATURES
Advanced Suspension
The R3's inverted fork works with a Monocross rear shock to provide exceptional handling, with balanced chassis rigidity, a near 50/50 weight balance, and damping and spring settings designed for a wide range of road conditions.
Compact Chassis
With a fully-fueled weight of only 375 pounds and a seat height of only 30.7 inches, the YZF-R3 is ultra-light, nimble and confidence-inspiring on everything from tight city streets to wide-open racetracks.
High-Revving Supersport Engine
Yamaha's championship-winning technology gives the YZF-R3 a broad spread of power with exciting high-rpm performance.
Practical Performance
A range of exclusive technologies ensures the YZF-R3 combines Yamaha's legendary refinement and reliability with thrilling performance, all while sipping fuel at an efficient 56 mpg.
Sleek R-Series Styling
Featuring flowing bodywork and ergonomics inspired by the MotoGP® YZR-M1, complemented by new colors and graphics, the YZF-R3 is sleek, aerodynamic and refined.
Tech Features and Quality Review
2023 Yamaha YZF-R3 Top Speed
As mentioned, this beast produces 42 HP at a maximum torque of 21.8 lbs-ft. Its excellent power arrives from the parallel power plant (which runs with 180-degree crank design and firing order) and counterbalancer systems for smoother tractable performance.
We are also impressed with the cylinder bore, whose offset mitigates all possible mechanical thrashings with concurrent output boost to provide us with optimal fuel capacity. The forged pistons are another undeniable charm, installed in the twin cylinders to lower reciprocating loads. As a result, spool-up timing improves and contributes significantly to throttle responses; they are linear, snappy, and on time!
A closer look reveals the stroke and bore measurement (44.1 and 68 mm, respectively, in a 321cc displacement), which puts the bike towards the top of its bracket ranges. Such aggressive designs ensure broad spreads of power and refined engine characters for sporty machine performance anytime and anywhere.
Aided by additional features like the chain-type drive and six-speed power transmission, no wonder this monster can reach a maximum speed of approximately 112 MPH. It is ideal for traveling on highways and roads with plenty of reserved space!
Acceleration
Like R3's engine performance, its straight-line capabilities fall in the middle of its entry-level class: not the quickest, but holding its position respectively.
What our testers feel impressed the most about high-end 300cc+ motorcycles is their sub-6-second times for 0 to 6- MPH transitions (definitely more effective than typical entry-level vehicles like Yaris, for instance!) And thankfully, R3 Yamaha is no exception. With perfect launches, it can accelerate:
To 60 MPH in only 5.1 seconds
To 80 MPH in about 8.73
To 100 MPH in approximately 17.13
Past its quarter-mile milestone in 14 seconds straight at 95 MPH terminal speed
The whole progress is smooth and non-fussy, allowing us to conveniently flick our next gears from 10,500 to 12,000 RPM and still achieve consistent runs. And for your information, all these numbers easily outperform the most recognized model of this class – the Ninja 300 – and bite the heels of some next-class bikes like the MT-07.
We did expect R3 to perform well – but not THAT well – so this is certainly a pleasant surprise! Not to mention, its highway speeds even outranks LAMS/A2 CBR650R despite much smaller engine blocks and wet clutches.
Nevertheless, note that some R3 models do not hold onto power as consistently as others, so your total mileage can vary. Also, like any low-cc power bikes, acceleration figures differ across weather conditions and riders (ex: Heavy or light rider? Tailwind or headwind?).
With a decline or tailwind, you may even hit 120 MPH at the 6th gear limiter; that did happen to some of our tests, though not very often!
Braking System and Handling
Yamaha R3's telescopic forks float the front endpoints at 5.1 inches, while the mono shocks turn in at 4.9 inches. There are no suspension settings other than the adjustable preloads. Yet, its advanced setup still strikes our sweet spot, perfectly balancing enhanced performance and ride comfort.
At a wet weight of 375 pounds, this small-displacement R3 does not rate dual brakes. But no problems; we already have twin-piston anchors and single discs (298 mm) to handle all businesses upfront. ABS brake units and 220 mm single-pot calipers are also brought to the table, boosting riding confidence to no end.
How about the handling? We discover the stylish, aluminum 10-spoke wheels with a diameter of 17 inches, which are enveloped in Dunlop Sportmax rubber for enhanced traction. The rake angle of its steering head (25 degrees at 3.7 trail inches) makes the entire bike extremely tactful, delivering high flick abilities to support ultra-responsive and sporty, exciting rides.
All corners and twisty roads are now a thousand times more fun!
Final Thought on Its Key Features
As discussed in the overview section, YZF-R3 motors retain the ultra-light chassis and engine configuration with NO changes – and smartly so.
Previous models have already been flawless for competing race tracks, crosstown traffic, and everything between these two extremes. We always appreciate that this versatile machine has enough power and torque to be exciting without scaring beginners to death.
Nevertheless, there is still room for improvement: the rear suspension, to be more specific. Our R3 feels bouncy on rutted surfaces and slightly squishy with strong braking.
Some suggest tweaking the rear tire or monocross rear shock to improve the matter, but it really doesn't help much. Without changeable forks, we often find ourselves stuck between rebound settings and stock compression – to the point that the bike's front end dives and sinks completely.
2023 Yamaha YZF-R3 Photos & Videos
Photos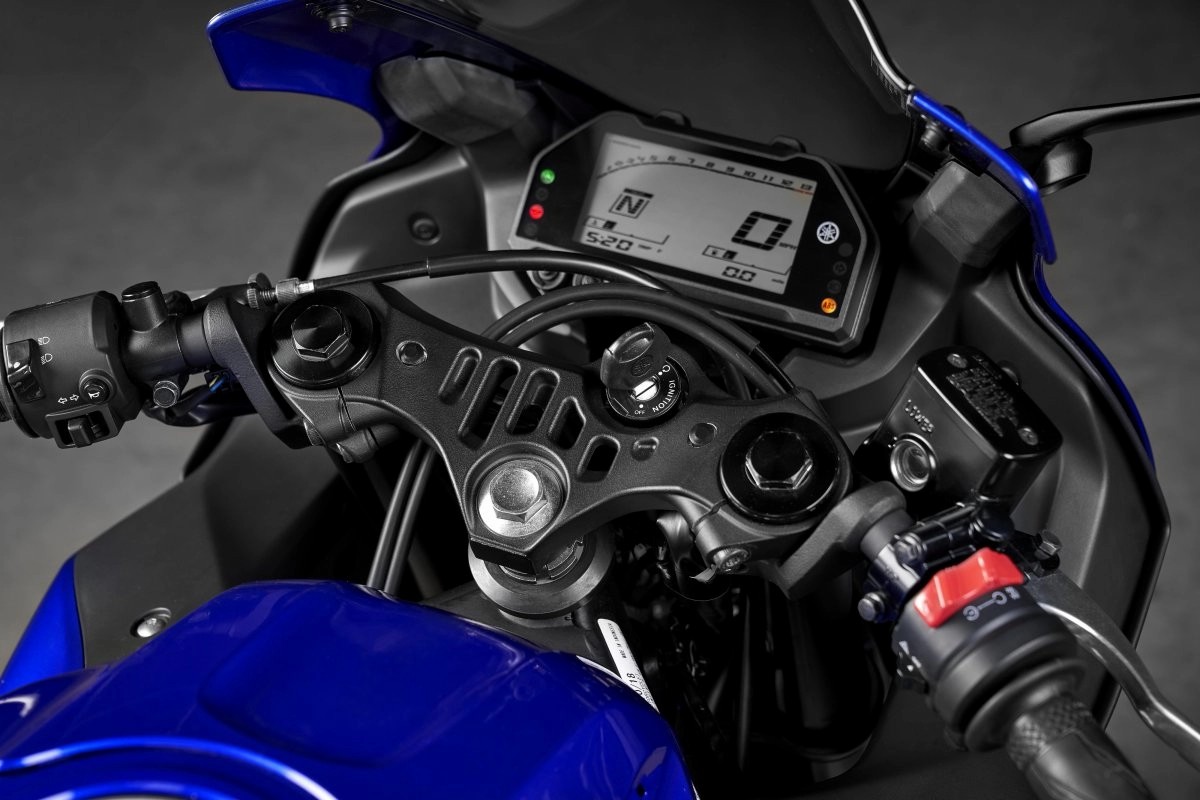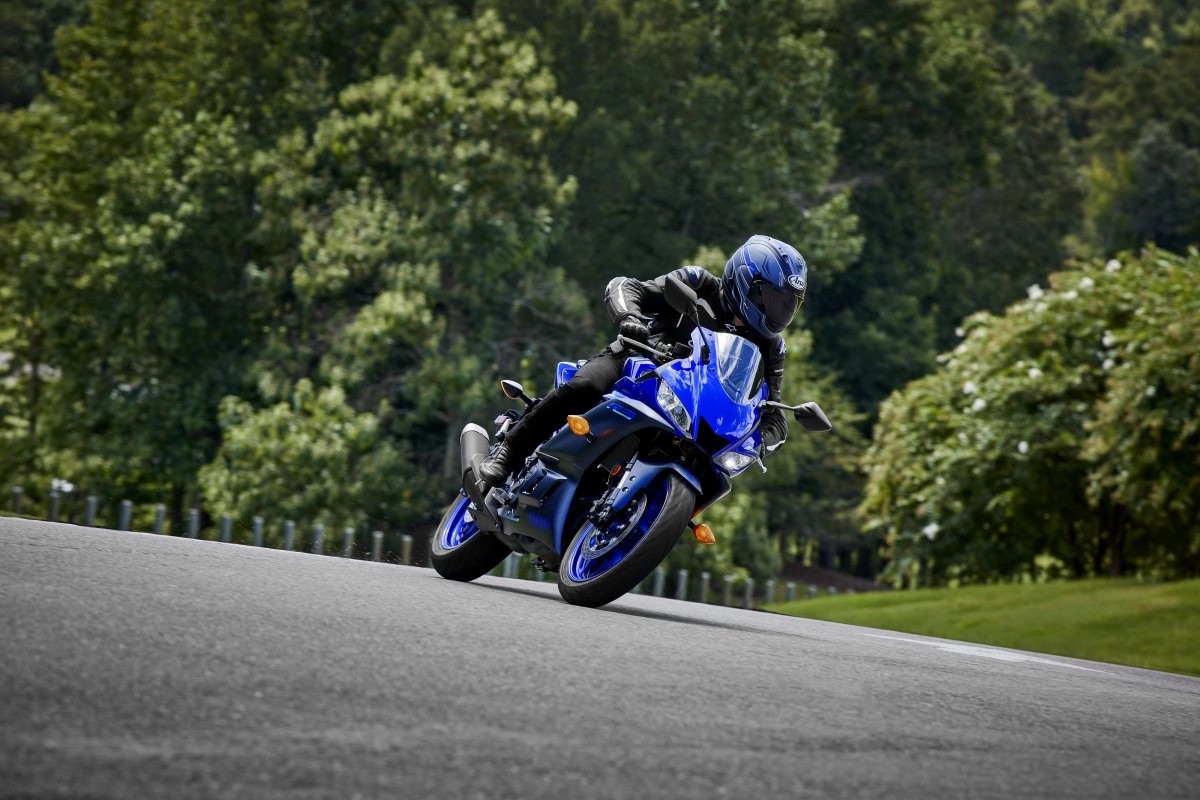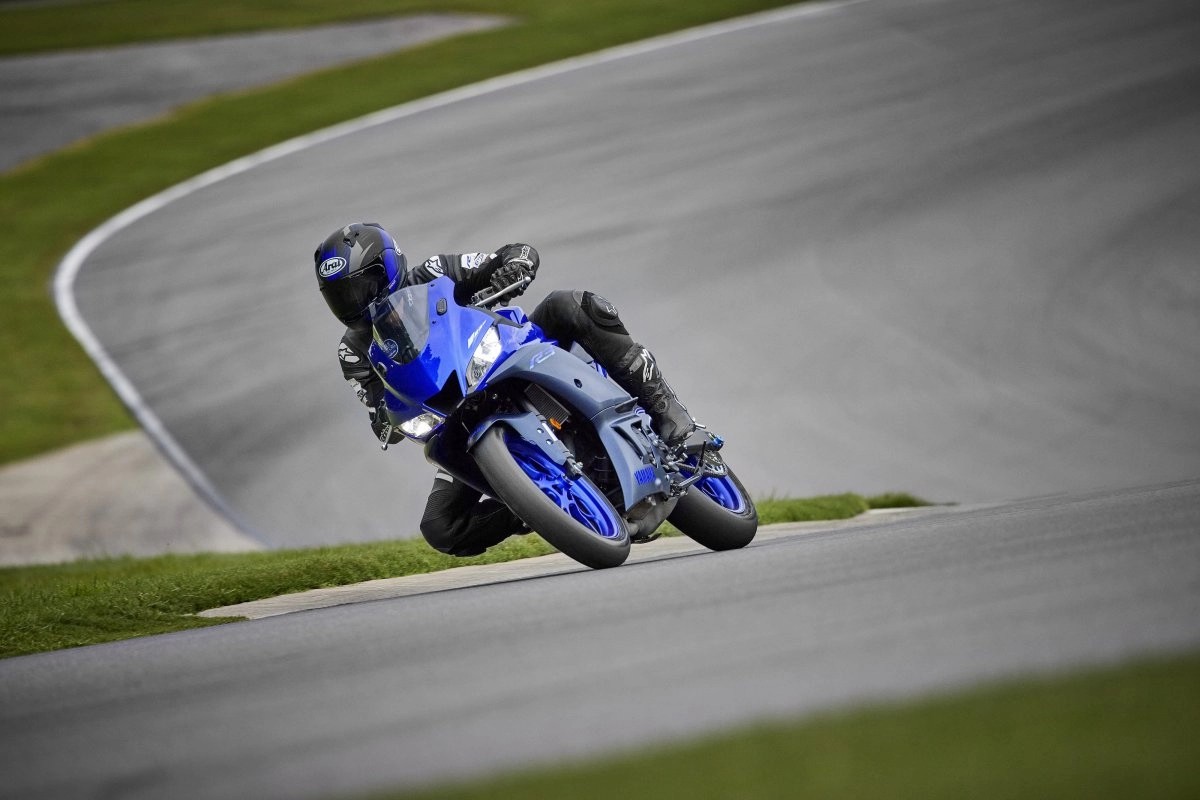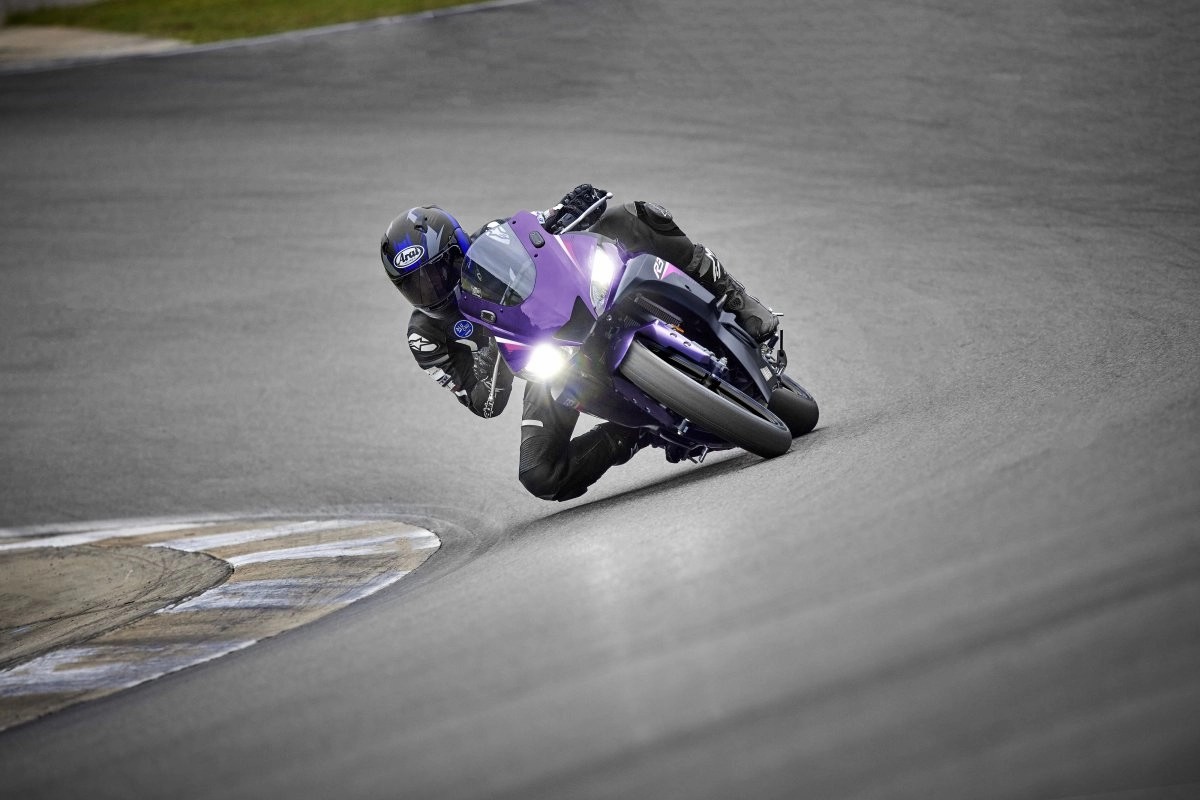 Videos
---
---
*Disclaimer: The prices mentioned in this article may vary depending on the dealership and location. Additionally, the specifications mentioned, such as horsepower and top speed, may vary from different sources as they are often tested under different conditions.