In This Article:
The Yamaha XSR700 arrives with a rich engine similar to recent MTO7 models, incorporating 689cc, two parallel cylinders, DOHC, and a 270° crossplane crankshaft for linear throttle input and smooth combustion stroke.
One could easily recognize the motors have been redesigned to increase higher-end power, capable of maxing out at 9,000 RPM/ 73.4 HP with a peak torque of approximately 68 Nm or 92.2 lb-ft (6500 RPM). The thrills of our riding experience have been brought to a new level.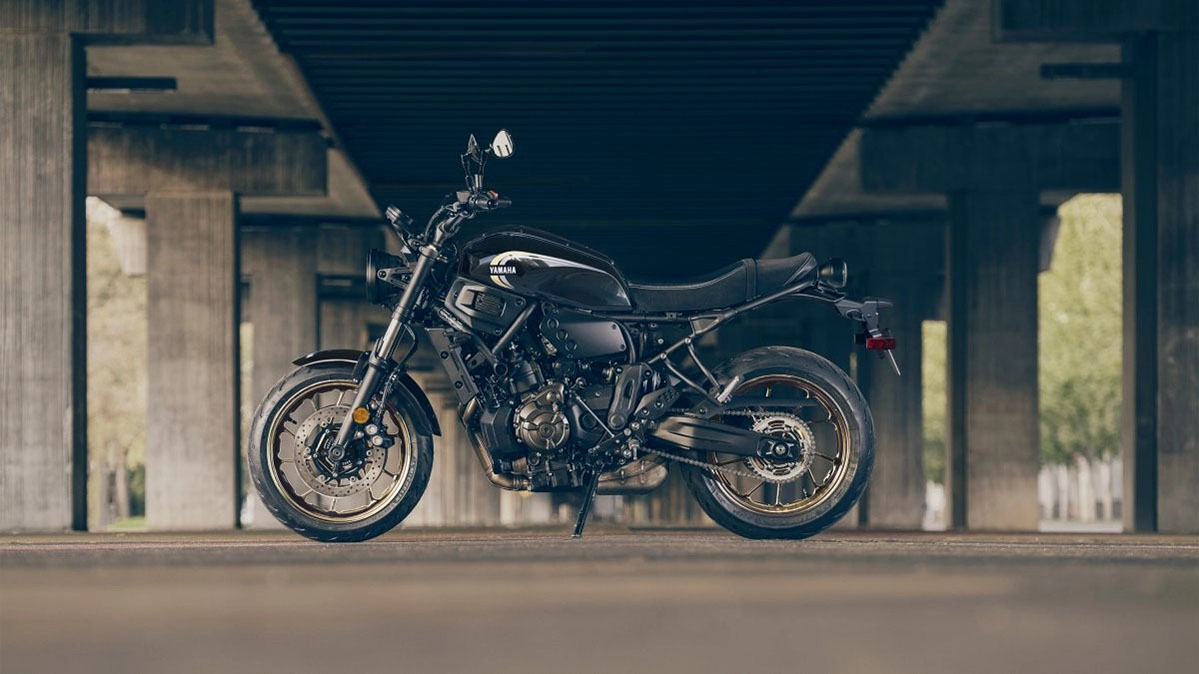 Furthermore, closer looks reveal the bike is armed with counterbalance systems to reduce vibrations, fostering a more seamless run for the parallel twin engine. And as per reports, its electronic fuel gauge program (average fuel consumption is about 58 mpg) has also been upgraded to align the entire bike with the current urban traffic condition.
We are also quite surprised with the slight modifications to the exhaust system and intake; apparently, their purpose is to align the bike with Euro5 emission standards without reducing engine performance.
---
2023 Yamaha XSR700 Key Specs
Make: Yamaha
Model Year: 2023
Type: Standard
Color: Black, White
MSRP Price: $8,799
Warranty: 1 Year (Limited Factory Warranty)
Warranty Plus: 24 or 36 months (Yamaha Extended Service)
Engine: 689cc, 4-stroke
Power: 73.4 HP
Mileage: 58 mpg (24.6 km/l)
Transmission: 6-speed
Fuel Tank Capacity: 3.7 gal. (14 l)
Seat Height: 32.7 in. (830 mm)
Curb Weight: 410 lb. (186 kg)
---
2023 Yamaha XSR700 Specifications
Engine
| | |
| --- | --- |
| Engine type | 4-stroke, liquid-cooled, DOHC, 4-valves |
| Displacement | 689cc |
| Torque | 92.2 lb-ft (68 Nm) @ 6500 RPM |
| Bore x stroke | 80.0 x 68.6mm |
| Compression ratio | 11.5:1 |
| Maximum power | 54.0 kW (73.4PS) @ 9,000 rpm |
| Limited power version | 35.0 kW (47.6PS) @ 7,500 rpm |
| Maximum Torque | 67.0 Nm (6.8 kg-m) @ 6,500 rpm |
| Lubrication system | Wet sump |
| Clutch Type | Wet, Multiple Disc |
| Ignition system | T.C.I |
| Starter system | Electric |
| Transmission system | Constant Mesh, 6-speed |
| Final transmission | Chain |
| Fuel consumption | 4,3 L/100 km |
| CO2 emission | 118 g/km |
| Carburettor | Fuel Injection |
Chassis
| | |
| --- | --- |
| Frame | Steel tubular backbone |
| Caster Angle | 24.8° |
| Trail | 90 mm (3.5 in.) |
| Front suspension system | Telescopic forks |
| Rear suspension system | Swingarm |
| Front travel | 130 mm (5.1 in.) |
| Rear Travel | 130 mm (5.1 in.) |
| Front brake | Hydraulic dual disc, Ø 282 mm (11.1 in.) |
| Rear brake | Hydraulic single disc, Ø 245 mm (9.6 in.) |
| Front tire | 120/70 ZR 17M/C (58W) (tubeless) |
| Rear tire | 180/55 ZR 17M/C (73W) (tubeless) |
Dimensions
| | |
| --- | --- |
| Overall length | 2,075 mm (81.7 in.) |
| Overall width | 865 mm (34.1 in.) |
| Overall height | 1,120 mm (44.1 in.) |
| Seat height | 835 mm (32.9 in.) |
| Wheelbase | 1,405 mm (55.3 in.) |
| Minimum ground clearance | 140 mm (5.5 in.) |
| Curb Weight | 410 lb. (186 kg) |
| Fuel tank capacity | 13 L (3.4 gal.) |
| Oil tank capacity | 2.7 L (0.7 gal.) |
Competitors
| Model | Price | Engine | Top Speed |
| --- | --- | --- | --- |
| 2023 Kawasaki Ninja 650 | $7,999 | 649cc | 131 mph |
| 2023 Suzuki GSX-S750 | $10,599 | 749cc | 170 mph |
| 2023 Kawasaki Z650 | $7,749, $8,249 (ABS) | 649cc | 13.7 mph |
2023 Yamaha XSR700 Features
Additional Features
Advanced Instrumentation
The round LCD panel features a ton of information: digital tachometer, speedometer, gear position, eco mode indicator, ambient and coolant temperature, a fuel gauge and range of trip computer functions including a clock, instant and average fuel consumption, fuel reserve trip meter and the usual trip meters.
Casual but Sporty Ergonomics
A tall, wide handlebar, stitched two-level seat and perfectly placed foot controls provide a comfortable upright riding position that is ideal for either urban traffic or hustling down a twisty road.
Classically-styled Modern LED Lighting
A heritage-inspired round LED headlight provides both classic style and modern performance in equal measure. A round all-LED tail and brake light mounted above the rear fender and turn signals are also compact, stylish LEDs.
Stylish & Ergonomic Fuel Tank
A compact 3.7 gallon fuel tank is shrouded by beautifully shaped, hand-finished aluminum side covers for a timeless design.
Unique XSR700 Detailing
Every aspect of the XSR700 shows Yamaha's attention to detail: the single-piece stitched saddle, the classic teardrop mirrors with excellent rearward visibility, the compact radiator which is flanked by exposed aluminum covers, a removable subframe that simplifies customization, and the naked aluminum accents and fender mount. The XSR700 demands a second look, every time.
Chassis/Suspension
Compact, Sporty Chassis
A lightweight diamond-type high tensile steel frame provides an optimized rigidity balance for light, agile handling and stability. The engine is a stressed member of the chassis which allows for a lighter, more compact main frame design.
Lightweight Wheels & Michelin Road 5 Tires
Lightweight 10-spoke cast aluminum wheels are now fitted with Michelin Road 5 tires, 120/70ZR17 front and 180/55ZR17 rear, for confident handling and excellent grip in a variety of conditions.
Powerful Braking with ABS
The XSR700 provides strong, controllable braking thanks to its modern braking components. Powerful four-piston calipers are paired with large 298mm front brake discs for enhanced performance. ABS comes standard to prevent wheel lock under hard deceleration.
Standout Style
The XSR700 blends Yamaha's world-class engineering with timeless style, creating a new type of machine for riders looking for an authentic and honest motorcycle that doesn't sacrifice performance. Drawing influence from Yamaha's classic "XS" series of motorcycles, the XSR oozes class with its exposed aluminum details, retro-influenced bodywork, stepped seat and custom lighting and instrumentation.
Street-Focused Suspension
The 41mm front fork and link-type Monocross rear shock each provide 5.1 inches of suspension travel and are tuned to provide a balance of comfort and control, making it ideal for the street. The shock uses an almost horizontal alignment which helps make the chassis much more compact while rear spring preload adjustment allows the rider to tailor the suspension to match rider weight or load.
Engine
Advanced Twin Cylinder Engine
The XSR700 features a compact 689cc liquid-cooled, inline twin-cylinder, DOHC engine with fuel injection. This engine provides a unique power character with its outstanding low- to mid-range torque and very linear throttle response and complemented with strong high-rpm pulling power. This motor develops 50 foot-pounds of torque and is designed to maximize riding excitement in the real world.
Compact Six-Speed Transmission
The XSR700's six-speed transmission takes full advantage of the low-to- mid-range torque and excellent response of the twin-cylinder motor while further enhancing the compact engine design thanks to triangulated input and outputs shafts.
Crossplane Crankshaft Concept
The two-cylinder engine features Yamaha's "Crossplane Concept" 270 degree crank that provides linear torque development in response to the rider's throttle input. The CP2 engine is also light, slim and compact and offers an excellent level of rider-to-machine communication.
Offset Cylinder Block
The paired cylinders of the XSR engine are shifted slightly forward compared to the center of the crankshaft. This reduces drag during each combustion stroke of the pistons and improves efficiency.
Refined, Efficient Fuel Injection
Electronic fuel injection settings deliver a smooth throttle response to enhance riding enjoyment from the open roads to the urban sprawl. The system delivers outstanding torque in the low- and mid-rpm range along with exciting acceleration in the upper rpm range. Combined with the efficient overall engine design, the XSR700 delivers an exceptional 58 mpg.
Vibration-Reducing Counterbalancer
To reduce vibration and provide a smooth, modern engine character, the motor uses a geared counterbalancer that is mounted low and forward on the engine.
Top Features
Advanced Crossplane Crankshaft Concept Engine
The compact two-cylinder engine provides a unique power character with its outstanding torque and throttle response, complemented with strong high-rpm pulling power. It also features Yamaha's "Crossplane Concept" 270-degree crank that provides linear torque development in response to the rider's throttle input.
Compact, Sporty Chassis
The narrow frame design features sport-oriented geometry to achieve light and nimble handling and is aided by the minimalist 410-pound wet weight and refined ergonomics.
Modern LED Headlight, Classic Style
Heritage-inspired round LED headlight provides modern lighting performance with classic style, while integrated headlight stays connect into the fork shrouds for a compact front expression and a sleek 'snub-nose' look.
Powerful Braking with ABS
The XSR700 provides exceptional and confident braking power thanks to its modern brake components and 298mm front disks backed up by the security of ABS.
Standout Style
The XSR700 blends Yamaha's world-class engineering with timeless style, creating a new type of machine for riders looking for an authentic and honest motorcycle that doesn't sacrifice performance. Drawing influence from Yamaha's classic "XS" series of motorcycles, the XSR oozes class with its exposed aluminum details, retro-influenced bodywork, stepped seat and custom lighting and instrumentation.
Performance
Top Speed and Handling
Smaller uprights might be great for tight quarters, but there is a price to pay: lack of excitement and thrills for spirited riding.
The modern retro bike peeled itself off red lights with restraint and authority, even when we weren't twisting its throttle to a full stop. Its low-RPM mid-range torques require little management effort, and acceleration is only a crack away from the throttle.
Still, if you need immediate freeway access, the bike can easily blast to 120 MPH (that's nothing to be worried about, considering traffic flow on highways is always above 80 MPH). And the agile handling, thankfully, did not compromise velocity stability on freeways. Even though the motorcycle is upright-naked, we rarely felt like the speed would get us blown off.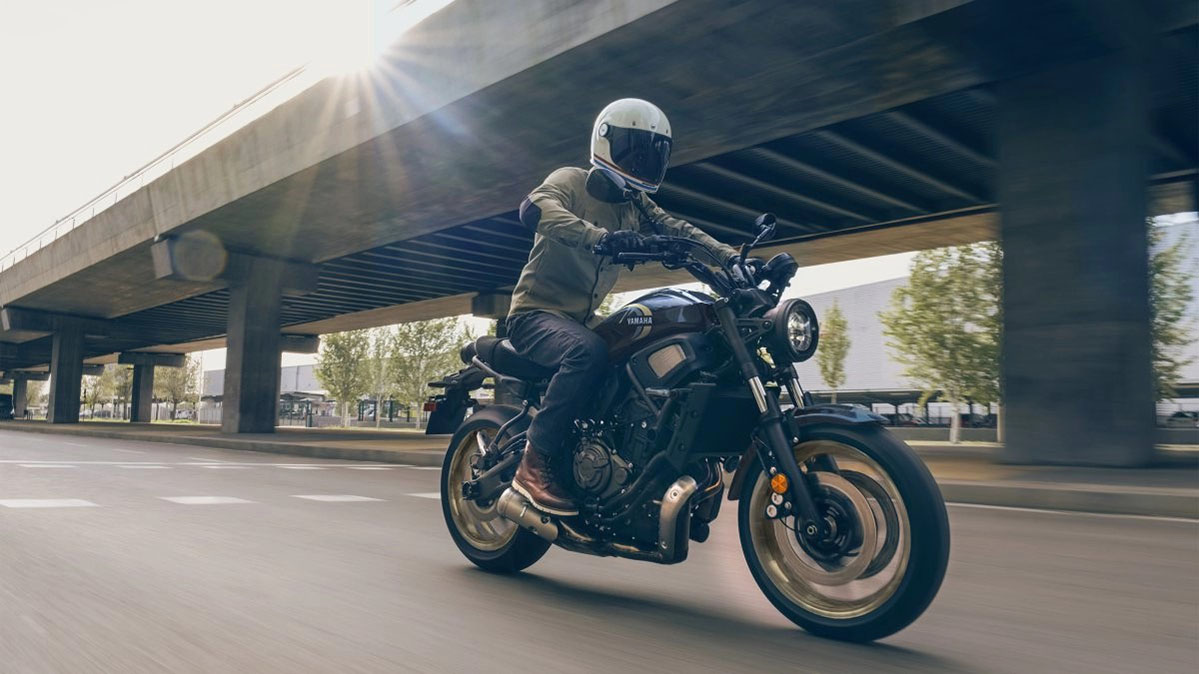 That's not all; with its 270° crank that imitates V-twins, the 689cc power plants literally purr. They enjoy plenty of pulls through midranges and great pulses, which make them shine equally in sporting and urban environments.
From closer observation, not much will happen once you surpass the 8K RPM benchmark – except for noticeable buzziness. Quite surprising – considering the bike's 9,500 RPM redline. So feel free to use this impressively six-speed shifting transmission to your heart's content.
Against giant competitors like supersport R7, and naked MT-07. Yamaha, and Tenere 700, the XSR700 feels quite at home indeed. 
Braking and Cornering
Experienced staff from Yamaha Motor Corp have put this classic styling beast through different city paces, and it outperformed all expectations without any falter. The bike was smooth at high velocities, barely released any palpable vibration, and got up to speeds quickly with maximum power to high RPM ranges.
In cramped cities, XSR700 skillfully maneuvered its way around traffic thanks to the ABS equipped brakes. The wide rear tires delivered a great traction feeling, streamlining our cornering attempts with zero hassles.
We must give our thumbs up for the 5-level adjustable brake lever, which is supposed to be an aftermarket add-on for some brands. This is meant for riders whose hands are bigger or smaller than average, ensuring that riders of all shapes will handle the lever comfortably and timely.
Its wet weight of 410 pounds may admittedly deter some smaller female riders during cornering/braking. But overall, it's still quite nicely balanced, and we did not find it heavy in the slightest.
2023 XSR700: A Brief Review
Our exhilarating, fun performance ride has wiped off any lingering suspicion about XSR700's charisma.
At the beginning of our test ride, the peppy concept twin/ 689cc CP2 engine allowed us to zip along highways comfortably in 6th gear at 70 MPH. Spot-on fuelling, no snatchy cramps, with a dash of settings that could be adjusted via bar switches on the circular cluster; everything is perfect.
However, we found it pretty odd that those switches were installed opposite to their expected/usual sides, forcing us to activate them using our right hands. At first, some of our testers labeled them "bad designs," but later on, we discovered their real purpose was to encourage riders to engage the bar switch during rides instead of attempting a reach-around.
Smart indeed, though that made us wonder why Yamaha did not just remove them from the design – isn't that a more straightforward solution?
Throughout the rest of our ride, we banged down several gears, eased off the clutches, and shaved off the streets as if we had ridden into Jello cubes. The engine compression was pretty noticeable, and we welcomed it by gripping the handlebars tighter, snapping XSR700 between lane-filtering and car flows.
This naked motorcycle was quick and tactile; thanks to its short wheelbase, its outstanding agility reached an almost ninja-like level. Flicking this 410-pound piece through traffic seemed easier than it should be, with great mirror clearance and snug handlebars for enhanced performance in crowded streets.
We weren't even exaggerating: XSR700 was definitely among the best, most iconic motorcycles for busy roads.
And this was what we all concurred when reaching the finish line: XSR700's simplicity is phenomenal. Sure, not exceptionally powerful, but its delivery was fun and pure.
Are there any notable downsides to pay attention to? Not much, in all honesty – but we must say some experienced riders might not feel satisfied with the link type suspension and speed transmission.
A few adventurous souls in our team found it too gentle for hardcore riding applications; so if complex and elaborate modern performances are your goal, chances are XSR700 is not a good fit. An alternative style of rear suspension will be better for you.
Other minor drawbacks of these iconic machines are:
The front ends dive too quickly under strong braking
The rears rebound too hard mid-corners, discouraging most riders from pushing their limits on this style of bike.
Hence, be extra mindful of the level of rider; don't try anything beyond minute performances if you are not ready.
2023 Yamaha XSR700 Photos & Videos
Photos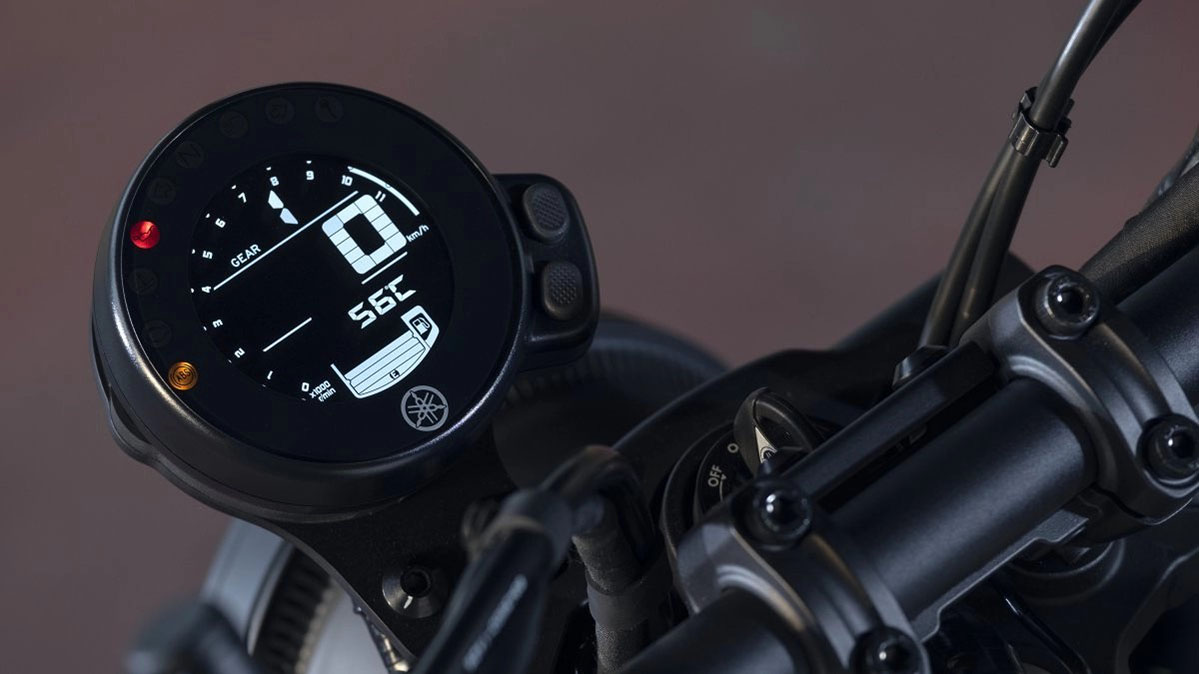 Videos
---
---
*Disclaimer: The prices mentioned in this article may vary depending on the dealership and location. Additionally, the specifications mentioned, such as horsepower and top speed, may vary from different sources as they are often tested under different conditions.