In This Article:
The Honda CBR1000RR is a welcome addition to the Honda collection. It is a thrilling new model for 2023 that gives riders a high-performance motorbike with cutting-edge technology and a sleek style.
In comparison to its predecessor, the 2022 model, the 2023 Honda CBR1000RR has been reported to have shaved off some weight, making it even lighter and more agile. Its aluminum frame and bodywork contribute to a curb weight of around 432 pounds, making it one of the most light-weight motorcycles in its class.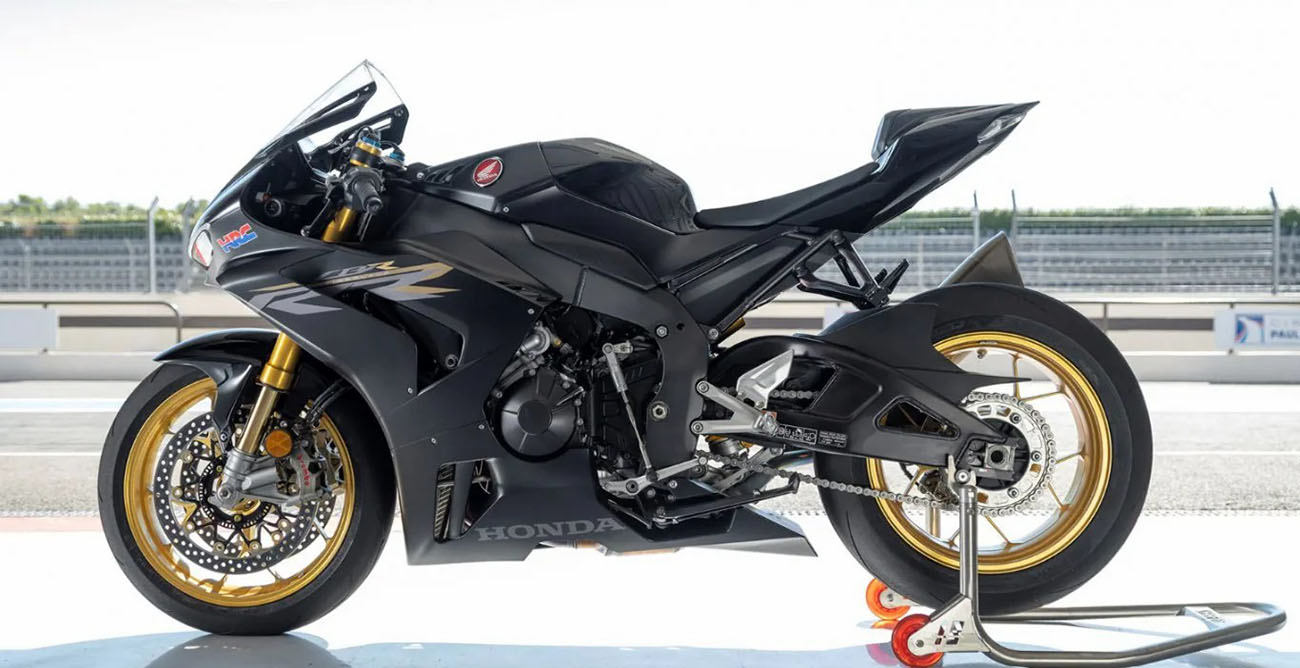 The transmission, which has a slipper clutch to avoid wheel hop and lock-up during aggressive downshifts, is linked to the engine and offers smooth, precise shifting. Moreover, the machine has a fast shifter that enables clutchless upshifts and downshifts, giving stronger acceleration and maintaining vehicle speed.
This 2023 CBR1000RR sports a low profile highlighting its sporting appeal and sleek, contemporary appearance. Also, it has brand-new LED headlights and taillights for better visibility and a more modern look. Sharp angles and lines give the bike a futuristic appearance guaranteed to appeal to anyone who enjoys cutting-edge designs.
Another advanced feature of the 2023 CBR1000RR is a Showa Balance-Free Rear Cushion (BFRC) rear shock that offers excellent handling and stability. Meanwhile, a Brembo braking system provides incredible stopping power and control. The motorcycle also features advanced aerodynamics, with a fairing designed to reduce drag and improve riding experiences.
The 2023 Honda CBR1000RR is a high-performance sport bike with a premium price tag. In the United States, the base model of the CBR1000RR has a starting sales price of $16,599 (according to Honda). The cost is quite high, so let's see what advanced technologies and features it offers.
---
2023 Honda CBR1000RR Key Specs
Make: Honda
Model Year: 2023
Type: Superbike
Color: Grand Prix Red
MSRP Price: $16,599
Warranty: 1 year
Warranty Extended: Extended coverage
Engine: 998cc, four-stroke
Power: 184 HP
Mileage: 38 mpg (16.2 km/l)
Transmission: 6-speed
Fuel Tank Capacity: 4.3 gal. (16.3 l)
Seat Height: 32.8 in. (833 mm)
Curb Weight: 443 lb. (201 kg)
---
2023 Honda CBR1000RR Specifications
Engine
| | |
| --- | --- |
| Engine | 998cc liquid-cooled inline four-cylinder four-stroke |
| Power | 184 horsepower |
| Torque | 86 lb-ft (116.6 Nm) |
| Bore x Stroke | 76.0mm x 55.1mm |
| Compression Ratio | 13:1 |
| Induction | Programmed Dual Stage Fuel Injection (PGM-DSFI); 48mm throttle bodies; Denso 12-hole injectors |
| Valve Train | DOHC; four valves per cylinder |
Drivetrain
| | |
| --- | --- |
| Transmission | 6-speed |
| Final Drive | #530 Chain; 16T/43T |
Chassis
| | |
| --- | --- |
| Suspension Front | 43mm inverted Big Piston Fork with spring preload, rebound- and compression-damping adjustability; 4.7-inch travel |
| Suspension Rear | Unit Pro-Link® HMAS™ single shock with spring preload, rebound- and compression-damping adjustability; 5.4-inch travel |
| Brakes Front | Dual radial-mounted full-floating 320mm discs with four-piston calipers |
| Brakes Rear | Single 220mm disc |
| Tires Front | 120/70ZR-17 radial |
| Tires Rear | 190/50Z-17 radial |
Dimensions
| | |
| --- | --- |
| Rake | 23.0° |
| Trail | 3.8 inches |
| Wheel Base | 55.3 inches |
| Seat Height | 32.8 inches |
| Curb Weight | 432 pounds (Includes all standard equipment, required fluids and full tank of fuel-ready to ride) |
| Fuel Capacity | 4.3 gallons |
| Miles Per Gallon | 38 mpg |
Competitors
2023 Honda CBR1000RR Features
PERFORMANCE
HI-PERFORMANCE FOUR-CYLINDER ENGINE
Featuring high-compression pistons, the CBR1000RR revs like only a flat-plane inline-four can. It also makes ten horsepower more than our previous generation CBR1000RR.
DUAL-STAGE FUEL INJECTION
The CBR1000RR features two sets of injectors per cylinder for both low- and high-rpm performance, instantaneous high-rpm response and great low-rpm metering and clean running. Refined EFI settings make the engine even more manageable, with smoother throttle response specifically at smaller throttle openings.
THROTTLE BY WIRE
The CBR1000RR's throttle-by-wire system works in concert with our Honda Selectable Torque Control. With the two, you get your choice of three engine power-delivery modes, plus two which you can custom program yourself.
Honda ELECTRONIC STEERING DAMPER
Most steering dampers only sense handlebar-deflection speed. The Honda Electronic Steering Damper (HESD) is way more sophisticated. It also detects vehicle speed, and adjusts damping proportionally. That helps maintain low-speed maneuverability while providing excellent, predictable high-speed handling.
Honda SELECTABLE TORQUE CONTROL
With Honda Selectable Torque Control (HSTC), we've got your back, but you're in control. Here's how it works: The system automatically adjusts engine power to optimize torque at the rear wheel, reducing rear-wheel slip. You get your choice of five power curves, ten torque-control levels, three engine-braking levels, and now three selectable levels of wheelie control so it's easier than ever to dial your bike in at the track.
HANDLING
LIGHTWEIGHT SUB-FRAME
Almost a full pound lighter than our previous generation, the CBR1000RR sub-frame further refines our mass centralization efforts. Light is always right, and this is the lightest CBR1000RR we've ever produced.
GYRO ASSISTED ABS
The CBR1000RR ABS comes with anti-lock brakes. But these brakes go one better, including rear-wheel lift analysis (think hard stopping here), along with a program that takes lean angle into account.
SLIMMER ERGONOMICS
The CBR1000RR is much slimmer than previous models in the tank/seat junction area, and also in the upper cowl (more than 24mm trimmer than the previous generation). This improves aerodynamics, and the narrow tank makes it easier for the rider to tuck in out of the wind.
ENGINEERING
TFT DISPLAY
TFT means an instrument display that's lighter and easier to read than previous LCD designs.
ASSISTED SLIPPER CLUTCH
Superbikes can deliver a great deal of back-torque through the driveline, upsetting handling—not the CBR1000RR models. Its Honda-designed assisted slipper clutch is the same type used on our MotoGP bikes. The design does away with the need for heavy clutch springs, ensuring full power transmission with smooth shifting and a light clutch pull at the lever.
EFFICIENT RADIATOR DESIGN
Almost an inch narrower than on our previous-generation CBR1000RR, and featuring a high-density core. Plus the radiator tucks in tighter and cools just as efficiently.
DESIGN
FULL LED LIGHTING PACKAGE
Headlights, taillights, turn signals—with the CBR1000RRs it's all done with lightweight, efficient, cool LEDs.
Performance And Handling
Let's examine the features of this new bike in more detail.
2023 CBR1000RR Top Speed
The top speed of the 2023 Honda CBR1000RR is estimated to be around 186 miles per hour. This incredible speed is achieved thanks to the bike's advanced 998cc inline user-friendly four-cylinder engine, which is capable of producing up to 184 horsepower.
To ensure that the CBR1000RR can handle such incredible speeds, Honda has equipped it with a range of advanced features and technologies. These include a lightweight frame and swingarm, advanced suspension system, peppy performance brakes, and Throttle By Wire and Honda Selectable Torque Control (HSTC), which help to deliver smooth and precise power delivery.
Braking Performance
The CBR1000RR features a sophisticated braking system that includes dual 320mm hydraulic disc brakes at the front and a single 220mm hydraulic disc brake at the rear. These brakes are designed to deliver consistent and strong stopping power, even at high speeds.
Honda also brings many advanced electronics and technologies to enhance its new 2023 version's performance and safety. These include a six-axis IMU, which measures the bike's lean angle, acceleration, and other parameters to provide precise control and feedback.
The CBR1000RR is also equipped with a high-precision ABS and heavy clutch springs, helping to improve braking and prevent wheel lock-up during aggressive downshifting.
Cornering And Handling Characteristics
A notable feature of the CBR1000RR is its premium suspension system. The bike has fully adjustable suspension components that includes a Showa Big Piston Fork and a Pro-Link rear suspension. These performance upgrades work together to provide excellent, predictable high-speed handling, allowing the bike to maintain composure through corners and over bumps.
Another thing that makes CBR1000RR's braking system stand out is its brake lever design. It features a dual-radial-mount front brake lever that provides excellent feel and feedback, allowing riders to modulate the brakes with precision and ease.
2023 CBR1000RR: A Brief Review
Many bikers enjoy this modular styling of the new 2023 version. With the purpose of increasing aerodynamics and lessening wind resistance in mind, this motorcycle's sharp, angular fairing has satisfied even the most picky riders. It brings a contemporary and futuristic appearance thanks to the LED headlights and taillights, and the dual exhaust system also gives it a little sportier feel.
Another standout feature for many experienced riders is the advanced electronics package. The motorcycle comes equipped with a suite of rider aids, including traction control, wheelie control, and a quick-shifter. These features help to enhance quick-shifter performance and make it easier for riders to push their limits safely.
The agility and stability of the 2023 Honda CBR1000RR are yet other features that customers applaud. Excellent control and stability at high speeds are provided by the bike's lightweight aluminum frame and fully adjustable suspension.
Furthermore, the fuel capacity of the 2023 CBR1000RR is one of its distinguishing qualities. Up to 4.3 gallons of fuel may be stored in the tank, which is more than enough for long journeys without refueling.
The titanium fuel tank's placement on the bike is also important. Many users have commented on how the narrow tank is positioned low and forward on the bike, which helps to improve the bike's handling and stability.
Of course, the product pricing may not be within everyone's budget. However, for riders who are looking for a high-performance sportbike with the latest in technology, the CBR1000RR Honda is definitely worth considering. Honda brings a range of financing and leasing options to help make the bike more affordable for those who are interested.
But the worst thing is its look! The appearance looks mediocre, and the brake lines are even made of cheap rubber, making it less outstanding and aggressive on the road. If we have to choose, we will go for the Fireblade color for a sporty and cool look.
2023 Honda CBR1000RR Photos & Videos
Photos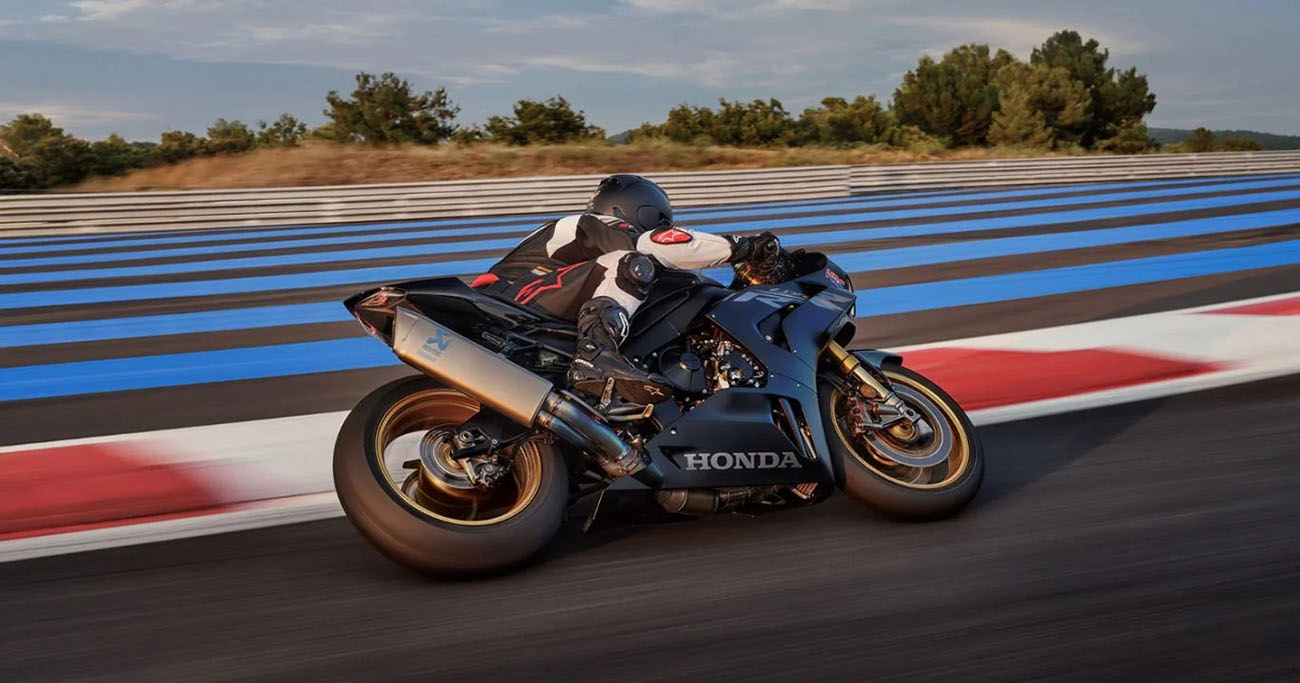 Videos
---
---
*Disclaimer: The prices mentioned in this article may vary depending on the dealership and location. Additionally, the specifications mentioned, such as horsepower and top speed, may vary from different sources as they are often tested under different conditions.