In This Article:
The dirt bike Yamaha 125 has been refreshed with so many new changes that they got us dizzy. Instead of one or two minor outlook upgrades, we have spotted 11 UPGRADES compared to last-year models: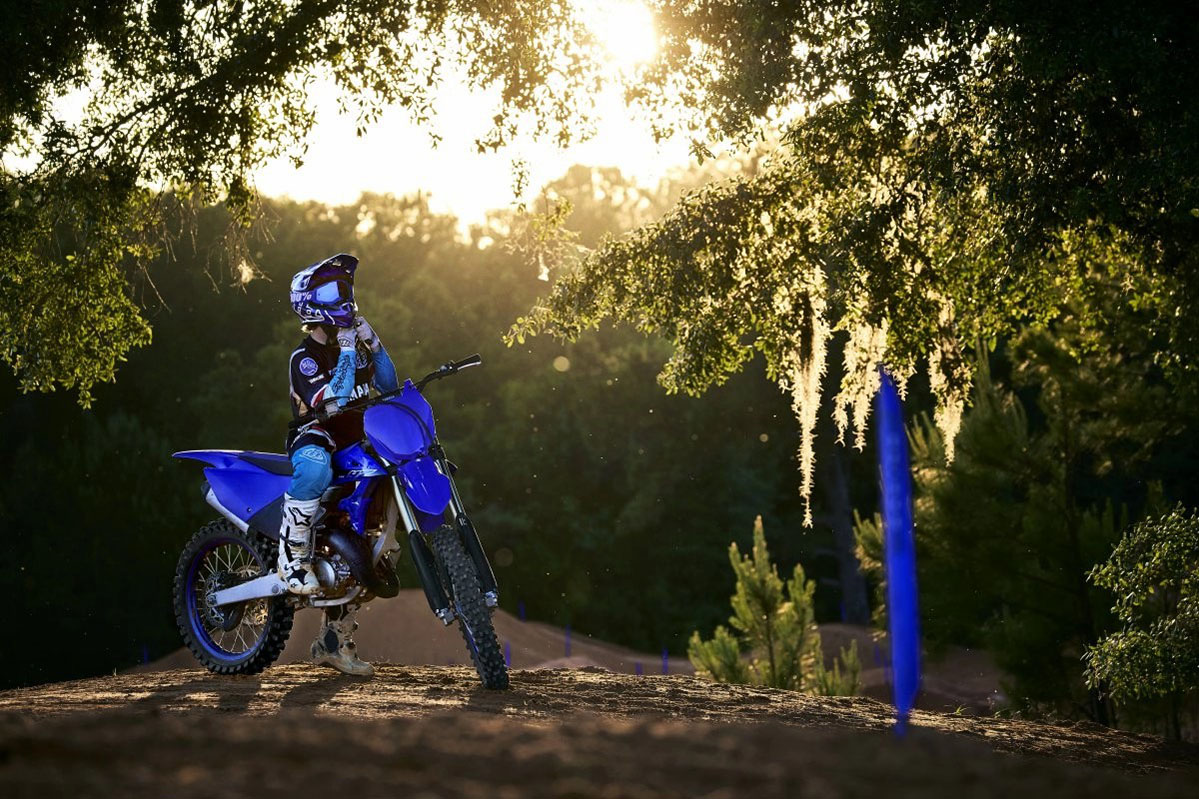 1. Engine
Though not every part differs from previous versions, most of YZ125's engine has been upgraded enough to be regarded as a brand-new powerplant. This two-stroke liquid-cooled system has received:
New cylinders
New piston
New piston pins
Crankcase
Connecting rods
Aside from these add-ons, the rest is similar. YZ125's motors remain kickstart-exclusive and still require a premix.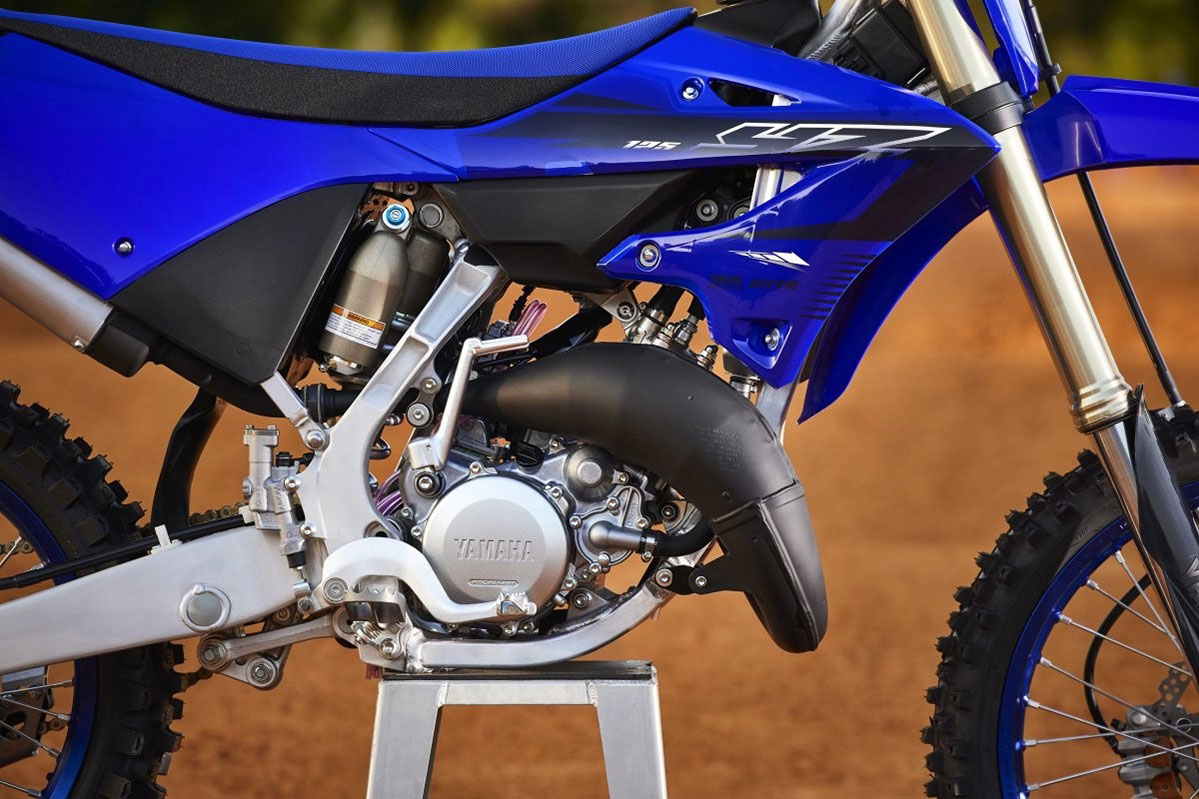 2. Shape and Timing of The Cylinder Ports
The shape/optimal timing of YZ125's cylinder ports is altered, arriving with a new power valve, expansion chamber, and lighter, shorter muffler.
3. New Carburetors
The bike has introduced a new Hitachi Astemo PWK38S carburetor that feeds case-induction motors, which replaces the old Mikuni 38 TMX carb.
We already sense some of our readers' disappointment with this update. But reconsider: the PKW38S ones do have throttle position sensors that complement CDI mapping software quite well. They are also supported by a straighter intake that houses 4 Force 4 reed valves.
4. Improved Throttle Response and Power
Yamaha YZ 125cc witnesses a significant increase in the throttle responses across rev ranges and overall bike power. A Yamaha staff reveals to journalists that this 2023 version enjoys "crisp, clean throttle response, excellent over-rev nature, superior rideability, increased top- and mid-end power, and improved usability."
5. Six-speed Transmission
The bike's 6-speed transmission is buffed up for better reliability. The gearbox teeth are wider, with new ratios to reflect on-time power boost.
6. Brake
With its new, powerful motors, we are not surprised to see an upgraded brake system as their follow-up.
Though the front discs' diameters are still 270mm, their pad contact surfaces grow 30% larger. At the same time, the caliper acquired larger pistons, more rigidity, and reduced rear diameter (from 245 to 240 mm for optimal unsprung weight).
As a result, the rear sprockets feel lighter and more feathery.
7. Suspension
This 2023 beast has also been subjected to a minor suspension redesign. Its KYB returns with new fork leg scrapers and upgraded shock settings, preventing debris from invading the internals via the fork tube.
8. Dunlops
Quite unexpectedly, even the Dunlops have been catered to in this year's model. MX33 tires replace all AT81s, with the front tires 10 mm smaller than 2022. Nevertheless, the rear ones are still 110/90 on 18-inch hoops.
How about the YZ125-based frame? It's unchanged, still aimed at cross-country racing like all past versions.
9. Flatter Seat, Narrower Shrouds
Easier rider movements have always been among Yamaha's priorities, which is why the 2023 seat becomes flatter and radiator shrouds turn narrower. Even better, you can now mount the handlebar in two different positions.
10. Fuel Tank
Compared to its 2022 counterpart, the 2023 fuel tank has been narrowed in capacity, dropping by 1 1/2 quarts to approximately 1.8 gallons. The engine (when the tank is filled) is 2 pounds lighter than in 2022 as a result.
11. Wet Weight
Due to all these changes, the bike's wet weight receives three extra pounds in 2023, tipping the scale at 212 lbs as the tank is topped off with premises.
---
2023 Yamaha YZ125 Key Specs
Make: Yamaha
Model Year: 2023
Type: Motocross
Color: Team Yamaha Blue
MSRP Price: $6,999
Warranty: 1 Year
Warranty Plus: 24 or 36 months (Yamaha Extended Service)
Engine: 125cc, 2-stroke
Power: 33.53hp
Transmission: Constant-mesh 6-speed
Fuel Tank Capacity: 7,0 L (1.85 gal.)
Seat Height: 980 mm (38.58 in.)
Wet Weight: 95 kg (209.44 lb.)
---
2023 Yamaha YZ125 Specifications
Engine
| | |
| --- | --- |
| Engine type | Liquid-cooled, 2-stroke, Forward-inclined single cylinder, Reed valve with YPVS |
| Displacement | 125cc |
| Power | 33.53hp |
| Bore x stroke | 54,0 x 54,5 mm |
| Compression ratio | 8,2-10,1 : 1 |
| Lubrication system | Premix |
| Clutch Type | Wet, Multiple Disc |
| Ignition system | CDI |
| Starter system | Kick |
| Transmission system | Constant Mesh, 6-speed |
| Final transmission | Chain |
| Carburettor | Keihin PWK38S/1 |
Chassis
| | |
| --- | --- |
| Frame | Semi double cradle |
| Caster Angle | 26º |
| Trail | 109 mm |
| Front suspension system | Upside-down telescopic fork |
| Rear suspension system | Swingarm, link suspension |
| Front travel | 300 mm |
| Rear Travel | 315 mm |
| Front brake | Hydraulic single disc, Ø270 mm |
| Rear brake | Hydraulic single disc, Ø240 mm |
| Front tire | 80/100-21 51M |
| Rear tire | 100/90-19 57M |
Dimensions
| | |
| --- | --- |
| Overall length | 2,135 mm (84.06 in.) |
| Overall width | 825 mm (32.48 in.) |
| Overall height | 1,295 mm (51.02 in.) |
| Seat height | 980 mm (38.58 in.) |
| Wheelbase | 1,445 mm (56.89 in.) |
| Minimum ground clearance | 365 mm (14.37 in.) |
| Wet weight | 95 kg (209.44 lb.) |
| Fuel tank capacity | 7,0 L (1.85 gal.) |
| Oil tank capacity | 0,7 L (0.18 gal.) |
2023 Yamaha YZ125 Features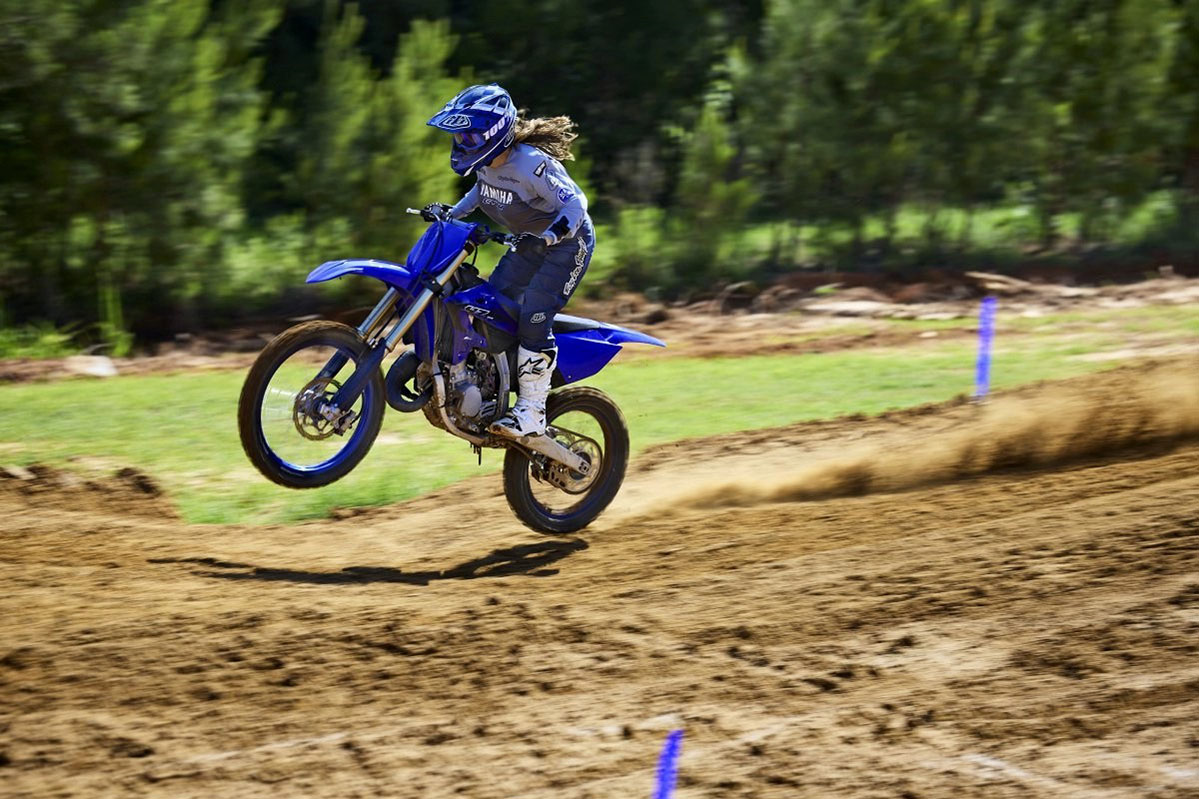 ADDITIONAL FEATURES
Race-Ready Features
Complete with an aluminum handlebar, two-position adjustable handlebar clamp, wide footpegs, gripper seat, adjustable clutch lever with works-style cable adjuster and lightweight rear sprocket design, the YZ125 is competition-ready straight out of the crate.
CHASSIS/SUSPENSION
Advanced KYB® Shock
Fully adjustable KYB® rear shock features reduced-friction Kashima Coat™ internals, separate adjusters for high- and low-speed compression damping, a full lock oil rebound system for increased comfort, and 12.4 inches of travel. It all adds up to fantastic rear wheel control and class-leading capability.
High Performance Braking System
The high performance braking system features a 270mm front rotor, 240mm rear rotor, large front pistons and rigid calipers, all combining to provide exceptional braking power and feel.
Industry-Leading KYB® Fork
The Speed Sensitive System 48mm inverted KYB® fork includes a leaf spring in the mid-speed valve for more precise damping and increased performance and comfort, while offering up 11.8 inches of travel.
Lightweight Frame
Race-proven, highly developed aluminum semi-double cradle frame is engineered to provide just the right amount of strength and flex for the perfect balance of stability and cornering performance. Removable aluminum rear subframe is constructed of square-section tubing for reduced weight.
Race-Ready Tires
Premium Bridgestone® Battlecross X20 tires offer strong cornering grip and race-developed performance.
Rider-Friendly Chassis
Lightweight finely tuned chassis means nimble handling, more control and less rider fatigue—the ideal platform for advancing skills and gaining confidence.
ENGINE
Close-Ratio Transmission
Close-ratio six-speed transmission has wider transmission gear tooth width and optimized gear ratios for maximum performance.
Digital Ignition
Digital CDI system delivers precise spark and monitors engine speed to ensure optimal timing for faster, stronger response during hard acceleration.
High-Capacity Radiator
High-capacity radiator with dark louvers deliver maximum cooling efficiency and an aggressive look.
Powerful Two-Stroke YZ125 Engine
Yamaha's advanced, liquid-cooled 125cc two-stroke engine provides impressive acceleration, thrilling mid- to high-rpm power, along with supreme usability.
Precise Fueling & Ignition Timing
High-precision Hitachi Astemo® Keihin PWK38S carburetor features a power jet, throttle position sensor and 3D-map-controlled CDI unit for precise ignition timing. The result is clean, crisp throttle response, superior rideability and excellent over-rev character.
Yamaha Power Valve System
Patented Yamaha Power Valve System (YPVS™) combines crisp, hard-hitting bottom-end acceleration with strong mid-range and top-end.
TOP FEATURES
Aggressive YZ Styling
Aggressive bodywork including slim body panels and blacked-out radiator shrouds integrate with a bold graphics scheme to highlight the YZ's unmatched racing pedigree. Premium Yamaha Blue and dark blue graphics are embedded to provide excellent durability and scratch resistance.
Class-Leading KYB® Suspension
The YZ125's renowned suspension performance offers unmatched levels of control, capability and comfort by way of the fully adjustable 48mm inverted KYB® front fork, including a leaf spring in the mid-speed valve for more precise damping, and the fully adjustable KYB® rear shock featuring reduced-friction Kashima Coat™ internals. It all adds up to class-defining suspension and handling characteristics.
Confidence-Inspiring Ergonomics
A carefully considered ergonomic design includes a flatter seat, narrow fuel tank, smoothly integrated body panels and slim shroud width to enable greater freedom of movement forward and back, allowing the rider to easily shift body weight for increased control and confidence.
High Performance Braking System
High performance front and rear brake setup offers exceptional braking power and feel.
Perfect for Aspiring Motocrossers
A pure motocross machine, the light, nimble, competition-ready YZ125 is the perfect choice for riders stepping up from the 85cc class.
Powerful Two-Stroke YZ125 Engine
Yamaha's advanced, liquid-cooled 125cc two-stroke engine provides impressive acceleration, thrilling mid- to high-rpm power, along with supreme usability.
Rider-Friendly Chassis
Lightweight finely tuned chassis means nimble handling, more control and less rider fatigue—the ideal platform for advancing skills and gaining confidence.
Performance
1. 2023 Yamaha YZ125 Top Speed
The max speed to expect for YZ125 reaches 70 MPH (equating to 112 KmPH). Quite impressive for a bike of its range! Using its 125cc liquid engine, you could leave any racing competitor in dust.
Such an astonishing rate is partly thanks to the reed valve inductions. They ensure the bike's mid-rage speedups are utilized at maximum, reaching the deepest bottom end with zero hassles.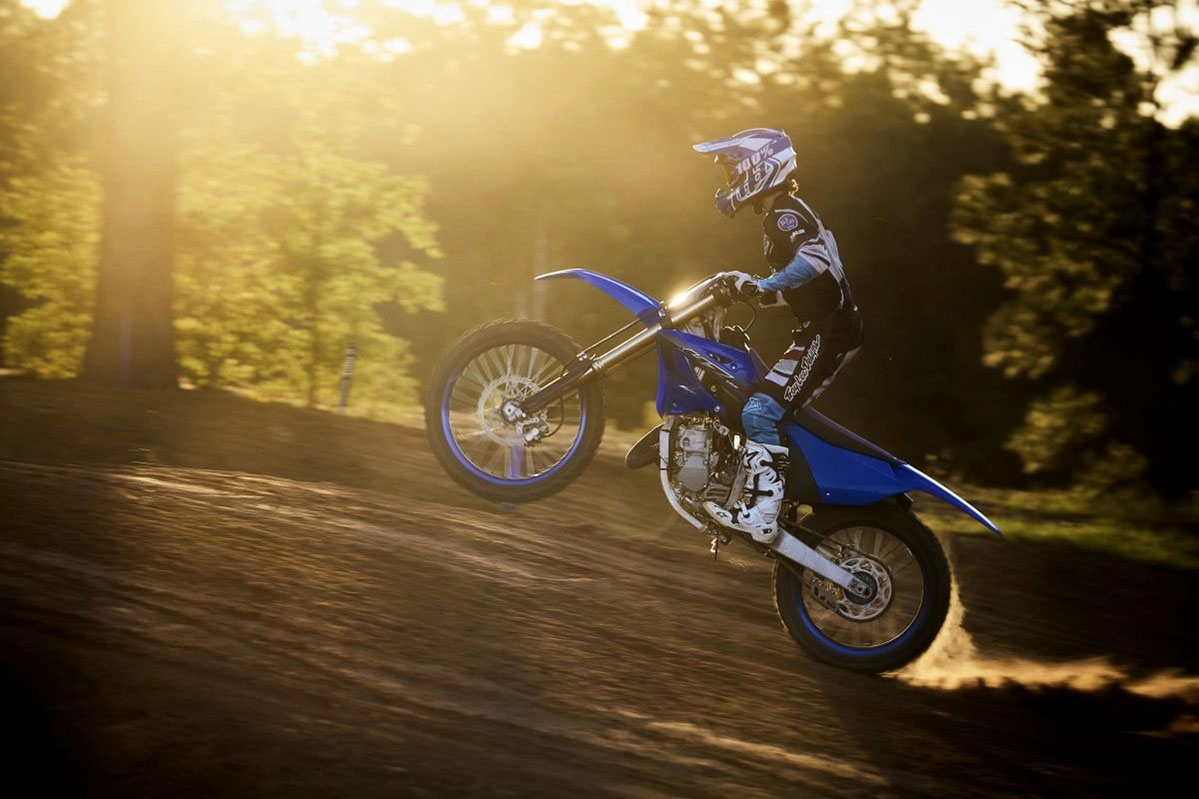 Riders who wish to embark on more spirited riding might still want a more impressive performance than that – which is why extra tricks come in handy:
144cc kit: As per Yamaha itself, using 144cc kits to increase the engine power (from 125 to 144) is acceptable. The bike's horsepower also jumps from 35 HP to 40 – a significant leap!
Upgraded valve systems: Adding V-Force3 designs to your bike will easily be your best decision ever. Stronger response, better overall power, increased velocity, etc., all result from these upgrades, boosting your experience to unimaginable heights.
2. Handling and Brake Performance
Yamaha has given the YZ125's brakes some lovely boosts to handle higher engine performance. The 240mm rear and 270mm front discs are supported by big-piston caliper pieces, producing controllable and effective stopping power anytime and anywhere you wish.
Plus, its SSS front forks (short for Speed Sensitive Systems) are regarded by many testers on our team as the best motocross designs they have ever seen. With an ideal low-speed setting and class-defining suspension systems, YZ125 guarantees excellent traction and flawless handling for riders of all levels.
Better control, less rider fatigue – aren't they the perfect formula to advance your skills and confidence?
2023 YZ125: A Brief Review
Describing the feeling of riding YZ125 is not easy, but we will try our best: jumping this 212-lb bike feels like a BMX, and the updated brakes work wonderfully for our handling and cornering.
Sure, the slightly heavier braking system meant we had to try harder to perform "perfect" laps; however, the overwhelming sensation when we succeeded was better than anything else you could have imagined. Long story short, YZ125 2023 is indeed a ripper!
Our only minor concern is that true beginners will find more comfort in previous models, with more effortless transitions and lower outputs. Yet, we believe Yamaha's competitive nature is a godsend for most consumers, and these new updates should still be recognized as overall positive at the end of the day.
2023 Yamaha YZ125 Photos & Videos
Photos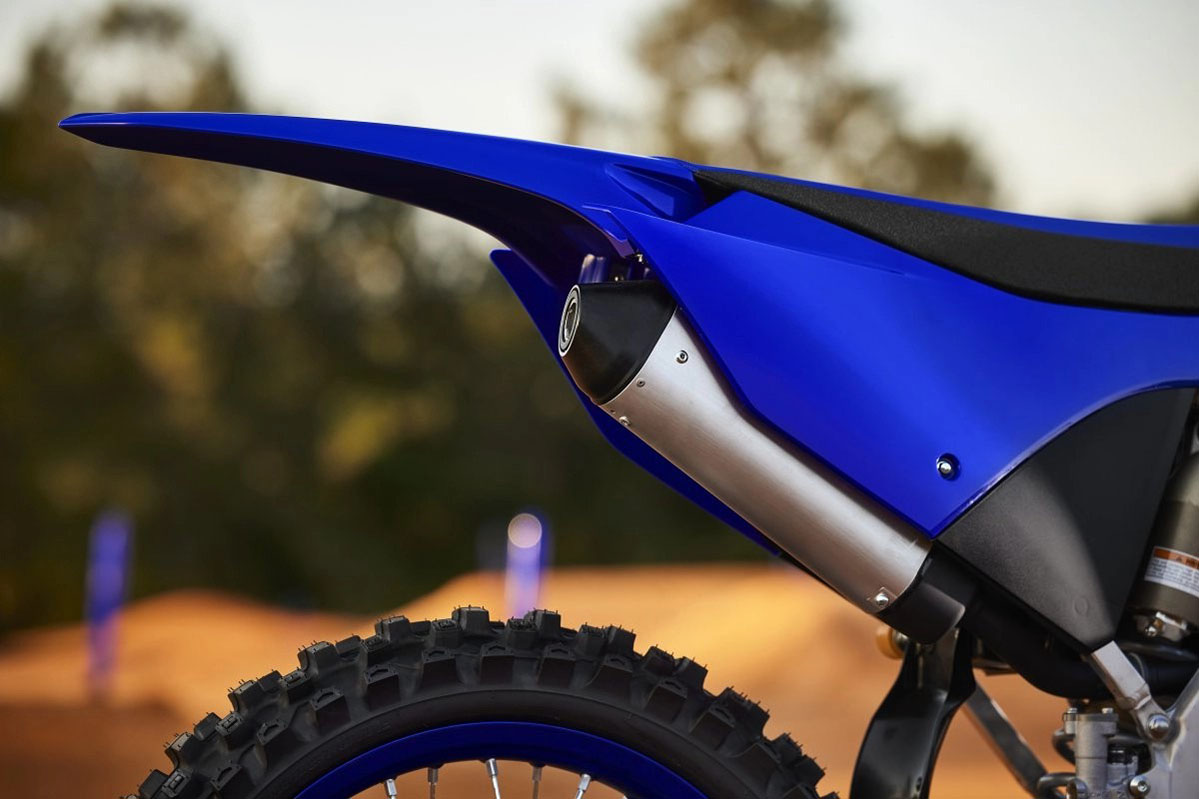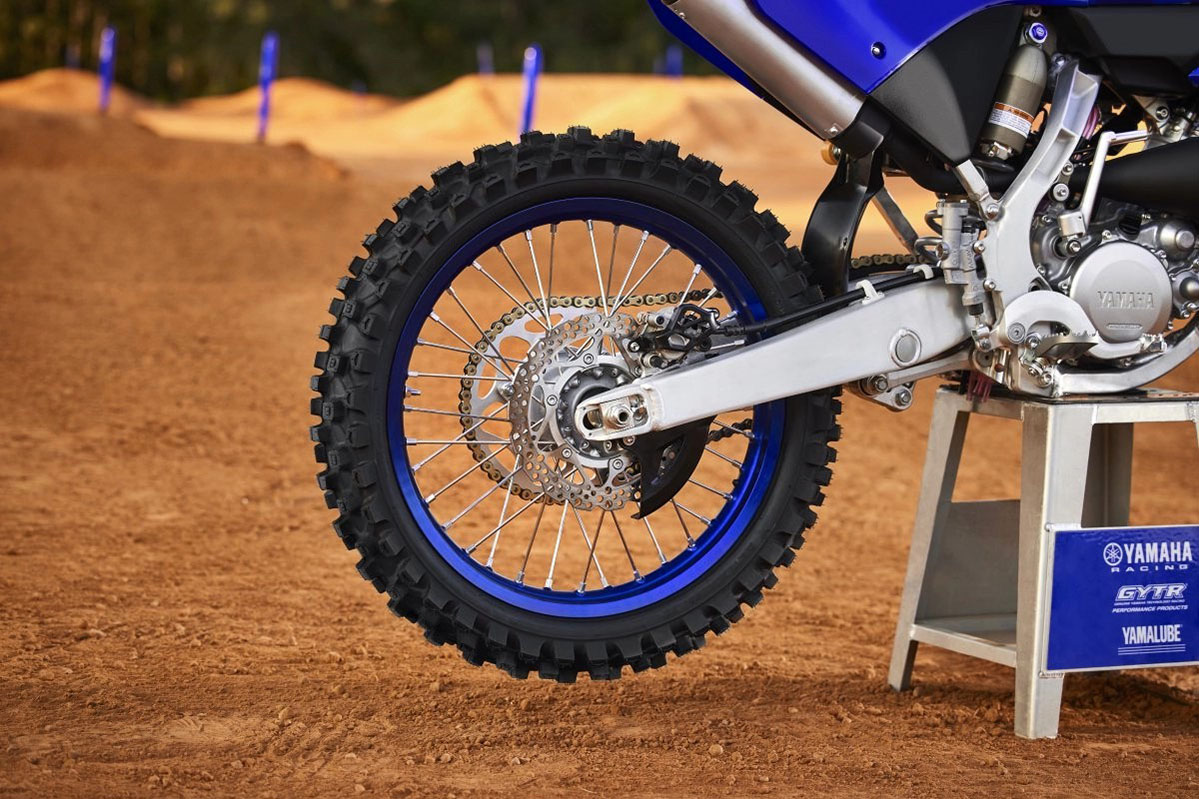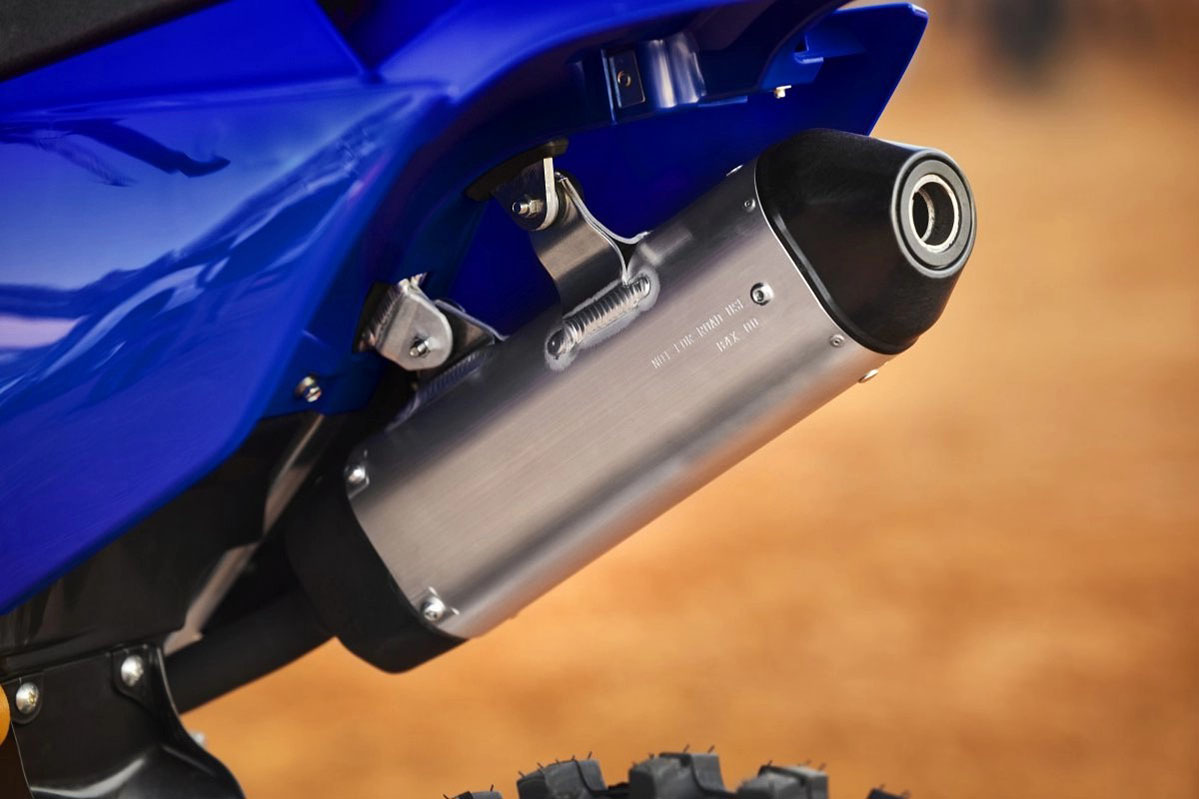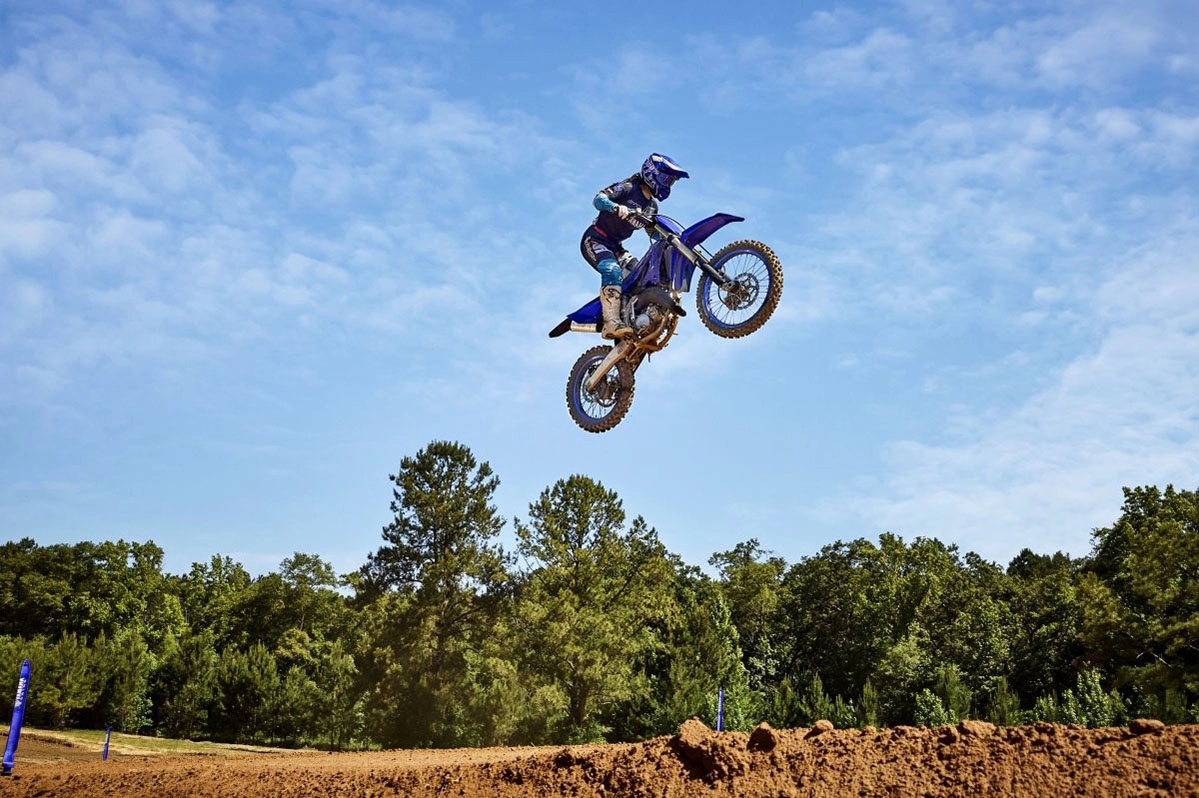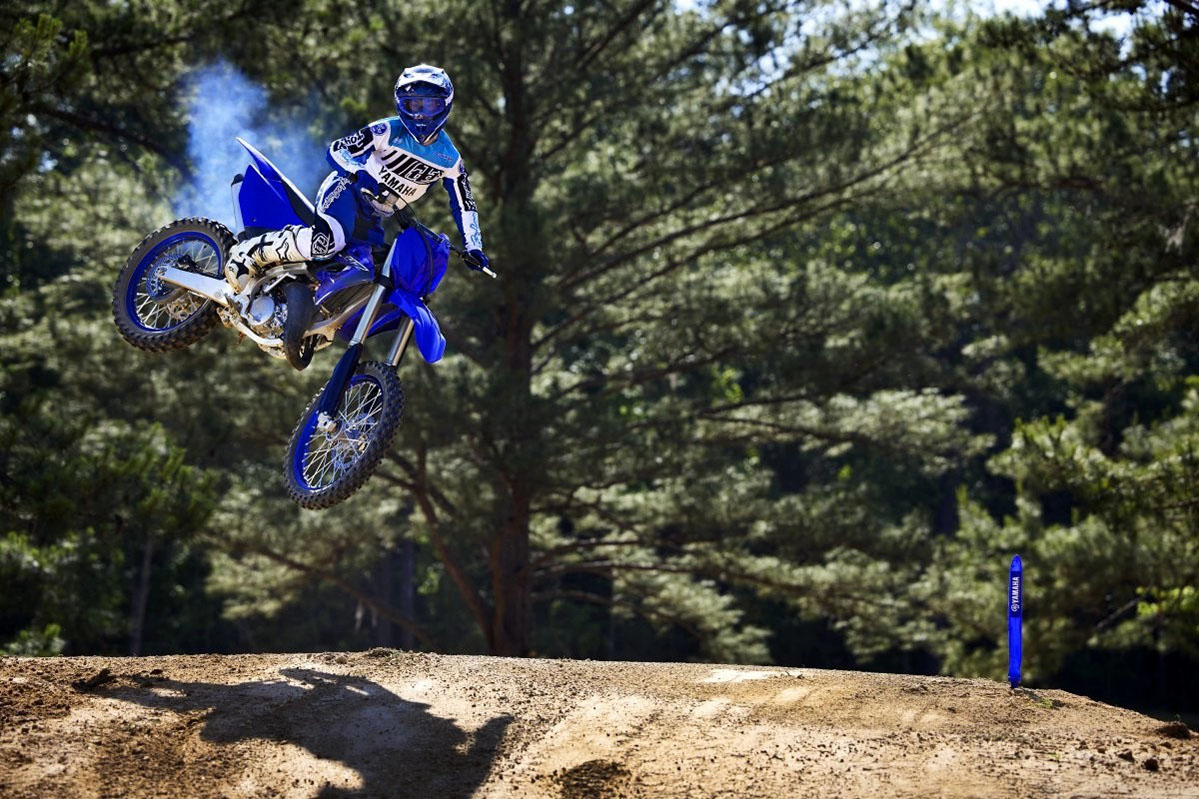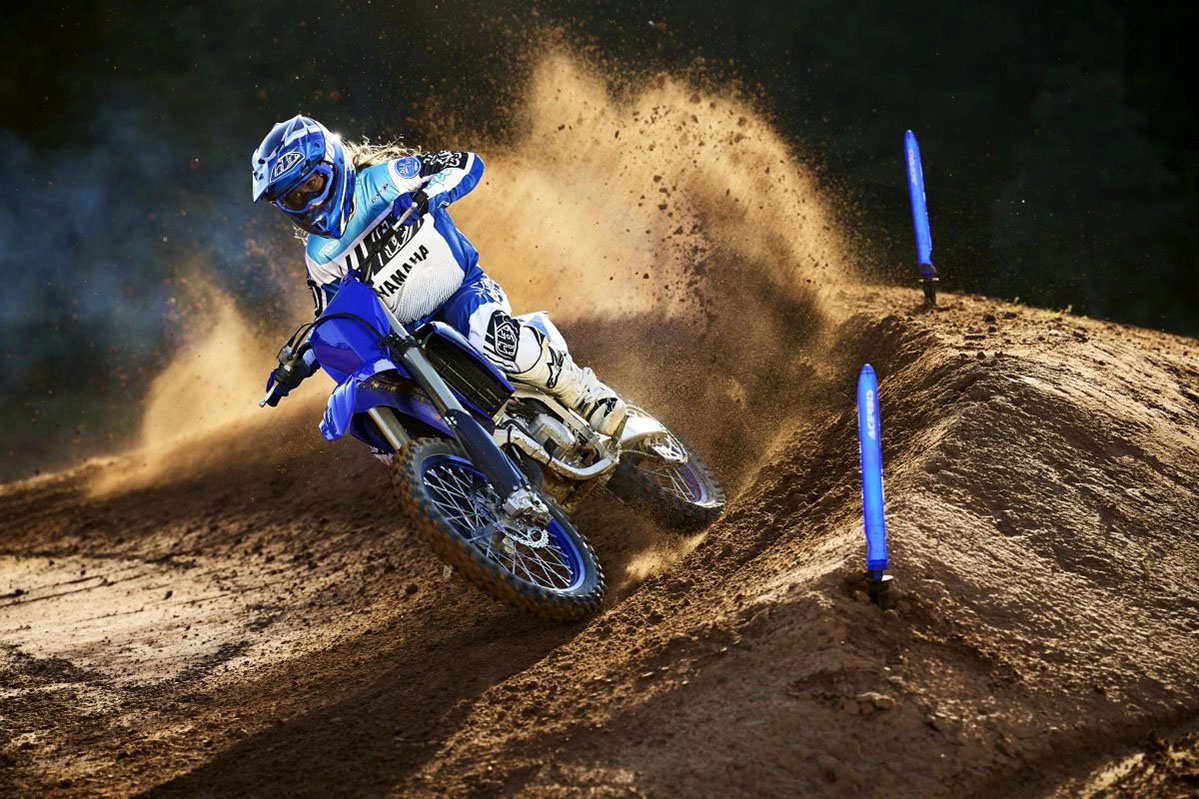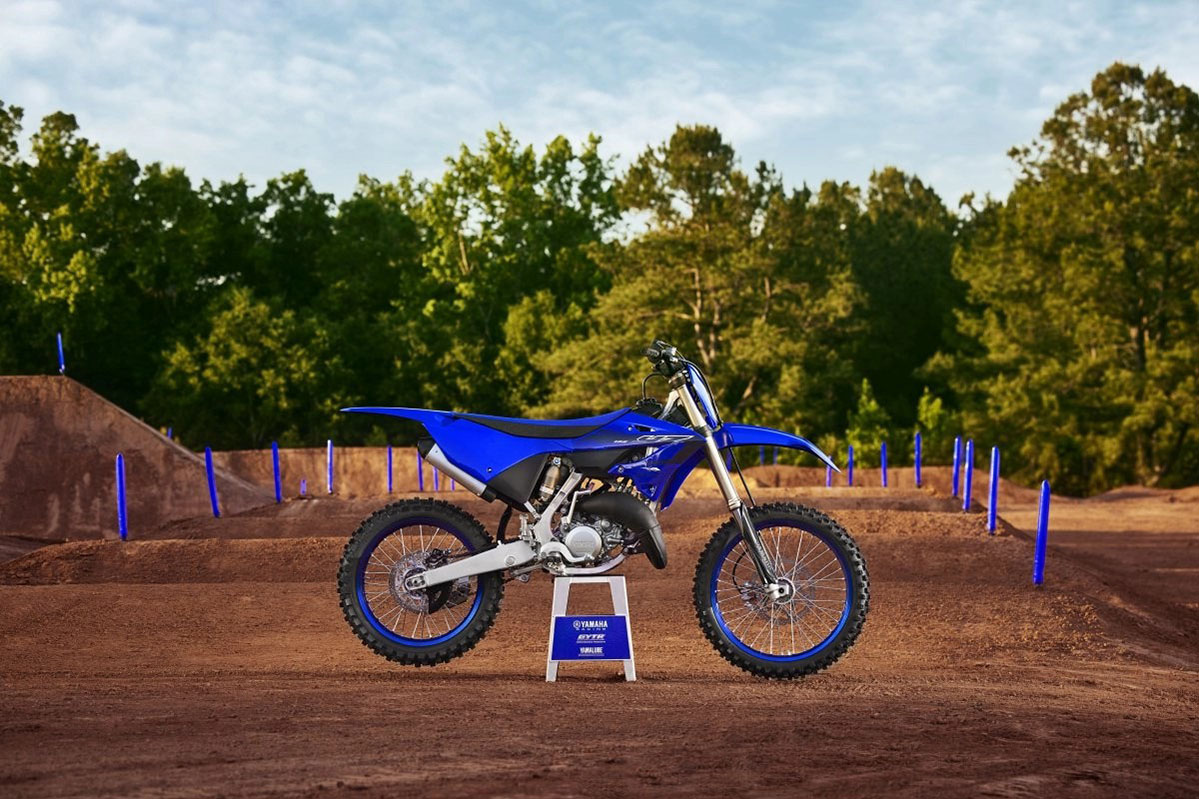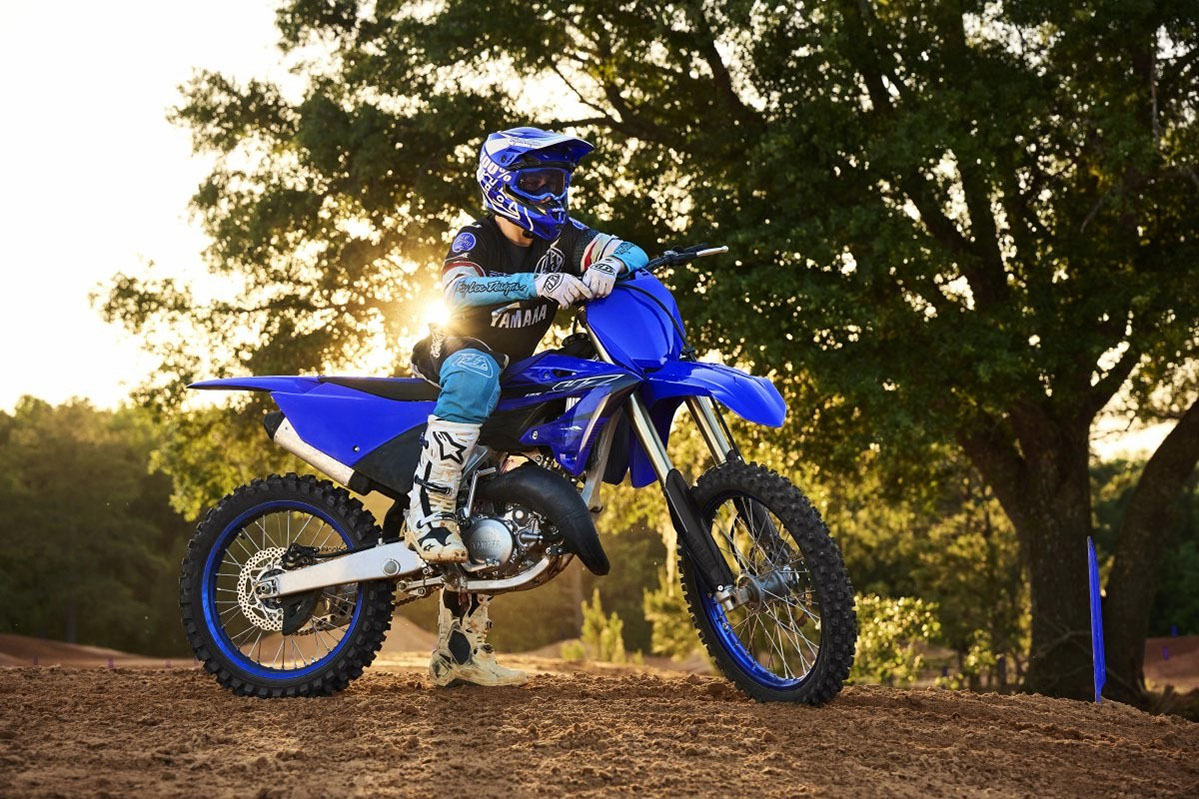 Videos
---
---
*Disclaimer: The prices mentioned in this article may vary depending on the dealership and location. Additionally, the specifications mentioned, such as horsepower and top speed, may vary from different sources as they are often tested under different conditions.