In This Article:
In 2023, only two Racing YZF R6 remnants survived in the market, specialized for racetracks: Yamaha R6 GYTR and R6 Race. Worse, both are produced and distributed in extremely limited quantities, so hurry up before they are sold out!
With its latest version, R6 has been refined completely from its predecessor engine blocks, aiming for optimal power performance. It introduces a 4-valve 4-cylinder engine with 599cc liquid-cooled DOHC and perfect compression ratios (13.1:1), guaranteeing maximum power release: 118.4 HP at 14,500 RPM, peaking at 65.7 Nm (10,500 RPM).
Furthermore, the engine also arrives with a six-speed gearbox and fuel injection systems. Their combined strength accelerates the R6 2023 quickly to the top rate of 165 MPH (estimated); we will return to this issue later).
And aside from the brand-new racing ECU, the R6 GYTR model is equipped with numerous other specialized parts for racing, such as:
Racing passenger seat & eye protection
GYTR cables
Brake lever protector
Akrapovic exhaust systems
DID racing chain
Gear shifter
Corrosion-resistant lines
Adjustable grips (practical for challenging racetracks)
---
2023 Yamaha YZF R6 Key Specs
Make: Yamaha
Model Year: 2023
Type: Sport Bike
Color: Matte Raven Black
MSRP Price: $
Warranty: 1 Year (Limited Factory Warranty)
Engine: 599cc, 4 stroke
Power: 118.4 HP
Mileage: 42 mpg
Transmission: 6-speed
Fuel Tank Capacity: 17 L (4.5 gal.)
Seat Height: 850 mm (33.5 in.)
Curb Weight: 419 lb. (190 kg)
---
2023 Yamaha YZF R6 Specifications
Engine
| | |
| --- | --- |
| Engine type | Liquid-cooled, 4-stroke, DOHC, 4-valve, forward-inclined parallel 4-cylinder |
| Displacement | 599cc |
| Bore x stroke | 67.0 x 42.5 |
| Compression ratio | 13.1 : 1 |
| Power | 118.4 horsepower @ 14,500 RPM |
| Torque | 48.5 lb-ft (65.7 Nm) @ 10500 rpm |
| Lubrication system | Wet sump |
| Ignition system | TCI |
| Starter system | Electric |
| Transmission system | Constant mesh 6-speed |
| Final transmission | Chain |
| Fuel management | Fuel Injection |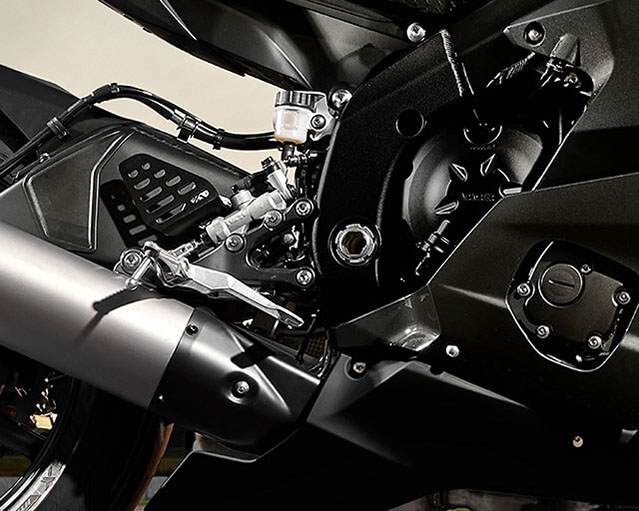 Chassis
| | |
| --- | --- |
| Frame | Aluminium Deltabox |
| Front suspension system | Telescopic forks, 120mm travel |
| Rear suspension system | Swingarm (link suspension), 120mm travel |
| Front brake | Hydraulic dual discs, 320mm – ABS |
| Rear brake | Hydraulic single disc, 220mm – ABS |
| Front tire | 120/70 ZR17M/C (58W) Tubeless |
| Rear tire | 180/55 ZR17M/C (73W) Tubeless |
Dimensions
| | |
| --- | --- |
| Overall length | 1990 mm (78.3 in.) |
| Overall width | 695 mm (27.4 in.) |
| Overall height | 1150 mm (45.3 in.) |
| Seat height | 850 mm (33.5 in.) |
| Wheelbase | 1375 mm (54.1 in.) |
| Minimum ground clearance | 130 mm (5.1 in.) |
| Wet weight | 185 kg (408 lb.) |
| Fuel tank capacity | 17 L (4.5 gal.) |
Competitors
2023 Yamaha YZF R6 Features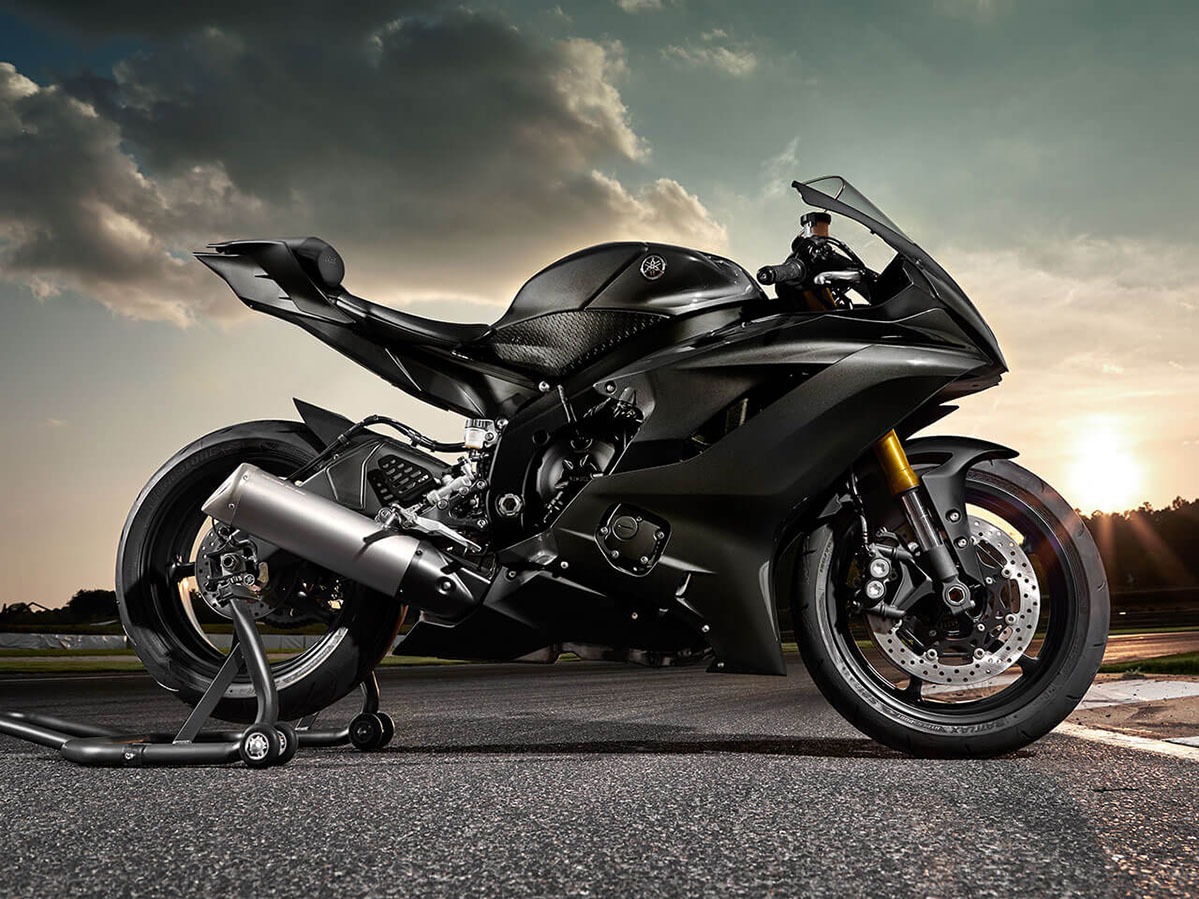 Race-ready Specification
The R6 RACE is now supplied from the factory in a race-ready specification with non-essential road components removed. This makes circuit preparation quicker and easier, and confirms the R6 RACE as the ultimate track bike with an outstanding race record that is second to none.
Lightweight high-performance engine
The high-performance R6 engine has achieved legendary status by winning 5 consecutive WorldSSP Championships. Like every R-Series it's been constructed with advanced race-developed technology from Yamaha's World Championship machinery. The combination of lightweight forged pistons with a 13.1 : 1 compression ratio and titanium valves give you a thrilling ride along with winning performance.
Sophisticated electronic control technology
The R6 RACE is equipped with various high-tech electronic systems that help you to achieve your best performance. The Quick Shift System (QSS) enables full throttle clutchless upshifting, and the Yamaha Chip Controlled Intake (YCC-I) and Yamaha Chip Controlled Throttle (YCC-T) – as well as a slipper clutch and close ratio 6-speed transmission – give you the highest level of controllability on every circuit.
High-specification R1-type front forks
Coming with an extremely high specification as standard, the R6 RACE is equipped with golden coloured state-of-the-art R1-type fully adjustable 43mm front forks. This high-tech front end gives outstanding roadholding with excellent feedback and contributes significantly towards making this one of the best-handling bikes in the class.
Lightweight aluminium fuel tank
The R6 RACE is fitted with a lightweight aluminium fuel tank that is sculpted to give you plenty of freedom to shift your bodyweight and achieve the best riding position. Featuring deep knee recesses, that allow you to tuck in tightly and grip the tank, this beautifully finished 17-litre tank design highlights the motorcycle's premium specification.
Performance
2023 Yamaha YZF R6 Top Speed
As mentioned, the 4-cylinder engine, golden compression ratio, and 599cc displacement lead to the bike's quite impressive power. With a max torque of approximately 65.7 Nm (at a max output of about 118.4 HP), the motorbike can speed up to almost 165 MPH.
Some experts put it down to the 220 mm rear discs, 320 mm front discs, and high-performing ABS brakes. Nevertheless, further experiments by our testers reveal the Yamaha R6 could not reach that number in most everyday riding settings. Its admirable 165 MPH peak is largely contributed by optimal, beautiful road segments – something we cannot find easily in our neighborhood.
Acceleration
The 0 to 100 MPH transition is performed within 6.08 seconds, slightly faster than Mclaren F1 (hitting 100 MPH in about 6.3 seconds).
And unlike most bikes in its range, R6 did not run off puff after that, constantly shifting and launching to max out a quarter mile in 10.89 seconds at 133 MPH terminal speed. Meanwhile, Mclaren F1 did it in 11.1 seconds (albeit with a higher terminal speed, 138 MPH).
Do not get yourself carried away, though; after a quarter mile, Mclaren F1 reeled R6 in and easily passed the latter. It hit 150 MPH within 12.8 seconds, far outperforming R6's 16.12. Also, beyond 150 MPH, R6 kinda loses its internal strength compared to bigger rivals or mega cars (though we still admire it for managing 160 MPH in optimal conditions).
Note that headwinds can kill off 599cc performances in a blink, which means the acceleration timing also depends on weather conditions and your weight/size. The above numbers are for reference only.
Braking and Handling
R6's large-sized brakes provide a good lever feel and strength, encouraging us to leave our braking later than our more practical side usually allows.
As a result, we almost ruined the double-apex tight right handler, overhauling with the deck square back tire and crashing into horrific triple flip-flops. Had it not been for the premium slipper clutch that kept everything in check, our fate could have turned into a tragedy!
But hey, the blame for that accident was mostly on our part – not the bike itself. 99% of the other time, it felt solid and planted through even the bumpiest apex, giving us a pleasant feel under our fingertips.
The supportive forks are another charm; as we braked into the extremes to get the motorbike turned, its front-end improvement was deeply felt, resulting directly from a well-established fork system and adequate braking heaps.
And when we cracked the throttle and released the brakes, our R6 bike settled immediately, tracking through turn 2 and changing into 3 accurately and rapidly. The quickshifter worked like magic here, cutting down half the time normally required to short-shift to 3rd gear.
However, beginner riders should still look out: tap the over-sensitive shifter earlier than usual, and it might throw your motorbike off the line.
2023 YZF R6: A Brief Review
Overall, this 2023 contender is a significant improvement over the nervous-handling, wheezy R6 from previous years.
The markedly better handling deserves some compliments, definitely. Last-gen R6s are too shaky, turning in faster than our liking and even demanding mid-corner adjustments to stay right on the line. 2023's upgrades, with better-balanced, stiffer suspicion and increased fork offsets, transfer the total load more progressively during acceleration and braking, giving us better overall control.
Even better, the aerodynamic design is a lifesaver for strong-wind roads, reducing wind resistance to improve overall resilience at higher rates. Devoted R6 enthusiasts that expect optimal race-ready performances will be utterly delighted by these strong points!
How about downsides?
So far, most of our tests have been carried out on race tracks, so we haven't spotted any notable drawbacks thus far. Nevertheless, the fact that the R6 line is almost dead at this point – except for two limited versions solely dedicated to racing – is a clear-enough pointer: they are not meant for everyday usage.
Those looking for bikes with high practicality and functional flexibility should have their eyes elsewhere: R7 models onwards, for instance.
2023 Yamaha YZF-R6 Photos & Videos
Photos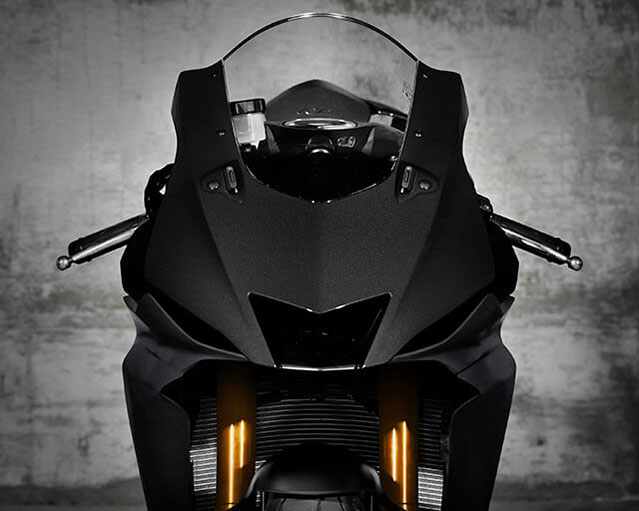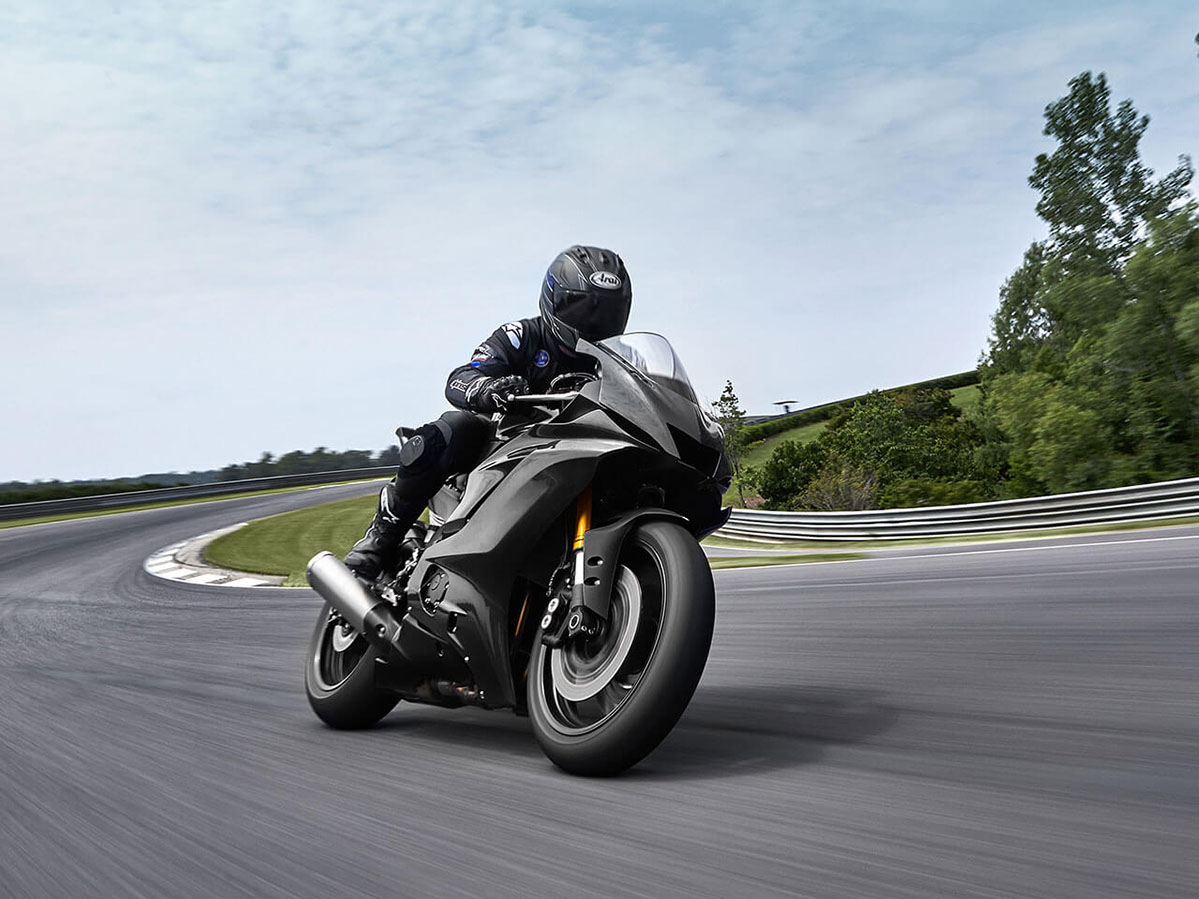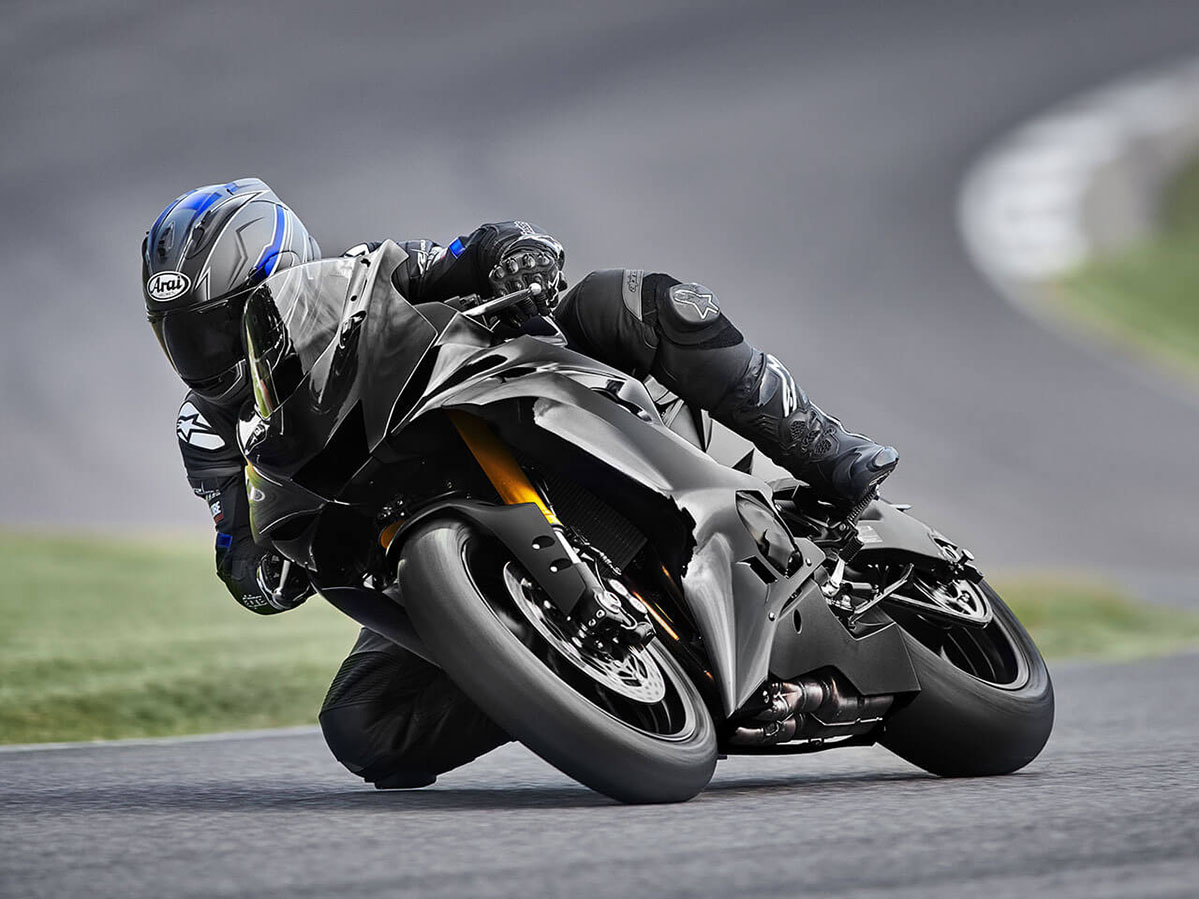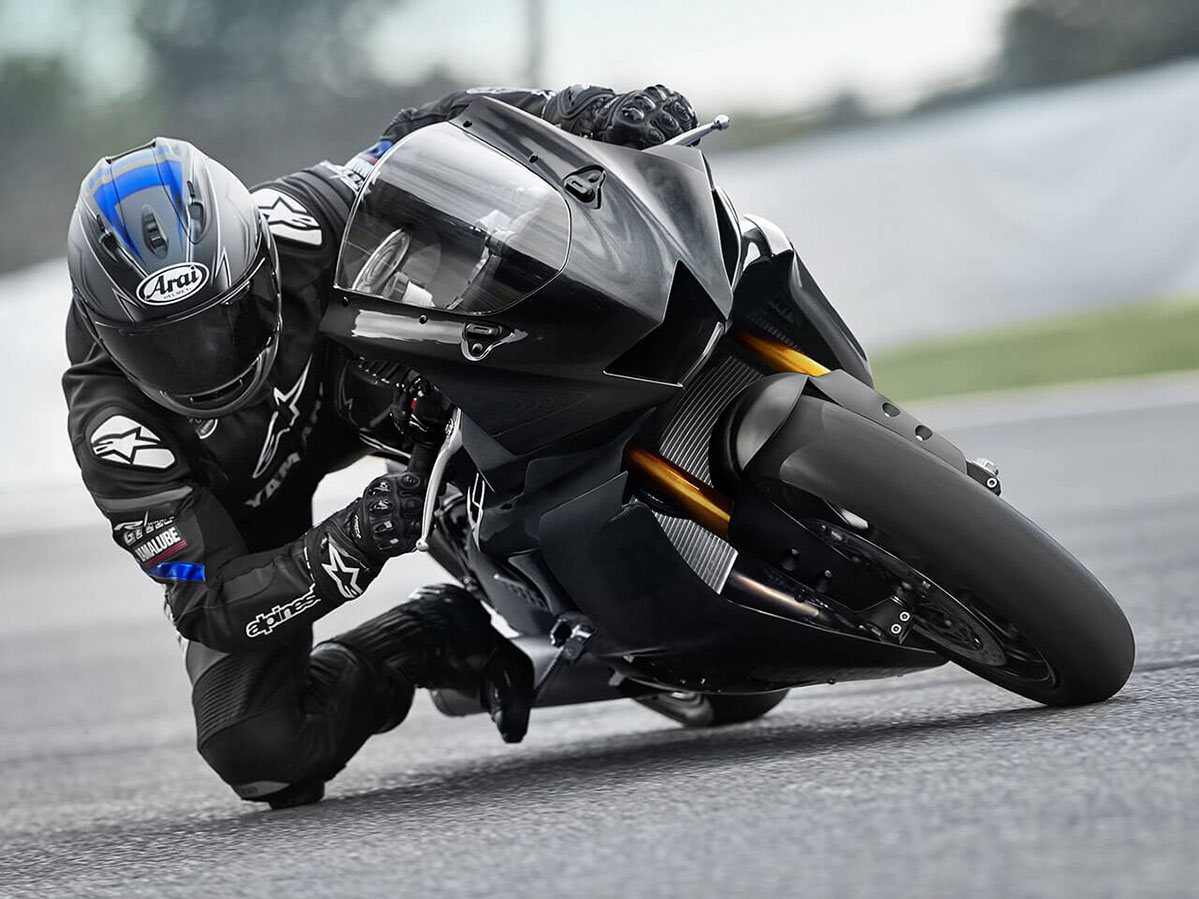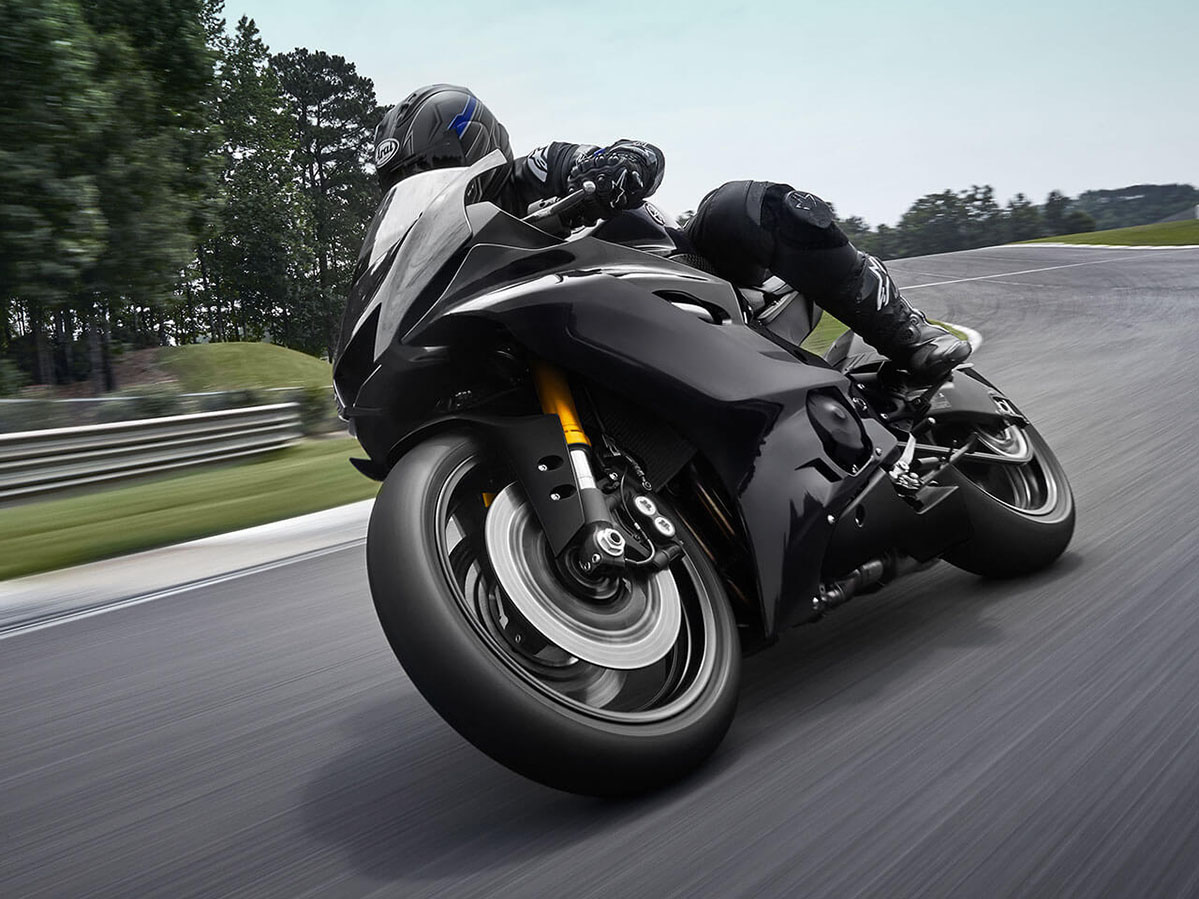 Videos
---
---
*Disclaimer: The prices mentioned in this article may vary depending on the dealership and location. Additionally, the specifications mentioned, such as horsepower and top speed, may vary from different sources as they are often tested under different conditions.