In This Article:
The Kawasaki's 2023 Ninja 650 is a sleek and powerful sportbike that offers a balance of style, responsive performance, and increased comfort. It's a versatile bike that's ideal for both new and experienced riders, offering advanced features and impressive capabilities that make it an excellent choice for a wide range of riders.
The Ninja 650's frame component is made of high-tensile steel, which is both strong and lightweight. This provides a stable and balanced ride, even at high speeds and through tight corners. The bike's suspension system features 41mm telescopic forks in the front and a horizontal back-link design in the rear, which work together to ensure precise and quick response in poor road conditions and prevent bottoming out.
Plus, the 2023 Ninja 650 features a modern and aggressive bodywork with sharp lines and a dynamic silhouette. The bike's angular twin LED headlights and sleek fairing create a bold and sporty appearance that will surely make you stand out on the road. Additionally, its high-tensile steel trellis frame and comfortable seat height make it easy to handle and maneuver in tight spaces.
The Ninja 650 is equipped with a range of advanced features that enhance its performance and safety. This includes an updated 4.3-inch TFT color display that gives riders essential information such as speed, gear position, and fuel level. The bike also features an advanced Kawasaki traction control system, which helps to prevent wheel slip and maintain stability in various riding conditions.
The sales price of the 2023 Kawasaki Ninja 650 is $7,799 on the Kawasaki website. This makes it a relatively affordable option for riders who want a high-performance sportbike that won't break the bank. Of course, there are additional costs to consider beyond the base price, such as actual destination charges, taxes, and any other accessories or upgrades.
---
2023 Kawasaki Ninja 650 Key Specs
Make: Yamaha
Model Year: 2023
Type: Sportbikes
Color: Metallic Matte Graphenesteel Gray/Ebony and Pearl Robotic White/Metallic Matte Flat Raw Graystone/Ebony
MSRP Price: $7,999 – $8,199
Warranty: 12-Month Limited Warranty
Warranty Plus: 12, 24, 36 or 48 months
Engine: 649cc, 4-stroke
Power: 68 HP
Mileage: 51.75 mpg (22 km/l)
Transmission: 6-speed
Fuel Tank Capacity: 4.0 gal. (18.2 l)
Seat Height: 31.1 in (789.94 mm)
Curb Weight: 419.0 lb (190.0 kg)
---
2023 Kawasaki Ninja 650 Specifications
Engine
| | |
| --- | --- |
| Engine Type | 4-stroke, Parallel Twin, DOHC, 8-valve, liquid cooled |
| Displacement | 649cc |
| Power | 68 horsepower @ 8,000 RPM |
| Torque | 47.2 lb-ft ( Nm) @ 6.750 RPM |
| Bore x Stroke | 83.0 x 60.0mm |
| Compression Ratio | 10.8:1 |
| Ignition | TCBI with electronic advance |
| Fuel System | DFI® with dual 36mm Keihin throttle bodies |
Drivetrain
| | |
| --- | --- |
| Transmission | 6-speed |
| Final Drive | Sealed chain |
Chassis
| | |
| --- | --- |
| Suspension Front | 41mm hydraulic telescopic fork/4.9 in |
| Suspension Rear | Horizontal back-link with adjustable spring preload/5.1 in |
| Front Brakes | Dual 300mm petal-type discs and 2-piston calipers |
| Rear Brakes | Single 220mm petal-type disc and single-piston caliper |
| Front Tires | 120/70×17 |
| Rear Tires | 160/60×17 |
| Fuel Tank Capacity | 4.0 gal |
Dimensions
| | |
| --- | --- |
| Frame Type | Trellis, high-tensile steel |
| Rake/Trail | 24.0°/3.9 in |
| Overall Length | 80.9 in (2055.86 mm) |
| Overall Width | 29.1 in (739.14 mm) |
| Overall Height | 45.1 in (1145.54 mm) |
| Wheelbase | 55.5 in (1410.7 mm) |
| Ground Clearance | 5.1 in (129.54 mm) |
| Seat Height | 31.1 in (789.94 mm) |
| Curb Weight | 419.0 lb (190.0 kg) |
Competitors
2023 Kawasaki Ninja 650 Features
Assist & Slipper Clutch
Based on feedback from racing activities, the Assist & Slipper Clutch uses two types of cams (an assist cam and a slipper cam) to either drive the clutch hub and operating plate together or apart.

Under normal operation, the assist cam functions as a self-servo mechanism, pulling the clutch hub and operating plate together to compress the clutch plates. This allows the total clutch spring load to be reduced, resulting in a lighter clutch lever feel when operating the clutch.

When excessive engine braking occurs – as a result of quick downshifts (or an accidental downshift) – the slipper cam comes into play, forcing the clutch hub and operating plate apart. This relieves pressure on the clutch plates to reduce back-torque and helps prevent the rear tire from hopping and skidding. This race-style function is particularly useful when sport or track riding.
Dual Throttle Valves
Late-model sport bikes often use large-bore throttle bodies to generate high levels of power. However, with large diameter throttles, when a rider suddenly opens the throttle, the unrestricted torque response can be strong. Dual throttle valve technology was designed to tame engine response while contributing to performance.

On models with dual throttle valves, there are two throttle valves per cylinder: in addition to the main valves, which are physically linked to the throttle grip and controlled by the rider, a second set of valves, opened and closed by the ECU, precisely regulates intake airflow to ensure a natural, linear response. With the air passing through the throttle bodies becoming smoother, combustion efficiency is improved and power is increased.
Economical Riding Indicator
Using high-precision electronic control for engine management, Kawasaki models can achieve a high level of fuel efficiency. However, fuel consumption is greatly affected by throttle use, gear selection, and other elements under the rider's control. The Economical Riding Indicator is a function that indicates when current riding conditions are consuming a low amount of fuel.
The system continuously monitors fuel consumption, regardless of vehicle speed, engine speed, throttle position and other riding conditions. When fuel consumption is low for a given speed (i.e. fuel efficiency is high), an "ECO" mark appears on the instrument panel's LCD screen. By riding so that the "ECO" mark remains on, fuel consumption can be reduced.

While effective vehicle speed and engine speed may vary by model, paying attention to conditions that cause the "ECO" mark to appear can help riders improve their fuel efficiency – a handy way to increase cruising range. Further, keeping fuel consumption low also helps minimize negative impact on the environment.
KTRC (Kawasaki Traction Control)
KTRC, Kawasaki's advanced traction control system provides both enhanced sport riding performance and the peace of mind to negotiate slippery surfaces with confidence. Multiple rider-selectable modes (the number of modes varies by model) offer progressively greater levels of intrusion to suit the riding situation and rider preference.

Less intrusive modes maintain optimum traction during cornering. Designed with sport riding in mind, they facilitate acceleration out of corners by maximizing forward drive from the rear wheel. And because Kawasaki's sophisticated software bases its dynamic analysis on the chassis' orientation relative to the track surface (rather than relative to a horizontal plane), it is able to take into account corner camber, gradient, etc., and adapt accordingly.

In the more intrusive modes (and for some models, in any mode), when excessive wheel spin is detected, engine output is reduced to allow grip to be regained, effectively enabling riders to negotiate both short, slippery patches (train tracks or manhole covers) and extended stretches of bad roads (wet pavement, cobblestone, gravel) with confidence.

Models equipped with IMU incorporate chassis-orientation feedback to offer even more precise management.
Performance And Handling
Let's learn more about the 2023 Ninja 650 to see why it has such a remarkable reputation among the biking community.
2023 Kawasaki Ninja 650 Top Speed
The 2023 Ninja 650 is powered by a sporty 649cc parallel-twin engine that delivers unmistakable sport performance. The machine is capable of producing up to 68 horsepower and 47 lb-ft of torque, delivering plenty of power for high-speed highway cruising and spirited riding performance on twisty roads. As such, riders can accelerate to 131 MPH.
The bike's six-speed cassette-style transmission is smooth and precise, allowing riders to easily shift gears and control their speed. This 649cc engine motorcycle also allows clutch slippage that assists in preventing excessive wheel spin during aggressive downshifting, providing enhanced safety and control.
Braking Performance
The Ninja 650 features a dual 300mm front petal disc brake system complemented by a single 220 mm petal-type disc brake at the rear. Plus, the front brakes are equipped with 2-piston calipers, while the rear brake uses a single-piston caliper. This petal disc design of these adjustable brakes helps to dissipate heat more efficiently, supporting consistent and reliable stopping power during daily commutes or long rides.
Besides, these petal discs can provide more surface area for heat dissipation compared to traditional round discs. This helps to prevent the brakes from overheating during extended use, guaranteeing stable stopping power delivery.
Cornering And Handling Characteristics
The Ninja 650 features high-performance tires that are designed to generate maximum grip and control on challenging road conditions. The bike's tires are wide and sporty, providing excellent traction and stability during high-speed maneuvers.
The Ninja 650's advanced suspension system is another key factor in its cornering performance. Its front suspension features 41mm telescopic forks, which are adjustable for preload and rebound damping. With the horizontal back-link rear suspension, it provides excellent stability and control during high-speed cornering.
2023 Ninja 650: A Brief Review
Many highlight the bike's performance, noting that it rides like a dream and provides smooth acceleration and excellent handling. They also appreciate the Ninja 650's lightweight sleek design, which makes it easy to maneuver in tight spaces and provides a sense of nimbleness on the road.
Most riders agree with us that the best upgrade in this version is the excellent traction control with 3 adjustable levels: an alert level (2), a mild level (1), and no traction (0). But even with the highest level – 2, we didn't feel too intrusive or disrupting. By that, we mean, only when you are crossing through speed bumps or rumble strips can you sense the traction control's interference.
When it comes to comfort, users are impressed with the Ninja 650's ergonomic design, saying that it is comfortable for long trips by offering an upright riding position. Besides, some have noted room for improvement in the base model's wind protection. Its small fit windshield may not be enough for riders who frequently ride on the highway or in windy conditions.
The fuel tank of the Kawasaki Ninja 650 has a capacity of 4 gallons, which is a decent size fuel tank for a sport bike. The tank of fuel is also designed to be slim and compact, which adds to the motorcycle's overall sleek and aggressive styling design. With a decent size fuel tank and a claimed average fuel consumption rate of 51.75 miles per gallon, riders can expect to get good mileage from the bike.
Some users have commented on the vehicle's weight, noting that it can be a bit heavy (419 pounds) and difficult to maneuver in tight spaces. While its curb weight is relatively light for a sport bike, it may still be a challenge for bikers who are not used to handling larger motorcycles.
Still, you can rest assured that the bike's weight is distributed evenly, with a 50/50 weight distribution between the front and rear wheels. This even weight distribution helps to improve handling and maneuverability, allowing riders to navigate through turns and corners with ease.
One thing we have to note is its build quality. When reaching 4-5000 RPM, we sometimes hear a buzzing sound from the engine and a little rattling on the top panels near the tank, which is quite off-putting for a nearly-$8,000 bike. And the short visor is also a minus since it allows for more wind resistance when sport touring.
2023 Kawasaki Ninja 650 Photos & Videos
Photos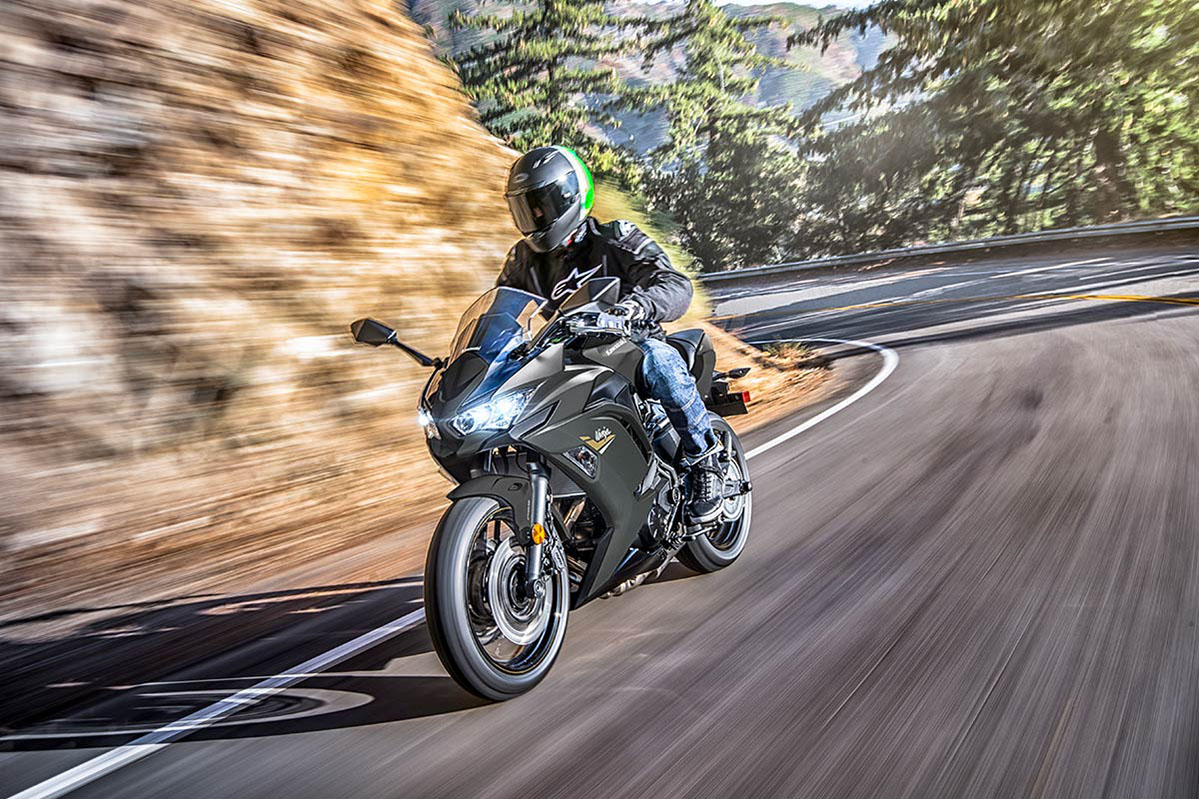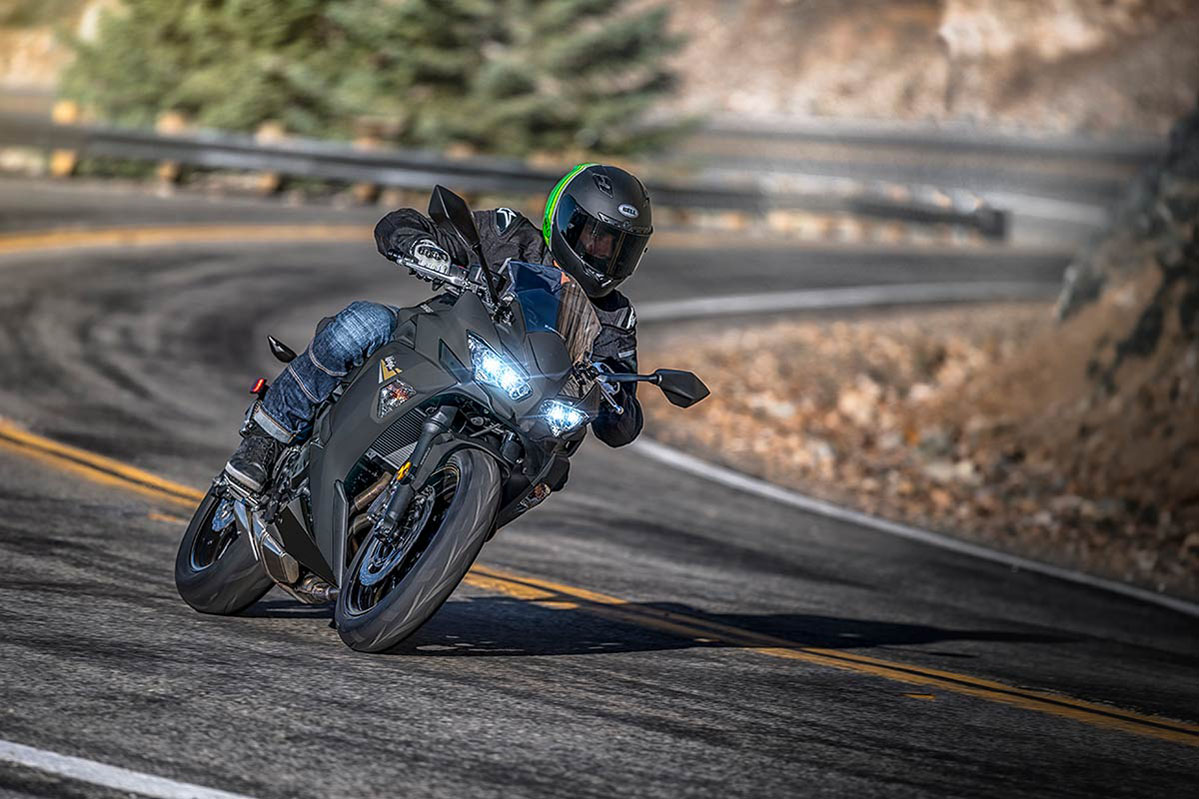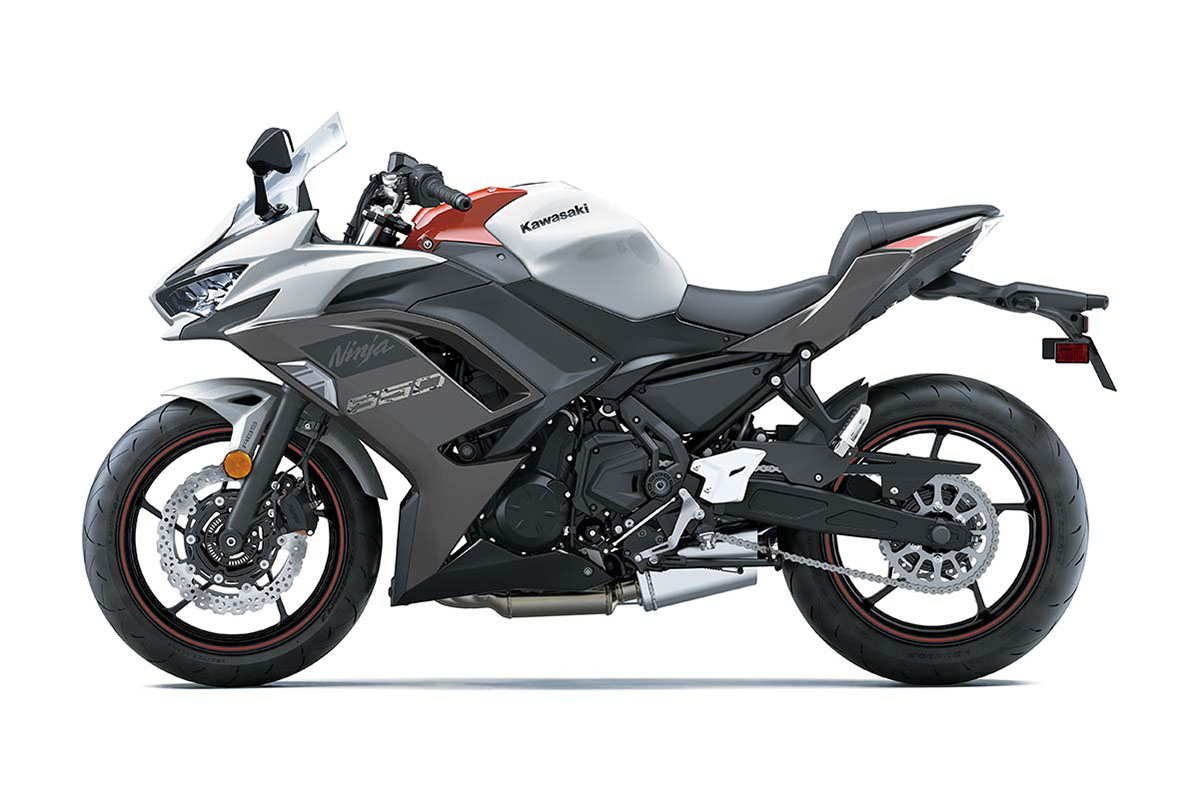 Videos
---
---
*Disclaimer: The prices mentioned in this article may vary depending on the dealership and location. Additionally, the specifications mentioned, such as horsepower and top speed, may vary from different sources as they are often tested under different conditions.