In This Article:
The Honda Grom has been a favorite among motorcycle enthusiasts since its introduction in 2014. Its combination of a playful design and sporty performance has made it a popular choice for riders of all ages and experience levels.
For the 2023 model year, the Honda motorcycle dealer is introducing a new and improved version of the Grom that is sure to impress riders even more. The 2023 Grom also gains new LED lighting, an improved exhaust system that offers excellent performance and sound, and new color options that give riders more freedom to customize their Grom.
Honda also designed the machine with a responsive suspension to absorb bumps and vibrations when cornering. With an inverted fork and a single rear shock, bikers can enjoy a smooth and comfortable ride. This design also helps to keep the tires in contact with the road, improving overall stability and control when cornering.
The 2023 Grom also equipped with a gear position indicator to show the rider what gear they are in at all times, which is especially useful when riding in traffic or on unfamiliar roads. This gear indicator uses a series of symbols and numbers to display the current gear, making it easy for riders to see at a glance.
One of the best things about the 2023 Grom is the wide range of customization options available. Honda offers several official accessories for the Grom, including fender kits, luggage racks, and even a passenger seat padding kit. There are also many aftermarket parts and accessories available, allowing riders to customize their Grom to their heart's content.
The base model of the 2023 Honda Grom has a starting sale price of around $3,499 (as per Honda). Notice that this cost does not include additional and custom options. With this relatively low product pricing, this 2023 generation is an attractive option for riders who may be new to the sport or want a second bike for daily commutes or weekend rides.
---
2023 Honda Grom Key Specs
Make: Honda
Model Year: 2023
Type: miniMOTO
Color: Matte Black Metallic, Cherry Red, Force Metallic Silver and Pearl White (ABS)
MSRP Price: $3,499
Warranty: 1 year
Warranty Plus: 12, 24, 36 months
Engine: 124cc, four-stroke
Power: 9.7 HP
Mileage: 166.5 mpg (70.8 km/l)
Transmission: 5-speed
Fuel Tank Capacity: 1.6 Gal. (7.27 l)
Seat Height: 30 in. (762 mm)
Curb Weight: 223 lb. (101.2 kg)
---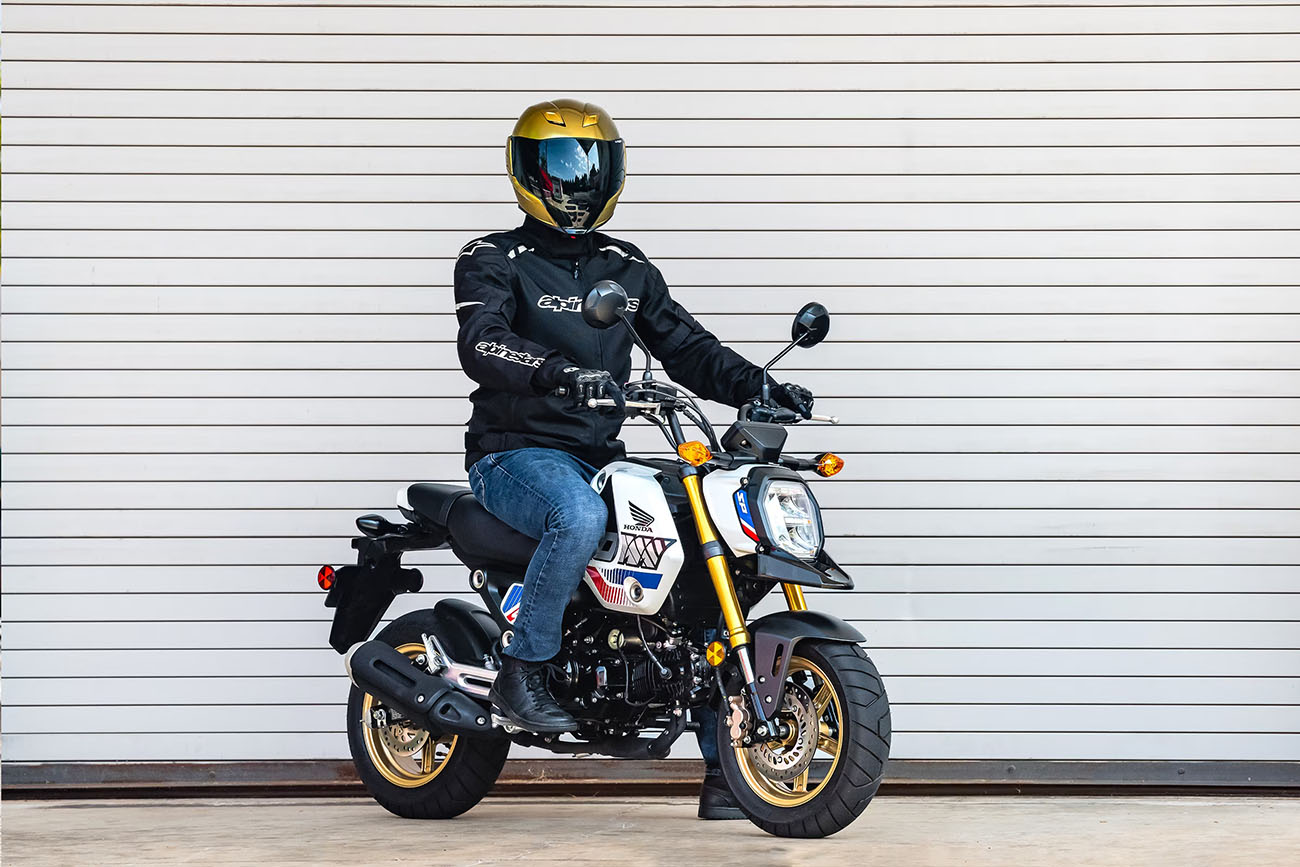 2023 Honda Grom Specifications
Engine
| | |
| --- | --- |
| Engine | 124cc air-cooled single-cylinder four-stroke |
| Power | 9.7 horsepower |
| Torque | 7.7 lb-ft (10.5 Nm) |
| Bore x Stroke | 50mm x 63.1mm |
| Compression Ratio | 10:1 |
| Induction | PGM-FI with automatic enrichment |
| Ignition | Electronic |
| Valve Train | SOHC; two valves per cylinder |
Drivetrain
| | |
| --- | --- |
| Transmission | 5-speed |
| Final Drive | 15T/38T; Chain |
Chassis
| | |
| --- | --- |
| Suspension Front | 31mm telescopic inverted fork; 3.9 inches of travel |
| Suspension Rear | Single shock with steel box-section swingarm; 4.1 inches of travel |
| Brakes Front | Single 220mm disc with hydraulic dual-piston caliper |
| Brakes Rear | Single 190mm disc with hydraulic single piston caliper |
| Tires Front | 120/70-12 |
| Tires Rear | 130/70-12 |
Dimensions
| | |
| --- | --- |
| Rake | 25° |
| Trail | 3.3 in. (83.8 mm) |
| Wheelbase | 47.2 in. (1199 mm) |
| Seat Height | 30 in. (762 mm) |
| Fuel Tank Capacity | 1.6 Gal. (7.27 l) |
| Curb Weight | 223 lb. (101.2 kg) |
Competitors
| | Price | Engine | Top Speed |
| --- | --- | --- | --- |
| 2023 Kawasaki Z125 Pro | $3,399 | 125cc | 100 mph |
| 2023 Benelli TNT 135 | $2,999 | 135cc | 70.2 mph |
| 2023 Kymco Spade 150i | $3,399 | 149.4cc | 60 mph |
2023 Honda Grom Features
PERFORMANCE
124cc FUEL-INJECTED ENGINE
Nobody can match our reputation for engines, and even though the Grom may be compact, it's a giant in terms of performance and reliability.
COMFORT
LOW SEAT HEIGHT
At just 30 inches the Grom makes it easy to flat-foot it in parking lots or at stop lights. Plus, the seat features thick padding so it's comfortable, especially for taller riders.
ENGINEERING
HYDRAULIC DISC BRAKES
The Grom features 220mm front and 190mm rear single disc brakes for excellent stopping power.
STYLE
UNIQUE BODYWORK
Part of the fun of owning and riding a Grom is the way it looks. Plus, its unique bodywork is easy to remove if you want to customize it even further. In addition, the engine, exhaust, wheels and swingarm are all blacked out for an edgy look.
LED HEADLIGHT
The Grom's LED projector-style headlight not only looks great and is a major styling element, but it also provides excellent illumination.
FIVE-SPEED TRANSMISSION
The Grom features a five-speed transmission. You still get all the durability, control and efficiency of a conventional motorcycle, but the five gears help increase top speed for highway cruising.
LED TAILLIGHT
Forget about big, bulky taillights—the Grom's LED lamp is bright and clear.
MULTI-FUNCTION DIGITAL INSTRUMENT DISPLAY
The instrument display features speedometer, odometer, tachometer, gear position indicator, A&B trip meters, fuel gauge, clock, and indicator for low/high beam.
OPTIONAL ABS
Our Honda Anti-Lock Braking System (ABS) is available on the Grom, which helps you make confident stops under less-than-ideal conditions.
CONVENIENCE
FUEL CAPACITY
Who says being on a budget can't be fun? With its 1.6-gallon fuel tank you can venture far and economically too.
TWO-UP CAPABILITY
Want to share the fun with a friend? No problem—the Grom makes it easy to bring a passenger along.
HANDLING
12-INCH CAST WHEELS
Tough and strong, these cast wheels and wide tires are just what the urban rider needs.
INVERTED FORK SUSPENSION
Just like a top-of-the-line sportbike, the Grom features an inverted hydraulic fork front suspension for control and road feel.
Performance And Handling
One of the most notable updates to the 2023 Honda Grom is its increased engine displacement. The new version features a nearly 124cc fuel injected engine, letting riders enjoy a more responsive throttle and quicker acceleration, making it even more fun to ride.
2023 Honda Grom Top Speed
The claimed max speed is 59 mph, which is a nice choice for female riders. But some reported that they can even reach 73 mph with ease thanks to its light-weight build.
The 2023 diminutive model is expected to weigh around 223 pounds, making it one of the lightest bikes on the market. With less weight to carry around, the motorcycle can work more efficiently, allowing riders to enjoy better acceleration and a higher top speed.
But the speed will depend on your weight, too. For example, one of our team members weighs 190 pounds, and he can only reach 62 mph, not as fast as others' reports.
Braking Performance
The 2023 Grom features hydraulic single disc brakes on both the front and rear wheels. This means riders can stop quickly and safely, even at high speeds. The brake has a single piston caliper front and a 2-piston caliper rear, offering consistent and powerful braking force.
You will also find the familiar Anti-Lock Braking System (ABS) in this 2023 machine. When you hit the brakes hard, this system will prevent the wheels from locking up and skidding, enabling you to maintain control and stability of the bike. This is particularly important in emergencies or when riding on wet or slippery road conditions, where the risk of losing control is higher.
Cornering And Handling Characteristics
In addition to the upgraded engine, the 2023 Honda Grom also features a redesigned frame that is both stronger and lighter than its predecessor. The new structure improves handling and maneuverability, making it easier for riders to navigate city streets and crowded parking lots.
The Grom is equipped with wide tires that help to provide better traction and stability when cornering. The vehicle has a 120/70-12 front tire and a 130/70-12 rear tire, which provide plenty of grip and control on various road surfaces. This design helps to reduce slipping and sliding when cornering, making the Grom a more safe and confidence-inspiring ride.
2023 Grom: A Brief Review
Overall, the 2023 Honda Grom motorcycle is built for maneuverability and responsiveness. The bike's wheelbase measures just over 47 inches, making it one of the shortest in its class. This means bikers can quickly and easily change directions, making the Grom a great choice for tight, winding roads.
The fuel capacity of the 2023 Honda Grom is 1.6 gallons. While this may seem small compared to other standard popular motorcycles, many urban riders still go for this version to fulfill their city riding and short commute needs. Plus, with the ability to deliver an estimated 166.5 mpg, the fuel economy is remarkable. This allows bikers to go further on a tank of fuel, saving money and reducing their environmental impact.
Another feature that impresses bikers is its comfortable and upright riding position. The street bike is designed to provide a comfortable and natural posture for riders, reducing fatigue and discomfort during long rides.
The Grom also has a low seat height, making it accessible and easy for bikers of all sizes and experience levels. The curves in the fuel tank helps our knees fit right in, which causes no struggle to handle it. Honda designed its handlebars so well that they keep our elbows at an almost 90-degree angle for more comfort.
Furthermore, the brake levers on the Grom have been redesigned for the 2023 model year with a new shape and improved ergonomics. They feature a two-finger design, making it easier for experienced riders to control the brakes with precision. The levers are positioned closer to the grips, reducing the reach required to engage the brakes and biker fatigue during the ride.
The only complaint about this bike is the clutch's bite point is just right at the top of the release lever, making it a little hard to maneuver. We must say this is one of the best for city commuting, though.
2023 Honda Grom Photos & Videos
Photos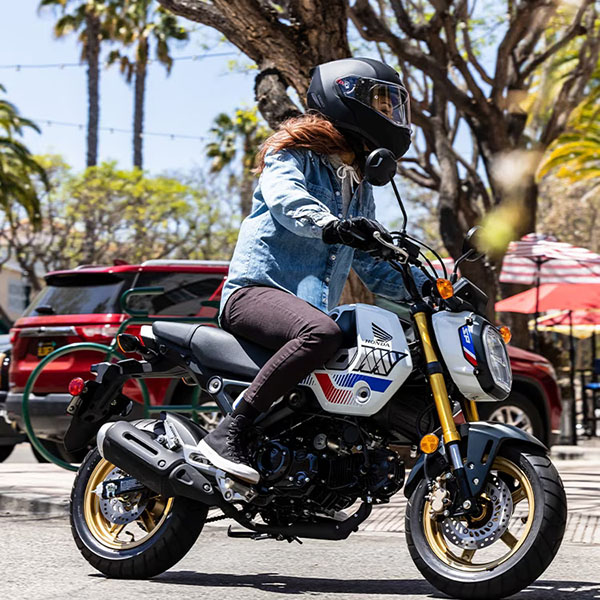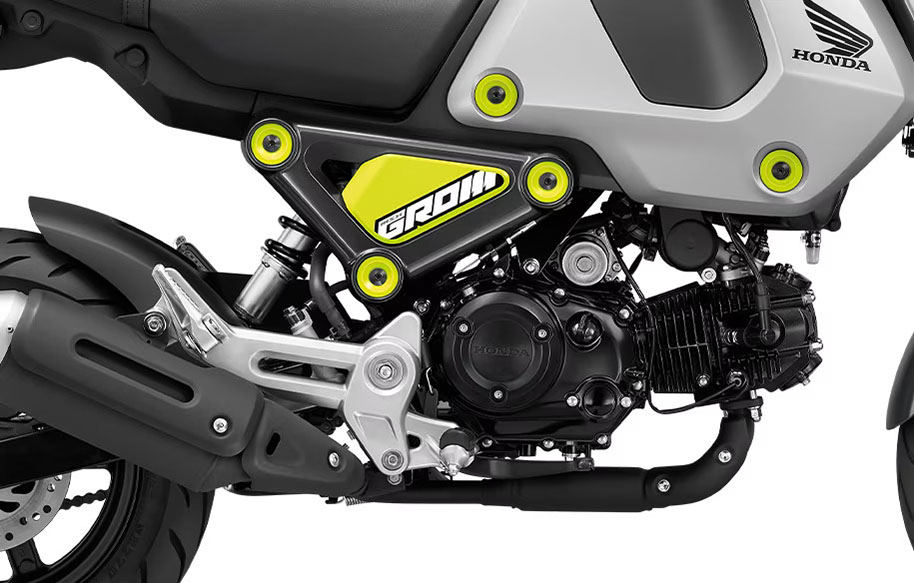 Videos
---
---
*Disclaimer: The prices mentioned in this article may vary depending on the dealership and location. Additionally, the specifications mentioned, such as horsepower and top speed, may vary from different sources as they are often tested under different conditions.