In This Article:
The 2023 BMW S1000RR is an evolution of the previous base models, with improvements and updates that make it faster and more agile than ever before. It now comes with a 999cc DOHC engine that can produce 205 horsepower at 13,750 RPM, thanks to a redesigned engine that features new pistons, connecting rods, and a lighter crankshaft.
Its transmission system is a six-speed constant mesh gearbox with a multi-plate wet clutch. This system has been designed to provide smooth and precise gear changes, even at high speeds. The gearbox has a quick shifter that allows the rider to shift gears without the need for the clutch, reducing shift times and improving power into acceleration.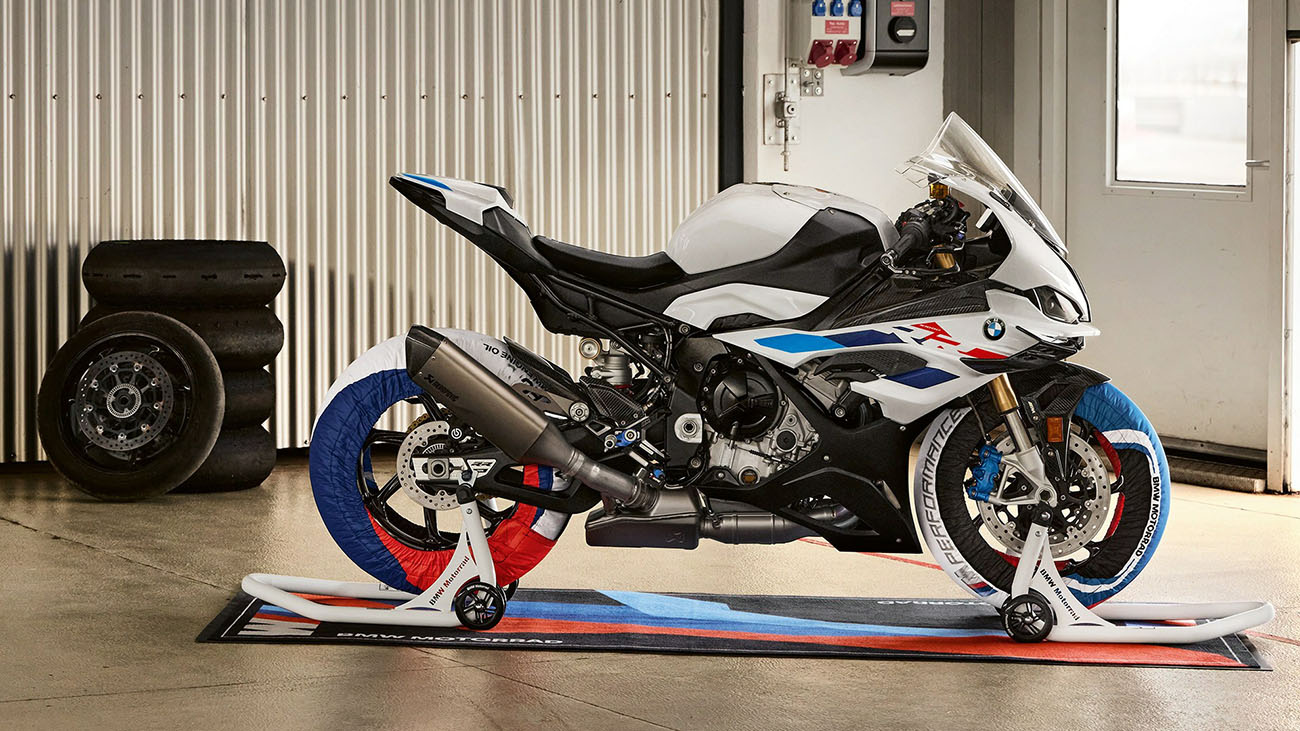 Plus, this bike features an updated electronics package with a new six-axis IMU (Inertial Measurement Unit), bringing more accurate data to the bike's electronic aids. A new ride-by-wire system is also brought into this new version, which can offer smoother throttle responses.
In terms of overall look, this 2023 model is still quite the same as previous versions. Still, when you look closely, you will notice its tail now has a renovative design with weight reduction, giving the whole bike a sportier and slimmer look.
Since this is the latest version of the BMW S1000RR, its cost is surely higher than the previous year's models. To own this bike, you will have to spend $17,895 for a base model and $24,730 for a full-fledged one (prices at BMW Motorcycles), which is a costly yet understandable price considering the new features, upgrades, and improvements.
---
2023 BMW S1000RR Key Specs
Make: BMW
Model Year: 2023
Type: Superbike
Color: Light White/M Motorsport, Passion (Racing Red), Black Storm Metallic.
MSRP Price: Full-fledged: $24,730 | Base Model: $17,895
Warranty: 3-year
Engine: 999cc
Power: 205 HP
Mileage: 44.4 mpg (18.88 km/l)
Transmission: 6-speed
Fuel Tank Capacity: 4.35 gal. (16.47 l)
Seat Height: 32.4 in. (823.56 mm)
Curb Weight: 434.3 lb. (196.95 kg)
---
2023 BMW S1000RR Specifications
Engine
| | |
| --- | --- |
| Type | 4-cylinder, 4-stroke in-line engine (BMW ShiftCam) |
| Engine | 999cc |
| Power | 205 horsepower @ 13,750 rpm |
| Torque | 83 lb-ft ( Nm) @ 11,000 rpm |
| Bore x Stroke | 3.15 in. x 1.96 in. |
| Compression Ratio | 13.3 : 1 |
| Mixture control | Electronic injection, variable intake pibe |
| Emission control | Closed-loop three-way catalytic converter |
Drivetrain
| | |
| --- | --- |
| Clutch | Multiplate clutch in oil bath, anti-hopping clutch, with self-reinforcement |
| Transmission | Claw-shifted 6-speed gearbox with straight cut gears |
| Final Drive | Chain 525 17/46 |
| Traction control | DTC, slide control |
Chassis
| | |
| --- | --- |
| Frame | Bridge-type aluminum laminate frame with load-bearing engine |
| Front Suspension | Upside-down telescopic fork, diameter 45 mm, spring preload, rebound and compression stages adjustable |
| Rear Suspension | Aluminum swing arm, full-floater pro, central spring strut, adjustable rebound and compression-stage damping, adjustable preload |
| Front Suspension Travel | 4.7 in (119.38 mm) |
| Front Suspension Rear | 4.6 in (116.84 mm) |
| Wheelbase | 57.4 in (1457.96 mm) |
| Caster | 3.93 in (99.82 mm) |
| Steering head angle | 66.4° |
| Wheels | Aluminum cast wheels |
| Front Tire | 120/70 ZR17 |
| Rear Tire | 190/55 ZR17 (with M wheels: 200/55 ZR17) |
| Front Rim | 3.50 x 17 in (88.9 x 431.8 mm) |
| Rear Rim | 6.00 x 17 in (152.4 x 431.8 mm) |
| Front Brakes | Twin disc brake, Ø 320 mm 4.5 mm, radial 4-piston fixed caliper (5 mm M wheels) |
| Rear Brakes | Single disc brake, diameter 220 mm, 1-piston floating caliper |
| ABS | BMW Motorrad Race ABS (partial integral), Brake-Slide-Assist |
| ABS Pro | BMW Motorrad ABS Pro (settings for RAIN, ROAD, DYNAMIC, RACE mode) |
Electrical
| | |
| --- | --- |
| Alternator | 450 W |
| Battery | 12 V / 5 Ah, lithium-ion |
Dimensions / Weights
| | |
| --- | --- |
| Overall Length | 81.6 in. (2,073.44 mm) |
| Overall Width | 33.4 in. (848.36 mm) |
| Overall Height | 47.4 in. (1,202.96 mm) |
| Seat Height | 32.4 in. (823.56 mm) |
| Inner leg curve | 72.6 in. (1,844.04 mm) |
| Fuel Tank Capacity | 4.35 gal. (16.47 l) |
| Curb Weight | 434.3 lb. (196.95 kg) |
| Maximum Permissible Total weight | 897 lb. (406.38 kg) |
| Payload | 463 lb. (210.43 kg) |
Competitors
2023 BMW S1000RR Features
Outstanding braking
Pushing towards the head of the class: the brake originates from the M RR. For deceleration with maximum braking stability and feedback – paired with precise adaptation to Race ABS.
M Carbon tail-hump cover with camera adapter
Attach an action cam to the carbon seat pad; featuring a recess with an adapter and install the GPS mouse of the M data logger including lap trigger.
New rear end with short license plate carrier
More than just appearance: The new rear makes the RR seem even lighter, sportier and more dynamic. The optionally available M Cover kit for track days is easy to attach, just like in professional racing.
Optimized engine concept
Details and transfers from motorsport: The cylinder head geometry is identical to that in the M RR. In addition, the power output is 205 hp.
Dynamic front view and tall windscreen
Reduce helmet vibration: newly designed front with tall windscreen provides improved aerodynamics around the head. The isolation of the fork bridge brings about further aerodynamic advantages.
Performance-oriented M Data Logger with GPS-Laptrigger
Work like the professionals: the optionally available M Data Logger with GPS-Laptrigger makes it possible to automatically record lap times and evaluate relevant riding data on more than 300 racetracks worldwide. European model shown.
Powerful M Lightweight battery
Every ounce counts: the high-quality and durable M Lightweight battery with state-of-the-art lithium-ion technology saves a full 4.4 lbs of weight.
Efficient front and side trim panel with winglet
Up to 37.7 lbs: front and side trim panels have been reworked for optimal downforce and improved aerodynamics. The winglets, familiar from the M RR, have been specially modified.
Performance And Handling
Learn more about the 2023 S1000RR's top-notch performance and handling on the road and track below.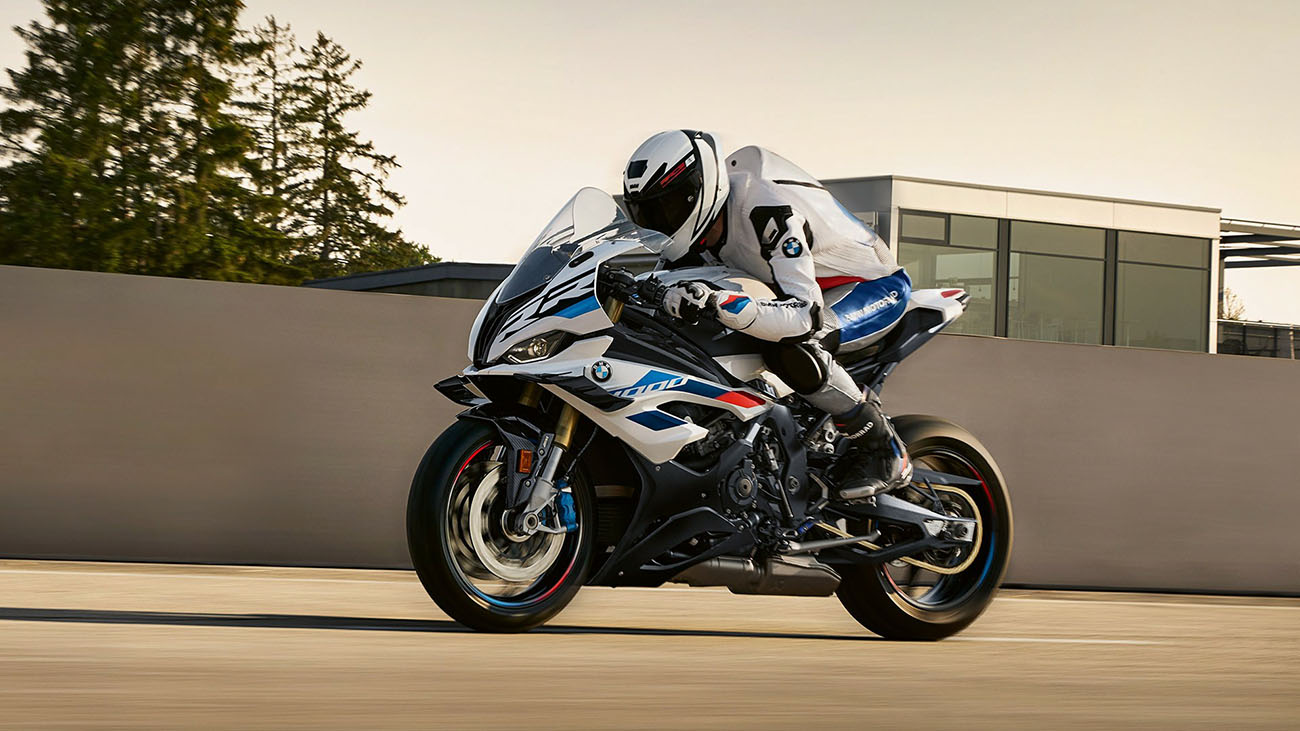 2023 BMW S1000RR Top Speed
The maximum speed of the BMW S1000RR is around 188 mph. This performance is brought by the inline-four engine, which has a capacity 999cc and produces 205 horsepower and 83 lb-ft of torque. These figures scream that this 2023 machine is one of the most powerful production motorcycles on the market. Its acceleration is also impressive: from 0-62 mph in 3.1 seconds and 0-124 mph in 6.9 seconds (According to a real testing video in Rodch MotoVlog).
Similar to previous versions, this model comes with ShiftCam technology, which optimizes variable valve timing and lifts for maximum power and torque. Thanks to this feature, the motorcycle can produce a more linear power delivery and improved fuel capacity, ideal for both track and street riding modes.
Braking Performance
BMW Motorrad equipped its new machine with a powerful braking system to deliver exceptional stopping power and dynamic brake control. The dual 320mm disc brakes at the front and a single 220mm disc rear brake, both of which are assisted by BMW's advanced ABS, assist in optimizing your safety.
Another advanced feature that enhances the bike's braking performance is the use of ABS Pro. It allows you to maintain control of the bike while braking in turn. By applying different levels of brake pressure based on the lean angle, it will ensure that you can apply stronger brakes safely and effectively in any situation.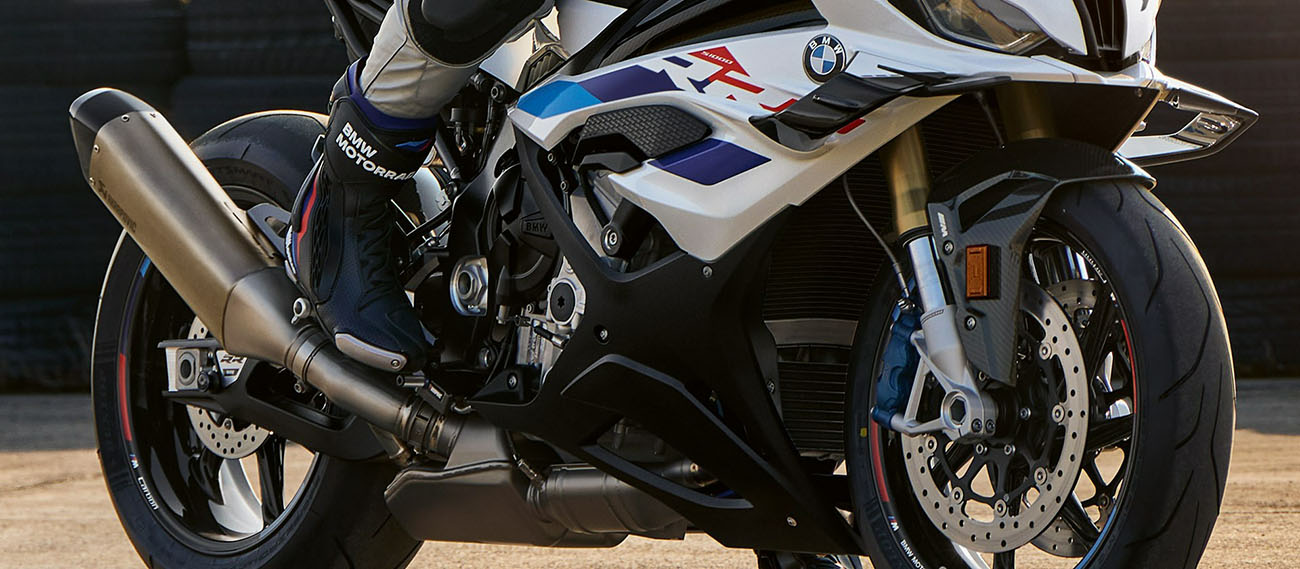 Cornering And Handling Characteristics
One of the most noticeable new features in this model is the power slide control, which helps maintain safety in case of rear-wheel slides. Simply put, this assistance system reduces the engine's power output and adjusts the electronic throttle control.
This way, it prevents the rear wheel from losing traction and causing a slide. The slide control system also works in conjunction with the ABS and traction control systems to ensure maximum safety and cornering performance.
In terms of handling, we can say that this new model is more stable and responsive. The BMW dealer included a six-axis inertial measurement unit (IMU) aboard the motorcycle that continuously monitors the bike's motion and modifies the electronic aids to improve handling.
This system controls the bike's 6-stage DTC traction control, wheelie control, and cruise control systems, providing excellent traction and stability while cornering and accelerating.
2023 BMW S1000RR: A Brief Review
Overall, most major contenders in the 2023 superbike class remain the same. Still, BMW has made significant improvements to this version that promise to turn it into a more capable machine, especially on the race tracks, falling behind its competitors.
Notably, the 2023 S1000RR differs from its predecessor due to adding composite plastic winglets in the form of the S1000RR and a revised tail section. The modifications go far beyond simple styling, greatly improving the downforce (some riders have reported that it can create nearly 17 pounds at 124 mph and almost 38 pounds at 186 mph). That said, we also noticed some drag with the presence of winglets.
Many users claimed that this generation of S1000RR brings smoother and more comfortable rides. As the bike was fitted with Bridgestone v02 slicks, it gives a feeling of almost uncrashability and a safer riding experience.
In terms of design, some stated that the visual aesthetic is what got them hooked on this generation. The sharp lines, edgy curves, and dynamic stance give the S1000RR a muscular appearance.
It is not only visually appealing but also aerodynamically efficient, as it minimizes wind resistance and brings optimal downforce. This allows it to achieve high engine speeds and better handling. Besides, the bike also comes with other standard features, such as bubble windscreen, TFT display, sporty highlights, steering angle sensor, and other optional accessories.
One off-putting point we must mention is the Anti-slide-assist system. Some bikers complained that they could not slide the rear wheel to their liking, unless the tire lost tration and spinned up. Maybe, they didn't get the hang of this safety feature, and so do we. But being hard-to-control is a real minus itself, right?
Long story short, if you're a dedicated racer who plans to upgrade to race electronic suspension, this 2023 S1000RR is a great option. However, due to its high price tag, many still need to consider carefully before purchasing.
2023 BMW S1000RR Photos & Videos
Photos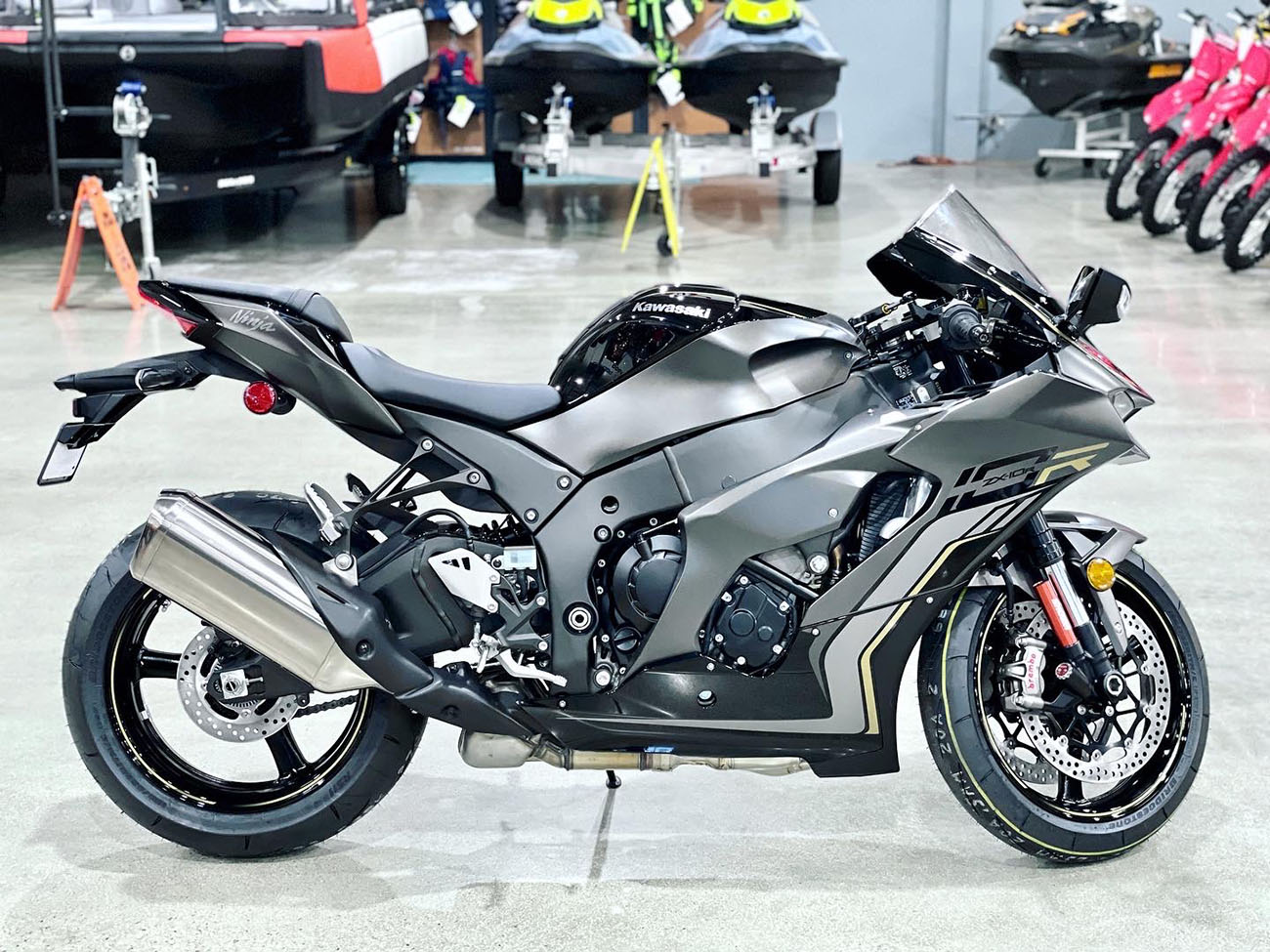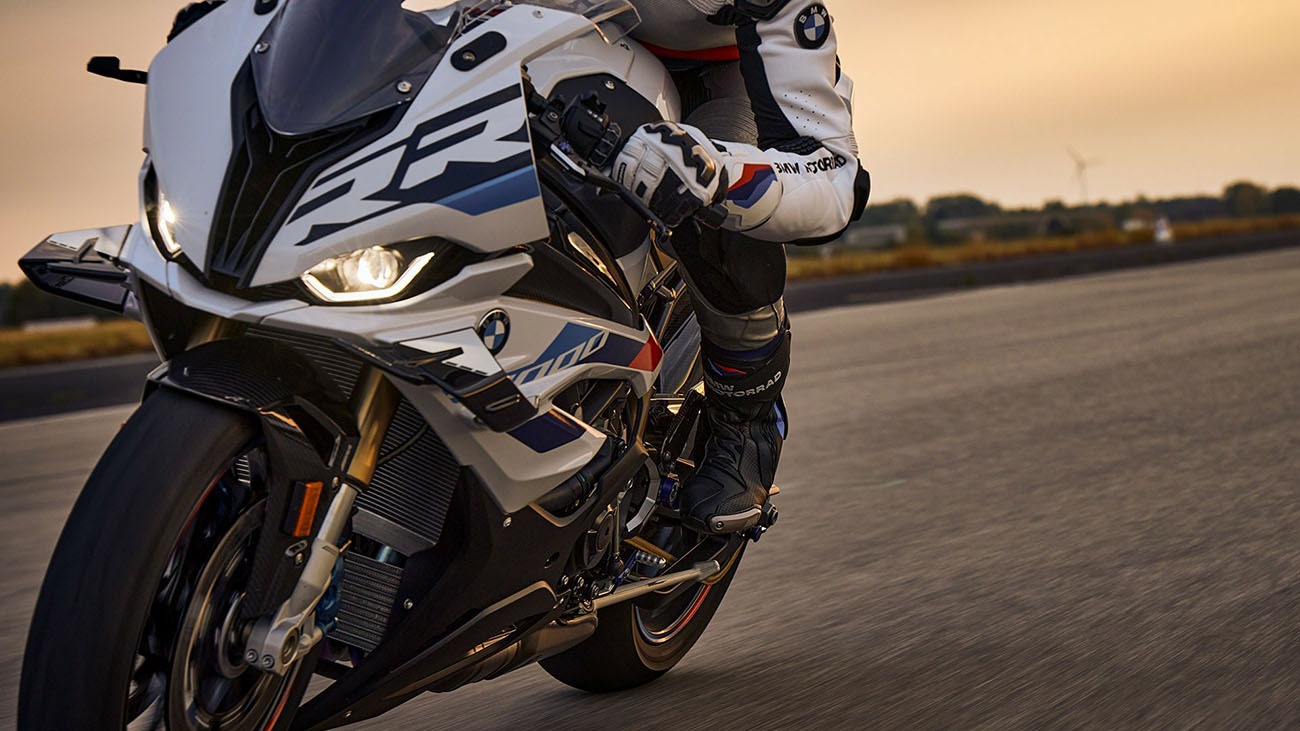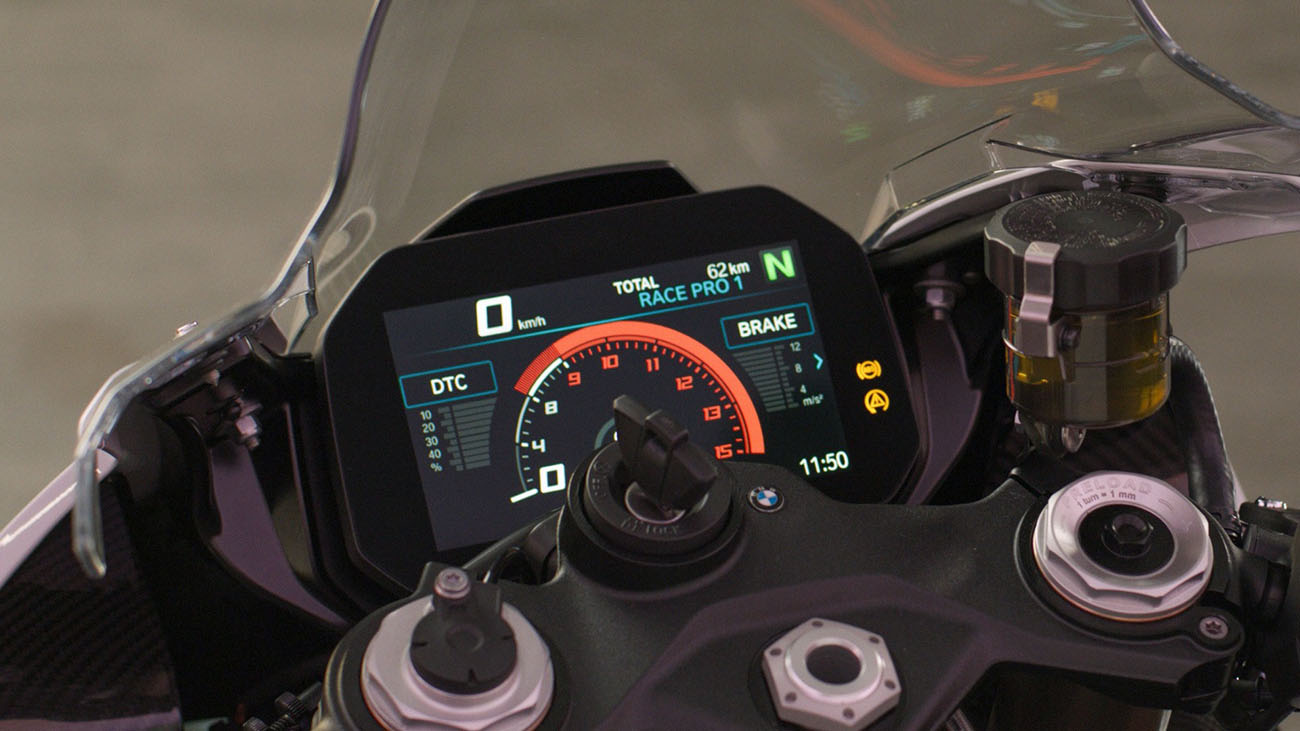 Videos
---
---
*Disclaimer: The prices mentioned in this article may vary depending on the dealership and location. Additionally, the specifications mentioned, such as horsepower and top speed, may vary from different sources as they are often tested under different conditions.