In the exhilarating world of motorcycling, the quest for the best sports motorcycle is an endless pursuit that echoes the thrill and precision these machines offer. From the heart-pounding acceleration on open highways to the adrenaline-fueled twists and turns of winding roads, sports bikes are designed to ignite the rider's passion for speed, performance, and the sheer joy of riding.
Together, we will embark on a journey to explore the contenders vying for the title of the best sport modern bike. Let's delve into their dynamic features, cutting-edge technology, and the unparalleled experience they offer riders who seek the pinnacle of two-wheeled excitement.
Table of Contents
How Did We Pick Our Top 10 Best Sport Bikes?
Our selection process for our top 10 motorcycles was rigorous and thorough. Drawing from a pool of 50 powerful bikes belonging to our motorcycle club members, we conducted comprehensive testing over 7 days across diverse terrains. This extensive evaluation allowed us to gather objective data on each bike's performance, handling, and versatility.
However, our methodology extended beyond mere numbers. We also tapped into the rich experiences of our club members, who shared their insights and anecdotes about their rides.
Combining empirical test results with real-world feedback from our community, we curated a definitive list of the top 10 sport bikes. These bikes embody exceptional performance and resonate with the authentic experiences of our fellow experienced riders.
Top 10 Supersport Motorcycles
1. Suzuki GSX-R1000R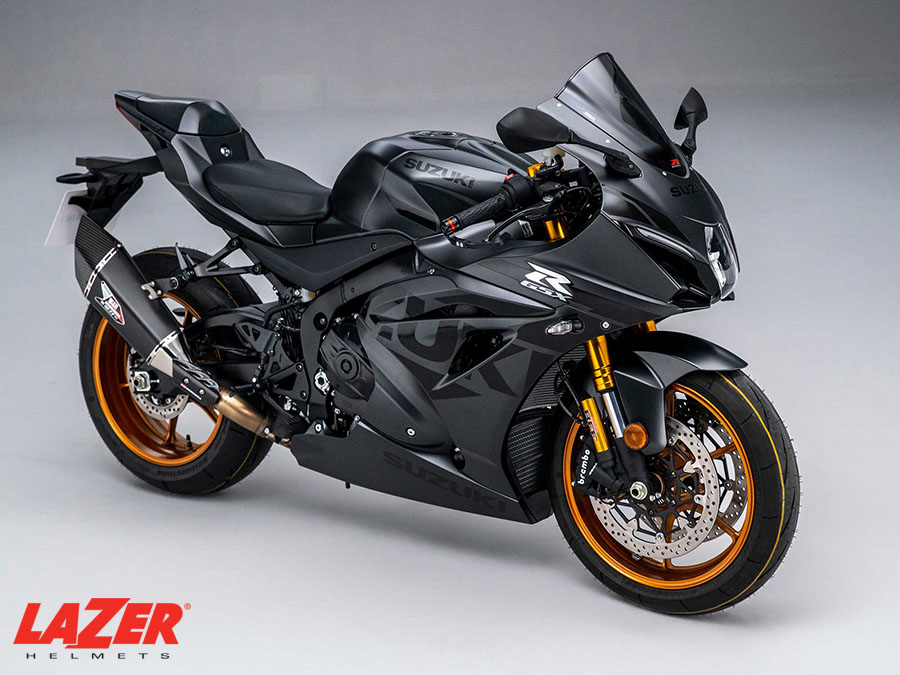 Beneath the sleek exterior lies a 999.8cc, 4-cylinder DOHC engine that serves as the beating heart of the GSX-R1000R. With a compression ratio of 13.2:1, this powerplant churns out remarkable power and max torque, translating into instant acceleration and crisp feedback that pushes the boundaries of exhilaration.
What sets the GSX-R1000R apart is its ability to translate raw power into controlled performance. The SHOWA BFF inverted telescopic front suspension and SHOWA BFRC-Lite rear shock form a dynamic duo that provides superior handling and responsiveness. Whether attacking corners on the track or navigating winding roads, the GSX-R1000R maintains unwavering stability, instilling confidence in the rider.
Riders commend the bike's blistering acceleration, smooth power output delivery, and responsive handling. The traction control system is highlighted as a game-changer, allowing riders to confidently explore the bike's limits. However, it's worth noting that this machine's power demands respect, requiring riders to adapt to its intensity gradually.
While the GSX-R1000R excels in delivering sporty dynamics, the aggressive riding position might not suit every rider's comfort preferences. The forward-leaning stance and high foot pegs are optimized for performance, but longer rides can potentially lead to your fatigue and discomfort.
Pros
Quick and responsive shifting system
High-degree stability
Reliable braking performance
Con
Might not be suitable for long-distance riding
2. MV Agusta F3 RR
The F3 RR is more than just power; it's about harnessing that power with finesse. The Marzocchi "UPSIDE DOWN" telescopic hydraulic adjustable fork and Sachs single shock absorber create a suspension system that offers impeccable slide control and responsiveness. Plus, the wet, multi-disc slipper clutch and six-speed transmission further contribute to a seamless and dynamic riding experience.
Braking performance is a critical aspect of any sport motorcycle, and the F3 RR excels in this regard. The double floating disc with 320 mm diameter at the front, accompanied by a single steel disc with 220 mm diameter at the rear, ensures exceptional stopping power. The ABS with cornering function adds an extra layer of safety, allowing riders to push the limits with confidence.
In terms of design, the sleek lines, captivating colors such as the "RC Pearl White Ago Red" and "Emerald Red," and the overall aesthetic of this superbike make it a work of art in motion. Every detail, from the LED headlights to the tail light, is thoughtfully designed to enhance both form and function.
MV Agusta motorcycles are renowned for their craftsmanship and performance, but their premium quality comes at a premium price range. The initial investment for the F3 RR might deter riders with budget constraints or those entering the sport motorcycle market for the first time.
Pros
Less internal friction
Enhanced power transmission
Updated aerodynamics
Con
3. Honda CBR600RR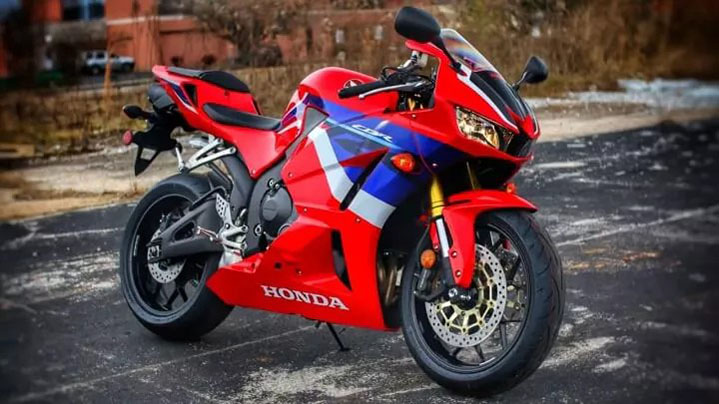 This CBR600RR's bodywork stands as an embodiment of Honda's dedication to melding artistry with engineering precision. Every curve, every line, and every contour isn't just for visual appeal—it serves a purpose.
The Grand Prix Red color option radiates a bold aura, capturing attention while reflecting the bike's spirited soul. LED headlights illuminate the road ahead, breathing a modern sense to the classic sport motorcycle design, while the sleek dimensions of the bike pay homage to its racing heritage.
Braking performance is another dimension where the CBR600RR's prowess shines. The dual radial-mounted full-floating 310mm discs in the front and the single 220mm rear disc are orchestrated to create a symphony of controlled deceleration. This system accentuates the bike's dynamic performance, providing riders with the confidence to push their limits while staying firmly in cruise control.
That being said, there is a drawback, which is the issue of gauge cluster buttons getting stuck. This issue can disrupt the seamless interaction with the instrument panel, potentially affecting functions such as mode switching and navigation through the display menus.
Pros
Light weight yet sturdy bodywork
Effective stopping performance
Agile and quick response
Con
Easy-to-get stuck gauge cluster buttons
4. Aprilia RSV4 Factory 1100
This Aprilia RSV4 model commands attention with its 1,099cc DOHC liquid-cooled engine, a symphony of power with its 81.0 x 53.3mm bore x stroke configuration. The 6-speed transmission and chain final drive collaborate harmoniously, delivering a ride that feels more like a conversation between man and machine.
Moreover, its aluminum dual-beam main chassis is an intricate dance of form and function, creating an architecture that facilitates impeccable handling. Its 43mm Öhlins NIX fork and Öhlins TTX monoshock at the rear, both orchestrated by Smart EC 2.0 electronic management, navigate the balance between comfort and control.
Boasting a 4-piston Brembo Stylema caliper setup with dual floating 330mm discs at the front, the RSV4 Factory 1100 is a testament to controlled deceleration. The Bosch 9.1 MP ABS, featuring cornering function, infuses a layer of confidence into braking maneuvers. The 2-piston Brembo caliper and 220mm rear disc echo the front's performance, providing a symphony of controlled stopping power.
Still, this bike is not perfect. Some of our club members have reported issues with the bike's electronics, including occasional glitches in the display system and interface controls. Besides that, this is still a worthy-to-have motorcycle.
Pros
Suitable for challenging tracks
Appropriate for different tastes and budgets
Improved chassis geometry
Con
Occasionally troublesome electronic features
5. Ducati Panigale V2
The Panigale V2 embraces technological innovation with open arms. The Ride-by-Wire system ushers in electronic throttle control, offering a seamless connection between rider input and engine response. The Ducati Quick-Shift (DQS) up/down EVO 2 is a rider's delight, enabling effortless gear changes and a heightened sense of engagement.
Ride Modes and Power Modes underscore the Panigale V2's versatility. You can tailor the bike's performance characteristics to suit their mood or the road ahead. The DWC (Ducati Wheelie Control) EVO and DTC (Ducati Traction Control) EVO 2 pave the way for more precise control, so you can weave through twisties with more confidence. Plus, the EBC (Engine Brake Control) EVO further refines the riding experience, enabling customization of engine braking intensity to suit different scenarios.
Furthermore, this machine's allure extends beyond its performance prowess. Full LED lighting, including a Daytime Running Light (DRL), not only enhances visibility but also contributes to its distinctive look. The bike's dimensions, overall length of 2090 mm, width of 810 mm, and height of 1130 mm, strike a balance between agility and comfort.
There is one small problem with the suspension setup, though. While tuned for performance, it translated to a slightly firm ride when we traversed rougher roads.
Pros
Classic and luxurious design
Advanced fuel injection system
Precise and responsive braking ability
Con
Have stiff feel on rough terrains
6. BMW S 1000 RR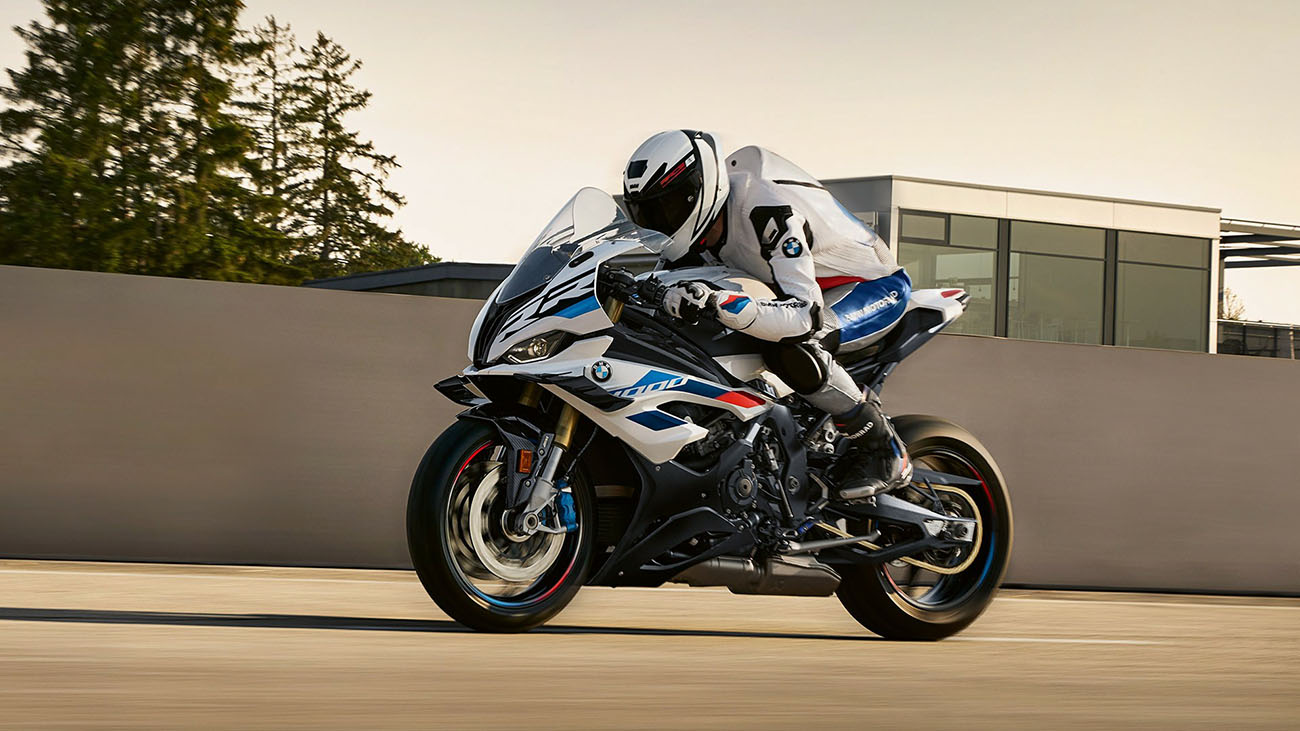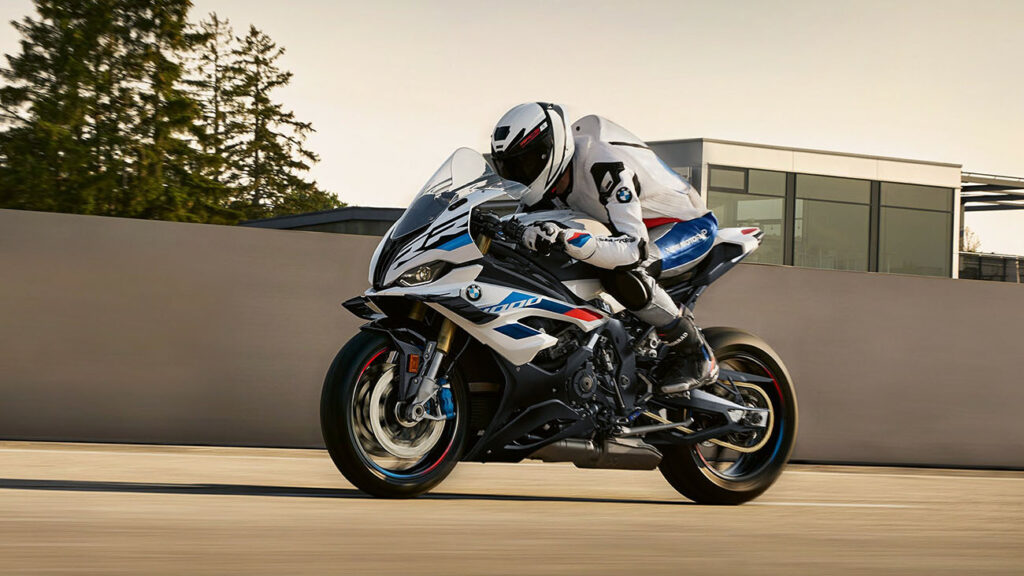 BMW gave this machine a 4-stroke inline four-cylinder engine with BMW ShiftCam technology. This setup can deliver an awe-inspiring 205 hp at 13,000 rpm and 83 lb-ft of torque at 11,000 rpm. Plus, the precision of the claw-shifted 6-speed gearbox with straight-cut gears, coupled with a Chain 525 17/46 drive, ensures seamless power delivery.
This bike's chassis is built around a bridge-type aluminum laminate frame with a load-bearing engine, offering both stability and agility. The suspension, a combination of an upside-down telescopic fork at the front and an aluminum swingarm with a central spring strut at the rear, supporting adaptable damping and preload adjustments.
Another highlight of this biking machine is that it embraces technological prowess with BMW Motorrad Race ABS and ABS Pro. This ensures precise braking control even under demanding conditions. Dynamic Traction Control (DTC), Hill Start Control (HSC), and multiple riding modes (Rain, Road, Dynamic, Race) provide tailored performance based on your preferences and road conditions.
Although the M Chassis Kit and M GPS Laptrigger enhance track performance, some of our fellows emphasized the need to carefully adapt to the bike's dynamic capabilities. Thus, novice riders might need some time to get used to it.
Pros
Great traction control
Optimized gear shift feature
Steady frame bodywork
Con
Take time for newbies to be able to ride comfortably
7. Yamaha YZF-R7
Yamaha brought in the design of the YZF-R7 with a focus on your comfort and control. The combination of a 32.9-inch seat height and well-placed handlebars results in an ergonomic setup that accommodates both aggressive riding on the track and comfortable daily commuting.
When talking about visual appeal, this model exudes a sporty and aggressive look that's complemented by Yamaha's signature design elements. The LED tail light introduces a modern edge, and the available color options let you express your individual style. This design doesn't just focus on aesthetics—it also plays a role in aerodynamics, aiding stability at higher speeds.
Still, perhaps one of the YZF-R7's standout features is its versatility. You can enjoy the thrill of a sporty ride on winding roads, take it to the track for some spirited sessions, and comfortably commute through city streets. The bike's approachable power, comfortable ergonomics, and overall balanced performance make it an appealing choice for riders seeking a multi-purpose machine.
One thing that might make users consider bringing this two-wheeled wonder home is the narrower tire options. We can't deny that the Bridgestone BATTLAX HYPERSPORT S22 tires that come stock on the YZF-R7 are well-regarded for their performance. However, those who desire a wider range of tire options for different riding conditions or preferences might be limited by the specific tire sizes.
Pros
Quick transition and shifting response
Upgraded suspension system
Stable high-speed performance
Con
8. Kawasaki Ninja H2R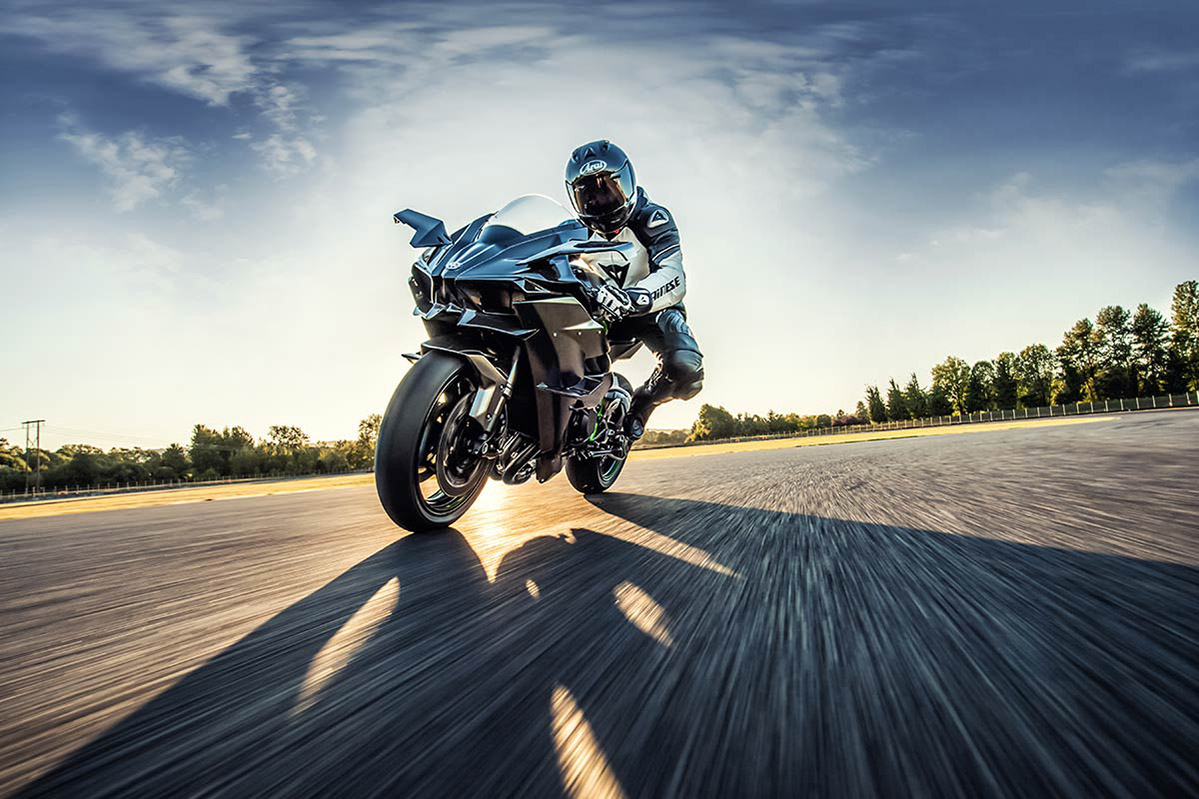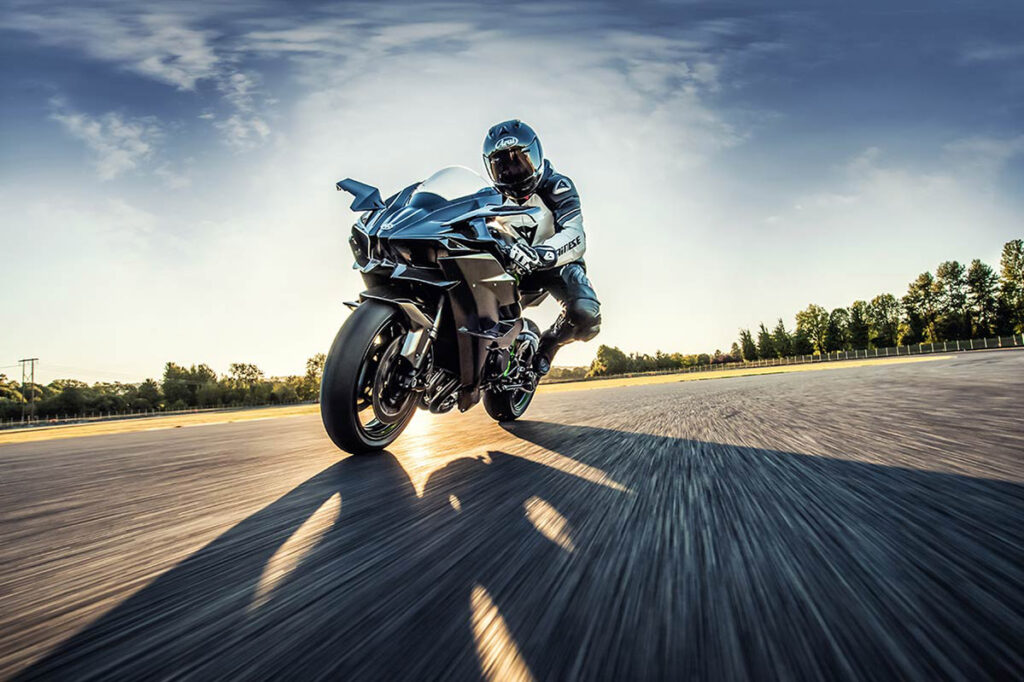 Designed with a 998 cc liquid-cooled, supercharged inline-four engine, this Ninja H2R beast is capable of producing a jaw-dropping 310 horsepower. The unique combination of a supercharger and a meticulously engineered DOHC setup pumps out instant and explosive power across the rev range. You are all in for an adrenaline-pumping experience as they harness the 8.3:1 compression ratio and unleash the beast on the track.
With its sleek lines, innovative winglets, and careful attention to airflow dynamics, this racing bike slices through the air like a precision instrument. Many of our fellow riders highlighted how the bike's design enhanced stability and grip at high speeds, providing them with the confidence to push their limits.
Furthermore, the advanced suspension setup of the H2R is a key contributor to its exceptional handling. The 43mm inverted fork at the front and the Öhlins TTX36 gas-charged shock at the rear provide you with adjustable rebound, compression damping, and spring preload. These features enable us to fine-tune their suspension settings to match our riding style and the track conditions.
However, the Ninja H2R's track-focused design has both its strengths and limitations. While it excels on the racetrack, its aggressive ergonomics and setup can make it less suitable for everyday riding.
Pros
Reducing drag bodywork
Incredible racing engine
Advanced system of engine management
Con
Might not be best for daily rides
9. KTM RC 390
The RC 390's beating heart is a spirited 373cc single-cylinder engine, generating 44 horsepower. While this might seem modest compared to larger bikes, KTM's engineering prowess and the bike's lightweight structure channel every unit of power into exhilarating acceleration.
With a manageable seat height of 824mm and a curb weight of 155 kg, this lightweight bike maneuvers adeptly through congested streets, and the rider-friendly design facilitates extended rides without discomfort. Plus, features like the electric starter, efficient wet sump lubrication, and Bosch Engine Management System (EMS) render maintenance straightforward.
Many appreciate its 13.7-liter fuel tank, as it speaks to its design as a versatile sportbike capable of both spirited rides and longer journeys. Also, the modern fuel injection system, combined with KTM's engineering finesse, results in a commendable balance between performance-oriented fun and responsible fuel usage.
However, one of the drawbacks our members often pointed out was the noticeable vibrations at higher RPMs. The single-cylinder engine, while delivering spirited performance, can create a buzzing sensation that some riders find discomforting during extended rides or highway cruising.
Pros
Premium electronics features
Grand Prix-influenced styling
Weight-saving chassis
Con
Noticeable shaking and vibrations
10. Triumph Daytona Moto2 765
Last but not least on our list is this Triumph Daytona Moto2 765 model. With 126 bhp of peak power and 58.6 ft-lb of torque, this engine ensures a dynamic and spirited ride. The unique inline three-cylinder configuration provides a balanced combination of power delivery, smoothness, and distinctive sound that sets it apart from its competitors.
Being able to achieve a top speed of 152 mph and a quarter-mile acceleration time of 10.92 seconds, the Daytona Moto2 765 showcases its capability to deliver a rip-roaring performance on both straightaways and corners. All these amazing abilities are thanks to the 765cc inline three-cylinder engine.
Despite its performance-oriented nature, the Daytona Moto2 765 offers an average fuel consumption of around 50 mpg. This aspect makes it a versatile choice for riders who seek both thrilling rides and longer journeys without frequent refueling stops.
The advanced features and components of the Daytona Moto2 765 contribute to its exceptional performance, but they can also lead to higher maintenance costs. Premium components, such as Öhlins suspension and Brembo brakes, might require more specialized attention and replacement parts, resulting in elevated maintenance expenses compared to standard motorcycles.
Pros
Powerful engine performance
Excellent chassis for best handling ability
Decent fuel consumption level
Con
Final Thoughts
As the curtains draw on our exploration of the best sport bike models, it's evident that these machines aren't just modes of transportation. They are embodiments of artistry, engineering excellence, and the pure essence of speed.
Whether you're chasing lap times on the track or carving your own path on the open road, the best sport motorcycle isn't just a machine. It's a passport to an unparalleled realm of power and passion. So, gear up, twist the throttle, and let the journey of speed and excitement continue.
See more: