The 2023 version of the Kawasaki Ninja H2R is a bike that pushes the limits of what's possible on two wheels. With its supercharged engine and cutting-edge technology, it's designed for one purpose only: to go as fast as possible. This is a machine built for the track, and it shows in every aspect of its hypersport design.
The Ninja H2R's design is focused on one thing: aerodynamics. The bike's bodywork aids in reducing drag and increasing downforce, allowing it to cut through the air with maximum efficiency. The bike's lightweight trellis frame is made of high-tensile steel, providing strength and rigidity while keeping weight to a minimum. The bike's carbon fiber wings and fairings reduce weight and improve aerodynamics.
A noticeable feature of this 2023 model is the KIBS (Kawasaki Intelligent anti-lock Brake System). It uses sensors to detect wheel speed and braking force, adjusting brake pressure as needed to prevent wheel lock-up and maintain stability. This technology helps prevent accidents and allows committed riders to push the bike to its limits with confidence.
The Ninja H2R is a non-standard option for the budget-conscious. With a starting price of around $57,500 (according to Kawasaki website), it's one of the most expensive bikes on the market. You might have to pool in a fortune to get this beast home. However, for those who are looking for the ultimate track machine, the Ninja H2R is worth every penny.
---
2023 Kawasaki Ninja H2R Key Specs
Make: Kawasaki
Model Year: 2023
Type: Closed-Course Hypersport
Color: Mirror Coated Matte Spark Black
MSRP Price: $57,500
Warranty: N/A
Warranty Plus: N/A
Engine: 998cc, 4-stroke
Power: 310 HP
Mileage: 35.3 mpg (15 km/l)
Transmission: 6-speed
Fuel Tank Capacity: 4.5 gal (17 l)
Seat Height: 32.7 in. (831 mm)
Curb Weight: 476.3 lb. (216 kg)
---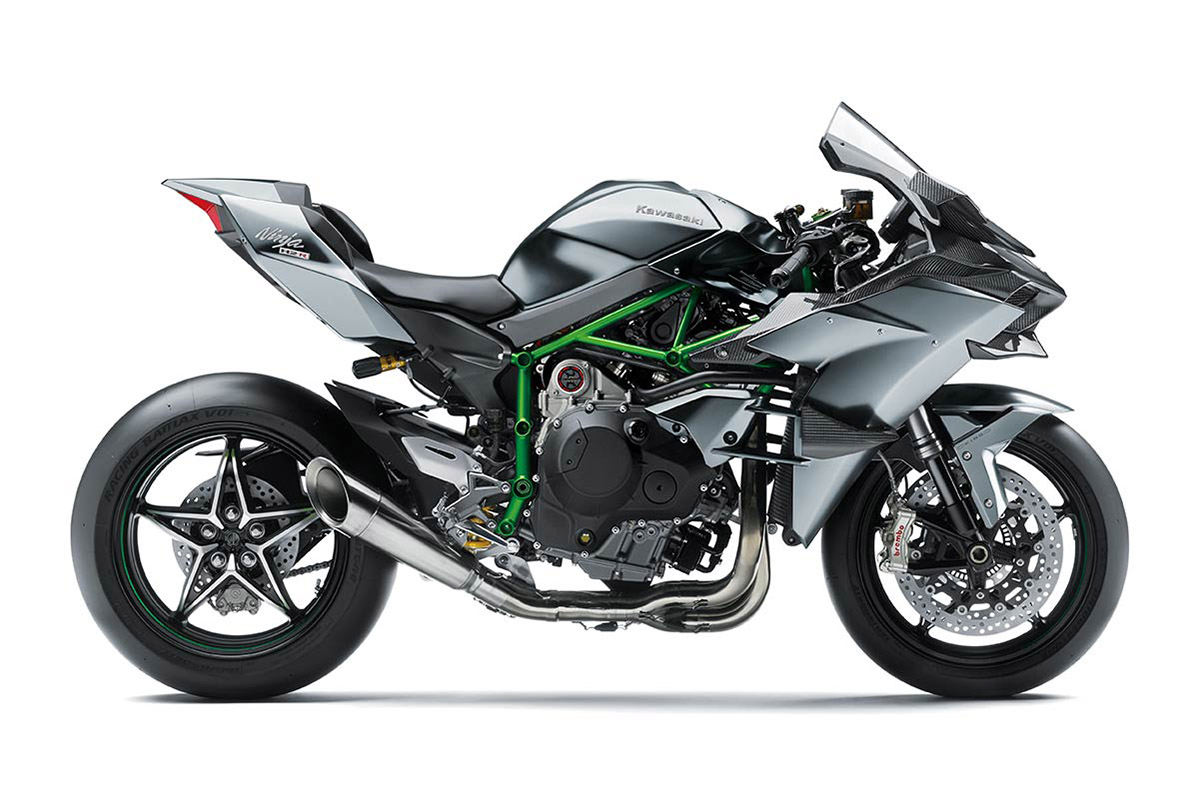 2023 Kawasaki Ninja H2R Specifications
Engine
| | |
| --- | --- |
| Engine | 998cc, Liquid -cooled, 4-stroke, In-Line Four, DOHC, 16-valve |
| Power | 310 horsepower |
| Torque | 121.5 lb-ft (164.7 Nm) @ 12,500 rpm |
| Bore x Stroke | 76.0 x 55.0mm |
| Compression Ratio | 8.3:1 |
| Fuel System | DFI® with 50mm throttle bodies (4) with dual injection ; Kawasaki Supercharger |
| Ignition | Digital |
Drivetrain
| | |
| --- | --- |
| Transmission | 6-speed, return, dog-ring |
| Final Drive | Sealed chain |
Chassis
| | |
| --- | --- |
| Frame Type | Trellis, high-tensile steel, with swingarm mounting plate |
| Front Suspension | 43mm inverted fork with adjustable rebound and compression damping, spring preload adjustability and top-out springs/4.7 in |
| Rear Suspension | Uni-Trak®, Öhlins TTX36 gas charged shock with piggyback reservoir, 30-way compression and rebound damping and adjustability, and hand-turn spring preload adjustability and top-outspring/5.3 in |
| Front Brakes | Dual radial-mount, opposed 4-piston Brembo Stylema® calipers, dual semi-floating 330mm discs, KIBS ABS |
| Rear Brakes | 190/65 ZR17 V01R slick |
| Front Tires | 120/60 ZR17 V01F slick |
| Rear Tires | 190/65 ZR17 V01R slick |
Dimensions
| | |
| --- | --- |
| Rake/Trail | 25.1°/4.3 in |
| Overall Length | 81.5 in. (2070 mm) |
| Overall Width | 33.5 in. (851 mm) |
| Overall Height | 45.7 in. (1161 mm) |
| Ground Clearance | 5.1 in. (129.5 mm) |
| Seat Height | 32.7 in. (831 mm) |
| Wheelbase | 57.1 in. (1450 mm) |
| Curb Weight | 476.3 lb. (216 kg) |
| Fuel Capacity | 4.5 gal (17 l) |
Competitors
| Model | Price | Engine | Top Speed |
| --- | --- | --- | --- |
| 2023 Ducati Panigale V4 R | £40,000 | 998cc | 200 mph |
| 2023 Aprilia RSV4 | £17,150 | 1099cc | 186 mph |
| 2023 BMW S 1000 RR | $17,895 | 999cc | 186 mph |
2023 Kawasaki Ninja H2R Features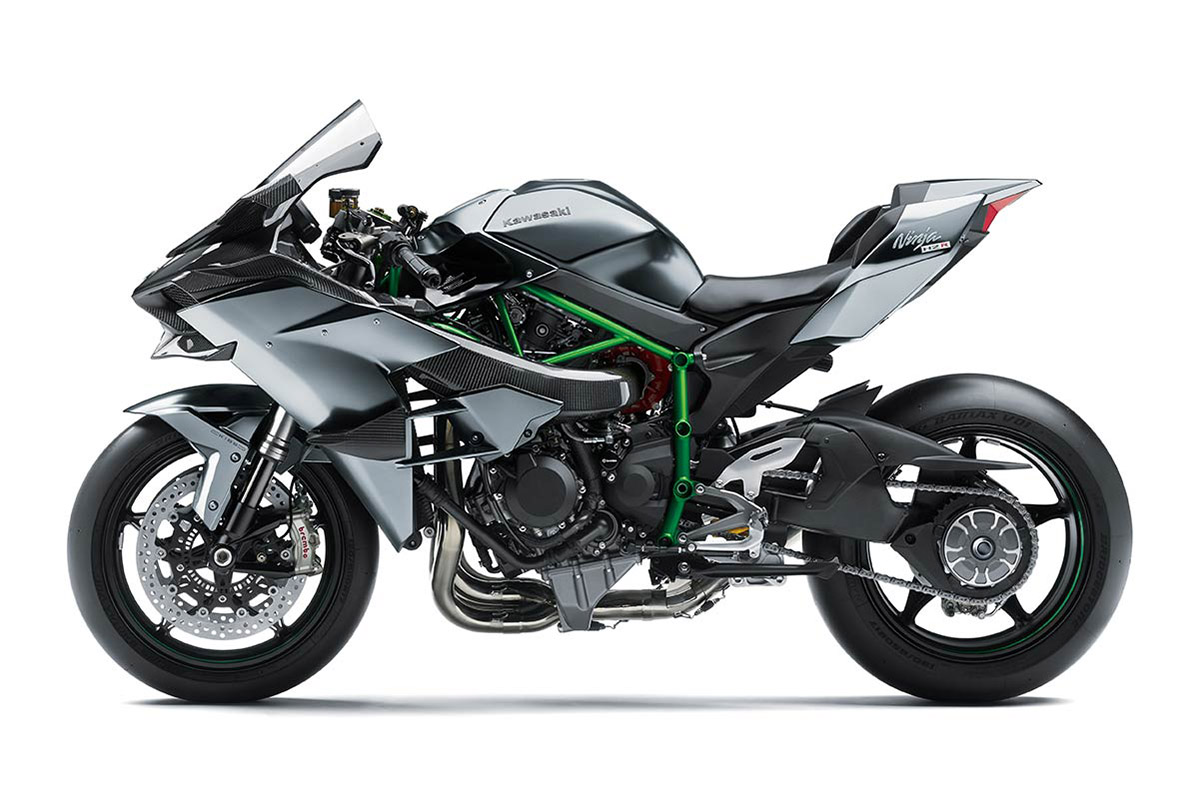 Economical Riding Indicator
Using high-precision electronic control for engine management, Kawasaki models can achieve a high level of fuel efficiency. However, fuel consumption is greatly affected by throttle use, gear selection, and other elements under the rider's control. The Economical Riding Indicator is a function that indicates when current riding conditions are consuming a low amount of fuel. The system continuously monitors fuel consumption, regardless of vehicle speed, engine speed, throttle position and other riding conditions. When fuel consumption is low for a given speed (i.e. fuel efficiency is high), an "ECO" mark appears on the instrument panel's LCD screen. By riding so that the "ECO" mark remains on, fuel consumption can be reduced.
Electronic Throttle Valves
Kawasaki's fully electronic throttle actuation system enables the ECU to control the volume of both the fuel (via fuel injectors) and the air (via throttle valves) delivered to the engine. Ideal fuel injection and throttle valve position results in smooth, natural engine response and the ideal engine output. The system also makes a significant contribution to reduced emissions.
Electronic throttle valves also enable more precise control of electronic engine management systems like S-KTRC and KTRC, and allow the implementation of electronic systems like KLCM, Kawasaki Engine Brake Control, and Electronic Cruise Control.
Kawasaki Engine Brake Control
The Kawasaki Engine Brake Control system allows riders to select the amount of engine braking they prefer. When the system is activated, the engine braking effect is reduced, providing less interference when riding on the track.
KLCM (Kawasaki Launch Control Mode)
Designed to assist riders by optimizing acceleration from a stop, KLCM electronically manages engine output to minimize wheel spin when moving off. With the clutch lever pulled in and the system activated, engine speed is limited to a determined speed while the rider holds the throttle open. Once the rider releases the clutch lever to engage the clutch, engine speed is allowed to increase, but power is regulated to minimize wheel spin and help keep the front wheel on the ground. The system disengages automatically once a predetermined speed has been reached, or when the rider shifts into third gear. Depending on the model, riders can choose from multiple modes, each offering a progressively greater level of intrusion.
KCMF (Kawasaki Cornering Management Function)
Using the latest evolution of Kawasaki's advanced modeling software and feedback from a compact IMU (Inertial Measurement Unit) that gives an even clearer real-time picture of chassis orientation, KCMF monitors engine and chassis parameters throughout the corner – from entry, through the apex, to corner exit – modulating brake force and engine power to facilitate smooth transition from acceleration to braking and back again, and to assist riders in tracing their intended line through the corner. The systems that KCMF oversees vary by model, but may include:
S-KTRC/KTRC (including traction management and wheel lift management)
KLCM (including traction management and wheel lift management)
– Designed to optimize acceleration from a stop
KIBS (including pitching management and corner braking management)
Kawasaki Engine Brake Control
KTRC (Kawasaki Traction Control)
KTRC, Kawasaki's advanced traction control system provides both enhanced sport riding performance and the peace of mind to negotiate slippery surfaces with confidence. Multiple rider-selectable modes (the number of modes varies by model) offer progressively greater levels of intrusion to suit the riding situation and rider preference.
Less intrusive modes maintain optimum traction during cornering. Designed with sport riding in mind, they facilitate acceleration out of corners by maximizing forward drive from the rear wheel. And because Kawasaki's sophisticated software bases its dynamic analysis on the chassis' orientation relative to the track surface (rather than relative to a horizontal plane), it is able to take into account corner camber, gradient, etc., and adapt accordingly.
Supercharged Engine
Drawing on the know-how and technology possessed by the Kawasaki Heavy Industries, Ltd. (KHI), Kawasaki's supercharged engine delivers high engine output while maintaining a compact design. The key to achieving this incredible performance lies in the engine's supercharger – a motorcycle-specific unit designed completely in-house with technology from the Kawasaki Gas Turbine & Machinery Company, Aerospace Company and Corporate Technology Division.
One of the greatest benefits of designing the supercharger in-house and tailoring its design to match the engine's characteristics was that engineers were able to achieve high-efficiency operation over a wide range of conditions – something that would not have been possible by simply dropping in or trying to adapt an aftermarket automotive supercharger.
KQS (Kawasaki Quick Shifter)
Designed to help riders maximize their acceleration on the track by enabling clutchless upshifts with the throttle fully open, KQS detects that the shift lever has been actuated and sends a signal to the ECU to cut ignition so that the next gear can be engaged without having to use the clutch. On models that offer clutchless downshifts, during deceleration the system automatically controls engine speed so that the next lower gear can be selected without operating the clutch.
ABS (Anti-lock Brake System)
Kawasaki ABS systems use front and rear wheel sensors to constantly monitor wheel speed. Should information from either of the sensors indicate that wheel lock has occurred, the ABS ECU directs the pump in the ABS unit to modulate brake fluid pressure (releasing and reapplying pressure so that traction can be regained) until normal operation resumes. ABS offers rider reassurance that contributes to greater riding enjoyment.
ERGO-FIT
Proper fit is key for rider comfort and control. However, the ideal fit varies from rider to rider, depending on their physical dimensions and riding style.

ERGO-FIT® is an interface system designed to allow riders to find their ideal riding position. Various points of the chassis interface (the handlebar, footpegs and seat, etc.) can be adjusted through a combination of interchangeable parts and parts with adjustable positions. This enables a wide range of riders to find a riding position that offers both comfort and control. Feeling at one with their machine, they will be able to experience how Kawasaki machines are fun and rewarding to ride.

*Adjustable parts and their range of adjustability vary by model.
IMU-Enhanced Chassis Orientation Awareness
The strength of Kawasaki's cutting-edge electronics has always been the highly sophisticated programming that, using minimal hardware, gives the ECU an accurate real-time picture of what the chassis is doing. Kawasaki's proprietary dynamic modeling program makes skillful use of the magic formula tire model as it examines changes in multiple parameters, enabling it to take into account changing road and tire conditions.
The addition of an IMU (Inertial Measurement Unit) enables inertia along 6 DOF (degrees of freedom) to be monitored. Acceleration along longitudinal, transverse and vertical axes, plus roll rate and pitch rate are measured. The yaw rate is calculated by the ECU using Kawasaki original software. This additional feedback contributes to an even clearer real-time picture of chassis orientation, enabling even more precise management for control at the limit.
KIBS (Kawasaki Intelligent anti-lock Brake System)
Kawasaki developed KIBS to take into account the particular handling characteristics of supersport motorcycles, ensuring highly efficient braking with minimal intrusion during sport riding. It is the first mass-production brake system to link the ABS ECU (Electronic Control Unit) and engine ECU.
In addition to front and rear wheel speed, KIBS monitors front brake caliper hydraulic pressure, throttle position, engine speed, clutch actuation and gear position. This diverse information is analyzed to determine the ideal front brake hydraulic pressure. Through precise control, hydraulic pressure is modulated in much smaller increments than with standard ABS systems. The system limits rear wheel lift under heavy braking and takes downshifting into account while braking, allowing the rider to manage the rear brake. And because of the finer control, kickback to the brake lever is minimal, resulting in a very natural feeling.
Silver-Mirror Paint
Kawasaki's high-quality original paint has a highly reflective, glasslike metal appearance. Its debut on the 2015 Ninja H2™ and Ninja H2™R marked its first use on a mass-production vehicle in either the automotive or motorcycle industry.
In the shade the paint has the appearance of its base coat color, but once in the sunlight its highly reflective surface takes on the appearance of the surrounding scenery. The stark difference in the way the paint appears in the light and the shade emphasizes the sculpted shape of the bodywork on which it is applied.
Performance And Handling
Here is what it can bring to the table based on the model specs.
2023 Ninja H2R Top Speed
The Ninja H2 is powered by a supercharged 998cc inline four-cylinder engine that produces a staggering 310 horsepower and 121.5 lb-ft of torque.
This power is delivered to the rear wheel through a six-speed dog-ring transmission and chain drive. The vehicle's strength is also enhanced by a ram air intake system that provides a steady stream of cool, dense air to the engine, boosting its performance even further.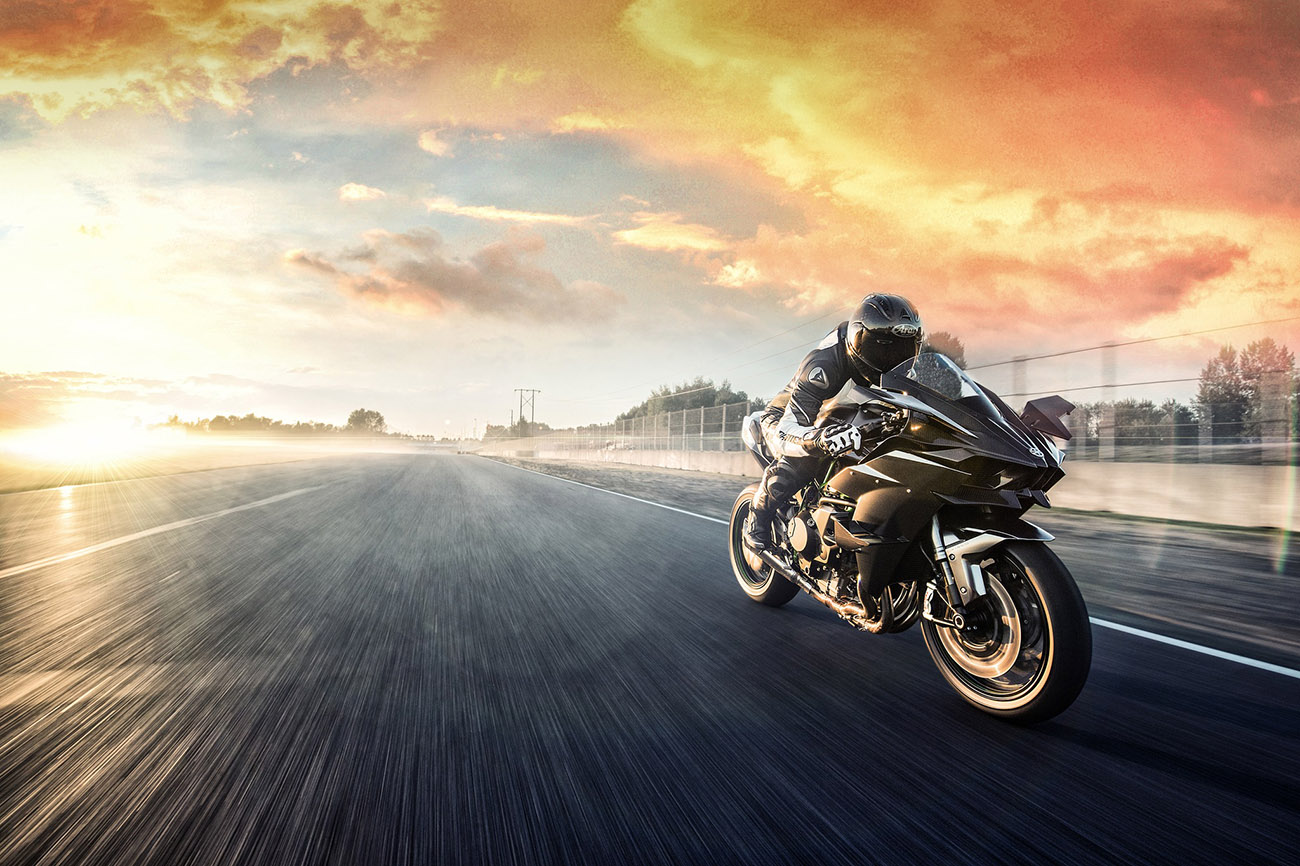 According to Kawasaki, the bike can reach a top speed of 240 mph. Kawasaki has once again pushed the boundaries of motorcycle technology and performance with the release of the 2023 Ninja H2R. This is an impressive feat that puts the Ninja H2R in the same league as some of the fastest cars in the world. 
Braking Performance
At the front, the Kawasaki H2R features dual 330mm Brembo semi-floating discs with dual radial-mount opposed 4-piston calipers. These brakes offer incredible stopping power, allowing the rider to scrub off speed quickly when needed. Additionally, the monobloc calipers are designed to distribute aggressive braking force evenly across the pads, providing consistent and predictable engine braking performance.
Meanwhile, the rear brake is a single 250mm disc with an opposed 2-piston caliper. Although it is not as strong as the front brakes, the rear one still provides ample stopping power and contributes greatly to the enhanced traction ability and overall unmatchable performance.
Cornering And Handling Characteristics
With a state-of-the-art suspension system featuring fully adjustable high-performance components, users can fine-tune it to suit their preferences.
The unprecedented collaboration of Showa Balance Free Front Fork and Uni-Trak rear suspension system aids in offering exceptional shock absorption and precise damping performance. This allows the rider to maintain high-precision control over the bike, even in challenging cornering situations at high speeds and on rough surfaces.
Another important factor that contributes to exception handling is the lightweight design. Featuring a carbon fiber fairing, it not only looks sleek and aerodynamic but also weighs significantly less than traditional fairings. This, in turn, reduces the overall weight of the motorcycle to 476 pounds while enhancing its agility and responsiveness.
2023 Ninja H2R: A Brief Review
One of the most impressive features of the Ninja H2R is its top speed. This hypersport motorcycle is capable of reaching speeds of up to 240 mph, making it one of the fastest production motorcycles ever created.
That being said, users still feel 100% safe as this massive power is delivered smoothly and predictably, thanks to Kawasaki's advanced electronics and engine management systems. Many bikers report that the engine is responsive and gives incredible power throughout the entire RPM range, making it an absolute thrill to ride.
In addition to its impressive top speed, the 2023 Kawasaki Ninja H2R impresses several bikers with its advanced technology and standard features. These include electronic rider aids like competitive Kawasaki traction control system, launch control mode, and multiple aggressive sport riding modes. The bike also has top-of-the-line suspension and braking kit, bringing unprecedented performance and handling.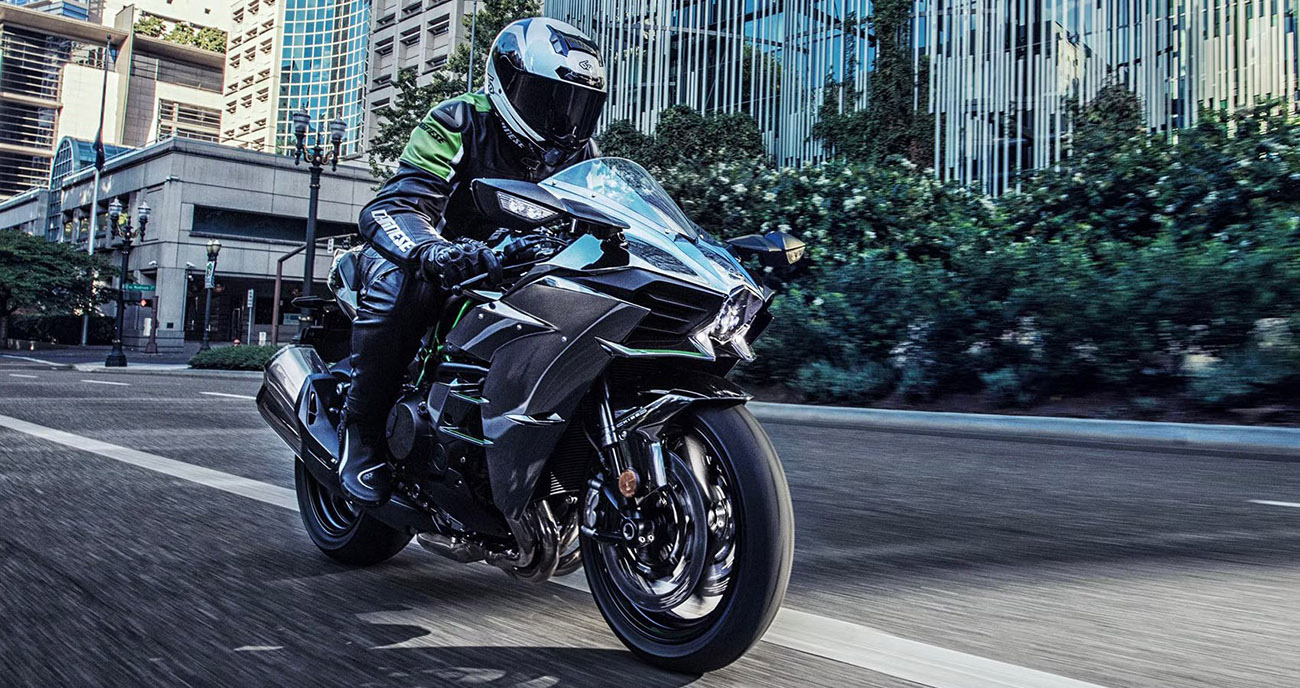 Another key enhancement of the styling design is its carbon fiber aerodynamic devices, which not only looks sleek and aerodynamic but also weigh significantly less than traditional. Despite its track-focused design, supercharged hypersport racers have reported that the 2023 Kawasaki Ninja H2R is surprisingly comfortable to ride.
The bike's seat is well-padded and ergonomically designed, providing riders with a comfortable and stable position on the bike. The Ninja H2R also features adjustable footpegs and handlebars, allowing bikers to customize the product's ergonomics to suit their preferences. This, in turn, reduces the overall weight of the motorcycle and enhances its agility and responsiveness.
Still, according to some, the superb fuel efficiency is not what the 2023 Kawasaki Ninja H2R can deliver. On average, the Ninja H2R has a fuel consumption rate of around 35 mpg. With its high-performance racing engine, it is understandable that it may require more fuel to operate than some other motorcycles. Also, its heavy body is worth noting; you can feel it more clearly when making a sharp turn, so this powerhouse bike is a big No for beginners.
One more thing to complain about is the sales price. The 2023 Kawasaki Ninja H2R is an expensive motorcycle, and the dealer unit price tag can be a barrier for a wide range of riders. While the H2R's high-power performance justifies its high product pricing, it is still a significant investment that may not be within reach for everyone.
2023 Kawasaki Ninja H2R Photos & Videos
Photos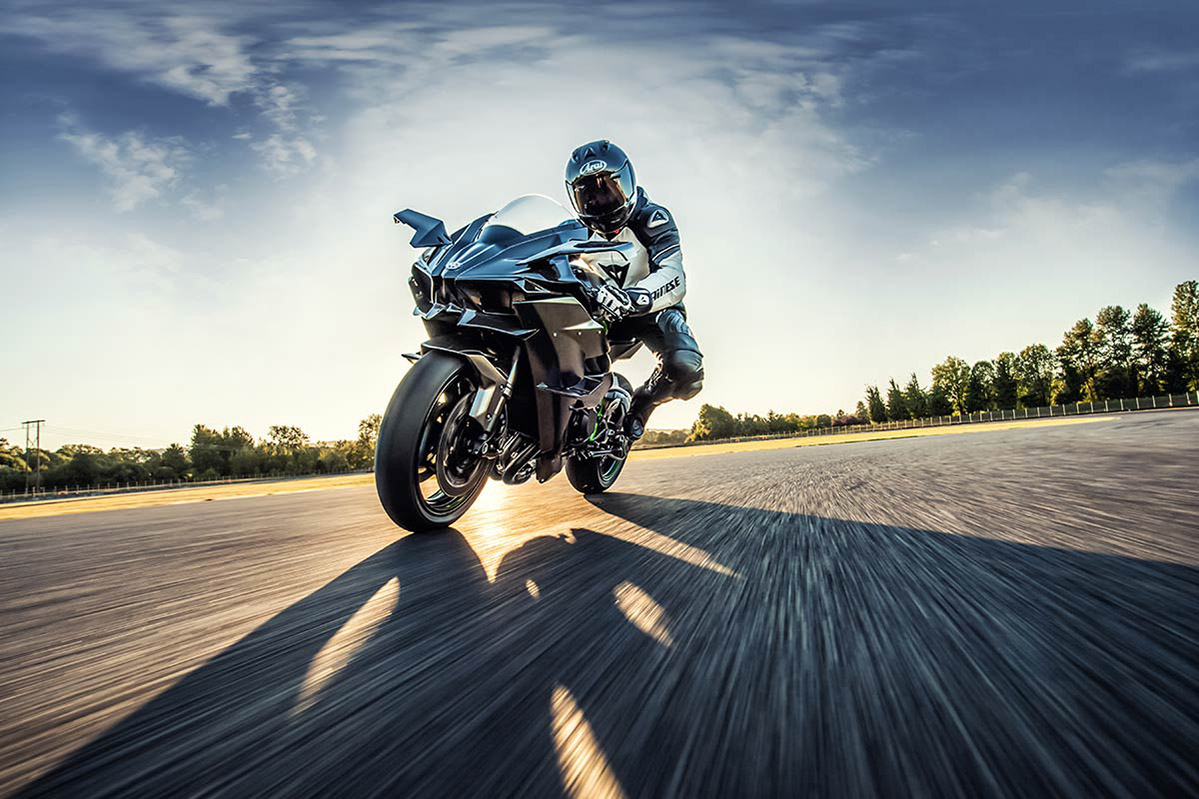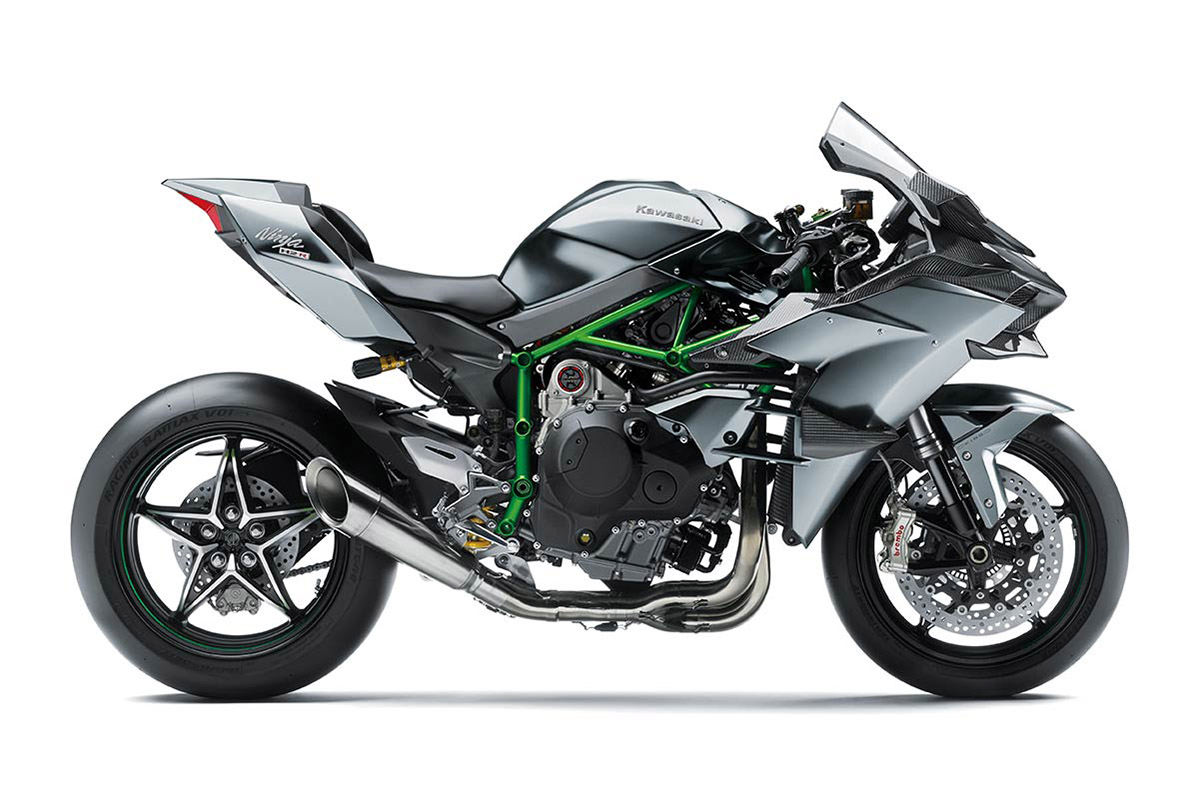 Videos
---
---
*Disclaimer: The prices mentioned in this article may vary depending on the dealership and location. Additionally, the specifications mentioned, such as horsepower and top speed, may vary from different sources as they are often tested under different conditions.