In This Article:
The 2023 CBR600RR from Honda is a highly anticipated sportbike that is set to take the motorcycle world by storm. This latest iteration of the iconic CBR series features a range of upgrades and improvements that make it one of the most impressive bikes in its class.
Honda utilizes Fine Die-Cast technology to create a lightweight frame with consistent rigidity for the CBR600RR. It features a sharper steering-head angle of 23.5 degrees with 3.9 inches of trail, providing a nimble ride for maximum rider comfort. With a 410-pound curb weight for full-fledged equipment (including fuel), the CBR600RR is lighter than many Honda models (ex: 2023 CBR500R), making it a remarkably quick and agile machine.
Another noticeable change to the bike's design is the inclusion of a new windscreen. The windscreen is larger and more aerodynamic than the previous generation, providing riders with improved wind protection and a more comfortable riding experience.
Both wheels feature a Y-spoke design, which adds to the bike's visual appeal while enhancing its strength and durability. The spokes are arranged in a way that distributes weight evenly across the cast 12-spoke wheels, improving its balance and stability. This design also helps to reduce vibration, which can improve the rider's comfort and control on the roads.
Despite its small build, the CBR600RR's 4.8-gallon fuel tank is bigger than the standard 4.5-gallon tank of some Hondas, positioned low in the frame and the middle of the chassis. As a result, it is possible to create a more compact design with a light-handling chassis that brings better mass centralization. Thanks to this, the bike responds to rider input better, especially when the rider leans into a curve or stands the cycle up at an exit.
The product pricing of the 2023 Honda CBR600RR is $12,099 – as per Honda (additional accessories not included), which is a quite reasonable option when compared to other middleweight machines in its class. While this may seem like a big budget for a motorcycle, you will see that this high-performance machine offers great value for its sale price.
---
2023 Honda CBR600RR Key Specs
Make: Honda
Model Year: 2023
Type: Supper Sportbike
Color: Grand Prix Red
MSRP Price: $12,099
Warranty: 1 year
Warranty Plus: 12, 24 & 36 months
Engine: 599cc, four-stroke
Power: 113 HP
Mileage: 44 mpg (18.7 km/l)
Transmission: 6-speed
Fuel Tank Capacity: 4.8 gal. (18.2 l)
Seat Height: 32.3 in. (820 mm)
Curb Weight: 410 lb. (186 kg)
---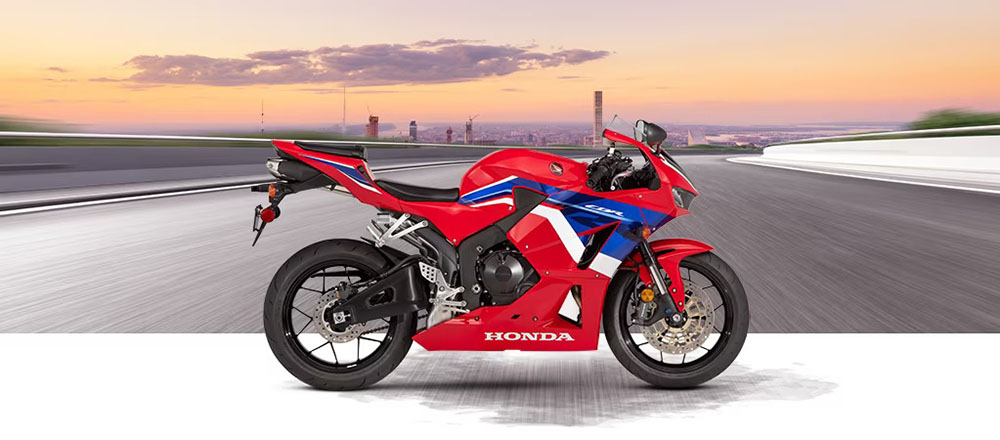 2023 Honda CBR600RR Specifications
Engine
| | |
| --- | --- |
| Engine | 599cc liquid-cooled inline four-cylinder four-stroke |
| Power | 113 horsepower |
| Torque | 48.7 lb-ft (66 Nm) |
| Bore x Stroke | 67.0mm x 42.5mm |
| Compression Ratio | 12.2:1 |
| Induction | Dual Stage Fuel Injection (DSFI) with 40mm throttle bodies, Denso 12-hole injectors |
| Valve Train | DOHC; four valves per cylinder |
Drivetrain
| | |
| --- | --- |
| Transmission | Close-ratio 6-speed |
| Final Drive | #525 O-ring chain; 16T/42T |
Chassis
| | |
| --- | --- |
| Suspension Front | 41mm inverted Big Piston Fork with spring preload, rebound- and compression-damping adjustability; 4.3-inch travel |
| Suspension Rear | Unit Pro-Link® HMAS™ single shock with spring preload, rebound- and compression-damping adjustability; 5.1-inch travel |
| Brakes Front | Dual radial-mounted full-floating 310mm discs with four-piston calipers |
| Brakes Rear | Single 220mm disc |
| Tires Front | 120/70ZR-17 radial |
| Tires Rear | 180/55ZR-17 radial |
Dimensions
| | |
| --- | --- |
| Rake | 23.5° |
| Trail | 3.9 in. (99 mm) |
| Wheelbase | 53.9 in. (1369 mm) |
| Seat Height | 32.3 in. (820 mm) |
| Curb Weight | 410 lb. (186 kg) |
| Fuel Capacity | 4.8 gal. (18.2 l) |
Competitors
| | Price | Engine | Top Speed |
| --- | --- | --- | --- |
| 2023 Yamaha YZF-R6 | $12,699 | 599cc | 163 mph |
| 2023 Suzuki GSX-R600 | $10,999 | 599cc | 191 mph |
| 2023 Kawasaki ZX-6R | $10,999 | 636cc | 143 mph |
2023 Honda CBR600RR Features
ENGINEERING
CENTRALLY LOCATED FUEL TANK
The CBR600RR's 4.8-gallon fuel tank is positioned in the center of the chassis and low in the frame. This allows for a more compact design, but even more important helps centralize the bike's mass. Increased mass centralization means the CBR is more responsive to rider input, especially when leaning the bike into a turn or standing it up at the exit.
LINE-BEAM HEADLIGHTS
Line-beam headlights feature a two-piece reflector design that utilizes two H7 bulbs for optimum light distribution and unique compact design. The result: the headlight helps you see better and also helps make you visible to traffic.
HANDLING
Honda ELECTRONIC STEERING DAMPER
Most steering dampers only sense handlebar-deflection speed. The Honda Electronic Steering Damper (HESD) is way more sophisticated. It also detects vehicle speed, and adjusts damping proportionally. That helps maintain low-speed maneuverability while providing excellent, predictable high-speed handling.
Honda MULTI-ACTION SYSTEM INVERTED FORK
The HMAS cartridge fork features an exclusive internal piston construction. The innovative design employs smaller-diameter pistons to keep oil velocity high for improved damping characteristics and an expanded range of adjustability. The result: you get more precise suspension performance, especially over smaller surface irregularities.
UNIT PRO-LINK® SUSPENSION
By eliminating the frame-mounted top shock mount, Unit Pro-Link® isolates the chassis from bumps, resulting in more precise handling and better traction. Developed on our championship-winning MotoGP bikes, it's a perfect example of the CBR's superior engineering.
12-SPOKE WHEELS
With their consistent rigidity and balance, these sharp-looking 12-spoke cast aluminum wheels work with the fork and enhance suspension feedback to deliver real handling improvements.
PERFORMANCE
DUAL-STAGE FUEL INJECTION
Two sets of injectors per cylinder ensure both low- and high-rpm performance. You get near-instantaneous high-rpm response, along with great low-rpm metering and clean running.
DUAL-STAGE RAM AIR
A nose-mounted, two-stage ram air system provides a high volume of cool air to the air box for linear power delivery and superb engine performance.
Performance And Handling
Here are the key features of the latest iteration of Honda's iconic 600-class machine.
2023 Honda CBR600RR Top Speed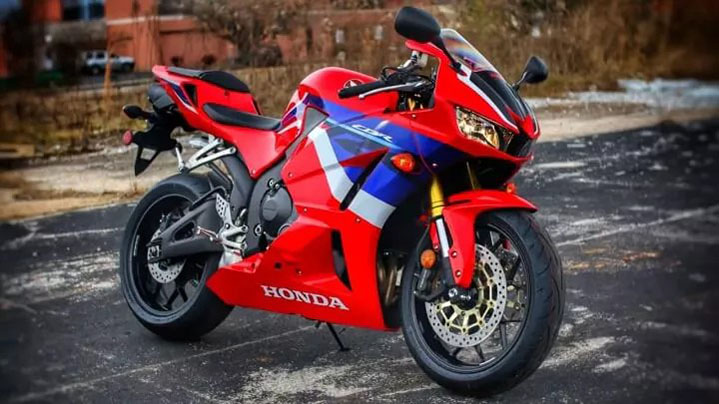 You can expect this beast to accelerate up to 160 mph and can reach 60 mph from the beginning within only 2.8 seconds. It's worth noting that most other models will take 3 seconds to achieve this milestone, so the bike can lean on the fast side.
At the heart of the 2023 CBR600RR Honda is a fuel-injected 599cc liquid-cooled inline four-cylinder bore engine capable of producing an impressive 113 horsepower and 48.7 lb-ft of torque. This engine is paired with a six-speed transmission and features a slipper clutch that provides smoother gear changes and improved vehicle speed.
One of the most impressive aspects of the CBR600RR's engine is its advanced throttle-by-wire system. This system gives riders precise and responsive throttle control, allowing for smooth acceleration and improved performance. This version also features a high-revving engine capable of reaching a high-RPM range.
Braking Performance
Honda has added the dual-disc brake equipment to the design theme to deliver powerful stopping ability. The front features a pair of 310mm brake discs with dual radial-mount four-piston calipers, while the behind brake consists of a single 220mm disc with single-piston calipers rear. These calipers can also offer maximum anti-lock brake pad contact with the disc, translating to more stopping power and better control.
This new 2023 CBR600RR bike model also comes with a range of rider aids and electronic features, such as traction control, ride-by-wire throttle, and selectable engine modes. These features work together with the advanced braking system to provide a safe and exhilarating riding experience.
Cornering And Handling Characteristics
The Honda CBR600RR features a light weight aluminum frame with excellent stability and handling. The bike also comes with a fully adjustable suspension system that allows riders to fine-tune the bike's handling to their liking.
The bike's front suspension features 41mm Showa Big Piston Fork, offering improved damping and a more stable ride. The rear suspension is also fully adjustable and features a Showa Balance Free Rear Cushion (BFRC) that improves traction and handling.
The best thing is that it comes with an electronic steering damper to deliver stability when conquering sharp corners or curves and when the front tire lose its traction during accelerating.
2023 CBR600RR: A Brief Review
The innovative design has also been a popular topic among reviewers, with many praising its sleek and aggressive look. The bike's fairings and bodywork have some subtle changes compared to the CBR600RR predecessor, which gives it a more aerodynamic efficiency profile.
Riders have also commented on its comfortable ergonomics, with many noting that it's easy to find a comfortable riding position on the CBR600RR.
Another standout feature is the motorcycle's technology suite. With a full-color TFT display, it offers bikers a wealth of information about the bike's performance and settings. The display is easy to read even in bright sunlight, and users appreciate the level of detail it brings.
Plus, many claim they are drawn into this new model due to the dual-stage fuel injection system. This system brings bikers the optimal fuel and air mixture throughout the entire rev range, resulting in better throttle response and improved performance.
It also includes an advanced Electronic Control Unit (ECU) that constantly monitors and adjusts the fuel delivery based on various engine parameters. This allows the CBR600RR to deliver consistent power output and fuel efficiency, even under extreme conditions.
On the downside, some users have noted that the seat is a bit hard, which can be uncomfortable on longer rides. Additionally, the bike is relatively expensive compared to other sportbikes in its class, which may be a barrier for some riders. And we didn't see any significant aesthetic or dynamic changes from the previous model.
Still, it's crucial to keep in mind that this is a luxury sportbike with cutting-edge technologies and high-end components. Thus, we say that this base model is definitely a worthy investment.
2023 Honda CBR600RR Photos & Videos
Photos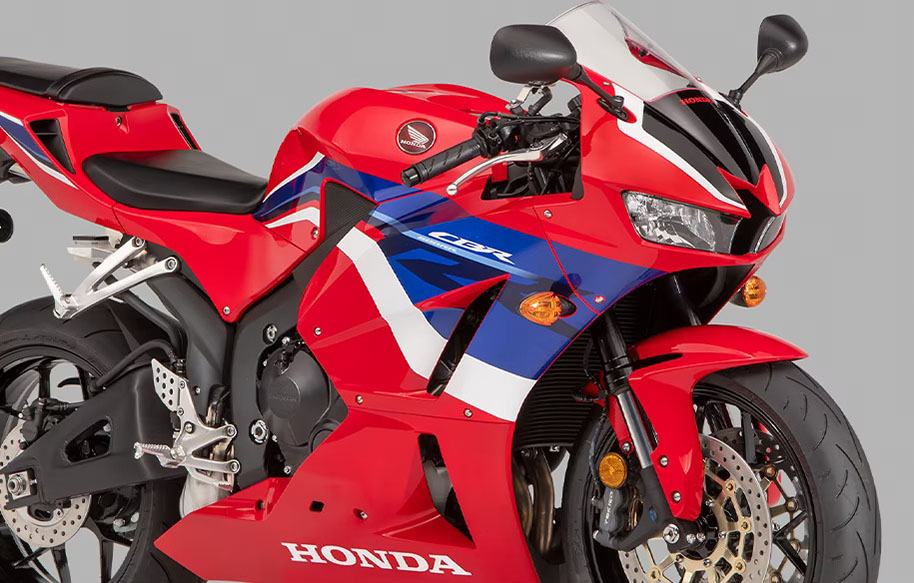 Videos
---
---
*Disclaimer: The prices mentioned in this article may vary depending on the dealership and location. Additionally, the specifications mentioned, such as horsepower and top speed, may vary from different sources as they are often tested under different conditions.