Welcome to the future of two-wheeled adventure: Here are the top automatic motorcycles for sale in 2023.
Automatic transmission bikes are breaking down barriers, inviting both experienced riders and newcomers alike to embark on thrilling journeys with newfound convenience. In this blog, we'll delve into the landscape of these innovative bikes, exploring the available options, dissecting their features, and uncovering how they're reshaping the way we ride.
Table of Contents
Top 10 Best Automatic Motorcycles Available In 2023
1. 2023 Energica Ego RS – Automatic Street Bike
The 2023 Energica Ego RS is a cutting-edge electric street bike that stands out with its impressive specifications and unique characteristics. It combines high-performance capabilities with eco-friendly electric technology, creating an intriguing option for motorcycle enthusiasts.
The Ego RS is powered by a Hybrid Synchronous Motor (HSM), a liquid-cooled 3-phase electric motor, delivering exhilarating acceleration and torque. With a peak power of 171 hp and 159 lb-ft of torque, it provides instantaneous and consistent power delivery, offering an exciting riding experience.
Thanks to this powerful engine, this 2023 model can boast impressive acceleration figures, reaching 0-60 mph in just 2.6 seconds. Its top engine speed is limited to 150 mph, providing ample power for exhilarating rides on the open road.
Although it is an electric motorcycle, it can still bring bikers extended riding ranges and impressive performance figures. This is because the machine has a substantial lithium polymer battery, offering a remarkable maximum battery capacity of 21.5 kWh. Plus, the bike features multiple charging modes, including DC Fast Charge Mode 4, enabling 80% charge in just 40 minutes.
That being said, while the electric charging infrastructure is growing, some users still find it a bit inconvenient. This is due to the restricted number of charging stations that are available in certain areas, potentially affecting long-distance travel.
Pros
High-performance lightning-fast acceleration
Premium build quality
Excellent fast-charging option
Con
May not be suitable for long-distance trips
2. 2023 Honda Rebel 1100T DCT – Automatic Cruiser Motorcycle
The 2023 Honda Rebel 1100T DCT is a standout cruiser motorcycle that blends classic aesthetics with modern technology and performance. It boasts a range of impressive specifications and features that cater to riders seeking a comfortable and dynamic riding experience.
This new machine owns a parallel-twin engine, canted forward at 22.5 degrees, granting it a distinctive visual appeal. With a displacement of 1084 cc and a compression ratio of 10.1:1, this engine delivers a blend of power and efficiency, making it a versatile choice for various riding conditions.
The standout feature is the 6-speed Dual Clutch Transmission (DCT), allowing riders to seamlessly shift gears with ease. The fully automatic clutch operation offers both manual and automatic modes, catering to novice riders seeking a more engaging experience or a relaxed cruise.
Another remarkable aspect of this bike with DCT transmission is its fusion of classic and modern characteristics. The steel-tube perimeter frame and cast aluminum wheels ensure stability and handling precision. At the same time, the suspension system – a 43mm cartridge-style fork in the front and Showa piggyback-reservoir shocks in the rear – delivers a comfortable and cruise control ride.
While the Rebel 1100 DCT offers a compelling package, some riders consider the price to be relatively higher compared to certain competitors in the cruiser segment. Still, it is understandable, as this 2023 beast brings such great quality.
Pros
Seamless gear shifts for smooth acceleration and deceleration
Classic cruiser aesthetic
Ergonomic design for best comfort
Con
3. 2023 Honda Africa Twin DCT – Automatic Dual Sport Motorcycle
Engineered to conquer diverse terrains while offering a user-friendly experience, this Honda Africa Twin DCT has garnered attention for its exceptional specifications and features. It is operated by the 1084cc liquid-cooled Unicam 4-stroke parallel-twin engine, summoning a robust 101 HP.
The 92mm x 81.5 mm bore-stroke dimensions contribute to balanced power delivery, while the 10.1:1 compression ratio ensures efficiency across the RPM range. Fuel is efficiently managed through PGM-FI fuel injection (electronic) with Throttle By Wire, promising precise control.
Furthermore, this 2023 version strikes an equilibrium between classic design and contemporary features. The inverted telescopic fork with 9.1 inches of travel in the front, plus the Pro-Link system with a single shock and 8.7 inches of travel in the rear. Together, they provide excellent suspension travel, ensuring comfort and control while traveling through the city.
Braking prowess is courtesy of the dual 4-piston hydraulic calipers featuring a 310mm front disc brake and a single 1-piston hydraulic caliper featuring a 256mm rear disc brake, both bolstered by ABS. The choice of tires, a 90/90-21 front and a 150/70R-18 rear, complements traction and stability.
Several riders have highlighted the motorcycle's weight as a consideration during low-speed maneuvers and off-road riding. With a wet weight of 501 pounds, it can occasionally pose challenges in maintaining balance and maneuverability, particularly in demanding terrains.
Pros
Suitable for city commuting
Strong mid-range engine
Comfortable riding position
Con
4. 2023 Zero SR/S – Automatic Sports Bike With Electronic Technology
The 2023 Zero SR/S emerges as a groundbreaking contender in the high-performance electric sportbike segment. It has a peak torque of 140 ft-lb combined with a max power of 110 hp at 5,600 RPM.
With these impressive figures, this 2023 model offers an electrifying experience on demand, pushing boundaries and annihilating any doubts about the potential of electric motorcycles. The top speed, capping at 124 mph (200 km/h), dispels any notion that electric bikes are limited in performance.
The SR/S doesn't merely dazzle with numbers; it embodies innovation. Powered by the Z-Force 75-10 improved thermal efficiency, permanent magnet AC engine with a passive air-cooling system, it exemplifies Zero's commitment to pushing the envelope. This motor combines power and efficiency in a package that is a true game-changer.
One thing that makes this bike version even more try-worthy is the clutchless direct drive transmission, simplifying the riding experience for all riders. Meanwhile, the Poly Chain HTD Carbon belt serves as the final drive, ensuring smooth, maintenance-free operation.
As this model comes with regenerating braking, the braking force isn't solely dependent on the rider's use of the brake lever or pedal; it also factors in the amount of regeneration applied by the electric motor when coasting or decelerating. This can lead to a nuanced braking experience that some riders perceive as less intuitive than squeezing a brake lever.
Pros
Instant response to rider inputs
Available in customization options
Great electric power performance
Con
Regenerative system that might take time to get used to
5. 2023 Livewire One – Harley's Automatic Motorcycle
Lots of riders can agree that one of the best things about this Livewire One 2023 version is its transmission system. Also known as a single-speed or gearless transmission, it differs drastically from the complex gearboxes found in traditional motorcycles. The Livewire One's direct drive system eliminates the need for manual shifting gears, allowing for a seamless and effortless riding experience.
Another standout feature is its fully adjustable Showa suspension, offering a tailored and comfortable ride for a range of preferences. This flexible regenerative braking system is an innovative addition that provides riders with greater control over their deceleration and energy recovery.
The electric motor generates an estimated 100 HP and a robust 84 lbs-ft of torque at 3000 RPM. This helps ensure a thrilling acceleration and performance that rivals traditional internal combustion engines. Plus, to complement its potent performance, the Livewire One features a fully adjustable suspension system primed for both comfort and precision.
From the moment you lay eyes on the Livewire One, its sleek and futuristic design captures your attention. The body of the motorcycle seamlessly integrates form and function, boasting an aerodynamic silhouette that doesn't just look good—it serves a purpose. By minimizing wind resistance, the Livewire One can maximize its electric range without sacrificing style.
Still, as you may know, machines from the godfather Harley Davidson rarely come at a cheap price tag. This Livewire One is not an exception. That being said, with the quality and performance that this vehicle brings, it is worth every penny.
Pros
Powerful power delivery
Lack of engine noise
Simple-to-use user interface and touchscreen display
Con
6. 2023 Honda Navi – Cheap Automatic Motorcycle For Sale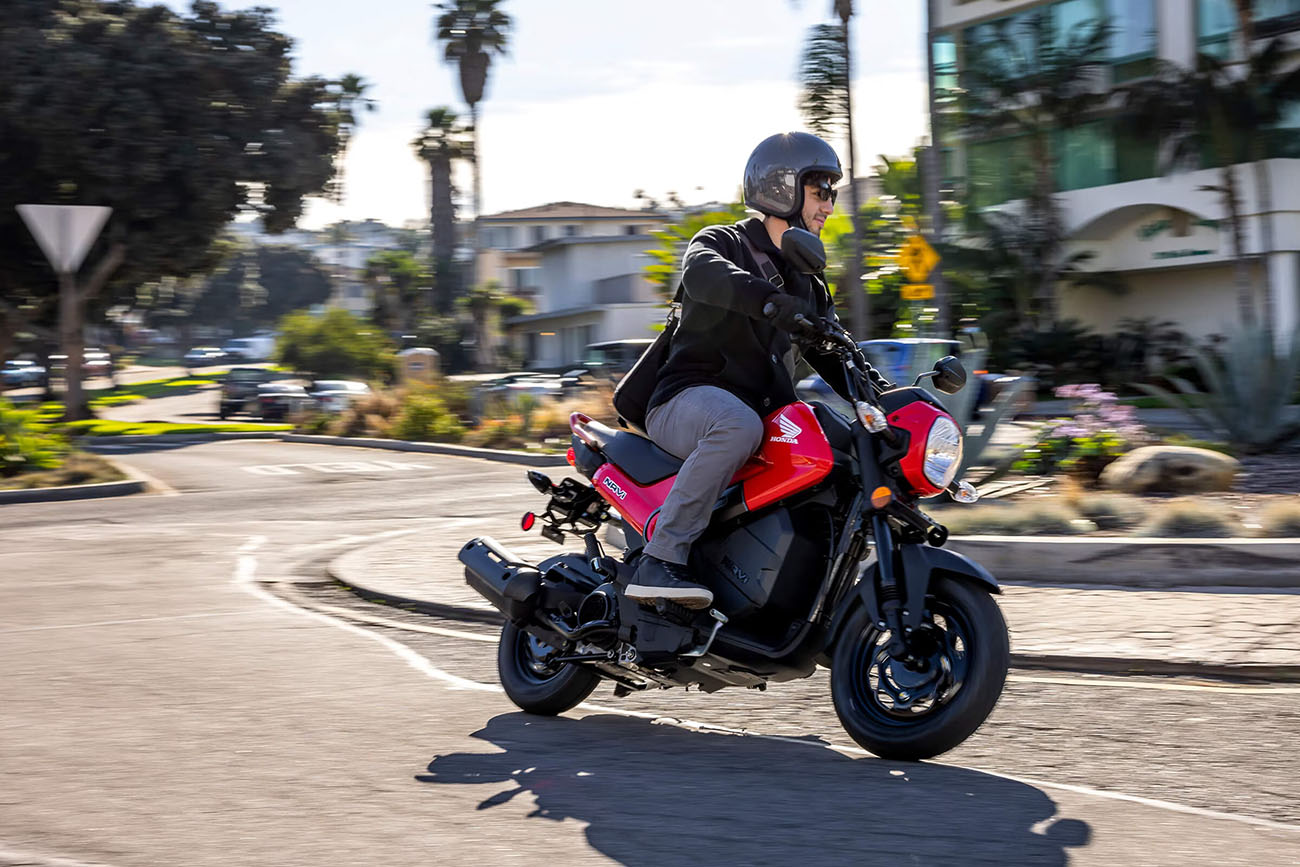 Let's start with what powers this little marvel – the engine. The Navi boasts a single-cylinder 4-stroke engine, canted forward at 80 degrees, giving it a distinctive look that turns heads. With a 109 cc displacement and a bore x stroke of 55.0 x 55.6mm, this engine might be small, but it's mighty.
Besides the engine, the transmission system is one of the standout features of this new 2023 version. This fully automatic CVT transmission adapts seamlessly to changing speeds, and the belt-based final drive ensures reliability without the hassle.
For those who are looking for a motorcycle suited for the city grind, this Navi is the go-to, thanks to its compact dimensions. With a wheelbase of 50.6 inches, a rake of 27.5 degrees, and a trail of 3.2 inches, the Navi offers agile maneuverability without compromising stability.
Moreover, the 3.6-quart fuel tank capacity is designed for extended journeys between fuel stops. With an estimated fuel consumption of 110 mpg, this two-wheeled machine proves to be incredibly fuel-efficient.
Although the bike boasts agile handling and compact dimensions perfect for urban environments, the absence of ABS could potentially impact braking performance on slippery or sudden surfaces. In situations where quick, controlled braking is essential, the lack of ABS might require riders to exercise extra caution.
Pros
Agile handling performance
Ease of maintenance
Affordable price
Con
7. 2023 CRF300L Rally – One Of The Best Honda Automatic Motorcycles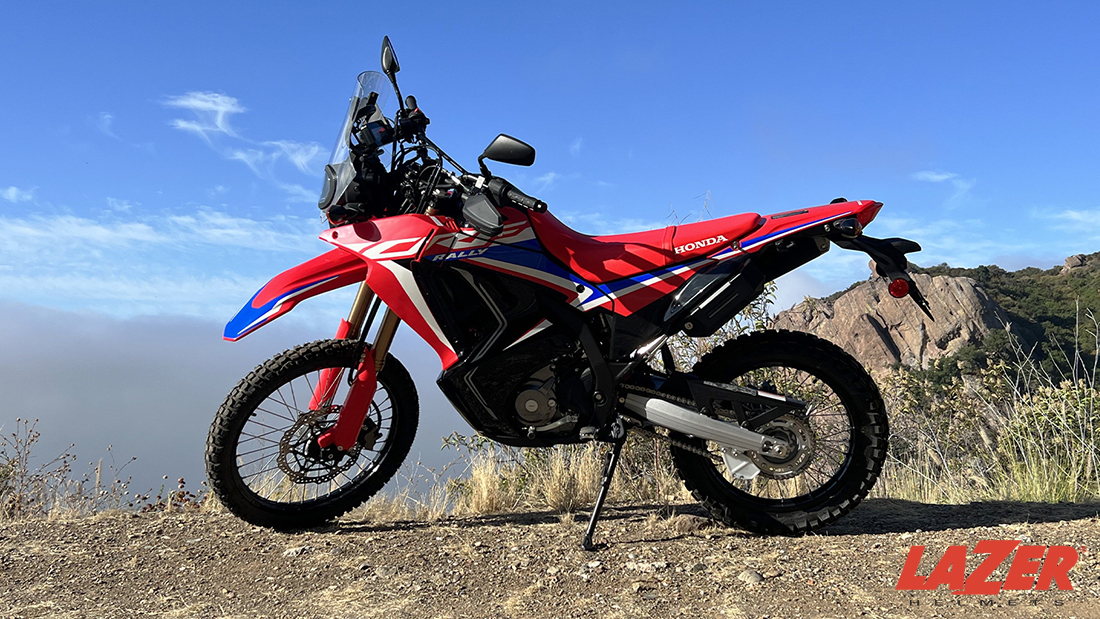 CRF300L Rally runs on the 286cc DOHC liquid-cooled single-cylinder engine. With 4 valves per cylinder and a bore x stroke of 76.0 x 63.0mm, it strikes the perfect balance between power and efficiency.
Its 6-speed transmission and chain final drive cater to both on-road cruising and tackling challenging trails, offering versatility that adapts to your every mood. Besides, the 38mm throttle body fuel injection system is super responsive, making the bike an extension of your thoughts.
Moreover, the 2023 CRF300L Rally's versatility is a game-changer; riders can conquer any path with confidence. The off-road prowess is undeniable, thanks to its suspension and tire setup. The long-travel suspension system is a dream – a 43mm inverted telescopic fork at the front and a single shock at the rear. Each comes with 10.2 inches of travel, absorbing bumps like a champ.
In terms of design, this beast from Honda will turn heads with its rally-inspired look. Not only does it look aesthetically pleasing. It also offers a relaxed riding position and elevated seat height that makes you feel like the king of the road. The double-cradle frame is built for the long haul, offering stability on rough terrains and a comfortable ride on smoother roads.
Despite many outstanding features, there's still something for this bike model to be improved. Its seat height of 35.2 inches could be a challenge if you're on the shorter side. And while the off-road-focused design is amazing for trails, it does translate into a slightly firmer ride on paved roads.
Pros
Versatile performance
High-quality suspension system
Sturdy and reliable bodywork
Con
High seat that may not be suitable for petite bikers
8. 2023 Yamaha XMAX 300 – Sport Scooter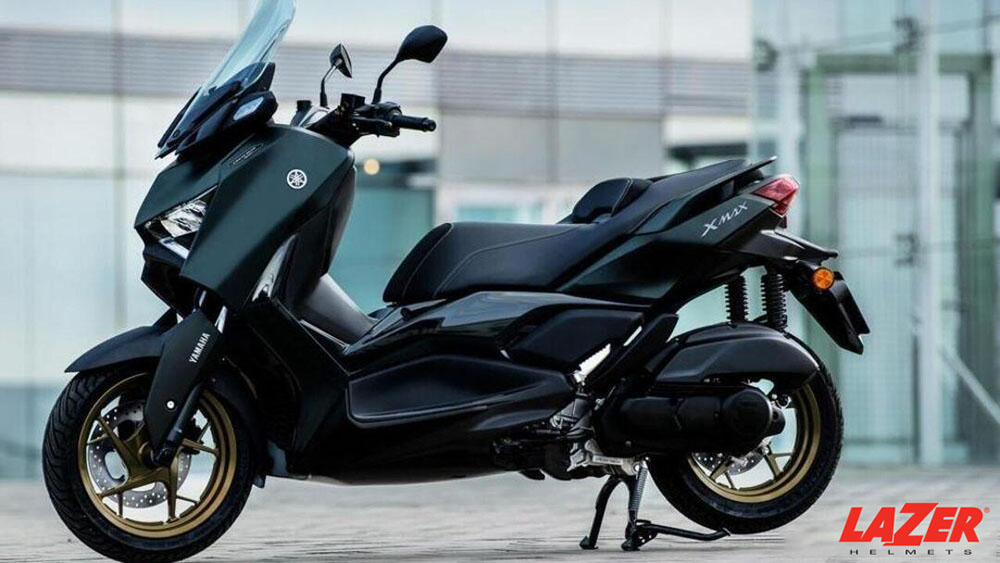 Equipped with a Continuously Variable Transmission (CVT), the 2023 Yamaha XMAX 300's transmission system ensures seamless power delivery across a wide range of speeds. The CVT allows the engine to maintain optimal revs, providing smooth acceleration and reducing the need for manual gear shifting.
Furthermore, the XMAX 300's performance shines through its well-tuned chassis and suspension. The 33mm telescopic fork at the front and dual shocks at the rear, offering 4.3 inches and 3.1 inches of travel, respectively, create a comfortable and controlled ride over various terrains.
Beyond its mechanics, the XMAX 300's minimalist design embraces functionality. The sleek lines and curves not only create an eye-catching profile but also contribute to aerodynamic efficiency, reducing wind resistance and enhancing overall performance.
Also, with a length of 86 inches, a width of 30.5 inches, and an adjustable height ranging from 55.7 inches to 57.7 inches, the XMAX 300 strikes a balance between compact agility and comfortable ergonomics. Its seat height of 31.3 inches makes it accessible to a wide range of riders, while the 3.4-gallon fuel tank ensures extended journeys without constant refueling.
Still, this model is not perfect. While suitable for urban commuting and moderate highway speeds, its engine output may feel slightly underpowered for those seeking more robust performance during high-speed cruising.
Pros
Excellent riding comfort
Visual appeal and aerodynamic efficiency
Big fuel capacity
Con
Might not be best for high-speed riding
9. 2023 BMW C 400 GT – A Midsize Scooter For Street Riding And Touring
Under the hood – or rather, under the comfortable seat – resides a 350cc water-cooled, single-cylinder, four-stroke engine, demonstrating BMW's engineering prowess. Delivering a healthy 34 horsepower at 7,500 rpm, the C 400 GT ensures spirited acceleration while navigating city streets or open roads.
Plus, it comes with the electronic port fuel injection, managed by the BMS-ME system with an e-throttle grip. This guarantees seamless power delivery and fuel efficiency.
Other highlights include the stepless CVT gearbox and two-stage reduction gear configuration. These features not only simplify operation but also contribute to a smooth and vibration-free ride. With a torque peak of 26 lb-ft at 5,750 rpm, this 2023 model from BMW provides ample low-end pull for swift takeoffs and confident overtaking maneuvers.
When talking about the machines from BMW, the design always shines through. It's the same case for the C 400 GT. Riders can easily spot the brand's design philosophy in the bike's aesthetic appeal, characterized by sleek lines, premium finishes, and attention to detail.
The LED headlight not only ensures optimal visibility but also adds a touch of modernity to the scooter's appearance. Also, the exclusive Triple Black color option exudes sophistication and an understated sense of luxury.
That being said, there's still a small problem with this 2023 version. Although the C 400 GT is well-suited for urban and paved road use, a few riders note its limitations on rough or unpaved surfaces. This is because the scooter's lower ground clearance might make it less stable or less confident on gravel, dirt, or other uneven surfaces.
Pros
Premium build and design
Suitable for city maneuvers
Ergonomically designed seat
Con
Might not perform well on rough terrains
10. 2023 Yamaha Zuma 125 – A Compact Scooter
This Yamaha Zuma 125 comes with a 125cc liquid-cooled, 4-stroke SOHC single-cylinder engine with 4 valves, generating a commendable 8 horsepower. The efficient fuel injection system ensures smooth power delivery and optimal fuel efficiency, which is essential for stop-and-go city traffic. With its 11.2:1 compression ratio, this scooter exhibits impressive acceleration and performance, making quick work of congested streets.
The highlight is the V-Belt automatic transmission, eliminating the need for manual gear shifting. This way, it simplifies the riding experience and makes the Zuma 125 accessible to riders of all skill levels. Whether navigating through busy intersections or cruising along urban roads, the machine's compact size and agile handling contribute to a confidence-inspiring ride.
Plus, its design strikes a balance between modern aesthetics and functional practicality. LED headlights and taillights not only enhance visibility but also add a contemporary touch to the scooter's overall look. Yamaha created this model with compact dimensions: 75.6 inches in length, 29.9 inches in width, and 45.3 inches in height. This allows for easy maneuverability through tight spaces and traffic.
The comfort of the rider is also one of the things that the brand focuses on. The telescopic upright fork at the front and dual shock absorbers with a swingarm at the rear ensure a comfortable ride, even when tackling uneven road surfaces.
While the scooter provides under-seat storage, it's somewhat limited in capacity. This can be quite restricting, making it unsuitable for those who frequently carry larger items or pack for long trips.
Pros
Reliable and sturdy bodywork
Compact size
Fuel efficiency
Cons
Minimal storage
Small engine displacement
Frequently Asked Questions
Does Honda Sell Automatic Motorcycle?
Yes, Honda offers automatic motorcycles. They have a range of models equipped with automatic transmissions, allowing for easier and more convenient riding, particularly for those new to bikes or looking for a simpler riding experience.
Does Kawasaki Make An Automatic Motorcycle?
Yes, Kawasaki does make an automatic motorcycle. Kawasaki is also working on a semi-automatic transmission for its motorcycles. This transmission will allow riders to shift gears manually or let the bike shift gears automatically.
Does Harley Make Any Automatic Motorcycle?
Harley-Davidson only makes one automatic motorcycle, the LiveWire. The brand has not announced any plans to make other automatic motorcycles. However, it is working on a new electric motorcycle called the Bronx, which is rumored to have a DCT automatic transmission.
Does Yamaha Make An Automatic Motorcycle?
Yes, Yamaha offers automatic motorcycles in their lineup. They have models like the Yamaha D'elight scooter with automatic transmissions. These bikes are designed for convenient and easy riding, making them suitable for riders who prefer not to handle manual gear shifts.
Final Words
The integration of advanced transmission technologies not only enhances accessibility but also broadens the horizons of riding possibilities. With a blend of innovation, convenience, and performance, these motorcycles cater to a diverse range of riders, from urban commuters to long-distance adventurers.
As the world of motorcycling continues to evolve, these automatic transmission models stand as a testament to the industry's commitment to embracing change and ensuring that the thrill of riding remains accessible to all.