In This Article:
The 2023 Ninja 400 of Kawasaki is an exceptional motorcycle that delivers on all fronts. With its impressive range of features and advanced technology, this motorcycle is an outstanding choice for riders of all skill levels.
One of the standout features of the Ninja 400 is its powerful engine. Powered by a liquid-cooled, 4-stroke, parallel-twin engine, this bike delivers an impressive amount of power for its size. The motorcycle engine's dual overhead camshafts (DOHC) and fuel injection system make it smooth and responsive, bringing a thrilling ride.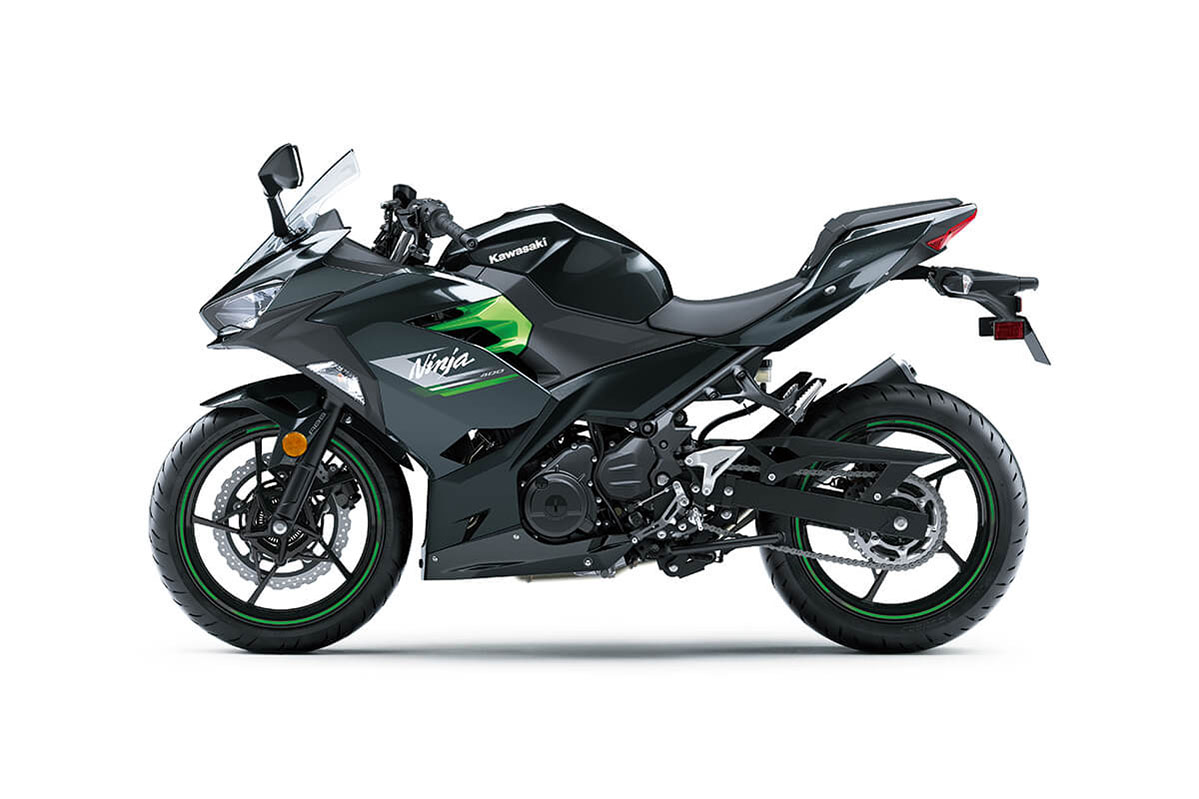 Despite its next-level power, the 2023 Ninja's ample bodywork still manages to be lightweight and agile. With a curb weight of 366 pounds, this bike is easy to maneuver through tight corners and switchbacks. Its low seat height and slim profile also make it comfortable for riders of different sizes and skill levels.
Furthermore, the Ninja 400 also boasts advanced technology that enhances its performance and safety. It features a digital fuel injection system, slipper clutch, and anti-lock brake system (ABS), all contributing to a smoother and more controlled ride.
In terms of design, this new model is both sleek and aggressive. Its aerodynamic fairings and bold color options make it a standout choice among other sportbikes. Thanks to the superb ergonomic design and adjustable seat, professional riders can achieve optimal comfort to tackle long rides without experiencing fatigue.
Regardless of its high level of performance and advanced technology, you will be surprised by the price tag. Starting at around $5,299 (according to Kawasaki), the aggressive Ninja 400 is one of the most affordable sports bikes on the market today. As a result, a wider range of bikers out there can get one for themselves without worrying about overspending.
---
2023 Kawasaki Ninja 400 Key Specs
Make: Kawasaki
Model Year: 2023
Type: Sports Bike
Color: Metallic Carbon Gray/Metallic Matte Carbon Gray, Metallic Magnetic Dark Gray/Metallic Matte Twilight Blue, Pearl Blizzard White/Metallic Carbon Gray
MSRP Price: $5,299 – $5,499 (Non-ABS); $5,699 – $5,899 (ABS)
Warranty: 12 Months
Warranty Plus: 12, 24, 36 or 48 months
Engine: 399cc, 4-stroke
Power: 44.8 HP
Mileage: 68.78 mpg (29.24 km/l)
Transmission: 6-speed
Fuel Tank Capacity: 3.7 gal (14 l)
Seat Height: 30.9 in. (785 mm)
Curb Weight: 366.0 lb (ABS)
---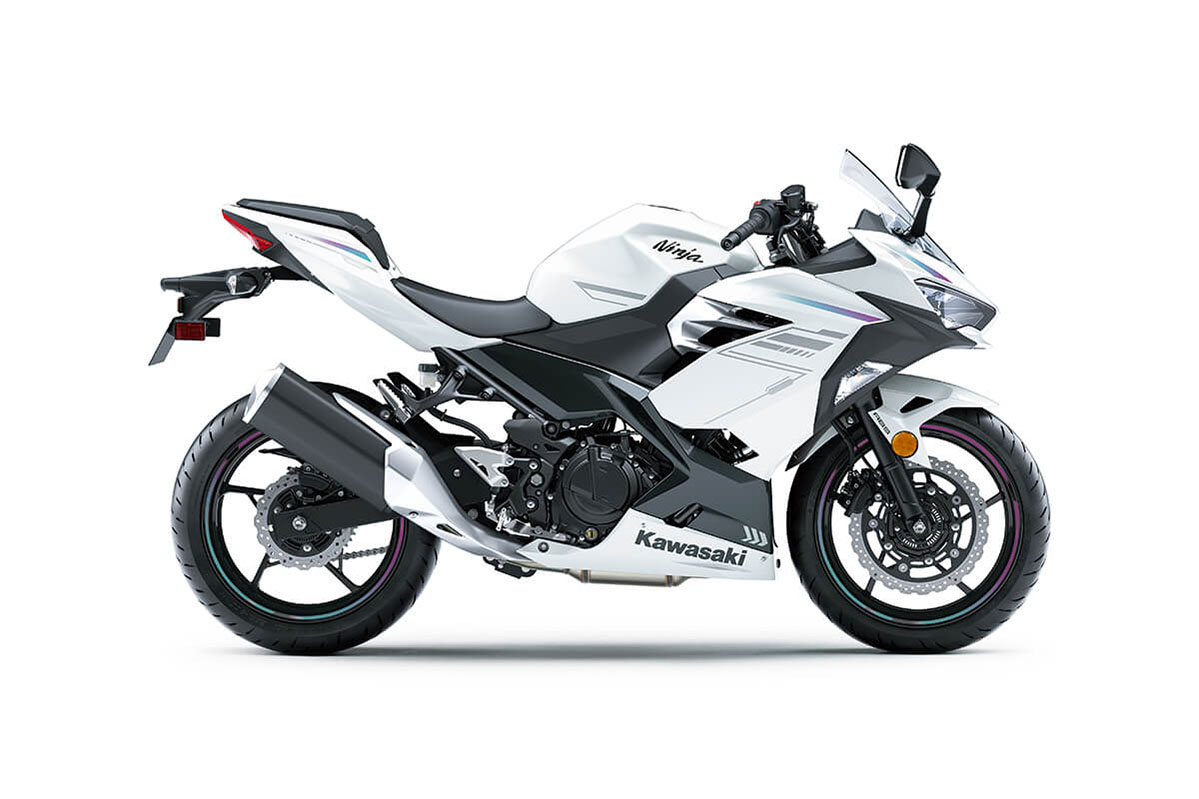 2023 Kawasaki Ninja 400 Specifications
Engine
| | |
| --- | --- |
| Engine | 399cc, 4-stroke, Parallel Twin, DOHC, liquid-cooled |
| Power | 44.8 horsepower |
| Torque | 27 lb-ft (36.6 Nm) |
| Bore x Stroke | 70.0 x 51.8mm |
| Compression Ratio | 11.5:1 |
| Fuel System | DFI® with dual 32mm throttle bodies |
| Ignition | TCBI w/digital advance |
Drivetrain
| | |
| --- | --- |
| Transmission | 6-speed |
| Final Drive | Sealed chain |
Chassis
| | |
| --- | --- |
| Rake/Trail | 24.7°/3.6 in. |
| Frame Type | Trellis, high-tensile steel |
| Front Suspension | 41mm hydraulic telescopic fork/4.7 in |
| Rear Suspension | Horizontal back-link with adjustable spring preload/5.1 in |
| Front Brakes | Single 310mm semi-floating petal-type disc with 2-piston calipers (and ABS) |
| Rear Brakes | Single 220mm petal-type disc with single-piston caliper (and ABS) |
| Front Tires | 110/70-17 |
| Rear Tires | 150/70-17 |
Dimensions
| | |
| --- | --- |
| Overall Length | 78.3 in. (1989 mm) |
| Overall Width | 28.0 in. (711 mm) |
| Overall Height | 44.1 in. (1120 mm) |
| Ground Clearance | 5.5 in. (139.7 mm) |
| Seat Height | 30.9 in. (785 mm) |
| Wheelbase | 53.9 in. (1369 mm) |
| Curb Weight | 366.0 lb (ABS), 361.6 lb (non-ABS) |
| Fuel Capacity | 3.7 gal (14 l) |
Competitors
| Model | Price | Engine | Top Speed |
| --- | --- | --- | --- |
| 2023 Yamaha YZF R3 | $5499 USD | 321cc | 112 mph |
| 2023 KTM RC 390 | $5,899 USD | 373cc | 111.2 mph |
2023 Kawasaki Ninja 400 Features
Assist & Slipper Clutch
Based on feedback from racing activities, the Assist & Slipper Clutch uses two types of cams (an assist cam and a slipper cam) to either drive the clutch hub and operating plate together or apart.

Under normal operation, the assist cam functions as a self-servo mechanism, pulling the clutch hub and operating plate together to compress the clutch plates. This allows the total clutch spring load to be reduced, resulting in a lighter clutch lever feel when operating the clutch.

When excessive engine braking occurs – as a result of quick downshifts (or an accidental downshift) – the slipper cam comes into play, forcing the clutch hub and operating plate apart. This relieves pressure on the clutch plates to reduce back-torque and helps prevent the rear tire from hopping and skidding. This race-style function is particularly useful when sport or track riding.
Economical Riding Indicator
Using high-precision electronic control for engine management, Kawasaki models can achieve a high level of fuel efficiency. However, fuel consumption is greatly affected by throttle use, gear selection, and other elements under the rider's control. The Economical Riding Indicator is a function that indicates when current riding conditions are consuming a low amount of fuel. The system continuously monitors fuel consumption, regardless of vehicle speed, engine speed, throttle position and other riding conditions. When fuel consumption is low for a given speed (i.e. fuel efficiency is high), an "ECO" mark appears on the instrument panel's LCD screen. By riding so that the "ECO" mark remains on, fuel consumption can be reduced.

While effective vehicle speed and engine speed may vary by model, paying attention to conditions that cause the "ECO" mark to appear can help riders improve their fuel efficiency – a handy way to increase cruising range. Further, keeping fuel consumption low also helps minimize negative impact on the environment.
ABS (Anti-lock Brake System)
Kawasaki ABS systems use front and rear wheel sensors to constantly monitor wheel speed. Should information from either of the sensors indicate that wheel lock has occurred, the ABS ECU directs the pump in the ABS unit to modulate brake fluid pressure (releasing and reapplying pressure so that traction can be regained) until normal operation resumes. ABS offers rider reassurance that contributes to greater riding enjoyment.
ERGO-FIT
Proper fit is key for rider comfort and control. However, the ideal fit varies from rider to rider, depending on their physical dimensions and riding style.

ERGO-FIT® is an interface system designed to allow riders to find their ideal riding position. Various points of the chassis interface (the handlebar, footpegs and seat, etc.) can be adjusted through a combination of interchangeable parts and parts with adjustable positions. This enables a wide range of riders to find a riding position that offers both comfort and control. Feeling at one with their machine, they will be able to experience how Kawasaki machines are fun and rewarding to ride.

*Adjustable parts and their range of adjustability vary by model.
Performance And Handling
The 2023 Kawasaki Ninja 400 is a sportbike with exceptional performance and handling, making it an ideal choice for riders who want a fun and practical bike.
2023 Kawasaki Ninja 400 Top Speed
At the heart of the Ninja 400 lies a 399 cc parallel-twin engine with a maximum power output of 44.8 horsepower and 27 lb-ft of torque, supporting you to rev up to 116.7 mph at max. It can reach the 60 mph point within 4.14 seconds and 100 mph within 11.8 seconds, which is decent but not as impressive as other siblings or other brands.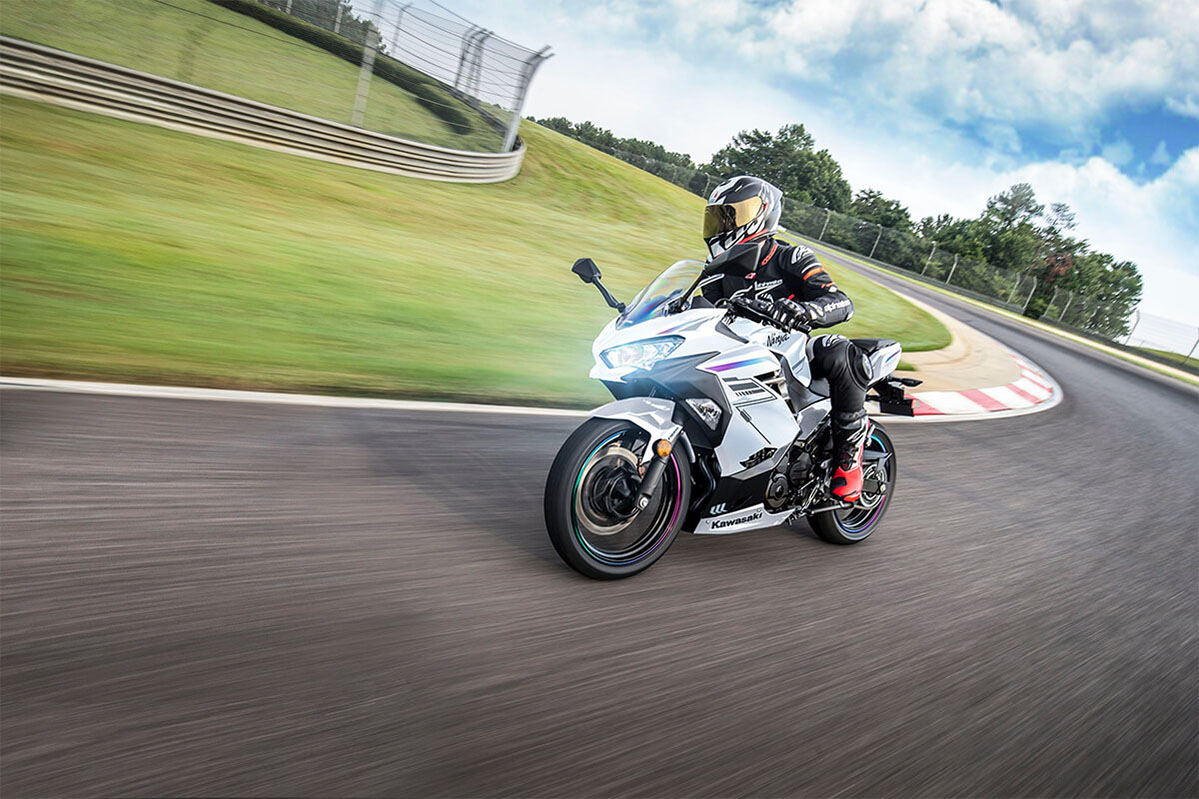 While this may not seem like a lot of power compared to larger displacement bikes, the Ninja 400's class engine has been designed to deliver a smooth and responsive power delivery that is ideal for riders just starting out.
To achieve its top speed, the base-model Ninja relies on its aerodynamic design and aggressive styling. The supersport bike's sleek and sporty fairing helps reduce wind resistance and provide maximum airflow to the engine. This helps the motorcycle reach its top speed while minimizing drag and turbulence.
Braking Performance
The Ninja 400 comes equipped with single 310mm front discs and a single 220mm petal-type disc brake with single-piston caliper, providing reliable stopping power when needed. The bike's braking system is made to provide class-leading performance in a wide variety of riding situations, from everyday commuting to high-speed riding on the track.
One of the key factors that contribute to the bike's excellent braking performance is its high-quality brake components. The Ninja 400 uses Nissin braking components, which are known for their strong engine performance and reliability. The bike's brake pads and rotors can withstand high temperatures and provide consistent stopping power, even during extended use.
Cornering And Handling Characteristics
Because of its low center of gravity, the 2023 Kawasaki Ninja 400 is simple for riders to manage when cornering. The tank of fuel is created to be low and narrow, helping to keep the bike's center of gravity low and centered. This makes it easier for riders to control the bike when leaning into corners, as the bike is less likely to tip over or feel unstable.
Another key factor contributing to the 2023 version's impressive handling characteristics is its responsive suspension. The bike is equipped with a 41mm telescopic fork and a Bottom-Link Uni-Trak, gas-charged shock with adjustable preload. These elements work in harmony to provide a smooth and stable drive. The suspension is also flexible, allowing riders to tailor the bike's handling characteristics to their individual riding style and preferences.
2023 Ninja 400: A Brief Review
While the Kawasaki Ninja 400 is primarily known for its performance and style, many bikers also highlight its comfort. The bike's ergonomics are designed to provide a comfortable riding position, with a relatively upright seating position that reduces strain on the rider's back and neck.
We give our thumbs up for the suspension, which can absorb shocks and vibrations quite well and further enhance our comfort on long rides. Still, it would be 10 out of 10 if Kawasaki had equipped this beast with an adjustable suspension so that we could alter the height for different users.
Another feature that many bikers love is the wet multi-disc clutch system. Thanks to the slipper function, the clutch can disengage quickly during hard downshifting, reducing the risk of rear wheel lock-up and improving stability.
Plus, the bike is also highly regarded for its affordability. Many find this 2023 model offers exceptional value for its sales price point, making it a popular choice among riders who are looking for a high-performance sportbike without going over budget. The vehicle's low cost of ownership, including its outstanding fuel efficiency and low maintenance requirements, also contribute to its affordability and make it an excellent option for budget-conscious riders.
When it comes to drawbacks, fuel capacity may be a concern for some experienced riders. With a 3.7-gallon fuel tank, the Ninja 400's range may be limited, especially during long rides or touring. While the bike's fuel efficiency is excellent, riders may find themselves needing to stop for fuel more frequently than they would prefer.
And some of our friends reported that they occasionally felt a lack of response when pressing the brake pedal. Though it's trivial, it could hide some risks when traveling on highway at high speed.
2023 Kawasaki Ninja 400 Photos & Videos
Photos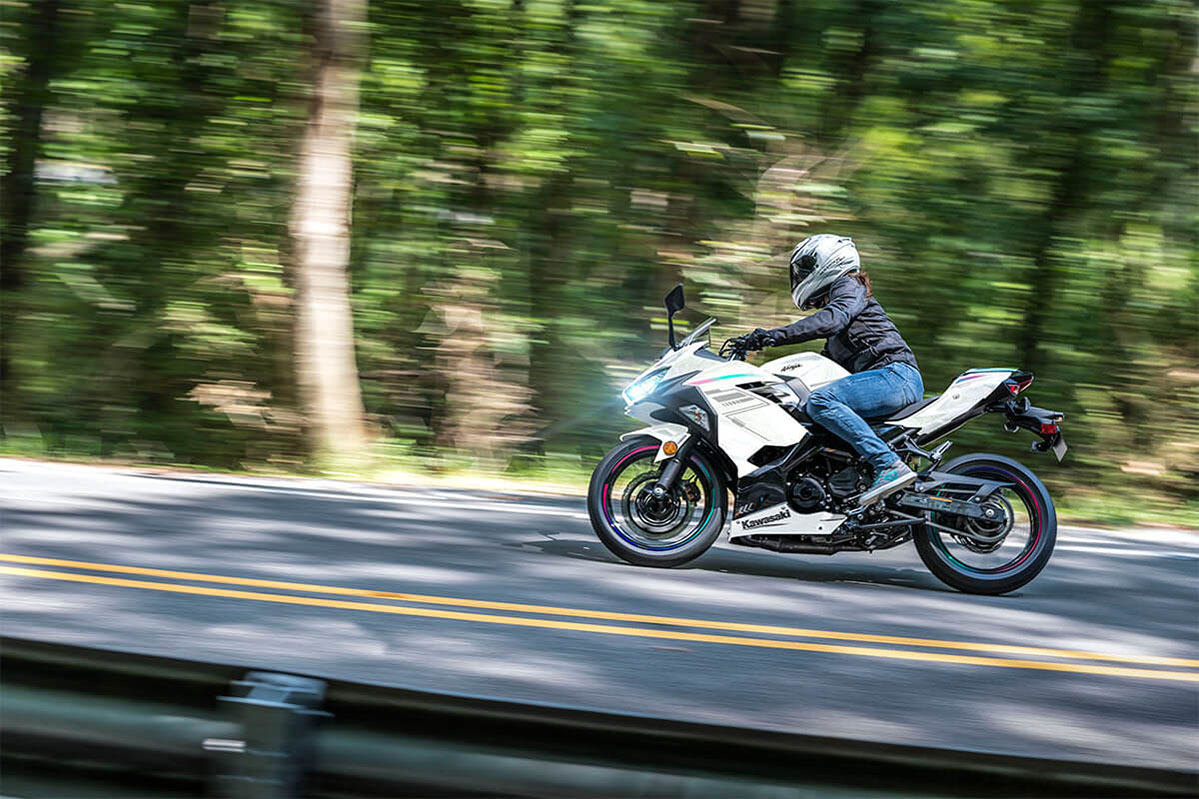 Videos
---
---
*Disclaimer: The prices mentioned in this article may vary depending on the dealership and location. Additionally, the specifications mentioned, such as horsepower and top speed, may vary from different sources as they are often tested under different conditions.