Top Gun: Maverick from Paramount Pictures is one of the latest members of the 1-billion club, captivating hundreds of millions of audiences worldwide in 2022 with its breathtaking cinematography and – of course – the iconic motorcycle movie scenes.
Everybody couldn't help but be drawn to the Top Gun Maverick motorcycle: what brand is it, and is this bike worth your (real-life) money? Keep scrolling for the answer!
Table of Contents
What Motorcycle Does Maverick Ride in Top Gun: Maverick (2022)?
In the film series Top Gun: Maverick (2022), Pete Maverick Mitchell sticks with the Kawasaki Ninja H2 in some of the movie's most iconic scenes. The reason behind this choice is that the Ninja H2 is the world's fastest production motorcycle at the filming time.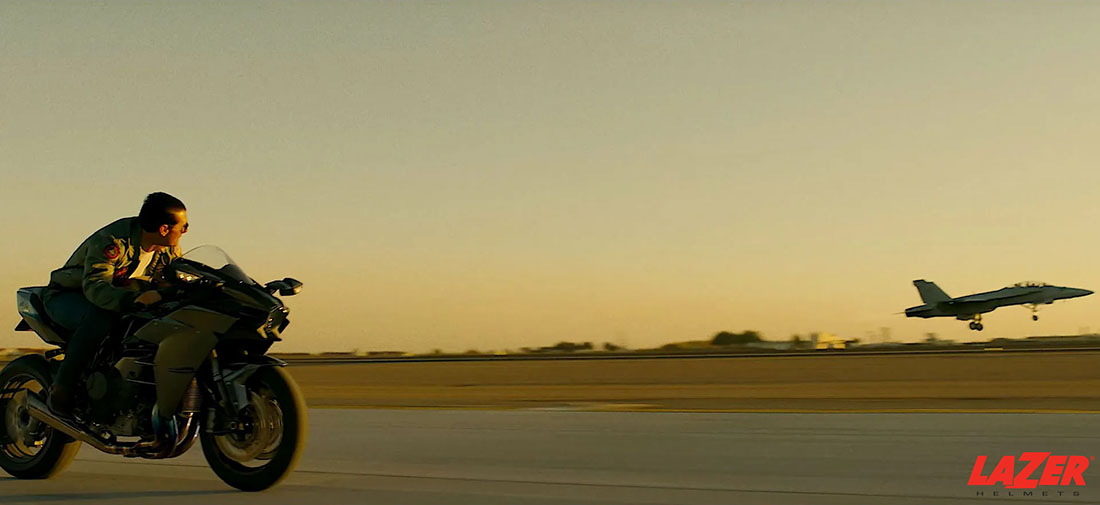 By now, it has stooped to number 3, behind Lightning LS-218 (#2) and Kawasaki Ninja H2R (#1). Still, for most motorcycle enthusiasts, the number 3 ranking is already impressive: with its 1000cc supercharger and four-cylinder in-line engine, H2's production can reach as high as 200 BHP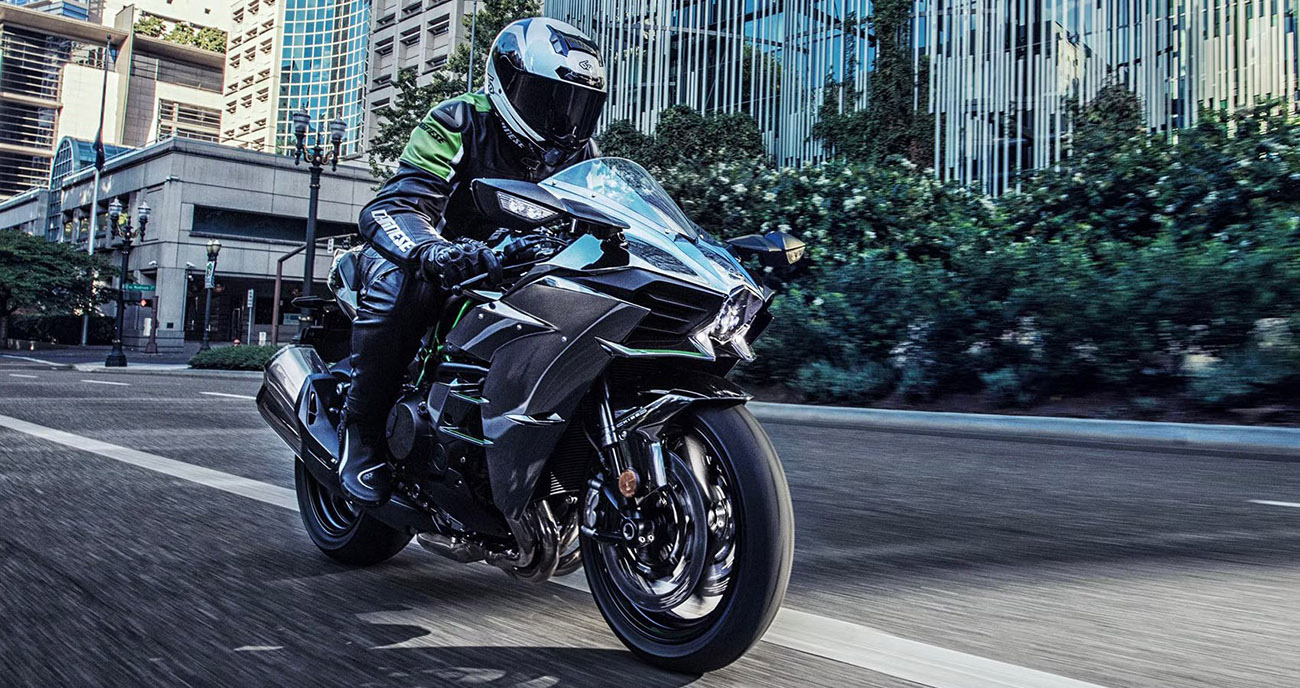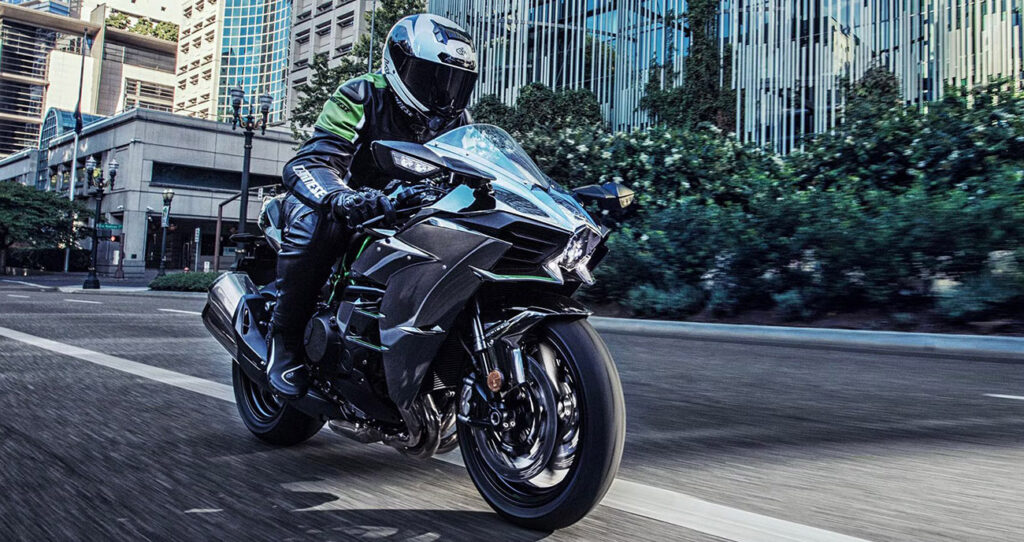 The next section will delve further into its quality analysis.
A Detailed Review of Kawasaki Ninja H2
The bike offers amazing horsepower (200 HP), smooth transmission, sensitive braking, and sleek, redesigned seats and leg positions for all terrains and weather conditions.
Although the bar reaches and short shifts can be a bit tiring and too aggressive to some's liking, these minor drawbacks barely affect the overall riding experience.
1. Engine and Overall Performance
Its superb inline engines can produce approximately 200 HP (with the potent supplement from the 101 ft-tq). Hence, despite being tuned for relaxed riding, it will likely last you for days – or even an entire week – at a time.
a. Cam-timing:
The cam-timing does an excellent job of reducing emissions and maximizing performance. More specifically, its exhaust system (redesigned compared to previous models) uses bigger cans and removes the silencer chamber to improve torque and cut off gas restriction.
Better yet, there is a brand-new resin silencer (incorporated next to an air inlet), reducing intake noise to the maximum!
b. Supercharger/drive:
The bike's centrifugal superchargers and planetary drives are surprisingly simple, requiring no intercoolers. That is usually not the case with regular bikes under normal circumstances.
Since the compressing air is heated up and reduces oxygen content as a result, mainstream induction systems often require intercoolers to bring down air temp before it arrives at the combustion chambers.
But H2 proves to be a game changer: its supercharger designs easily reach high impeller rates – while still maintaining impressively great thermal efficiency – which delivers transparent performance boosts without needing extra assistance.
c. Gearshifts and transmissions:
Ninja H2 is the only commercial bike to use dog ring gearboxes, whose lightweight and compact stacked design paves the way for extremely fast gear shifting.
Rather than synchromesh, its transmission depends on innovative clutch operations and clever electronics to manage and monitor gear shifts.
The auto slippers work extremely well with downshifts and envelope-pushing – but, unfortunately, do not respond very well to short shifts. Pay more attention during this process.
2. Suspension And Chassis
Ninja H2 uses tubular bridge-type steel trellis frames and single-sided swingarms. As a part of the 2022 updates, there are also:
BRCF mono shocks
ERA Showa Skyhook 43mm fork
KECS (Kawasaki Electronic Control Suspensions)
The KECS works extremely well with the bike's ECU, using live data to adjust real-time damping and compression based on your Rider Mode and current road conditions.
You heard it right; there are four Rider Modes in total: Rain, Road, Sport, and one manual option manifested upon the suspension, riding style, and weather.
The preload settings (single riders, pillions, and riders/pillions with luggage) introduce ten different adjustment levels when combined with the Rider Modes, further streamlining your experience.
3. The Wheels and Brakes
Ninja H2 impresses everyone (and apparently Maverick, too) with its dual 4-piston radial-mount front calipers and 320mm semi-floating discs, whose combined strengths provide impressive stopping power output.
The rear receives more or less the same treatment – with two 250mm discs and opposed two-piston calipers.
For even better security, its intelligent KIBS ABS systems use IMU traction data and lean angle to deliver optimal stability and intervention management.
And if you are a fan of adventurous weather performance, here is some great news: the H2's aluminum wheels can now fit the S22 tires from Bridgestone Hypersport Battlax S22, providing amazing grip in both dry and wet weather.
4. Styling and Ergonomics
Its forward cowling is redesigned to give riders a better view of the radar system, resulting in a more angular and less extreme/edgy look.
The seats are wider and much more comfortable than previous models – great news for fans of longer trips. H2's leg positions are also more neutral, aided by reasonable bends around the knees.
One minor downside: the reaches to the clipped-on bars – thought perfect for backroad carving – can be a bit tiring during longer hauls.
How Much Does Kawasaki Ninja H2 Cost?
It is priced at $30,000 on the Kawasaki website, but it might vary among retailers. Considering the performance and upgrade, this pricing is only to be expected.
And after the global cinematic hit Top Gun Maverick, there's no doubt that H2's charges will undergo even crazier fluctuations.
Does Maverick Ride Kawasaki Ninja H2 in Top Gun 1 (1986)?
No. The motorcycle in Top Gun 1 (1986) is Kawasaki Ninja GPZ900R. At 155 MPH (top speed) and a dry weight of roughly 502 pounds, Kawasaki GPZ900R was one of the most sought-after production bikes at the time.
Its popularity was further fueled by the success of the original movie Top Gun. Meanwhile, Kawasaki Ninja H2 is the Top Gun 2 motorcycle, only appearing in Top Gun 2 (or Top Gun: Maverick, released in 2022).
Conclusion
There is no doubt that the raving success of Top Gun: Maverick has rekindled many people's passion for the Kawasaki bike models.
Weigh the pros and cons (and, of course, the pricing) to see whether this sleek Ninja H2 is the best choice for you and your riding preference. After all, unlike the reputed action movie star Tom Cruise (Maverick), not all of us can look cool on a Kawasaki