Table of Contents
The YFZ 450 4 wheeler is a high-performance Yamaha ATV (All-Terrain Vehicle) that has become a favorite among off-road enthusiasts. With its sleek bodywork, powerful engine, and excellent handling, the YFZ 450 has earned its reputation as a top performer in the ATV world.
Weighing in at just over 400 pounds, the 450 model is one of the lightest sport ATVs on the market, which makes it incredibly agile and responsive. The YFZ 450's lightweight design is largely due to its aluminum frame.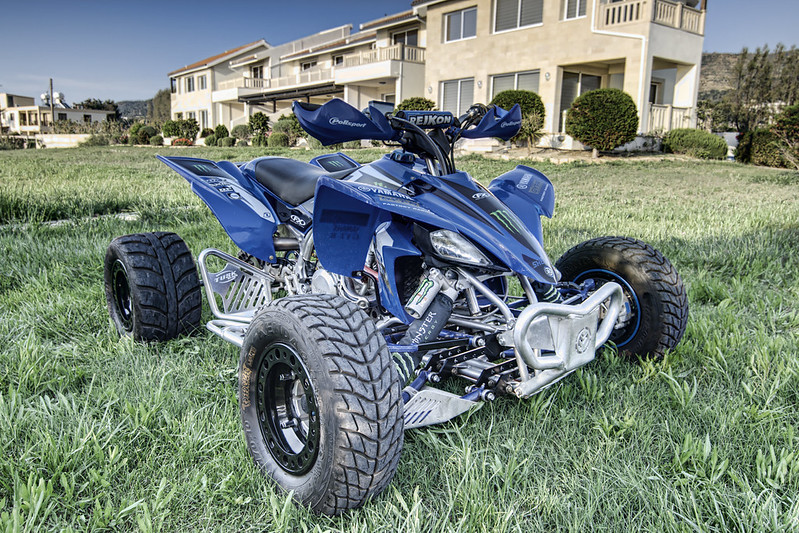 It is made to be lightweight and rigid, which helps to improve the ATV's handling and performance. The lightweight yet aggressive bodywork also reduces the overall weight of the ATV, making it easier to maneuver and control.
Besides, the front of the ATV features a streamlined front fender that helps to deflect dirt and debris away from the rider. The front bumper is also made to protect the ATV's engine and advanced chassis combination from impacts and provide a mounting point for accessories such as lights or winches.
The base model price is approximately $9,199, which places it firmly at the higher end of the sport ATV market. However, this price can vary depending on a number of factors, including the dealer you purchase from, the region you're in, and any additional accessories or modifications you choose to add to your ATV.
---
Yamaha YFZ 450 Key Specs
Make: Yamaha
Type: ATV
Year: 2004-2011
Color: Blue, White, Gray, Red
Price: $9,199
Engine: 449cc
Power: 39 HP
Transmission: 5-speed
Fuel Tank Capacity: 2.60 gal. (9.84 l)
Wet Weight: 405 lb. (183.7 kg)
---
Yamaha YFZ 450 Specifications
Engine
| | |
| --- | --- |
| Engine Type | Single cylinder, four-stroke |
| Displacement | 449cc |
| Power | 39 Horsepower |
| Bore x Stroke | 95.0 x 63.4 mm (3.7 x 2.5 inches) |
| Compression Ratio | 11.4:1 |
| Fuel System | Carburettor. Mikuni 42mm BSR |
| Starter Type | Electric |
Drivetrain
| | |
| --- | --- |
| Clutch type | Wet multi-plate |
| Transmission | 5-speed |
| Cooling system | Liquid |
| Final Drive | Chain |
Dimensions, Chassis & Weights
| | |
| --- | --- |
| Overall Length | 72.4 in. (1,839 mm) |
| Overall Width | 46.1 in. (1,171 mm) |
| Overall Height | 42.9 in. (1,090.66 mm) |
| Front Suspension | Independent double wishbone, threaded preload adjustment, 9.1-in travel (231.14 mm) |
| Rear Suspension | Cast aluminum swing arm, threaded preload adjustment, 10.6-in travel (269.24 mm) |
| Front Tires | 21/7-10 |
| Rear Tires | 20/10-9 |
| Front brakes | 5.0 inches (127 mm), Double disc. Hydraulic disc |
| Rear brakes | 6.8 inches (173 mm), Single disc. Hydraulic Disc |
| Wheelbase | 50.4 in. (1,280 mm) |
| Ground Clearance | 4.5 in. (114.3 mm) |
| Seat Height | 31.9 in. (810.86 mm) |
| Wet Weight | 405 lb. (183.7 kg) |
| Dry Weight | 350 lb. (158.8 kg) |
| Fuel Tank Capacity | 2.60 gal. (9.84 l) |
Performance And Handling
Let's examine the Yamaha YFZ450R's superb power characteristics in more detail to see what makes it unique from other sports ATVs on the market.
Yamaha YFZ 450 Top Speed & Acceleration
A potent, fuel-injected 449cc engine with an astonishing 38-40 horsepower powers the YFZ 450. The ATV can reach a top speed of up to 75 mph, depending on the rider's weight, the terrain, and your modifications or upgrades (if any).
We have tested with the 2017 model, and it could reach 60 mph in 5 seconds, which was impressive. But note that we took the test drive on an even asphalt road; rough terrain like gravel or snow will slow it down a bit.
This race-ready engine is mated to a five-speed manual transmission that provides smooth and precise shifting, allowing riders to maintain complete control over the vehicle's abundant power and unmatched performance.
The YFZ 450 also features an electric starter and a high-performance exhaust system. They assist in increasing the flow of exhaust gas from the engine, which can help to improve power delivery and overall engine performance.
Also, this aftermarket exhaust system adds a unique sound to the Yamaha 450, making the ATV stand out even more on the trails.
Braking Performance
The Yamaha YFZ 450 is equipped with a high-performance braking system that includes dual hydraulic disc brake in the front and a single one in the rear. This system provides exceptional stopping power, even at high speeds, and ensures that riders can maintain complete control over the vehicle at all times.
Another important aspect of the YFZ 450's braking system is its adjustable brake levers. These levers can be adjusted to fit the rider's hand size and grip preference, which helps to improve rider comfort and control during braking.
Suspension & Handling Characteristics
The Yamaha YFZ 450 is designed to provide bikers with exceptional handling and control on the roughest off-road terrain. The ATV features a lightweight aluminum heel guard frame that provides a solid base for the vehicle's advanced suspension system.
The front suspension is a double-wishbone design that uses fully adjustable shocks to provide up to 9.1 inches of travel. The rear one is a cast aluminum swingarm that also uses fully adjustable shocks to offer up to 10.6 inches of travel. These suspension components provide advanced riders with exceptional control and stability, even when navigating the most challenging terrain.
YFZ 450: Final Thoughts
One of the most common themes among user reviews of the YFZ 450 is its powerful engine. Many riders praise the ATV's liquid-cooled, 449cc, four-stroke engine for its impressive acceleration and top speed.
In addition to its remarkable rate, many also appreciate its reliability and durability. The machine features a lightweight aluminum cylinder, forged piston, and ceramic composite-plated cylinder for increased strength and heat dissipation.
Many users praise the Yamaha 450's comfortable and race-ready ergonomic riding position. The ATV's seat shape is designed to be both comfortable and supportive, which helps to reduce rider fatigue during long rides.
The seat is also adjustable, allowing bikers to customize their riding position to their specific needs and preferences. Plus, the product's low profile and forward-leaning riding position provide a sense of control and stability while allowing for easy and quick turns.
Users also highlight the model's footpegs, which are created to provide maximum grip and control for the rider. The footpegs are positioned to allow for a natural and comfortable riding position, which helps to improve balance and maximum power on the toughest trails and tracks.
The Yamaha YFZ 450 has a fuel tank capacity of 2.6 gallons, which is relatively standard for a sport ATV. In terms of speed fuel consumption, its powerful engine requires a significant amount of precise fuel delivery. Users report that the fuel consumption can vary depending on the terrain and riding style but generally falls within the range of 22 miles per gallon.
Its aftermarket air filter is another accessory that draws people to this ATV. It provides increased airflow to the engine, enhancing performance and throttle body response. Many riders also find that aftermarket air filters are easier to clean and maintain than the stock filters that come with the YFZ 450.
Still, this vehicle from Yamaha is not all perfect. It does not come with a reverse gear, which can be a drawback for riders who frequently need to maneuver the machine in tight spaces or tricky terrain. While some users have noted that they have become accustomed to this limitation, others have found it to be a significant inconvenience.
YFZ 450 Photos and Videos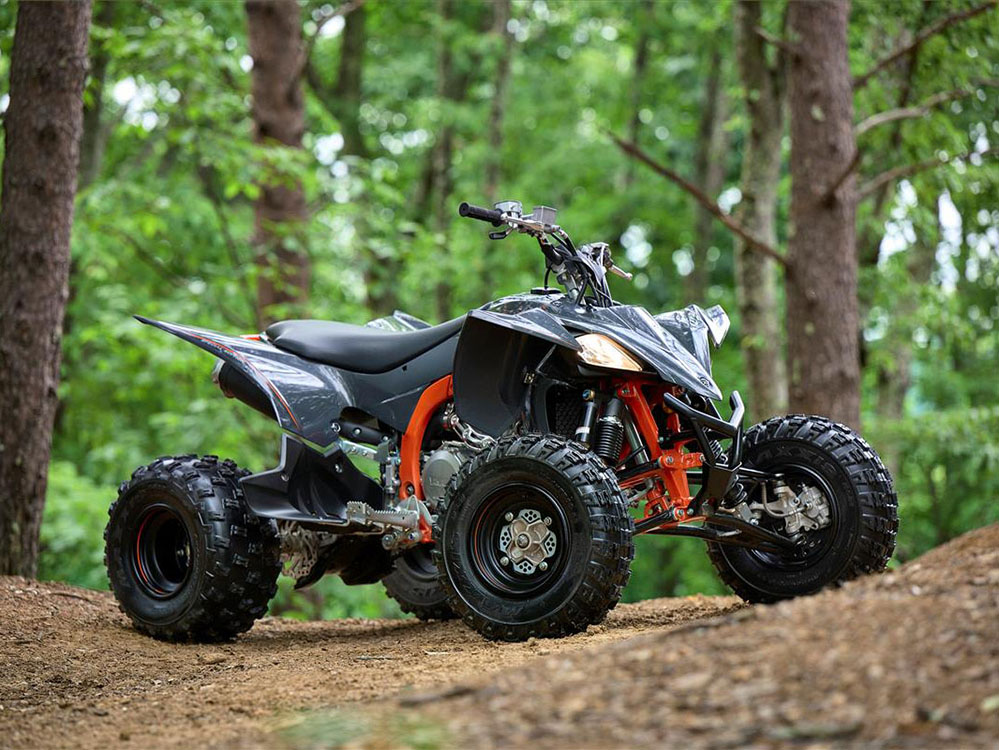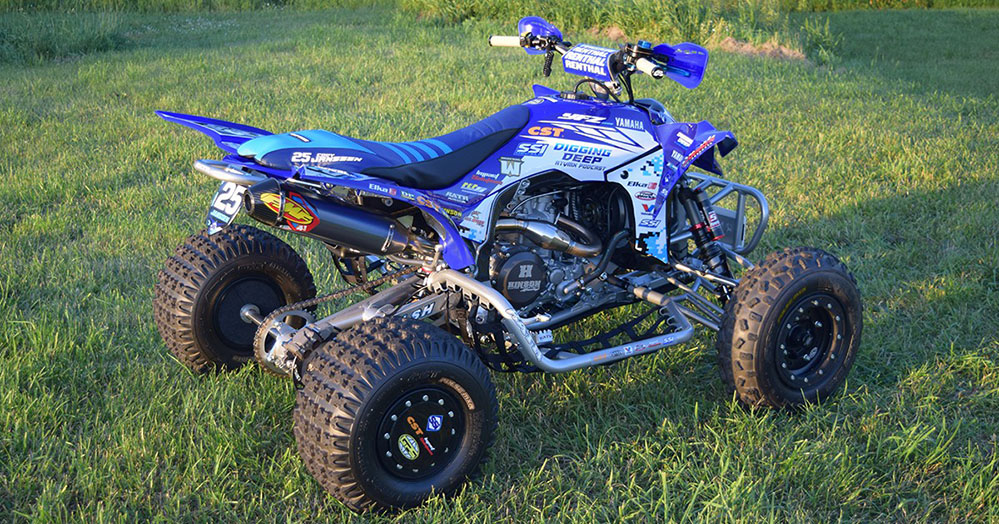 ---
See more: