In This Article:
Yamaha TMAX Tech Max has been brushed up for better compactness while still retaining its metro-commuter vibe. The new inclusion of wind front cowls and stylish fenders adds more to the charm, improving TMAX's overall visage in the eyes of its global fans.
Aside from the new face, TMAX Tech includes brand-new adjustable windshields, whose protection against rain and wind contributes to improved ride quality.
At the same time, the dual headlights burst through the darkest of the night, coming stock with turn signals (installed within the scoop's upper edge) and DRL bars. The LED emitters become the main lighting source to foster two-way illumination day and night.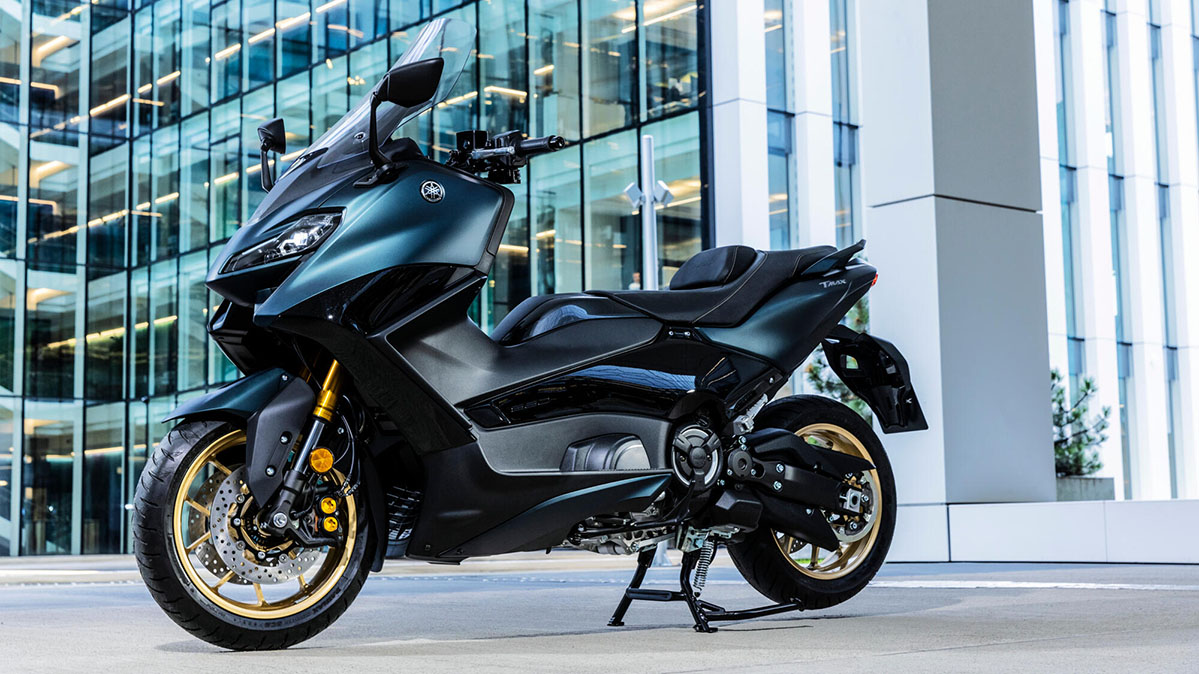 Lastly, we spot a blackout radiator shroud meeting color-matched pans mid-way, while two analog gauges paired with LCD screens are introduced to display all pertinent metrics.
---
2023 Yamaha TMAX Tech Max Key Specs
Make: Yamaha
Model Year: 2023
Type: Scooters
Color: Dark Petrol, Tech Black
MSRP Price: ₱779,000
Warranty: 1 Year
Warranty Plus: 24 or 36 months (Yamaha Extended Service)
Engine: 562cc, 4-stroke
Power: 47 HP
Mileage: 47.04 mpg
Transmission: Automatic
Fuel Tank Capacity: 15 L (3.96 gal.)
Seat Height: 800 mm (31.50 in.)
Wet Weight: 220 kg (485 lbs)
---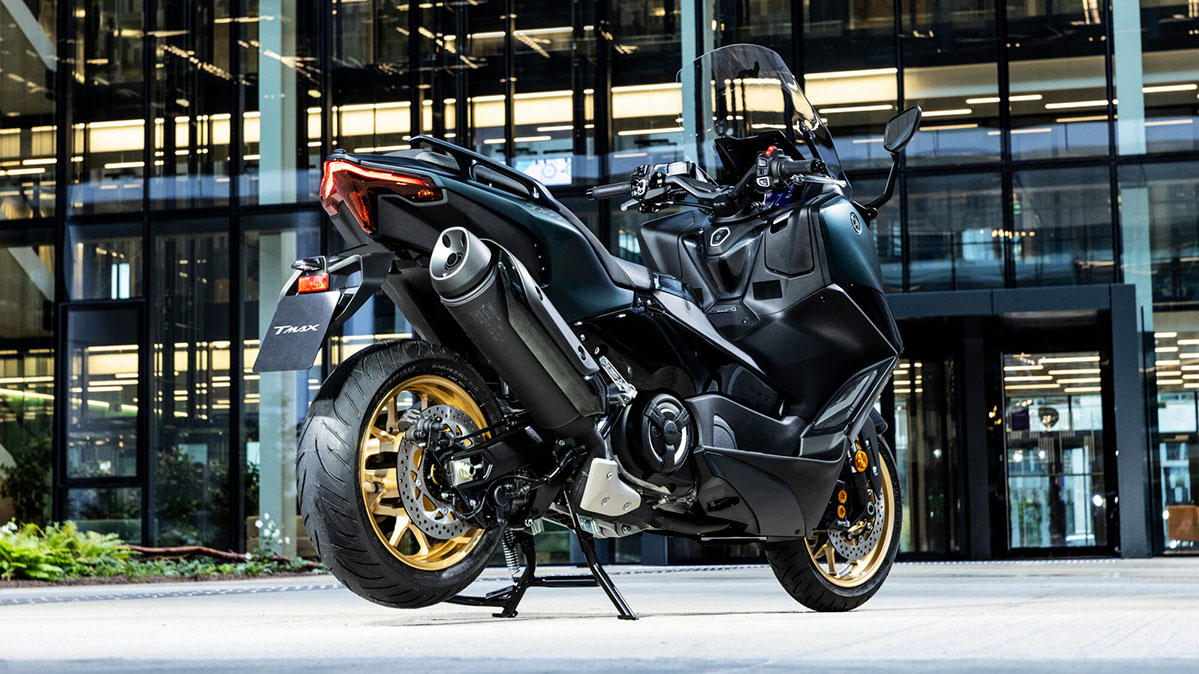 2023 Yamaha TMAX Tech Max Specifications
Engine
| | |
| --- | --- |
| Engine type | 4-stroke, Liquid-cooled, DOHC, 4-valves, Parallel twin-cylinder |
| Displacement | 562 cc |
| Power | 47 horsepower |
| Bore x stroke | 70.0×73.0mm |
| Compression ratio | 10.9:1 |
| Maximum Torque | 55.7 Nm @ 5250 rpm |
| Lubrication system | Dry sump |
| Ignition system | TCI |
| Starter system | Electric |
| Transmission system | V-Belt Automatic |
| Fuel consumption | 4.8L/100km |
| Fuel system | Fuel Injection |
| CO2 emission | 112g/km |
Chassis
| | |
| --- | --- |
| Front suspension system | Telescopic fork |
| Rear suspension system | Swingarm |
| Front travel | 120 mm |
| Rear Travel | 117 mm |
| Front brake | Hydraulic dual disc brake, Ø267 mm |
| Rear brake | Hydraulic single disc brake, Ø282 mm |
| Front tire | 120/70R15M/C 56H Tubeless |
| Rear tire | 160/60R15M/C 67H Tubeless |
Dimensions
| | |
| --- | --- |
| Overall length | 2,195 mm (86.42 in.) |
| Overall width | 780 mm (30.71 in.) |
| Overall height | 1,415 mm (55.71 in.) – 1,525 mm (60.04 in.) (electric windscreen) |
| Seat height | 800 mm (31.50 in.) |
| Wheelbase | 1,575 mm (62.01 in.) |
| Minimum ground clearance | 135 mm (5.31 in.) |
| Wet Weight | 220 kg (485 lbs) |
| Fuel tank capacity | 15 L (3.96 gal.) |
Competitors
| Model | Price | Engine | Top Speed |
| --- | --- | --- | --- |
| 2023 Suzuki's Burgman 400 | $8,599 | 400cc | 90 mph |
| 2023 BMW C400 GT | $8,245 | 350cc | 86 mph |
2023 Yamaha TMAX Tech Max Features
Powerful 560cc EURO5 engine
The powerful 560cc EURO5 engine features a unique and compact design that uses a 360 degree crank with a horizontally opposed reciprocating piston balancer for extremely sporty performance together with a high-efficiency CVT drive system for outstandingly smooth running. And to heighten your riding excitement the carefully designed intake and exhaust systems produce a deep and pure 'tuned' sound that is distinctively TMAX Tech MAX!
Dynamic sporty body design
TMAX Tech MAX design moves one step closer to the supersport motorcycle world with its aerodynamic body. Slimmer dual LED headlights and front wings with large air intakes as well as boomerang side covers are more TMAX Tech MAX than ever – and lightweight Spin Forged wheels and forged aluminium handlebars underline this sport scooter's premium specification.
Projector headlights, integrated flashers
Take one look at the face and you'll know that this could only ever be TMAX Tech MAX! Its slimmer dual headlights with integrated flashers give a more aggressive look, while the projector design with a mono-focus lens generates a powerful beam. And to emphasize this iconic sport scooter's dynamic looks there's a taillight featuring a T-shaped design with integrated flashers.
Improved rider and passenger ergonomics
For an ever sportier ride with a higher level of rider and passenger comfort, the TMAX Tech MAX is equipped with a longer seat and extended footboards, and the rider's backrest gives 30mm of front/rear movement. The TMAX Tech MAX's slimmer waist gives improved leg reach to the ground, and the shape of the forged aluminium handlebars contributes towards a slightly more forward leaning position for improved feedback.
Connected TFT screen, full-map navigation
Operated by a simple joystick, the sophisticated connected full-colour 7-inch TFT screen features a choice of three display styles. Through Yamaha's MyRide App you can access MyRide – Link that enables the connection with the vehicle, giving access to your smartphone for music, weather, calls and notifications. Full-map Garmin Navigation*makes every journey easier – while texts can be displayed when your TMAX Tech MAX is parked.
Electrically adjustable screen
The adjustable windscreen features a centre air intake duct that contributes towards the increased level of comfort by reducing pressure on your upper body, especially at higher speeds. This design also ensures better acoustics when you're using a smartphone linked to the 7-inch TFT full-colour display, and the TMAX Tech MAX screen can be adjusted electrically using a handlebar mounted switch.
Cruise control
Cruise control is a standard feature on the TMAX Tech MAX, and enables you to relax on longer rides, and also serves as a useful way to stay under the speed limit. The system works in conjunction with the YCC-T Yamaha Chip Controlled Throttle and can be selected at speeds of 50 kph and above.
Heated grips and seat
This premium Sport Scooter is designed to be ridden and enjoyed all year round, and its aerodynamic bodywork and electrically adjustable screen provide excellent wind and weather protection. TMAX Tech MAX exclusive features include a heated seat and heated grips that provide added comfort on cooler days, making this a genuine 7-days a week riding machine.
Best-in-class premium specification
TMAX Tech MAX features a best-in-class specification that is designed to give you the ultimate riding experience on every journey. As well as the exclusive electric screen, heated grips and seat, cruise control, adjustable rear suspension and backlit switches, this iconic best-seller features a premium quality interior and is available in a special new Dark Petrol colour as well as Power Grey.
Smart Key keyless operation
Using your TMAX Tech MAX is so convenient with the Smart Key in your pocket – and the 2-button backlit main switch is simpler than ever to use. This keyless technology enables you to start the engine, unlock the seat and release the centre stand easily and quickly – and you can even unlock the stylish flush fitting aero-style fuel cap.
Lightweight aluminium chassis
The TMAX Tech MAX's compact motorcycle-type die-cast aluminium chassis features a twin spar layout that gives immense strength combined with a low weight. The powerful 560cc engine is mounted directly into the frame to give excellent mass centralization – and for sportier and more precise handling performance the suspension settings are revised. Ultra-lightweight Spin Forged wheels to reduce the unspring mass are fitted with developed Bridgestone tyres.
Sophisticated electronic control technology
TMAX Tech MAX is equipped with a state-of-the-art Yamaha Chip Controlled Throttle (YCC-T) for the finest level of engine controllability – and for improved feeling and reduced weight a new fly-by-wire Accelerator Position Sensor Grip (APSG) is fitted. The traction control system helps prevent rear wheel slip when accelerating on wet or loose surfaces – and D-MODE allows you to select smooth or sporty engine performance.
Large storage space
With easy keyless access, the large underseat storage space can accommodate one full-face helmet when you're parked – and when you're on the move it's the ideal weatherproof space to safely carry a briefcase, laptop or your gym kit. Featuring automatic internal illumination for your convenience.
Anti-theft locking centre stand
TMAX Tech MAX is Europe's most desirable sport scooter, and for added security and peace of mind it's equipped with a locking centre stand that prevents it from being moved by an unauthorized person. When you're ready to ride just use your Smart Key to electronically release the stand.
Performance and Handling
2023 Yamaha TMAX Tech Max Top Speed
The TMAX Tech maxes out at about 115 MPH, with enough power to win the Grand Prix of most traffic lights!
Like its 2022 model, the bike comes fully packed with optimal engine controllability, leaving enough room to fit in an APSG (Accelerator Positions Sensor Grip) piece. Together with the traction control program, it prevents rear wheels from slipping issues during acceleration or on loose/wet surfaces.
Furthermore, the D-Mode allows our testers to select between sporty and smooth engine performance. Regardless of which option we opted for in our test rides, the bike's cruising speeds always stayed smooth, with impeccable throttle manners in all traffic situations.
Brakes
Our team members may have varying opinions on some of TMAX's fundamental features. Still, no one has a second opinion on the choice of braking: its twin discs and front stoppers are more than capable of stopping the entire bike – as if that was merely a 25cc scooter with a severe eating disorder.
Indeed, the only occasion we must deploy both the rear and front brakes was during our sudden downhill encounters with the red light; coming to a full stop with half of our body on the bike's back was definitely a tough feat. But other than that, these competent brakes were never challenged at all.
Handling
Let's be honest: TMAX Tech is not the easiest motorbike to handle and move when stationary. While its total weight is worn low to the chassis, the 800mm seat, 219 pounds, and the fair gap between our legs resulted in certain waddling when the space became too tight.
Our fault, really, for assuming that most scooters are a breeze to shift; the reality is far from expectations. After all, all those massive powers, creature comforts, and innovative gadgets must come with a price.
Fortunately, once we were on the throttles and started getting underway, the hefty feel melted completely to leave us with an overwhelming sensation that riding this Tmax was a piece of cake. All the extra pounds we had complained about earlier became a plus point now, allowing the motorbike to be more stable and planted (which proved especially practical when riding with two people).
Within seconds, we felt as if we had been friends with this bike for years; the absence of clutches and gears only added to its magic carpet appeal.
Cornering
Before the test rides, we assumed scooters like this were only meant for straightforward city riding with no fast curves. Those modest suspension settings and tiny tires looked like they would crumble once we tore through corners and lean angles.
But to our delight, such assumptions are far from the case. These TMAX Tech bikes love corners like how Russian tanks love explosions.
Sure, the bespoke tires and under-seat weight cannot beat the aggressive R1, but they are definitely more than a piece of salesy talk on the Yamaha brochure. With only a few rides, it has already busted some quite dope moves, performing impressive tricks with aplomb and gusto. Should emergency situations arise, we were pretty confident the bike's swift responses could handle them with ease.
It would be a lie if we said the bike was fast; a horsepower of 47 HP pushing 480 pounds (218 kg) down the street should not be considered "fast" to any average rider – except for devoted scooter fans. But no problems; its amazing performance so far convinced us that a pleasurable, long trip on freeways with this bike is not out of reach.
2023 TMAX Tech Max: A Brief Review
We had quite a spectacular ride with Tmax Tech. No complaints overall, though we believed some of these features could have been improved:
Maps
Let's face it: Yamaha's decision to lock its nav system and refuse to display the routes' info for non-paying subscribers is a silly and short-sighted decision. With Apple and Google maps being very well-designed, convenient, and 100% accessible with all mobile models, who would spend money on a Yamaha/Garmin subscription, really?
Setups
After more than two weeks, some of our new team members still struggled to access the bike's under-seat storage, learn all the functions (and non-functions) of the Tmax's key fobs, or even understand why the system locks its center stand in place.
A good design piece should allow users to unlock its potential without scouring a thick manual or undergoing long-hour training. The process should be easy and intuitive. We hope Yamaha considered stepping up its game in this regard.
2023 Yamaha Tmax Tech Max Photos & Videos
Photos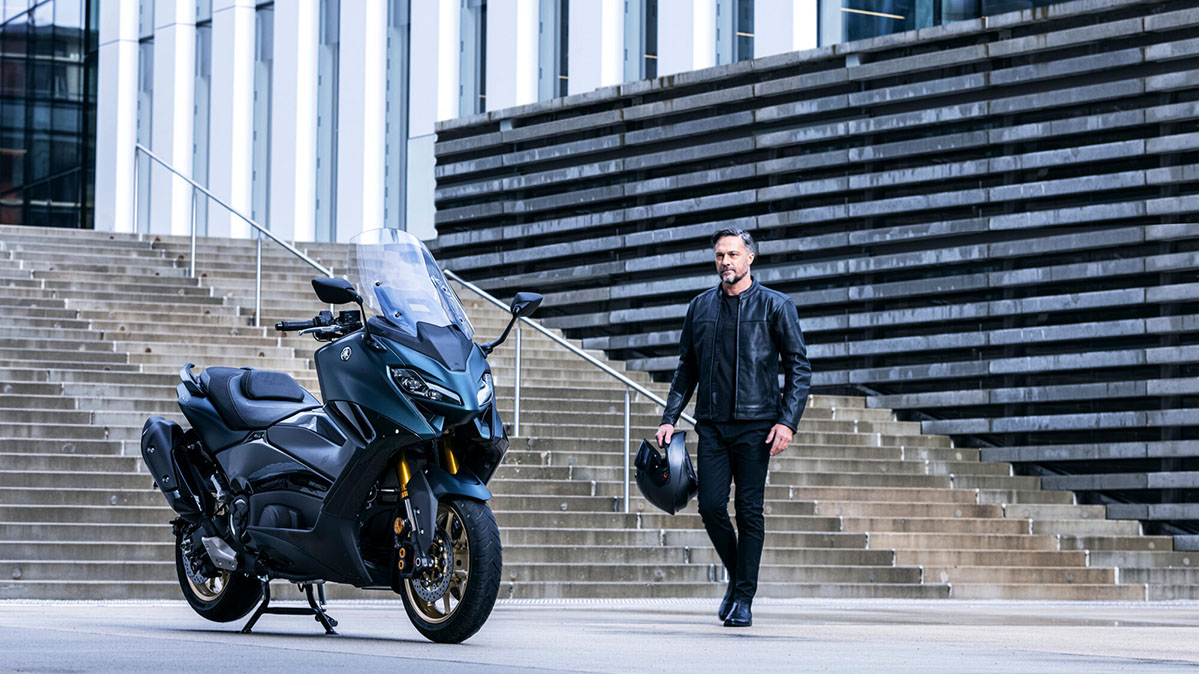 Videos
---
---
*Disclaimer: The prices mentioned in this article may vary depending on the dealership and location. Additionally, the specifications mentioned, such as horsepower and top speed, may vary from different sources as they are often tested under different conditions.