Table of Contents
The Yamaha 660 Raptor has been widely popular among ATV enthusiasts since its release in 2001. This powerful ATV is built to tackle any off-road terrain with ease, offering riders a thrilling experience that is hard to match.
The Yamaha Raptor 660 is built to withstand harsh off-road conditions with its sturdy chassis and suspension system. It has a wheelbase of 49 inches and a seat height of 33.9 inches, making it comfortable for riders of different sizes.
The Yamaha Raptor 660 has an oil capacity of 2.06 quarts with a filter change and a fuel capacity of 3.2 gallons, which live up to the standard of the industry.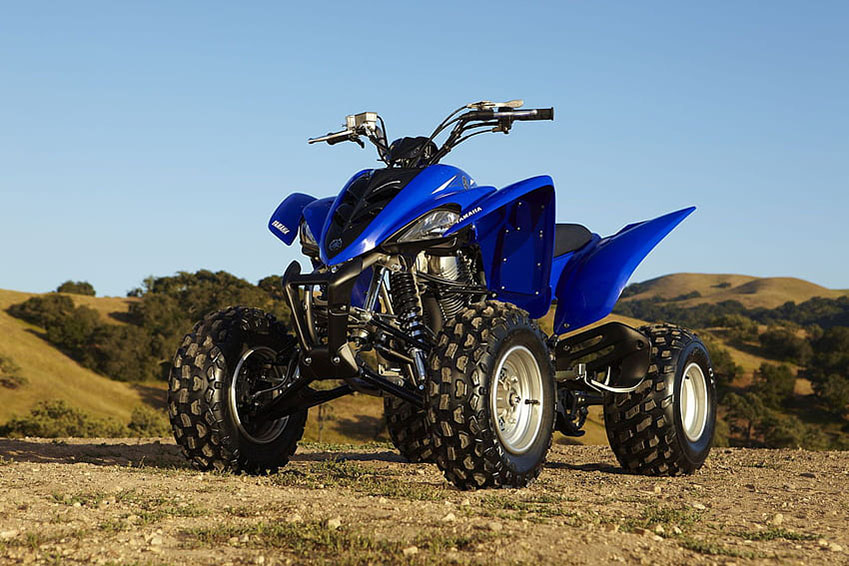 At the front of the vehicle, the Raptor 660 features a sleek and aerodynamic front fascia, which is designed to minimize wind resistance and provide optimal airflow to the engine. The front fenders are also designed to be durable and impact-resistant, with a rugged and textured finish that can withstand the rigors of off-road riding.
Another advantage of the Raptor 660 is its comfortable riding position. The handlebars are positioned at a height that is easy to reach, allowing riders to maintain a relaxed posture while riding. Additionally, the footpegs are set in a way that keeps riders' feet securely in place, reducing the risk of slipping or losing balance while riding.
Over the years, the price of the Raptor 660 has fluctuated depending on various factors such as market demand, inflation, and upgrades made to the vehicle. Currently, if you're looking to buy a new Raptor 660, the retail price will range from $6199 to $6,499. However, the final cost may vary depending on the dealer and any additional features or upgrades you want.
---
Yamaha Raptor 660 key Specs
Make: Yamaha
Type: ATV
Year: 2001 – 2005
Color: White, Gray, Blue, Black
Price: $6,499 (2001) & $6199 (2005)
Engine: 660cc, 4-stroke
Power: 36 HP
Transmission: 5-speed
Fuel Tank Capacity: 3.17 gal. (12 l)
Wet Weight: 410 lb. (185.97 kg)
---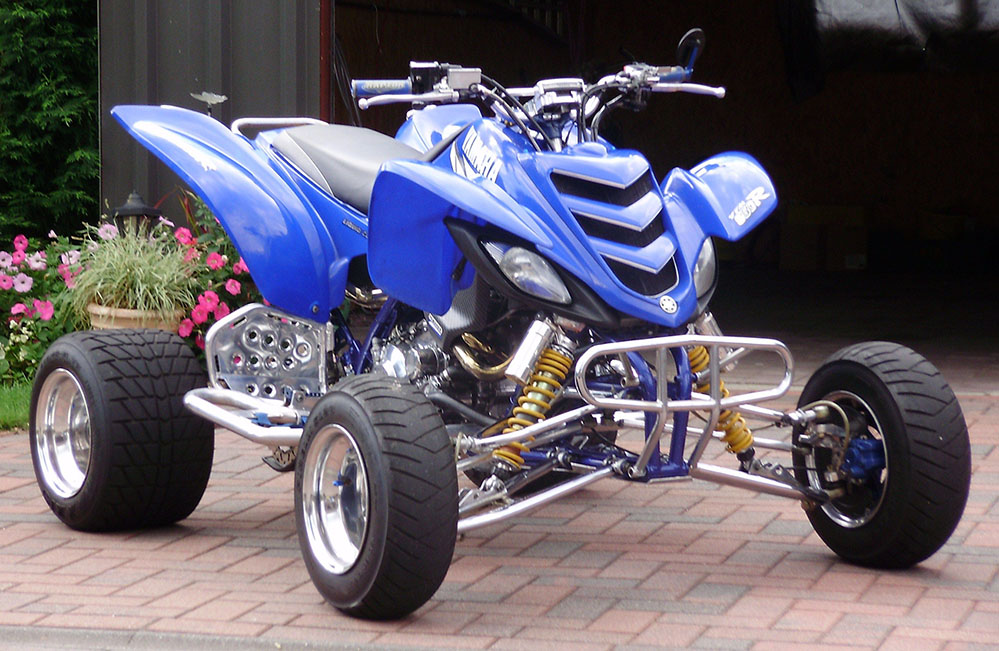 Yamaha Raptor 660 Specifications
Engine
| | |
| --- | --- |
| Engine Type | Single-Cylinder, 4-stroke |
| Displacement | 660cc |
| Power | 36 horsepower |
| Bore x Stroke | 100 × 84 mm (3.94 × 3.31 inches) |
| Compression Ratio | 9.2:1 |
| Fuel System | Dual 33-mm Mikuni BSR33 carburetor |
Drivetrain
| | |
| --- | --- |
| Transmission | 5-speed, manual |
| Final Drive | Chain |
Chassis, Dimensions & Weights
| | |
| --- | --- |
| Overall Length | 72 in. (1828.8 mm) |
| Overall Width | 43.3 in. (1099.8 mm) |
| Overall Height | 45.3 in. (1150.6 mm) |
| Front Tires | 21 x 7-10 |
| Rear Tires | 20 x 10-9 |
| Front brakes | Dual hydraulic disc |
| Rear brakes | Hydraulic disc |
| Wheelbase | 49 in. (1244.6 mm) |
| Ground Clearance | 4.5 in. (114.3 mm) |
| Seat Height | 33.9 in. (861.1 mm) |
| Wet Weight | 410 lb. (185.97 kg) |
| Fuel Tank Capacity | 3.17 gal. (12 l) |
Performance And Handling
With its powerful engine and excellent handling, the Raptor 660 is designed to take on even the most challenging terrains.
Yamaha Raptor 660 Top Speed
The Yamaha Raptor 660 is powered by a 660cc single-cylinder piston, 4-stroke engine with a SOHC valve configuration. The carbureted machine is paired with a five-speed manual transmission with a chain primary drive. The vehicle delivers a maximum power output of 36 horsepower and can reach a Raptor 660 top speed of up to 74 mph.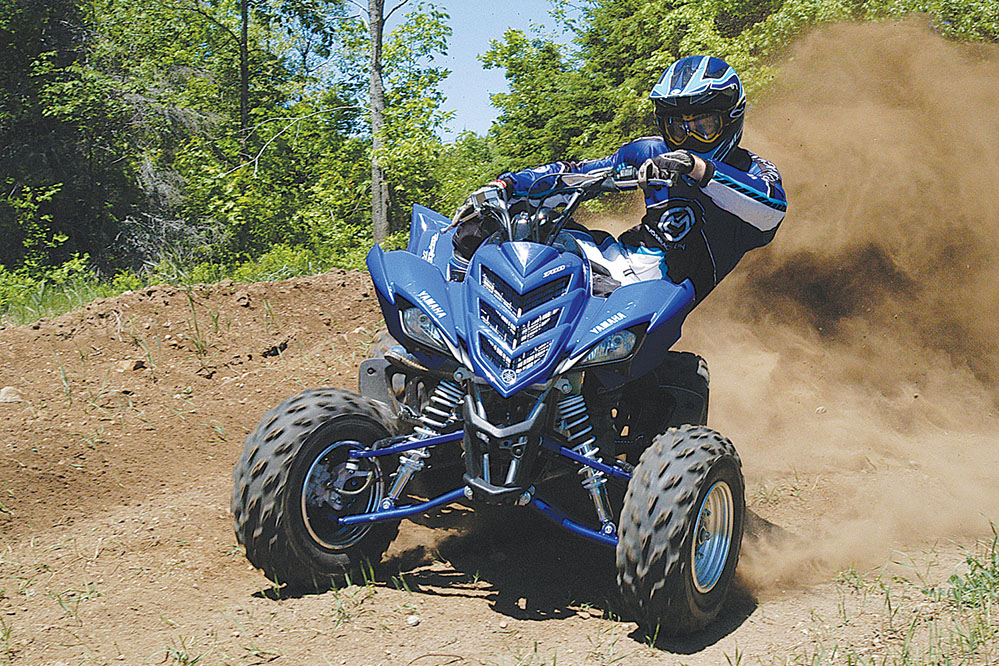 One key factor contributing to the Raptor 660's acceleration is its dual carburetor. The Raptor 660 uses a high-performance carburetor designed to deliver fuel and air in precise amounts, providing the engine with the perfect mix of fuel and air for consistent performance.
Braking Performance
The Yamaha Raptor 660 is equipped with a hydraulic brake system, meaning it uses braking fluid to transfer the force from the brake lever or pedal to the rear brake caliper. The brake system consists of a master cylinder, stainless brake lines, and brake calipers.
The master cylinder is responsible for converting the force from the brake lever into hydraulic pressure, which is transmitted through the brake lines to the brake calipers.
Besides, the tires are designed for all-terrain use, with an AT 21 x 7-10 in the front and an AT 20 x 10-9 in the rear. These tires provide excellent traction and stability, even in muddy or rocky conditions.
Suspension & Handling
One of the standout features of the Yamaha Raptor 660 is its suspension system. The front suspension features dual A-arms with 9 inches of travel, while the rear suspension is a cast aluminum swingarm with a fully adjustable shock absorber and 8.6 inches of travel.
Plus, the low center of gravity ensures that the racing ATV remains stable while taking sharp turns, while the wide stance provides the biggest increase in stability and reduces the risk of tipping over. The Raptor 660's handling characteristics are also impressive.
The ATV is designed with a long wheelbase that provides excellent stability and control. The steering system is precise and responsive, making it easy to navigate through tight spaces and rough terrain.
Raptor 660: Final Thoughts
One of the most common themes that emerges from user reviews of the 660 Raptor is its power. Many riders are blown away by the sheer speed and acceleration of this machine, which is powered by a liquid-cooled, four-stroke engine.
But the Raptor 660 isn't just about brute force. It also handles beautifully on the trails, thanks to its nimble chassis and suspension. Users praise its ability to navigate tight turns and rough terrain with ease.
Yamaha Motor Corp is known for producing high-quality machines built to last, and the Raptor 660 is no exception. Users report that this ATV product is rugged and reliable, even after years of hard use. Some riders have even commented that the Raptor 660 is a good choice for riders who want a machine that can withstand heavy abuse.
The Raptor 660 features an adjustable seat that can be moved forward or backward to accommodate riders of different sizes. This is a major advantage for riders who are taller or shorter than average, as it allows them to find a comfortable riding position that reduces strain on their lower back and legs.
While the Raptor 660 is relatively quiet compared to other sports ATVs, it can still be quite loud. Some users have reported that the engine noise can be a bit overwhelming, especially on long rides.
Yamaha Raptor 660 Photos & Videos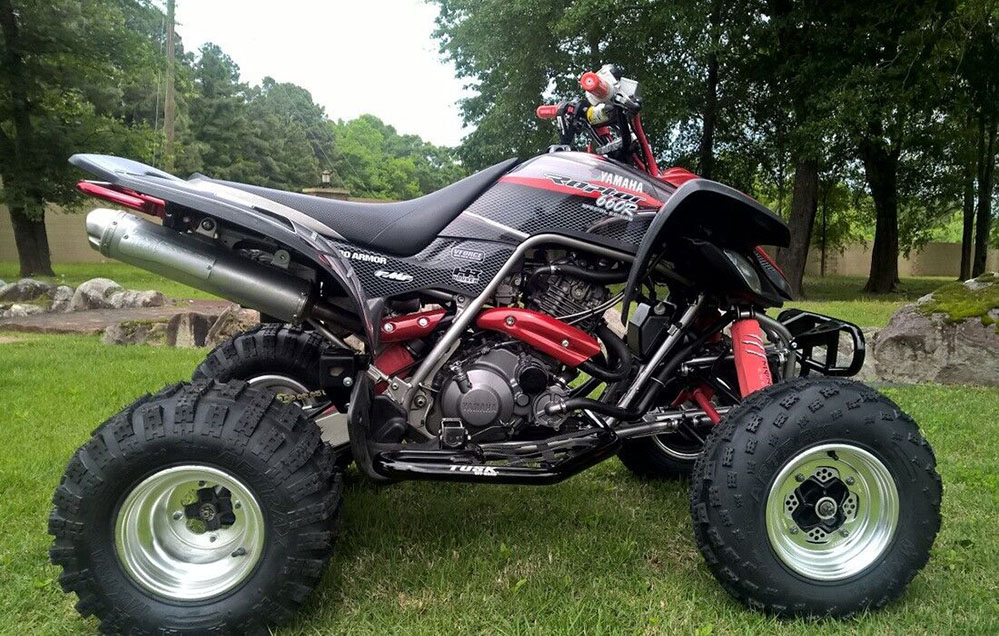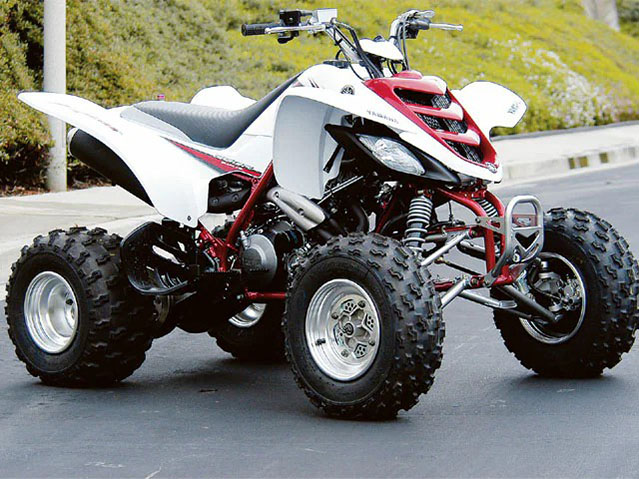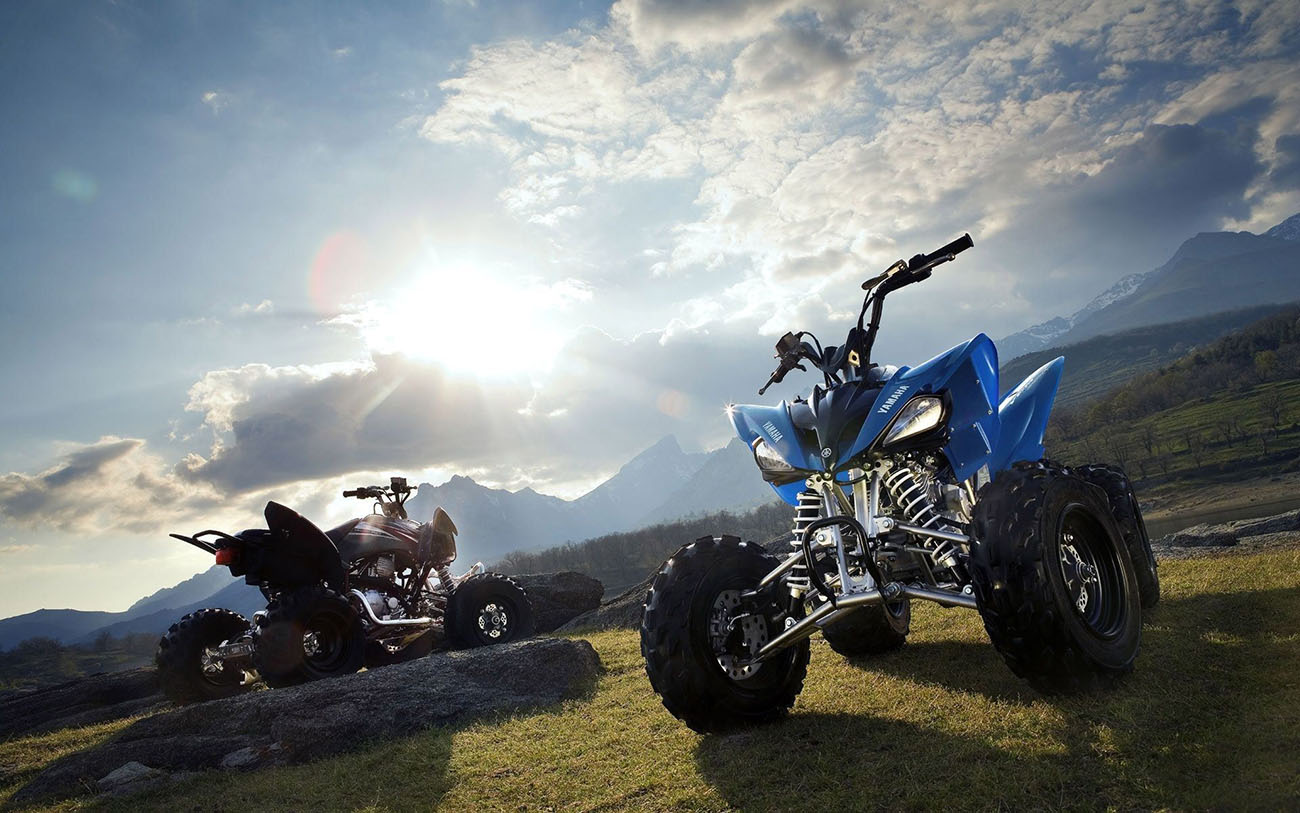 ---
See more: