Table of Contents
Suzuki LTZ 400 Overview
As Japan is the cradle of ATVs, many Japan-based quad manufacturers mushroomed and flooded the market with countless choices. Besides Honda, Suzuki is definitely a not-to-miss name.
The LTZ 400 (also known as Suzuki Z400 Quadsport) is a powerful all-terrain vehicle that has been the favorite among off-road enthusiasts for many years. With its sleek design, robust engine, and top-notch handling, the LTZ 400 has been a reliable choice for riders looking for an adrenaline-pumping adventure.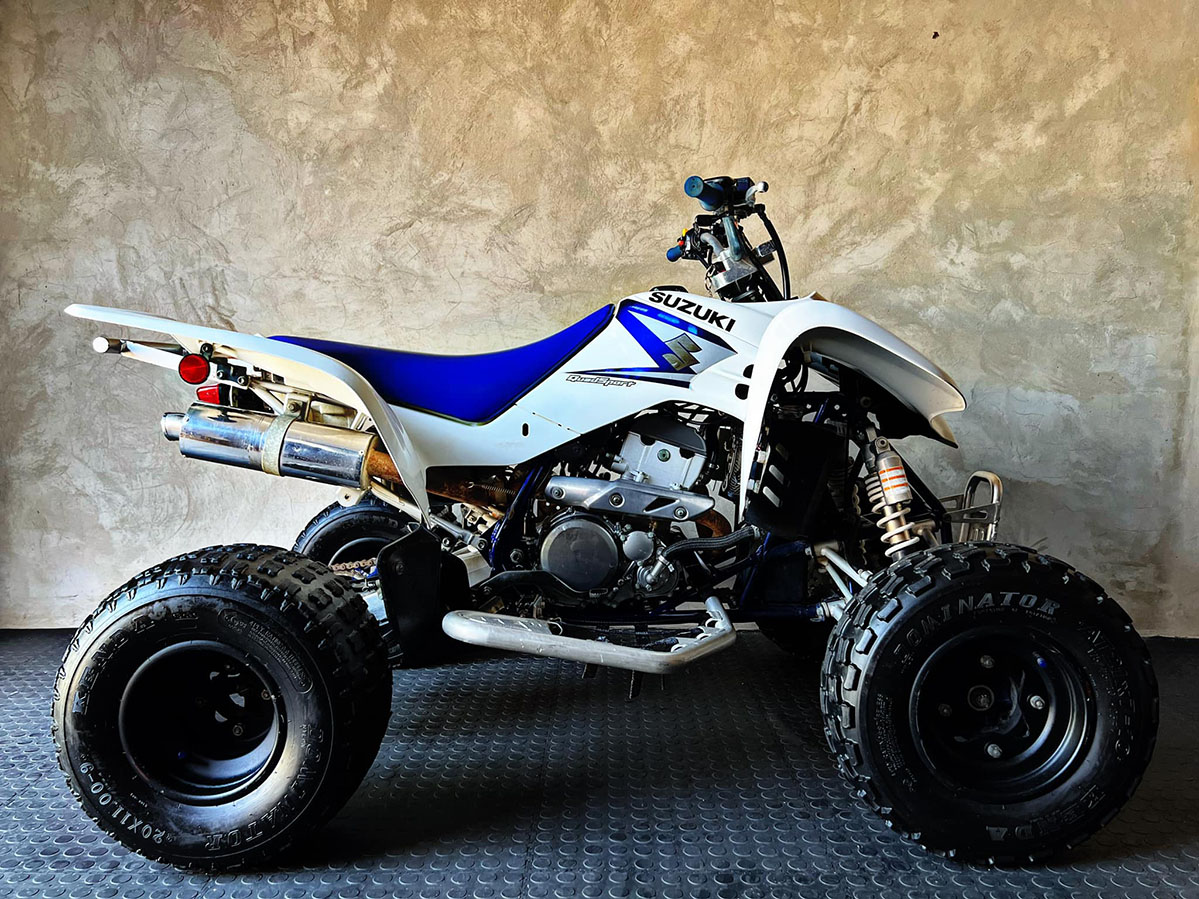 One of the most impressive features of the LTZ 400's braking system is its responsiveness. The hydraulic disc brakes respond quickly to rider input, allowing precise control and stopping power. This is especially important when riding on uneven terrain or in situations where quick stops are necessary.
The LTZ 400 features a lightweight and durable body made from a combination of plastic and metal components. The plastic body panels are designed to be impact-resistant and can withstand the wear and tear of off-road riding, while the metal frame provides additional strength and support.
Weighing at just 372 pounds, this motorcycle is easy to handle and maneuver. It also has a low center of gravity, which improves its stability and allows for sharper turns and better control. Plus, the aggressive bodywork is also designed to be easily removable, making it easy to access the engine and other components for maintenance and repair.
As of the time of writing, a used LTZ 400 can be found for as low as $2,500. Still, it can also be priced higher depending on several factors, such as the dealer's location, the model year, and any additional features or upgrades.
---
Suzuki LTZ 400 Quadsport Key Specs
Make: Suzuki
Type: ATV
Year: 2003 to 2018
Price: $2500 (pre-owned)
Engine: 398cc
Power: 29.8 HP
Transmission: 5-speed
Fuel Tank Capacity: 2.40 gal. (9.10 l)
Curb Weight: 425.5 lb. (193.0 kg)
---
Suzuki LTZ 400 Quadsport Specifications
Engine
| | |
| --- | --- |
| Engine Type | Single cylinder, four-stroke |
| Displacement | 398cc |
| Power | 29.8 horsepower @ 7,000 rpm |
| Torque | 23.7 lb-ft (32.1 Nm) @ 6,200 rpm |
| Bore x Stroke | 90.0 x 62.6 mm (3.5 x 2.5 inches) |
| Compression Ratio | 11.3:1 |
| Fuel System | Injection |
| Starter Type | Electric |
| Ignition | Electronic |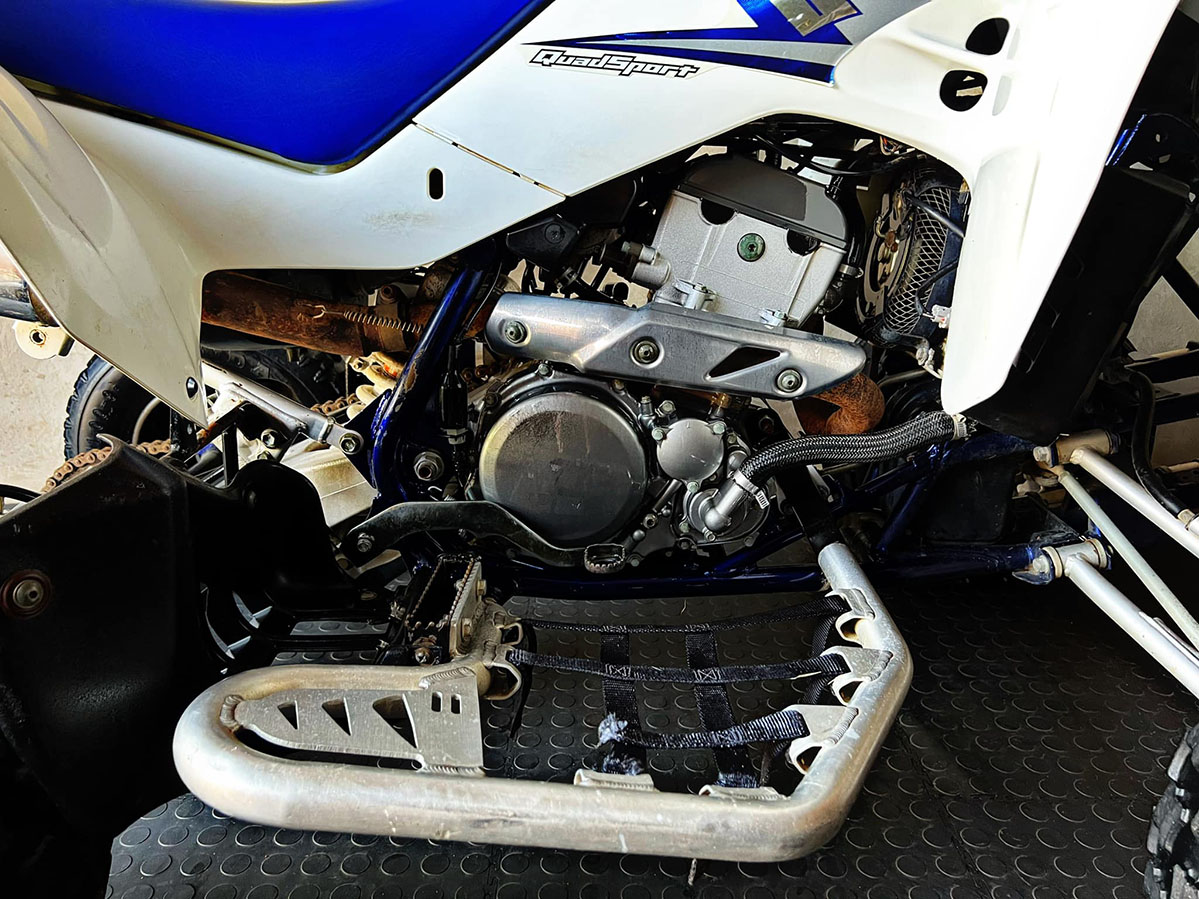 Drivetrain
| | |
| --- | --- |
| Clutch | Wet multi-plate |
| Transmission | 5-speed |
| Cooling system | Liquid |
| Lubrication system | Dry sump |
| Final Drive | Chain |
Chassis, Dimensions & Weight
| | |
| --- | --- |
| Overall Length | 72.0 in. (1,830 mm) |
| Overall Width | 46.9 in. (1,190 mm) |
| Overall Height | 45.1 in. (1,145 mm) |
| Front Suspension | Independent, double wishbone, coil spring, oil damped |
| Rear Suspension | Swingarm type, coil spring, oil damped |
| Front Tires | 22/7-10 |
| Rear Tires | 20/10-9 |
| Front brakes | 6.9 in. (175 mm) |
| Rear brakes | 8.6 in. (218 mm) |
| Wheelbase | 49.0 in. (1,245 mm) |
| Ground Clearance | 10.4 in. (265 mm) |
| Seat Height | 31.9 in. (810 mm) |
| Curb Weight | 425.5 lb. (193.0 kg) |
| Fuel Tank Capacity | 2.40 gal. (9.10 l) |
Performance And Handling
The LTZ 400 is a versatile and capable ATV that is sure to impress riders of all levels. Let's have a closer look at its traits to understand how it can achieve such excellent performance.
Suzuki LTZ 400 Quadsport Top Speed
One of the most impressive features of the LTZ 400 is its engine. Powered by a liquid-cooled 4-stroke DOHC engine, this ATV is capable of producing an impressive 29.8 horsepower. With a displacement of 398cc, it delivers a powerful engine performance that can take on even the toughest terrains and is claimed to speed up to 70 mph.
The LTZ 400 is also equipped with a five-speed transmission that provides riders with a smooth and responsive ride. The manual clutch cable Suzuki allows riders to shift gears seamlessly, making it easier to control the ATV's speed and power.
When it comes to acceleration, we lean toward the 2008 and earlier models, as they tend to shoot ahead faster than later model years. We have tested with the 2003 LTZ 400, and it could rev up to 68 mph in 32 seconds on a gravel road, which was the maximum pace we could reach at that time.
Braking Performance
The front brakes on the LTZ 400 consist of dual hydraulic discs while the rear brake is a single hydraulic disc. The combination of these brakes allows for quick and efficient stopping power delivery, even when riding at high speeds.
In addition to its reliable and responsive engine braking performance, the LTZ 400 also has a number of safety features. The ATV is equipped with a parking brake, which helps prevent accidental movement when parked on steep terrain. Moreover, the LTZ includes a handlebar-mounted brake lever that the rider can readily access and use.
Suspension And Handling Characteristics
This 398-cc racing machine has reverse gear, making it easy to maneuver in tight spaces or when stuck in a tricky situation. Its wide stance is another remarkable trait. With a design of 45.9-inch width, the bike provides stability when cornering and allows for better control on uneven terrain. Plus, the tires can also handle off-road conditions, with a knobby tread pattern that brings excellent traction and grip.
Furthermore, the suspension on the LTZ 400 is top-notch. The front suspension features independent double A-arms with 8.5 inches of travel, while the rear suspension has a swingarm with a mono-shock and 9.1 inches of travel.
Suzuki initially installed a Raptor-like frame for this quad and then switched to a T-bone chassis for later models, but all the shocks were adjustable. This setup ensures that the ATV can handle rough terrain with ease, providing riders with a smooth and comfortable ride.
LTZ 400 Quadsport: Final Thoughts
Besides the wonderful 4-stroke, liquid-cooled, single cylinder engine, handling and agility are the other noticeable features of the LTZ 400. Riders love how easy it is to maneuver the ATV, even in challenging terrain. Its lightweight design and wide stance provide stability when cornering, while the responsive suspension system offers a smooth and enjoyable ride even on rough trails.
In addition to its aerodynamic design, the LTZ 400's bodywork is also designed to provide ample protection for the rider. The front bumper and skid plate are both made from sturdy metal materials, designed to protect the ATV's engine and other components from damage. The ATV's rear grab bar is also designed to provide additional support and protection for the rider.
Comfort is also a factor that users consider when reviewing the LTZ 400. Riders appreciate the comfortable seat and handlebars, which provide a comfortable riding position even on long journeys. The ATV's dashboard is also praised for its ease of use, with clear and informative displays that provide essential information to the rider.
The LTZ 400 has a fuel tank capacity of 2.6 gallons, which may seem small compared to other ATVs. However, riders have noted that the ATV's fuel consumption is relatively low, meaning the tank can last for extended periods. Many riders have reported getting around 35-40 miles per gallon on average, which is a huge plus.
However, one of the most frequently mentioned drawbacks of the LTZ 400 is its lack of storage space. The ATV does not come with a built-in storage compartment or rack, which can be an issue for riders who need to carry gear or supplies.
Luckily, one can address this issue by adding aftermarket storage solutions, such as a cargo rack or saddlebags. Still, this will be an additional expense.
Suzuki LTZ 400 Quadsport Photos & Videos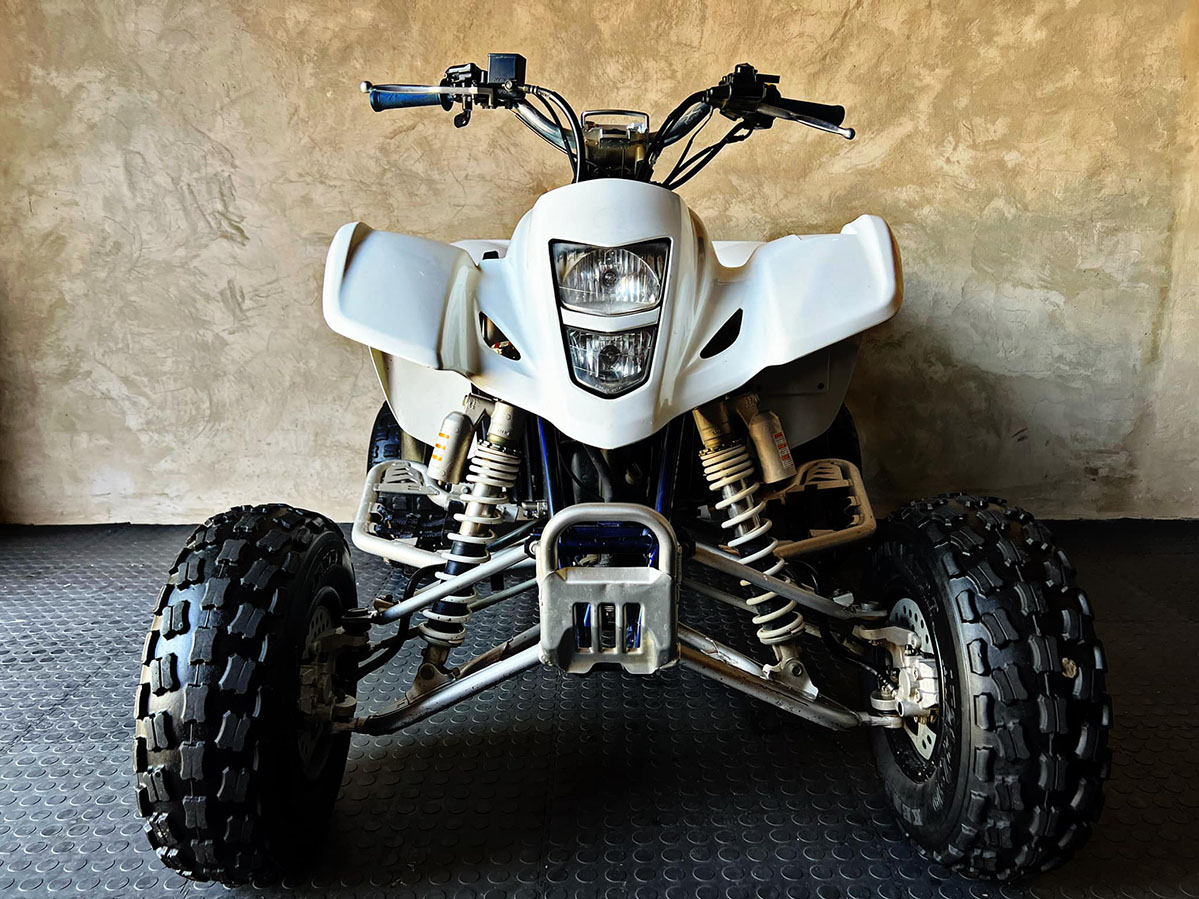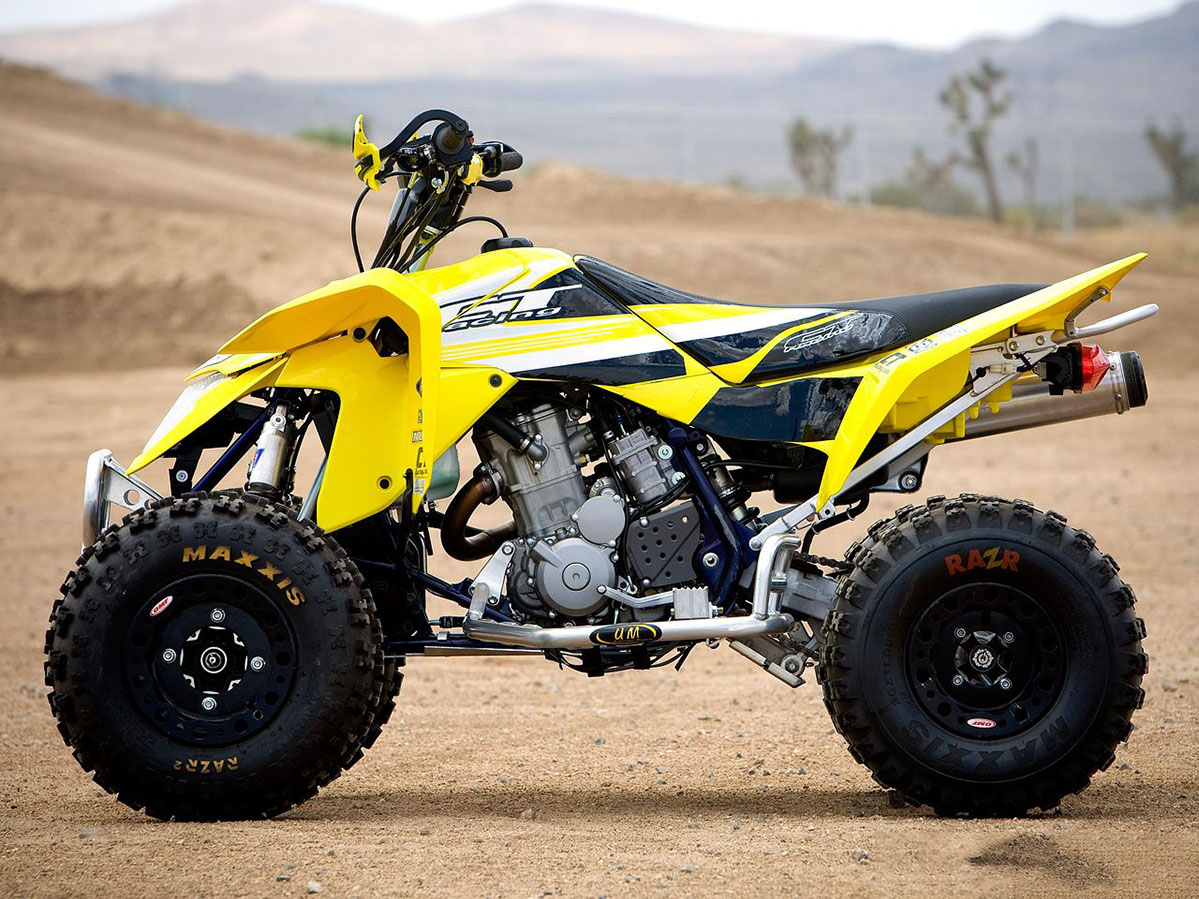 ---
See more: