In This Article:
The 2023 Ninja 300 of Kawasaki is a lightweight sport bike designed to provide a thrilling riding experience for riders of all skill levels. Whether you're a beginner looking for a fun and easy-to-ride motorcycle or an experienced rider looking for a sporty and agile machine, the Ninja 300 is definitely worth considering.
The Ninja 300 has a lightweight trellis frame that provides excellent rigidity and stability, allowing riders to maintain control at high speeds and through sharp turns. The diamond frame is made of high-tensile steel, which helps keep the bike's curb weight down to 394 pounds while maintaining its durability.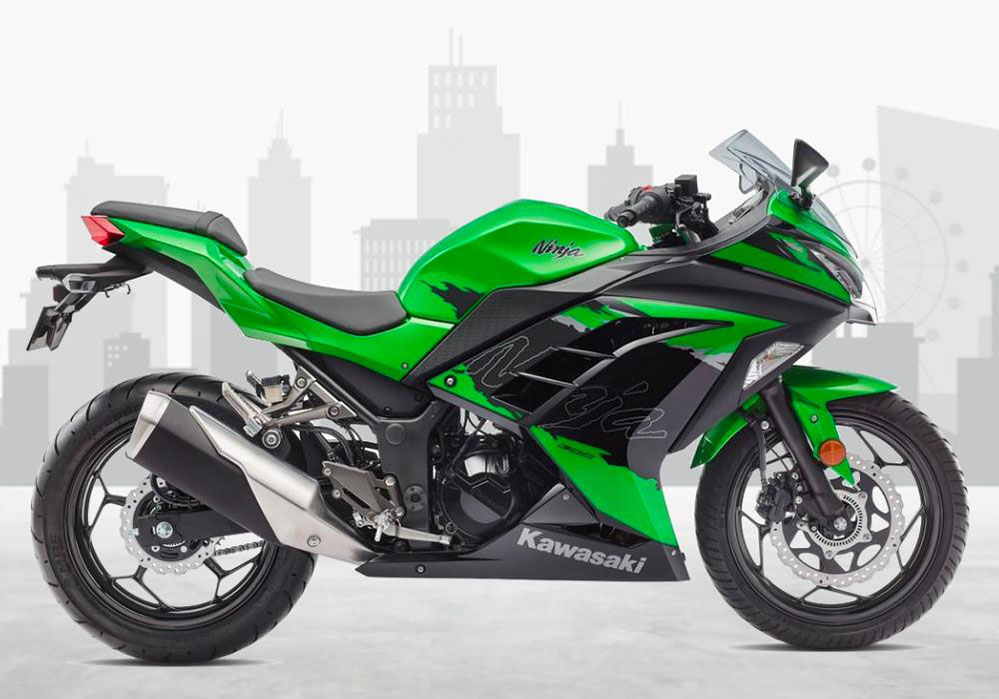 The Ninja 300 is known for its impressive fuel efficiency of 70.6 mpg, thanks in part to the styling design of its 4.5-gallon fuel tank capacity. The aerodynamic shape of the tank helps to reduce wind resistance and improve the bike's overall consumption. At the same time, the fuel injection system ensures that the bike is running at peak efficiency at all times.
The exhaust system on the 2023 Kawasaki Ninja 300 is a two-into-one system, which means that both exhaust headers merge into a single muffler. The muffler is made of stainless steel and has a stylish, angular design that complements the sleek lines of the bike. It also features a small engine heat shield that protects the rider's leg from the hot exhaust gas.
The 2023 Kawasaki Ninja 300 has a competitive price in its class of entry-level naked sportbikes. The manufacturer's suggested retail price (MSRP) for the 2023 Kawasaki Ninja 300 is $4,999. This price can vary depending on many factors, such as location, dealer fees, and taxes. It is also worth noting that additional features or upgrades may increase the price of the bike.
---
2023 Kawasaki Ninja 300 Key Specs
Make: Kawasaki
Model Year: 2023
Type: sports bike
Color: Lime Green, Candy Lime Green, Ebony
MSRP Price: $4,999
Warranty: N/A
Warranty Plus: N/A
Engine: 296cc, 4-stroke
Power: 39 HP
Mileage: 75.5 mpg (32.1 km/l)
Transmission: 6-speed
Fuel Tank Capacity: 4.5 gal (17 l)
Seat Height: 30.7 in. (780 mm)
Curb Weight: 394.6 lb. (179 kg)
---
2023 Kawasaki Ninja 300 Specifications
Engine
| | |
| --- | --- |
| Engine | 296 cc, Liquid-cooled, 4-stroke Parallel Twin |
| Power | 39 horsepower |
| Torque | 19.3 lb-ft (26.1 Nm) @ 10,000 rpm |
| Bore x Stroke | 62.0 mm x 49.0 mm |
| Compression Ratio | 10.6:1 |
| Fuel System | Fuel Injection: ø32 mm x 2, with dual throttle valves |
| Valve System | DOHC, 8 valves |
| Ignition | Digital |
| Starting | Electric |
| lubrication | Forced lubrication wet sump |
Drivetrain
| | |
| --- | --- |
| Transmission | 6-speed, return |
Chassis
| | |
| --- | --- |
| Rake/Trail | 27° / 93 mm |
| Frame Type | Tube diamond, steel |
| Front Suspension | 37 mm Telescopic Fork / 120 mm |
| Rear Suspension | Bottom-Link Uni-Trak with gas-charged shock and 5-way adjustable pre-load / 132 mm |
| Front Brakes | Single 290 mm petal disc |
| Rear Brakes | Single 220 mm petal disc |
| Front Tires | 110/70 – 17 M/C 54H |
| Rear Tires | 140/70 – 17 M/C 66H |
Dimensions
| | |
| --- | --- |
| Overall Length ( L X W X H) | 2,015 x 715 x 1,110 mm |
| Ground Clearance | 5.5 in. (140 mm) |
| Seat Height | 30.7 in. (780 mm) |
| Wheelbase | 55.3 in. (1,405 mm) |
| Curb Weight | 394.6 lb. (179 kg) |
| Fuel Capacity | 4.5 gal (17 l) |
Competitors
| Model | Price | Engine | Top Speed |
| --- | --- | --- | --- |
| 2023 BMW G 310 RR | $5,190 MSRP | 313cc | 99.4 mph |
| 2023 KTM RC 390 | $5,899 MSRP | 373cc | 105.6 mph |
2023 Kawasaki Ninja 300 Features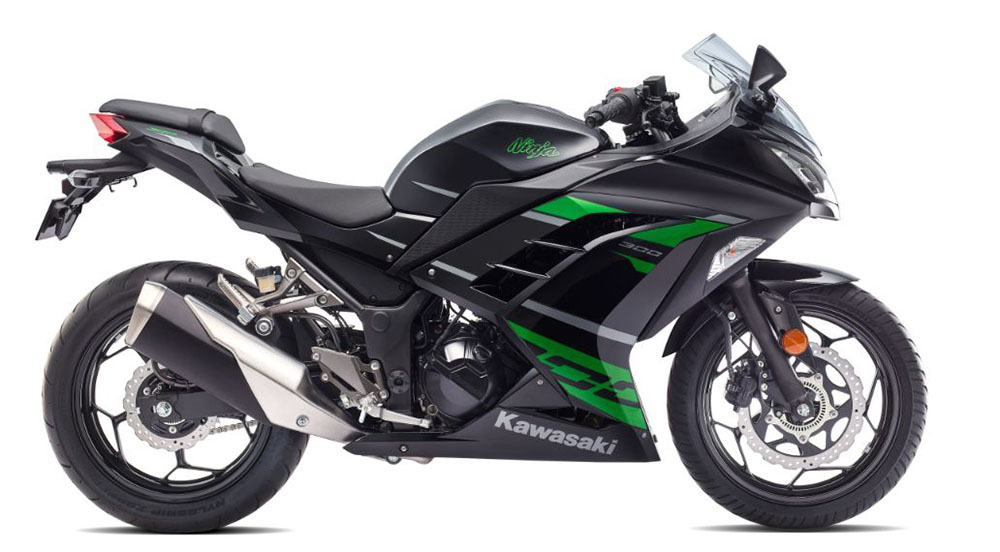 296 cm3 39PS fuel injected parallel twin Engine
Fine-atomising injectors (60 μm) ensure ideal fuel delivery at all rpm. Designed for rider-friendly response, the Ninja 300's fuel-injected Parallel Twin engine delivers smooth, responsive torque at low and medium rpm and hard-hitting acceleration at high rpm. The engine offers significantly stronger torque and power at all rpm, putting the Ninja 300 in a class of its own.
Complementing the enhanced engine performance, racing-derived clutch technology offers a lighter clutch lever pull and a back-torque limiting function, while heat management technology like the radiator fan cover directs heat away from the rider, significantly improving rider comfort
Dual Throttle Valves
Similar to the Ninja ZX-10R, dual throttle valves give precise control of intake air, resulting in linear throttle response across the rpm range. Dual throttle valves also contribute to combustion efficiency, and hence engine performance as well as favourable fuel consumption. Larger main throttle valves are and sub-throttle valves help flow a greater volume of air, contributing to the increased engine performance. Fine-atomising injectors with a droplet size of only 60 μm contribute to combustion efficiency.
Assist & Slipper Clutch
Assist & Slipper Clutch was developed based on feedback from racing activities. The clutch uses two types of cams (an assist cam and a slipper cam), offering two functions. When the engine is operating at normal rpm the assist cam functions as a self-servo mechanism, pulling the clutch hub and operating plate together to compress the clutch plates. This allows the total clutch spring load to be reduced, resulting a lighter clutch lever pull when operating the clutch.
Assist cam also enables the clutch torque capacity to be increased (to match the stronger engine) without gaining weight. When excessive engine braking occurs – as a result of quick downshifts(or an accidental downshift) – the slipper cam comes into play, forcing the clutch hub and operating plate apart. This relieves pressure on the clutch plates to reduce back-torque and help prevent the rear tyre from hopping and skidding
Sleeveless, aluminium die-cast cylinder
Sleeveless, aluminium die-cast cylinder features plated bores, just like on our Ninja ZX-10R and 6R supersport machines. The cylinder features an open-deck design, offering excellent heat dissipation.
Hard Alumite Coating Piston
Pistons feature a hard alumite coating (on the piston crown and extending past the top land and top ring groove) for increased durability. Piston underside features a groove near the piston edge. The groove directs cooling oil to the rest of the piston underside.
Circuit-developed Diamond Frame
The diamond frame in Ninja 300 features high-tensile steel components (known as special steels which develop high yield, tensile and fatigue strengths, as well as excellent toughness), which offers high strength and high durability – both essential in a high-performance frame.
Heat Management Technology
Large openings in the fairing promote airflow when riding to help dissipate engine heat. Fin design helps direct hot engine air away from the rider for increased comfort. Innovative Kawasaki technology like the radiator fan cover located behind the radiator directs hot air down and away from the rider, significantly increasing comfort when stuck in heavy traffic. Redirecting the air also helps keep the tank, frame and other parts that contact the rider cooler, further increasing rider comfort.

Petal Disc Brakes
Large-diameter 290 mm front petal disc brake operated by a 2-piston caliper delivers powerful braking and a natural feel at the lever. 220 mm rear petal disc and 2-piston caliper give dependable stopping power. Petal brake discs like those on the larger-displacement Ninja supersport models offer excellent heat dissipation
Ninja Styling
Ninja 300 has styling that would not be out of place on our larger-displacement Ninja supersport models. Just like the other machines in the Ninja series, it features a sporty gmass forward, minimalist-tail design.
From its aggressive dual headlights to its screen and wheels, the Ninja 300 shares numerous styling cues and design elements from other machines in the Ninja family. One look tells you that this bike is pure Ninja! The Ninja 300 uses a floating-style windscreen with a gap between the cowl and the windscreen. Mounting the screen using only the bolts from the mirror stays contributes to a very clean and elegant design.
Elegant Design
Fine design and large ventilation holes in the fairing have a design similar to that of the Ninja ZX14R.
The design contributes to the Ninja 300's excellent heat management. Aggressive dual headlamp design contributes to the strong Ninja supersport image. The multi-reflector headlamps also offer superb illumination for riding at night. Built-in front turn signals have a sleeker, more unitised appearance.
Modern Instrumentation
Sporty instrument panel design contributes to the advanced-technology and high-quality image of the Ninja series.
Suspension
37 mm telescopic fork has a revised settings balance for both improved ride comfort on bumpy city streets and a firmer feel when sport riding. Together with the stiffer frame, handling is very smooth and stable. Kawasaki's original, linkage-equipped Uni-Trak rear suspension delivers stable handling over a wide variety of road surfaces and speed ranges. Like the fork, the rear shock features rebalanced settings for improved comfort when city riding and a firmer feel when cornering.
2-1 exhaust with short-style silencer
Longer, larger-diameter header and centre pipes contribute to stronger performance at all rpm. Short-style silencer with complex cross-section delivers good performance, low noise and plenty of lean angle. Large silencer guard protects passengers from heat and also contributes to noise reduction
Wider rear tire
Wider 140 mm rear tire contributes to an enhanced supersport image and offers increased straight-line stability.
Wide set of raised separate handle bar
Wide set of the raised, separate handlebars contribute to the Ninja
300's easy manoeuvrability.
Supersports style aluminium footpegs
Supersport-style aluminium footpegs give a more direct feel and good controllability when sport riding compared to the rubber covered pegs.
Performance And Handling
The Kawasaki Ninja 300 has been a popular ideal choice for riders looking for a versatile and affordable sportbike, and the 2023 dual-sport model is no exception.
2023 Kawasaki Ninja 300 Top Speed
The 296cc parallel-twin engine that powers the Ninja 300 provides plenty of power and torque for a thrilling ride. The engine produces a maximum power output of 39 horsepower at 11,000 RPM and a maximum torque output of around 19 lb-ft at 10,00 RPM. This provides the Kawasaki Ninja 300 engine with plenty of power and acceleration, allowing riders to easily keep up with traffic and take on twisty roads with ease.
Plus, a six-speed transmission is mated to the engine to enable smooth and accurate shifts as well as rapid acceleration and responsive throttle management. The Ninja 300 is no slouch, and with a top speed of about 105 mph, it can undoubtedly deliver an exhilarating riding experience.
Braking Performance
The Ninja 300 features a 2-piston caliper in the front and a 1-piston caliper in the rear, both of which are operated by hydraulic disc brakes. The front brake system features a 290mm petal-type rotor, while the rear brake system has a 220mm petal-type rotor. This combination provides riders with excellent stopping power and control mode, allowing them to slow down and stop quickly and safely.
Another impressive key feature of the Ninja 300's braking system is its adjustable brake lever. Riders can adjust the brake lever to suit their personal preferences, allowing them to fine-tune the braking system for maximum comfort and control.
Cornering And Handling Characteristics
The Ninja 300's long-travel suspension system is also designed to provide riders with a smooth and comfortable ride while maintaining excellent handling and stability. The front suspension features 37mm telescopic forks with 120mm of travel, while the rear has a bottom-link Uni-Trak system with 132mm of travel. The rear suspension is adjustable, allowing riders to fine-tune the handling and performance of the bike to suit their personal preferences and riding style.
With its narrow profile, the 2023 version can deliver exceptional handling performance. Its lightweight chassis design is slim and compact, which makes it easy to handle in tight corners and on winding roads. The bike's low center of gravity also helps to enhance its stability and balance, providing riders with the confidence they need to push this adventure touring bike to its limits.
2023 Ninja 300: A Brief Review
Many claim that the Ninja 300 is quite notable for its user-friendly features, making it a compatible vehicle for new riders. It comes with a low seat height of just 30.7 inches, making it easy for users of all sizes to reach the ground comfortably. It also has a digital display panel that provides riders with essential information, such as speed, fuel level, and engine temperature, ensuring they can stay informed and in control while on the road.
When it comes to comfort, the Ninja 300 also receives high marks from riders. The vehicle's ergonomics are designed to provide a comfortable and natural riding position, which helps reduce fatigue on longer rides. The bike's seat is also comfortable and supportive, making spending hours in the saddle easy.
Another standout feature of the exhaust system that many bikers appreciate is the dual catalytic converters. These help to reduce emissions and make the product more environmentally friendly. However, they add a bit of weight to the motorcycle, which can affect its performance slightly.
In terms of drawbacks, some users noted that the bike's small size might not be ideal for taller riders or those who prefer a more upright riding position. Additionally, we found the bike's exhaust note underwhelming, although this is a matter of personal preference.
Videos
---
---
*Disclaimer: The prices mentioned in this article may vary depending on the dealership and location. Additionally, the specifications mentioned, such as horsepower and top speed, may vary from different sources as they are often tested under different conditions.