In This Article:
The 2023 version of Kawasaki KLR 650 is a dual-sport motorcycle designed to tackle both on-road and off-road terrain. With a long-standing history and a loyal fanbase, the KLR 650 has undergone some significant updates for the 2023 standard model.
Kawasaki came up with a wonderful bodywork design for this 2023 version. It has a tubular, semi-double cradle frame that provides excellent stability and durability.
The overall length is 89.8 inches, combined with a ground clearance of 8.3 inches and a 34.3-inch seat height, giving it an aggressive sporty aesthetic. With a curb weight of 482.7 lb (non-ABS version) or 487.1 lb (ABS model) and a wheelbase of 60.6 inches, it is a heavyweight machine that can handle tough terrain.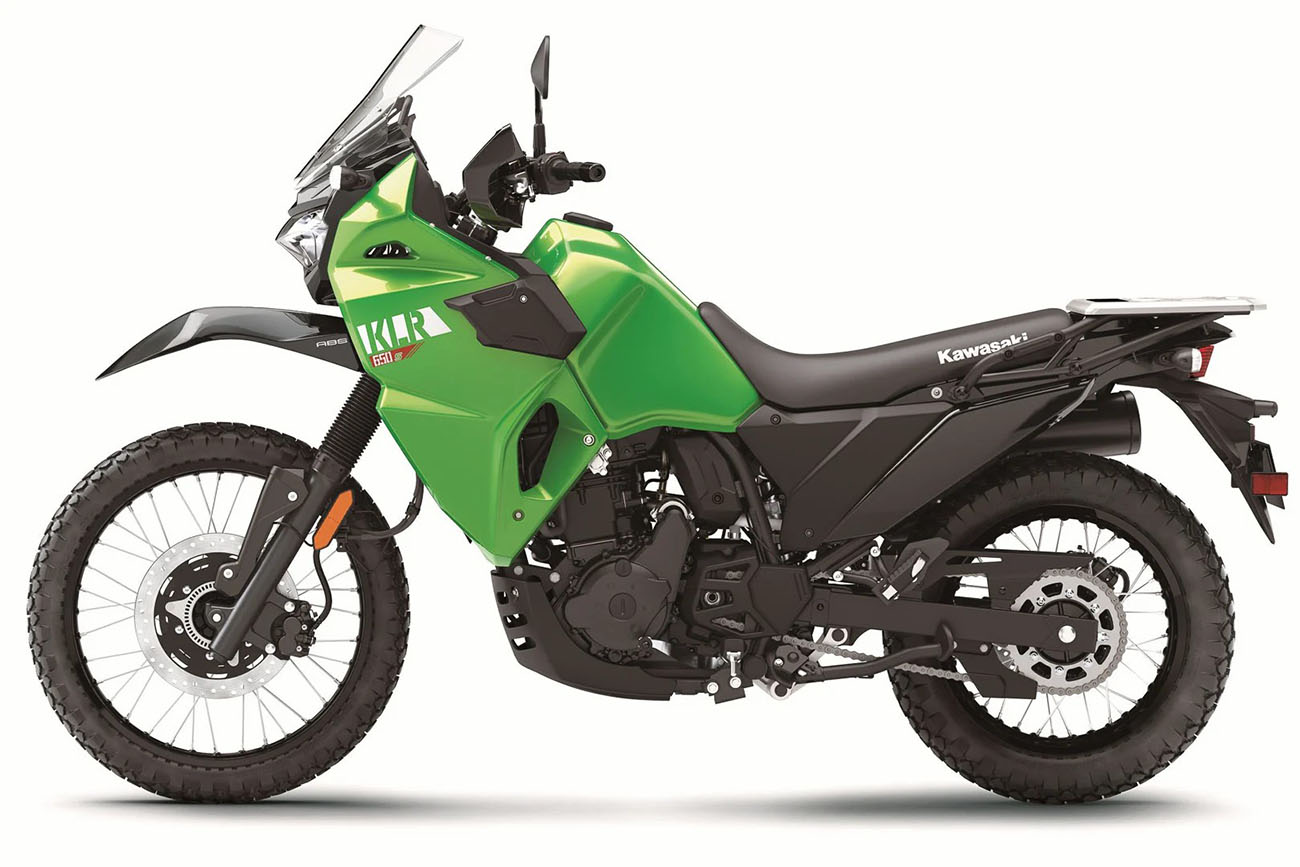 Notably, Kawasaki added the sealed chain final drive to this 2023 model. Unlike an open chain, a closed chain provides maximum efficiency and minimal maintenance. It operates quietly and smoothly, making for better riding comfort.
Also, the chain reduces the risk of a chain breaking or coming off the sprockets, which can be dangerous and cause significant damage to the motorcycle. In terms of fuel capacity, the bike comes with an ample 6.1-gallon fuel tank design that offers excellent range, making it an ideal choice for long-distance riding.
For this base model, the Kawasaki KLR 650 has a starting price of $7,899 for the non-anti-lock brake system model and $8,199 for the anti-lock brake system one, accessories not included (as per Kawasaki). We say this product pricing is reasonable (not very cheap, though) compared to other adventure motorcycles in its class. Thus, this sales price is a great option for riders who want a high-performing motorcycle without overspending.
---
2023 Kawasaki KLR 650 Key Specs
Make: Kawasaki
Model Year: 2023
Type: Adventure dual-sport
Color: Cypher Camo Gray (Matte)
MSRP Price: $7,899, $8,199 (ABS)
Warranty: 12 Months
Warranty Plus: 12, 24, 36 months
Engine: 652cc, 4-stroke
Power: 40 HP
Mileage: 50 mpg (17.7 km/l)
Transmission: 5-speed
Fuel Tank Capacity: 6.1 gal (23.1 l)
Seat Height: 34.3 in. (871.2 mm)
Curb Weight: Non-ABS: 482.7 lb.
---
2023 Kawasaki KLR 650 Specifications
Engine
| | |
| --- | --- |
| Rake/Trail | 30.0°/4.8 in |
| Engine | 652cc, 4-Stroke, single cylinder, DOHC |
| Power | 89 horsepower |
| Torque | 39.1 lb.-ft. @ 4,500rpm |
| Bore x Stroke | 100.0 x 83.0mm |
| Compression Ratio | 9.8:1 |
| Fuel System | DFI w/40mm Throttle Body |
| Ignition | CDI |
Drivetrain
| | |
| --- | --- |
| Transmission | 5-speed, return shift with wet multi-disc manual clutch |
| Final Drive | Sealed Chain |
Chassis
| | |
| --- | --- |
| Frame Type | Tubular, Semi-Double Cradle |
| Front Suspension | 41mm telescopic fork/ 7.9 in |
| Rear Suspension | Uni-Trak®, single shock with adjustable rebound damping and adjustable spring preload / 8.0 in |
| Front Brakes | Single 300mm disc with 2-piston calipers (and ABS) |
| Rear Brakes | Single 240mm disc with single-piston caliper (and ABS) |
| Front Tires | 90/90-21 |
| Rear Tires | 130/80-17 |
Dimensions
| | |
| --- | --- |
| Overall Length | 89.8 in. (2280.9 mm) |
| Overall Width | 38.2 in. (970.3 mm) |
| Overall Height | 57.3/55.9 in. (1455/1420 mm) (screen hi/lo) |
| Ground Clearance | 8.3 in. (210.8 mm) |
| Seat Height | 34.3 in. (871.2 mm) |
| Wheelbase | 60.6 in. (1539.2 mm) |
| Curb Weight | Non-ABS: 482.7 lb. (219 kg) / ABS: 487.1 lb. (220.9 kg) |
| Fuel Capacity | 6.1 gal (23.1 l) |
Competitors
| Model | Price | Engine | Top Speed |
| --- | --- | --- | --- |
| 2023 Honda XR650L | $6,999 | 644cc | 110 mph |
| 2023 Suzuki DR650 | $6,999 | 644cc | 100 mph |
2023 Kawasaki KLR 650 Features
ABS (Anti-lock Brake System)
Kawasaki ABS systems use front and rear wheel sensors to constantly monitor wheel speed. Should information from either of the sensors indicate that wheel lock has occurred, the ABS ECU directs the pump in the ABS unit to modulate brake fluid pressure (releasing and reapplying pressure so that traction can be regained) until normal operation resumes. ABS offers rider reassurance that contributes to greater riding enjoyment.
Performance And Handling
For decades, the Kawasaki KLR 650 dual-sport has been a popular choice for adventure style riders and dual-sport enthusiasts. Let's learn more in-depth details of this new 2023 version.
2023 Kawasaki KLR 650 Top Speed
The 2023 Kawasaki KLR650 is powered by a liquid-cooled, 4-stroke, DOHC, 4-valve engine that delivers 40 horsepower and 39.1 lb-ft of torque and can reach 89 MPH. This 652cc single-cylinder engine is mated to a 5-speed transmission, providing exceptional power delivery and versatility for both on and off-road riding. The bike also features a counterbalancer for reduced engine vibration and helps to smooth out the entire ride.
Its aerodynamic design also plays an important role in helping the bike reach its top freeway speed. The front cowl and windscreen provide excellent wind protection, reducing wind resistance and improving aerodynamics. Additionally, the bike's tubular semi-double-cradle frame strength and long-travel suspension provide maximum comfort and relaxed riding position, which is essential for achieving high speeds.
Braking Performance
The front brake system of the KLR 650 features a 2-piston caliper that clamps down on a 300mm disc rotor. This system provides ample stopping power, allowing riders to confidently navigate challenging terrain and come to a quick stop when necessary.
Meanwhile, the rear disc brake system of the KLR 650 features a single-piston caliper that clamps down on a 240mm disc rotor. It provides excellent control and stability when braking to maintain control of the bike, even in slippery or uneven terrain. The best part is, both the front brake lever and rear brake pedal are adjustable, making it easy for bikers to customize the braking feel to their preference.
Cornering And Handling Characteristics
Riders will find long-travel suspension settings that provide excellent shock absorption on rough terrain in this 2023 generation. The front suspension consists of 41mm telescopic forks with 7.9 inches of travel, while the rear suspension is a Uni-Trak single-shock system with 8 inches of travel. This setup helps the motorcycle handle bumps and dips with ease, providing a smooth ride even on rough terrain.
In terms of cornering, the KLR 650 is designed to be stable and predictable. Its wide handlebars provide excellent leverage and control, enabling riders to maneuver through tight turns with confidence. The standard low center of gravity and stable stance also contribute to its superb cornering characteristics.
2023 KLR 650: A Brief Review
One of the standout features of the KLR 650 is its reliability. Many riders claim to have put thousands of miles on their bikes without any major issues. This makes it an ideal choice for adventure riders who want a bike with consistent performance that they can depend on in remote destinations.
Users also appreciate the KLR 650 for its versatility. It's equally at home on highways as it is on dirt roads, and riders have taken it on long road trips as well as off-road adventures. The adjustable suspension aiding in improving ride comfort on rough terrain, while the 6.1-gallon fuel tank provides ample range for long trips. We have tested and could travel 310 miles without refueling.
Another standout feature of the KLR 650 is its fuel efficiency. The bike's single-cylinder engine is designed for mid-range torque and efficiency, with some users reporting fuel economy numbers of 50 miles per gallon or more.
Besides, the KLR 650's affordability is what attracts bikers of all levels. Compared to other adventure bikes on the market, the KLR 650 is relatively inexpensive, making it an accessible option for riders on a budget.
Yet, one area where users feel the KLR 650 could be improved is its weight. At over 480 pounds, the bike is relatively heavy for a dual-sport, making it challenging to maneuver in tight spaces or on technical terrain. Some riders also report that the stock seat is uncomfortable on longer rides, but this is a common issue with many bikes and can easily be addressed with an aftermarket seat.
2023 Kawasaki KLR 650 Photos & Videos
Photos
Videos
---
---
*Disclaimer: The prices mentioned in this article may vary depending on the dealership and location. Additionally, the specifications mentioned, such as horsepower and top speed, may vary from different sources as they are often tested under different conditions.