In This Article:
In 2023, Honda has recently released its highly anticipated adventure touring motorcycle, the Honda XL750 Transalp. With its innovative design and advanced technology, the Transalp is a versatile motorcycle with excellent performance and handling both on and off-road riding.
Weighing 458.5 pounds, XL750 is relatively light for an adventure model. Because of its light weight, it is nimble and agile, which facilitates movement through confined spaces and difficult terrain.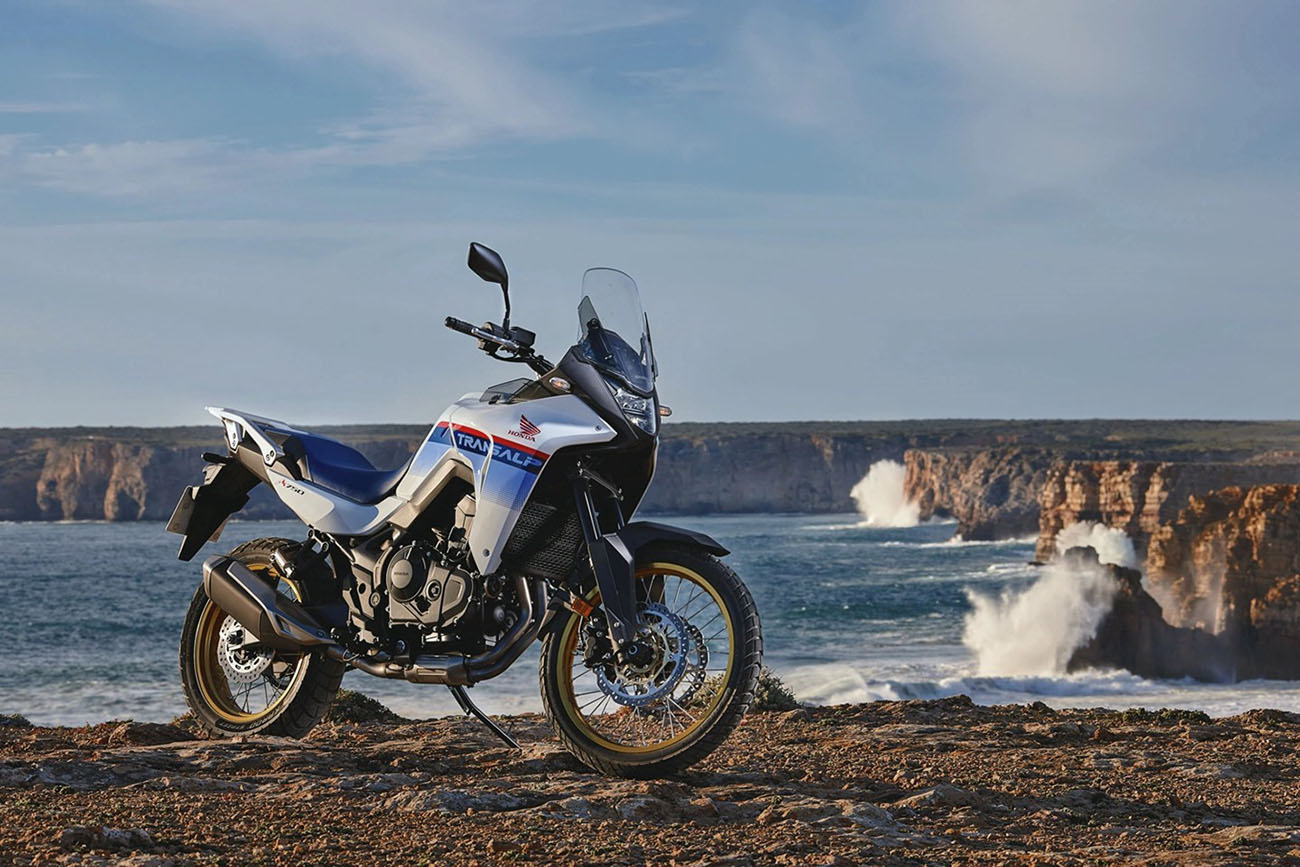 The engine's performance and efficiency are further enhanced by its oil capacity of 1 gallon, aiding in maintaining the machine's temperature and prolonging its lifespan. The 2023 engine version also has a CO2 emissions rating of 103 g/km, which makes it an environmentally friendly option. According to the India Times, each two-wheel vehicle emits a whooping 300 g of CO2 per km.
Moreover, the XL750 Transalp is equipped with many advanced technology features that enhance its overall performance and safety. It has a 2-channel ABS that provides optimal braking performance and stability, even on slippery surfaces.
The motorcycle also features LED fog lights and tail lights, a Type-C USB socket, and Honda's Smartphone Voice Control (HSVC) connectivity system. This function allows riders to connect their smartphones to the motorcycle's display and control various features.
When it comes to the styling aesthetic, this new 2023 XL750 Transalp has an aggressive yet contemporary design with a tubular steel frame. The relaxed riding position, ergonomic handlebars, and comfortable seat make long-distance excursions possible. Bikers will also find a TFT display instrument screen, showing important data like speed, engine rpm, and fuel level.
As of now, Honda has not released an official price for the 2023 XL750 Transalp in the U.S. market. Still, according to the pricing in the European market of €10,690, you should expect to pay around $11,600 for this newly released beast. Considering the incredible performance this bike offers, it is safe to say that this cost is quite reasonable.
---
2023 Honda XL750 Transalp Key Specs
Make: Honda
Model Year: 2023
Type: Dual-sport
Color: Ross White, Matt Ballistic Black Metallic & Ross White Tricolour.
MSRP Price: $11,600
Warranty: 2-year, unlimited mileage
Engine: 755cc, 4-stroke
Power: 90.5 HP
Mileage: 54.1 mpg (23 km/l)
Transmission: 6-speed Manual
Fuel Tank Capacity: 4.5 gal. (16.9 l)
Seat Height: 33.5 in. (850 mm)
Curb Weight: 458.6 lb. (208 kg)
---
2023 Honda XL750 Transalp Specifications
Engine
| | |
| --- | --- |
| Engine | 755cc, Liquid-cooled OHC 4-stroke 8-valve Parallel Twin with 270° crank and uni-cam |
| Power | 90.5 horsepower @ 9,500rpm |
| Torque | 55.3 lb-ft (75 Nm) @ 7,250rpm |
| Bore x Stroke | 87mm x 63.5mm |
| Compression Ratio | 11.0:1 |
| Starter | Electric |
| C02 Emissions | 103 g/km |
Drivetrain
| | |
| --- | --- |
| Transmission | 6-speed Manual |
| Clutch | Wet multiple, Assisted slipper clutch |
| Quick Shifter | Optional |
| Final Drive | Chain |
Dimensions
| | |
| --- | --- |
| Battery Capacity | 12v 8.6Ah |
| Caster Angle | 27˚ |
| Dimensions (L×W×H) | 2,325 mm x 838 mm x 1,450 mm |
| Frame type | Steel diamond |
| Fuel Tank Capacity | 4.5 gal. (16.9 l) |
| Fuel Consumption | 23 km/l |
| Ground Clearance | 8.3 in. (210 mm) |
| Curb Weight | 458.6 lb. (208 kg) |
| Seat Height | 33.5 in. (850 mm) |
| Trail | 4.4 in. (111 mm) |
| Wheelbase | 61.4 in. (1,560 mm) |
| Turning Radius | 2.6 m |
| Noise Level | Lwot – 79.4; Lurban – 75 |
Wheels
| | |
| --- | --- |
| ABS System | 2 channel |
| Brakes Front | Dual 310mm x 4.5mm disc with axial mount 2 piston calipers |
| Brakes Rear | Single 256mm x 6.0mm disc with single piston caliper |
| Suspension Front | Showa 43mm SFF-CA USD, 200mm travel |
| Suspension Rear | Separate pressure, Pro-Link swingarm, 190mm travel |
| Tyre Size Front | 90/90-21M/C 54H |
| Tyre Size Rear | 150/70R18M/C 70H |
| Wheels Front | Stainless spoke, Aluminium rim, Tube type |
| Wheels Rear | Stainless spoke, Aluminium rim, Tube type |
Electrics
| | |
| --- | --- |
| Headlights | LED |
| 12v Socket | Optional |
| Instruments | TFT |
| Tail Light | LED |
| Connectivity | HSVCs |
| USB Socket | Type C |
| Self Cancelling Indicators | Yes |
| Emergency Stop Signal | Yes |
| Security | HISS |
Competitors
| Model | Price | Engine | Top Speed |
| --- | --- | --- | --- |
| 2023 BMW F 750 GS | $9,995 | 853cc | 118.1 mph |
| 2023 Kawasaki Versys 650 | $10,999 | 649cc | 128 mph |
| 2023 Suzuki V-Strom 650 | $8,904 (standard), $9,399 (XT), $10,499 (XT Adventure) | 645cc | 125 mph |
Performance And Handling
Let's dive deeper to see why the 2023 Honda XL750 Transalp is considered a top-of-the-line model in the middleweight adventure segment.
Top Speed
Honda equipped the model with a liquid-cooled OHC 4-stroke 8-valve Parallel Twin engine with a displacement of 755cc, which can accelerate to 127 mph, tops. This engine type can produce a maximum power output of 90.5 horsepower at 9,500 rpm and a maximum torque of 55.3 lb-ft at 7,250 rpm. Plus, the fuel injection system and 11:1 compression ratio provide efficient and consistent fuel delivery to the engine, resulting in smoother engine power delivery and acceleration.
The transmission gearing is also a key factor in achieving the top speed of the Transalp XL750. It comes with a six-speed manual transmission and a final drive chain. Plus, the gear ratios are optimized to provide quick acceleration and high top speed, with the sixth gear acting as an overdrive to reduce engine RPM at high speeding rates.
Braking Performance
In terms of hardware, the XL750 Transalp features dual 310mm front discs with axial mount two-piston calipers and a single 256mm rear disc with a single-piston caliper. This setup provides ample braking power and modulation, allowing riders to confidently navigate any terrain.
The long-travel suspension system of the XL750 Transalp is a significant additional aspect in determining how well it brakes. This includes a Showa 43mm SFF-CA USD front fork and a Pro-Link swingarm with a separate pressure damper rear suspension. These systems work together to absorb rear shocks and provide maximum traction control and stability during braking.
Cornering And Handling Characteristics
As mentioned before, the steel diamond frame provides a sturdy and stable foundation for the bike. This design allows for precise handling and responsive cruise control, making it easy for riders to maneuver through corners and tight turns.
Furthermore, the XL750 Transalp features a 150/70-R18 M/C 70H rear wheel and a 90/90-R21 M/C 54H wheel front that brings excellent grip and stability on every road condition. This tire works in conjunction with the motorcycle's suspension and braking systems to ensure that riders have maximum control and stability when cornering and braking.
2023 XL750 Transalp: A Brief Review
Many praise the Honda Transalp's powerful V-Twin engine and smooth transmission, offering plenty of power and responsiveness in all switch gears. The bike's suspension system is another standout feature, with a long travel distance that provides a comfortable ride even over rough terrain.
In terms of handling, users have noted that the XL750 Transalp is surprisingly nimble and easy to maneuver for a bike of its size. They also claim that it is simple to drive through curves and tight corners thanks to its precise and responsive handling. Meanwhile, the XL750 Transalp's pair of ABS modes helps ensure confident engine braking performance in all conditions.
Other than that, the lightweight construction also benefits the bike's gas efficiency. It has a fuel capacity of 4.5 gallons and an impressive consumption rate of 54.1 mpg, allowing riders to go further on a single fuel tank (about 243 miles).
However, some state that this new generation bike may not be as stable in strong crosswinds and may not offer as much protection from wind and weather as heavier adventure touring bikes. Additionally, the bike's low curb weight may make it more difficult to control on loose terrain, requiring the rider to have good balance and a high experience level. This is true as we have experienced a lot of fatigue (than other bikes like Yamaha) when crossing a sandy place.
2023 Honda Xl750 Transalp Photos & Videos
Photos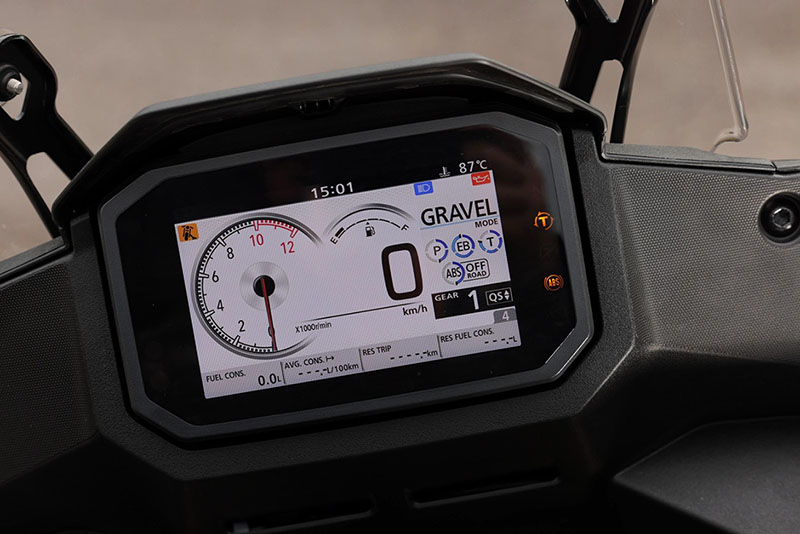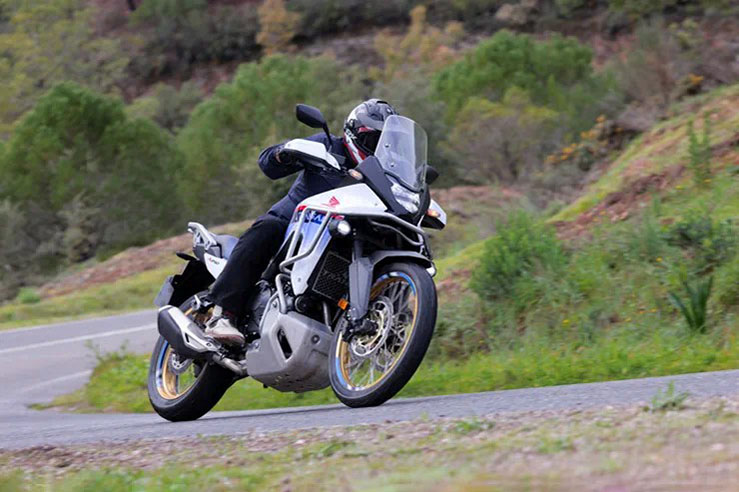 Videos
---
---
*Disclaimer: The prices mentioned in this article may vary depending on the dealership and location. Additionally, the specifications mentioned, such as horsepower and top speed, may vary from different sources as they are often tested under different conditions.