In This Article:
The Honda Rebel 300 in 2023 is a stylish and versatile motorcycle designed to provide riders with a comfortable and enjoyable riding experience. It is built with advanced features and blacked-out engine components that make it stand out from other motorcycles to spice up your boring commute in busy cities.
With a liquid-cooled, single-cylinder engine, Rebel 300 can deliver 27.4 horsepower. This 286cc engine also has a six-speed transmission and a chain final drive. Thanks to this sporty engine, the nimble bike can bring smooth action and responsive power across the RPM range, making it easy for bikers to navigate through traffic and tackle challenging terrain.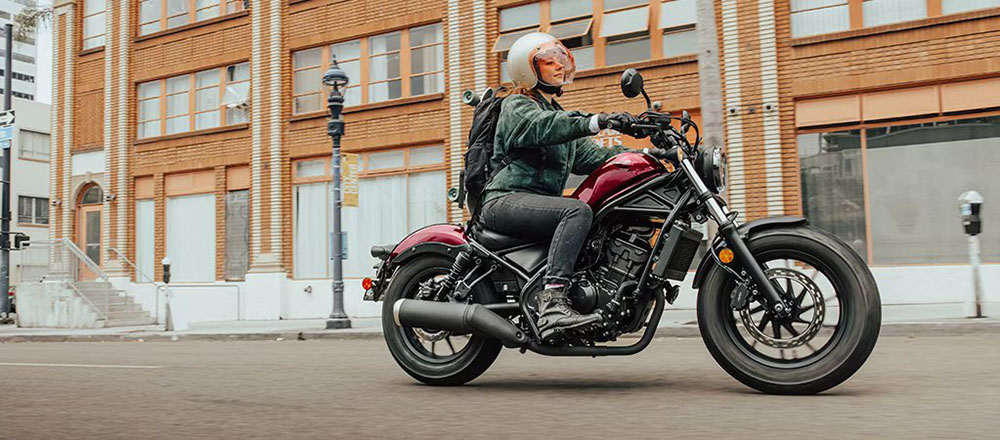 Another notable feature of the Rebel 300's peppy 286cc single-cylinder engine is its counterbalance system, which helps reduce vibration to offer a smoother and more comfortable ride. This is especially important for riders who plan on taking longer rides or who have a history of back problems.
One of the iconic elements of the Rebel 300's single-cylinder four-stroke engine is its fuel injection system. This system delivers precise amounts of fuel to the motor, ensuring the bike runs smoothly and efficiently. It also helps to reduce emissions, making the Rebel 300 a more environmentally friendly option.
Besides, the Rebel 300 features an iconic peanut fuel tank with a unique and eye-catching shape. The 3-gallon fuel tank is smoothly rounded and elongated, with a slight indentation on the sides that adds a touch of sportiness to the overall. The tank's classic instrument shape also helps to create a balanced and stable center of gravity, enhancing the bike's handling and performance.
With a sale price of $4,749 on the Honda website, the Rebel 300 is priced in line with previous generations of the model, making it an affordable option for riders who are looking for a reliable, high-performance motorcycle.
---
2023 Honda Rebel 300 Key Specs
Make: Honda
Model Year: 2023
Type: Cruiser
Color: Candy Diesel Red & Matte Black Metallic
MSRP Price: $4,749
Warranty: 1 year
Warranty Plus: 12, 24 & 36 months
Engine: 286cc, 4-stroke
Power: 27.4 HP
Mileage: 95 mpg (40.4 km/l)
Transmission: 6-speed
Fuel Tank Capacity: 3.0 gal. (11.4 l)
Seat Height: 27.2 in. (690.9 mm)
Curb Weight: 364 lb. (165.1 kg)
---
2023 Honda Rebel 300 Specifications
Engine
| | |
| --- | --- |
| Engine | 286cc liquid-cooled single-cylinder four-stroke |
| Power | 27.4 horsepower |
| Torque | 19.9 ft-lbs (27 Nm) |
| Bore x Stroke | 76.0mm x 63.0mm |
| Compression Ratio | 10.7:1 |
| Valve Train | DOHC; four valves per cylinder |
| Induction | Programmed Fuel Injection (PGM-FI); 38mm throttle body |
Drivetrain
| | |
| --- | --- |
| Transmission | Six-Speed |
| Final Drive | O-ring-sealed chain; 14T/36T |
Chassis
| | |
| --- | --- |
| Suspension Front | 41mm fork; 4.8-inch travel |
| Suspension Rear | Dual shocks; 5.5-inch travel |
| Brakes Front | Single 296mm disc; ABS |
| Brakes Rear | Single 240mm disc; ABS |
| Tires Front | 130/90-16 |
| Tires Rear | 150/80-16 |
Dimensions
| | |
| --- | --- |
| Rake | 28.0° |
| Trail | 4.3 in. (109.2 mm) |
| Wheelbase | 58.7 in. (1491 mm) |
| Seat Height | 27.2 in. (690.9 mm) |
| Fuel Capacity | 3.0 gal. (11.4 l) |
| Curb Weight | 364 lb. (165.1 kg) |
Competitors
| Bike Model | Price | Engine | Top Speed |
| --- | --- | --- | --- |
| Kawasaki Vulcan S | $7,349 & $7,899 (ABS) | 649cc | 116 mph |
| Harley-Davidson Street 500 | $6,899 | 494cc | 99 mph |
| Royal Enfield Meteor 350 | $4,699 | 349cc | 70.71 mph |
2023 Honda Rebel 300 Features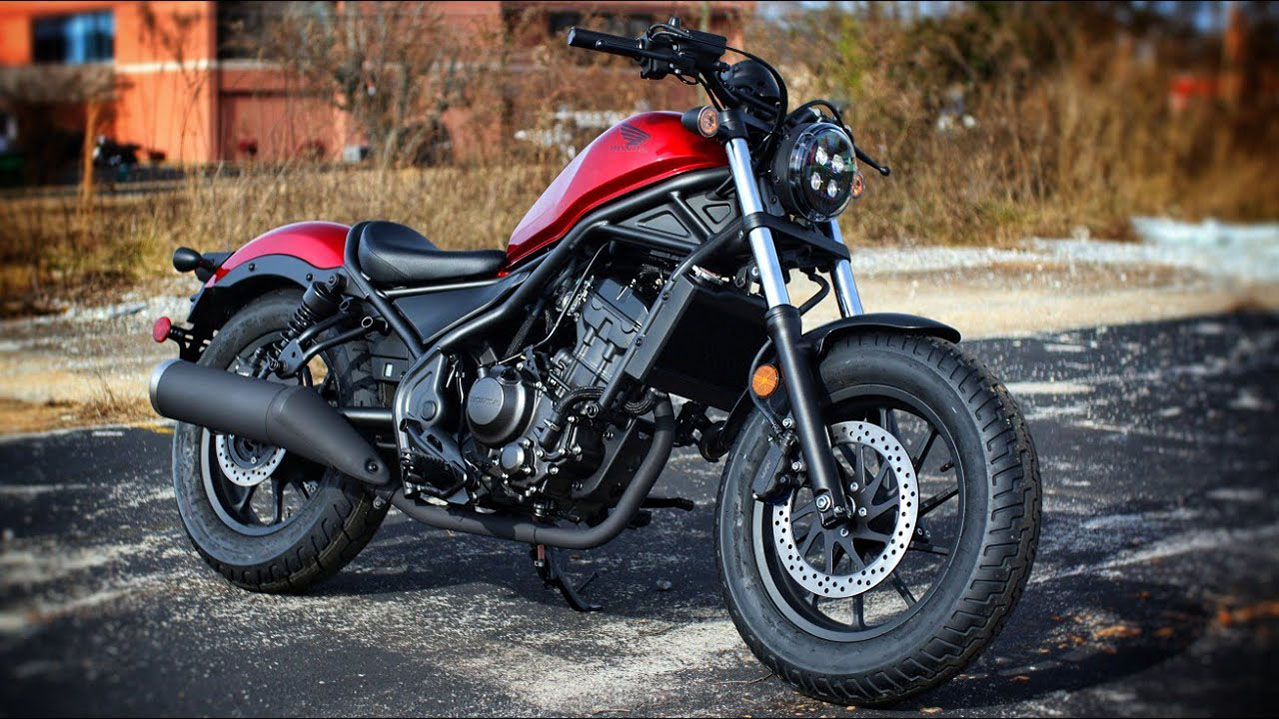 STYLE
BLACKED-OUT STYLE
The Rebel is a blank canvas for your self expression and customization. But unlike the canvas you buy at the art store, this one's not boring white. As is, its blacked-out engine pieces, frame, and bodywork elements look great during the day and even better at night.
BLACKED-OUT MUFFLER
Forget about having to polish chrome—the Rebel's blacked-out exhaust system blends perfectly with the bike's overall look. And maybe the biggest plus? The awesome sound that's so important to the riding experience.
CLASSIC INSTRUMENT SHAPE
Another iconic element combining traditional and new, the Rebel's instruments take a classic shape and fill it with totally up-to-date digital LCD information.
ROUND HEADLIGHT
Another critical item in motorcycle design is the headlight. The Rebel 300 features a headlight with a round, three-inch nacelle that gives the bike plenty of character.
ALL LED LIGHTING PACKAGE
LED lighting is where it's at now. LEDs can be lighter, brighter, and require fewer lifetime replacements than incandescent bulbs. That's why the Rebel 300 features an all-LED lighting package—headlight, taillight, turn signals, even the license-plate light.
COLOR CHOICES
Check out the bold colors you could be styling: Candy Diesel Red or Matte Black Metallic.
OPTIONAL Honda ACCESSORIES
The Rebel 300 has an extensive line of accessories, ready for you to personalize your bike. For example, check out the diamond-stitched main seat, a backrest, saddlebags and a carrier, passenger seat with footpegs kit, backrest, and much, much more.
STEEL REAR FENDER
The Rebel has a steel rear fender that's color-matched to the tank. The paint looks great, and the steel fender helps provide a solid support for the optional/removable passenger seat.
WIDE FORK
It's what's up front that counts most in style, and the Rebel knocks it out of the park. Of course the front suspension offers precise steering and a plush ride, but the fat fork tubes give the bike a substantial presence too. Last year we fine-tuned the fork for even better comfort and performance, and everyone loves the result.
REFINED REAR SUSPENSION
The Rebel 300's rear shocks are nitrogen filled, and have a special spring rate too. Just like the front suspension, it's about adding both comfort and performance to your riding experience.
WIDE FRONT AND REAR TIRES
The Rebel's low, fat rear tire gives you plenty of grip while helping to lower the bike's overall seat height and stance. The wide front tire not only gives the bike a great look, but it helps provide superior handling and stopping power. Plus, the wide profile perfectly complements the rear tire's look.
COMFORT
LOW SEAT HEIGHT
When it comes to seat heights, almost everyone likes them lower, and the Rebel has one of the lowest seats in anyone's lineup. It's comfortable when you ride, and it makes it easier to flat-foot it at stoplights or in parking lots.
LIGHT WEIGHT
The Rebel 300 is a lot more fun and friendly to ride than some bigger machines—perfect if you're just getting started, or if you're looking for a nimble bike. The light overall weight and a low center of gravity help performance, too.
NARROW
Super-narrow, especially at the critical tank/seat junction, the Rebel makes it easier to get on and off the bike, and to put your feet down at stops. Plus, the Rebel fits a wide variety of riders.
ROOMY RIDER TRIANGLE
A rider makes contact with the bike at three points: the seat, the handlebar, and the footpegs. The Rebel's rider triangle strikes the perfect balance between laid-back cruiser and more active sport riding. You ride with a commanding presence, and the minute you sit on a Rebel in your dealership, you'll know it.
SINGLE SEAT WITH AVAILABLE ACCESSORY PASSENGER SEAT AND FOOTPEG KIT
With the Rebel 300 you can easily set your bike up for riding solo, or take a passenger along in style: the removable seat rails, optional passenger seat, passenger footpegs and footpeg hangers are all simple, bolt-on parts.
ENGINEERING
SLIPPER/ASSIST CLUTCH
This technology was first developed and perfected in Honda racing machines. The slipper/assist clutch means you get a lighter clutch pull at the lever, but a solid lockup when you release the lever and apply power. It's technology that reduces clutch effort at the bar by about 30 percent.
SUPERIOR HANDLING
A lot of today's motorcycles look great standing still, but disappoint once the road gets twisty. At Honda, we set high standards for the way all our bikes handle and feel, and the Rebel is a perfect example—we've paid just as much attention to the way this bike corners and handles as we have its knockout styling.
DIE-CAST ALUMINUM REAR SUBFRAME
Here's a chance for Honda designers to take a functional part of the motorcycle and make it look extra cool. The aluminum subframe/fender mounts are strong, subtle, light, and provide a solid foundation for the optional/removable passenger seat.
FUEL TANK
One of the key items in motorcycle design is the fuel tank. The Rebel's iconic fuel-tank shape is timeless, but functionally it also teams up with the bike's great fuel efficiency to give you plenty of range.
PERFORMANCE
SPORTY ENGINE
At Honda, we're famous for our engines, and we've given the Rebel 300 a great one. First, the facts: it's a single-cylinder with fuel injection, double-overhead cams and a counterbalancer. Because it's a single, it's light and super narrow, which helps reduce the overall bike's weight. It also offers the kind of torque and midrange power that's well suited for all levels of riders.
CAST ALUMINUM WHEELS
Cast wheels front and rear are light, practical, easy to keep clean, and give the Rebel a look that tells you this is not built like a retro machine. The wide rims and tires add to the bikes appearance, too.
Performance And Handling
Whether you are a new or experienced rider, the Rebel 300 is a reliable laid-back cruiser for beginners.
2023 Honda Rebel 300 Top Speed
The 2023 Honda Rebel 300 is powered by a 286cc liquid-cooled single-cylinder engine that delivers 27.4 horsepower. Plus, the engine is paired with a six-speed transmission and a chain final drive. With this setup, the Rebel 300 is capable of achieving a top speed of around 95 mph.
While the top speed of the Rebel 300 may not be as high as some of the other sportbikes on the market, it is important to note that this bike is not for top-speed runs. Rather, it is designed for cruising and enjoying the ride. It is meant to be ridden on winding roads and scenic routes, where the rider can enjoy the bike's handling and cornering capabilities.
Braking Performance
Thanks to its advanced suspension system, the Honda Rebel 300 provides a smooth and stable ride. It features a 41mm fork stanchion and twin rear shocks that work together to absorb bumps and provide a comfortable ride. The suspension system is adjustable, allowing riders to customize the ride to their preferences.
Furthermore, the dealer also brings a hydraulic disc brake system on both the front and rear wheels. The front brake comes with a single 296mm disc, while the rear brake has a smaller 240mm disc. The bike also has an optional ABS version (anti-lock braking system), which helps to improve braking performance and reduce the risk of accidents. Particularly, it will maintain traction and prevent sliding whenever you squeeze the brake lever and.
Cornering And Handling Characteristics
When it comes to the cornering and handling characteristics, the bike promises to offer approachable performance with a 41mm telescopic fork at the front and dual shock absorbers at the steel rear. This setup provides the motorcycle with superior shock absorption and stability, enabling it to handle bumpy roads and uneven surfaces with ease.
The Rebel 300's profile also has a low center of gravity, which helps to improve handling and stability on the road. With the light weight of just 364 pounds (wet weight), it contributes to the motorcycle's agile handling, making it easy to maneuver through traffic or around tight corners.
2023 Rebel 300: A Brief Review
One of the most commonly cited elements of the Honda Rebel by users is its styling design. Due to the low seat height (one of the lowest seats), it is easy for shorter riders to reach the ground with their feet while seated or hop on it at traffic lights or parking lots.
This is a big plus for newer or less experienced bikers, as it can help boost confidence and offer them a relaxed riding position. Though it's a blessing for short bikers, it's a curse for taller riders, as they have to squeeze into the bike and will feel tired soon.
Some also pay attention to the bike's tires. The front tire is a 130/90-16, while the rear tire is a 150/80-16, and we noticed great traction on wet surfaces. These sizes provide a good balance of traction and stability, allowing the bike to handle well in a variety of situations. The tires are tubeless, meaning they require less maintenance and are less prone to flats than tube-type tires.
Many are also drawn to this 2023 version due to the slipper function, which helps to prevent the rear wheel from locking up during aggressive downshifting. This is a useful feature for riders who enjoy a more aggressive riding style, as it helps to prevent the bike from losing traction and skidding.
Besides, its fuel efficiency is also a big selling point for users. With an estimated 95 miles per gallon, a bike is a great option for those who want to save money on gas and reduce their carbon footprint. Bikers have also noted that the bike's fuel injection system provides precise fuel delivery, ensuring the bike runs smoothly and efficiently.
There is a complaint from users about the lack of storage space on the bike due to its narrow shape. The Rebel 300 has a small, minimalist design, which means there is not much room for additional storage options. This can be problematic for backpackers who need to carry items such as a change of clothes or groceries. Aftermarket storage solutions are available for those who need more space, but, of course, you have to pay more than the upfront cost.
After about 100 miles of riding, we found that the suspension was rather soft, which could not cushion us well when going through bumpy roads. We hope Honda will take this into account for the next version.
2023 Honda Rebel 300 Photos & Videos
Photos
Videos
---
---
*Disclaimer: The prices mentioned in this article may vary depending on the dealership and location. Additionally, the specifications mentioned, such as horsepower and top speed, may vary from different sources as they are often tested under different conditions.