In This Article:
The 2023 Honda Hornet CB750 is a stylish and powerful naked bike segment perfect for riders who want a combination of top performance and aggressive style. The engine layout is a parallel twin, meaning the two cylinder powerplants are arranged in a parallel configuration.
It allows for a more compact size while delivering impressive engine power. This layout also makes the engine more balanced, which can make a big-time improvement on stability and handling.
Honda also equipped the Unicam technology for this new Hornet generation, a unique system combining the benefits of SOHC and dual overhead camshaft (DOHC) brand-new designs. This system uses a single camshaft to operate both the intake and exhaust valves, reducing weight ratio and complexity while bringing strong performance.
It also lessens the engine's fuel consumption, which is an important consideration for a wide range of riders. A quickshifter delivers rapid, full-throttle upshifts for aggressive sports riding and clutchless downshifts with auto blip function for more leisurely touring.
At just 419 pounds, the CB750 Hornet's frame is incredibly light. This plays a significant role in offering excellent response when performing a turn or reverse. Although it doesn't compromise strength, tube-thinning in the primary construction helps with that.
All the basic instrumentation is controlled via a 5-inch TFT color display panel. It serves as an interface with switchgear on the left side for the more advanced electronic tasks. Whether you use an iOS- or Android-based mobile, this system connects to your device via the Honda Smartphone Voice Control system to support navigation, communication, and entertainment.
With a price point of around $7,900, the CB750 Hornet is an affordable option for riders who want a high-quality motorcycle capable of delivering a thrilling and dynamic ride. Ultimately, the price of the CB750 Hornet reflects the maximum performance and features that this motorcycle offers, making it a great choice for riders who want the best of both worlds.
---
2023 Honda CB750 Hornet Key Specs
Make: Honda
Model Year: 2023
Type: Street
Color: Graphite Black, Pearl Glare White, Matte Iridium Grey Metallic & Matte Goldfinch Yellow
MSRP Price: $7900
Warranty: 2-year, unlimited mileage
Engine: 755cc
Power: 90.5 HP
Mileage: 65 mpg (23 km/l)
Transmission: 6-speed manual
Fuel Tank Capacity: 4 gal. (15.2 l)
Seat Height: 31.3 in. (795 mm)
Curb Weight: 418.9 lb. (190 kg)
---
2023 Honda CB750 Hornet Specifications
Engine
| | |
| --- | --- |
| Engine | 755cc, Liquid-cooled OHC 4-stroke 8-valve Parallel Twin with 270° crank and uni-cam |
| Power | 90.7 horsepower |
| Torque | 54.9 lb-ft (74.4 Nm) at 7,000 rpm |
| Bore x Stroke | 87mm x 63.5mm |
| Carburation | PGM-FI electronic injection |
| Compression Ratio | 11.0 : 1 |
| C02 Emissions | 100 g/km |
| Starter | Electric |
Drivetrain
| | |
| --- | --- |
| Clutch | Wet multiple, Assisted slipper clutch |
| Transmission | 6-speed manual |
| Final Drive | Chain |
| Quick Shifter | Optional |
Dimensions And Weights
| | |
| --- | --- |
| Battery Capacity (VAh) | 12v 7.4Ah |
| Frame type | Steel diamond |
| Fuel Tank Capacity | 15.2 l |
| Fuel Consumption | 23 km/l |
| Headlights | LED |
| Seat Height | 795 mm |
| Curb Weight | 190 kg |
Wheels
| | |
| --- | --- |
| ABS System | 2 channel |
| Brakes Front | Dual 296mm x 4mm disc with Nissin radial mount 4 piston calipers |
| Brakes Rear | Single 240mm x 5mm disc with single piston caliper |
| Suspension Front | Showa 41mm SFF-BP USD, 130mm travel |
| Suspension Rear | Monoshock damper, Pro-Link swingarm, 150mm travel |
| Tires Front | 120/70ZR-17 |
| Tires Rear | 160/60ZR-17 |
| Wheels Front | 5Y-Spoke Cast Aluminium |
| Wheels Rear | 5Y-Spoke Cast Aluminium |
Competitors
| | | | |
| --- | --- | --- | --- |
| | Price | Engine | Top Speed |
| 2023 Suzuki GSX-8S | $8,849 | 776cc | 145 mph |
| 2023 Yamaha MT-09 | $9,799 | 890cc | 147.9 mph |
| 2023 Kawasaki Z900 | $9,399 – $9,699 | 948cc | 135 mph |
| 2023 Triumph Trident 660 | $8,395 | 660cc | 130 mph |
2023 Honda CB750 Hornet Features

Engine Electronics
Three default rider modes; RAIN, STANDARD and SPORT
Three levels of Engine Power, Engine Brake and HSTC with integrated Wheelie Control
USER customisation option between the three levels
Styling & Equipment
New style defines razor-sharp minimalism
Upright riding position for natural control
Customisable, 5-inch TFT display with shift-up indicator
Performance And Handling
Take a closer look at the performance abilities of this new model from Honda.
2023 Honda CB750 Hornet Top Speed
Feel free to rev up to 127 mph with this beast, which is quite impressive with such a medium engine displacement.
What enables the Honda CB750 Hornet to achieve this max speed is the powerful 755cc parallel twin engine. It brings the power delivery of 90.7 horsepower at 9,500 rpm and 54.9 lb-ft of torque at 7,000 rpm. The machine is liquid-cooled and features a SOHC Unicam design with a 270-degree crank and ride-by-wire technology.
In addition, its top speed is largely due to the six-speed manual transmission, which enables flawless primary drive gear changes and rapid acceleration. Because of the bike's light weight construction and efficient aerodynamics, it can go at a faster rate and effortlessly cut through the air.
Braking Performance
At the heart of the braking system of the 2023 Honda CB750 Hornet is a set of dual hydraulic disc brakes located on the front and rear wheels. These disc brakes are made from high-quality materials designed to provide reliable and consistent stopping power even under the most demanding conditions.
The front brake system features a large 296 mm disc clamped by a powerful dual four-piston caliper, intended to apply even pressure to the disc. This ensures the motorcycle comes to a stop quickly and smoothly.
On the other hand, the rear disc brake system comes with a slightly smaller 240 mm disc and a two-piston caliper. While not as powerful as the front brake system, it can still provide ample stopping power and maintain natural control during hard braking maneuvers.
Cornering And Handling Characteristics
One of the key features of the Honda CB750's handling is its compact chassis. The motorcycle is built around a high-strength steel diamond frame to provide maximum rigidity and stability while keeping curb weight to a minimum. This results in a popular bike that is incredibly agile and responsive, making it easy to maneuver through tight corners and sweeping bends.
In addition to its lightweight steel frame, the CB750 Hornet is equipped with a sophisticated suspension system for optimal comfort and engine control. The front and rear suspension features an inverted fork design for damping and 5-stage preload adjustment, allowing riders to fine-tune the suspension to their liking.
2023 CB750 Hornet: A Brief Review
Many claim that the Honda Hornet is an absolute joy to ride. Its lightweight frame and powerful engine make it easy to maneuver through tight corners and accelerate quickly when needed. The suspension system is also top-notch, providing a smooth and comfortable ride even on bumpy roads.
Plus, with a seat height of 795 mm, this 2023 Hornet is comfortable for most short bikers. But tall bikers will have to squeeze in and get fatigued soon. The seat is also accessible and easy to get on and off, which makes it a great option for shorter riders or those with limited mobility.
The fuel tank of the 2023 CB750 Hornet has a capacity of 15.2 liters (about 4 gallons), which is relatively large for a naked bike. This fuel capacity ensures that riders can travel longer distances without needing to refill frequently, making it an ideal bike for both long-distance and everyday town riding.
In addition to the rider comfort, the 2023 Honda CB750 Hornet offers a comfortable and spacious seating area for passengers. The passenger seat is well-padded and wide enough to accommodate various body types. The passenger foot pegs on the bike allow a natural upright riding position and comfortable footrest posture.
Another standout feature of the CB750 Hornet that impresses many users is its handling. It is incredibly nimble and responsive, making it easy to navigate through traffic and take on tight, aggressive angles. The powerful engine provides plenty of torque and power, allowing riders to accelerate quickly and confidently.
Besides, this new 2023 beast is also equipped with several advanced technologies that set it apart from other competitors. One of which is the traction control system that can assist in maintaining maximum grip and stability in all conditions. The LED lighting system is a nice touch, providing full visibility to the motorist.
All the good points aside, there is still room for improvement. We have hoped Honda would release a model with an automatic dual-clutch transmission system for a more seamless riding experience (no shifting, no clutch lever, more freedom, more control, and more power). Sadly, Honda even introduced the quick shifter as an optional choice. Not to mention the DCT, why couldn't the shifter come standard with that price tag? Not only we, but many riders also see this as an eyesore.
The top speed might not suit some adventure souls. With that engine displacement, we all expected a more powerful beast on the road.
2023 CB750 Hornet Photos & Videos
Photos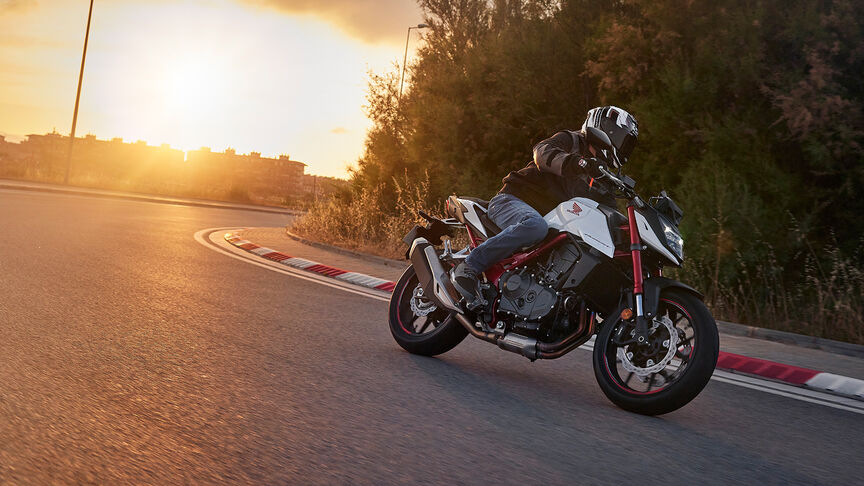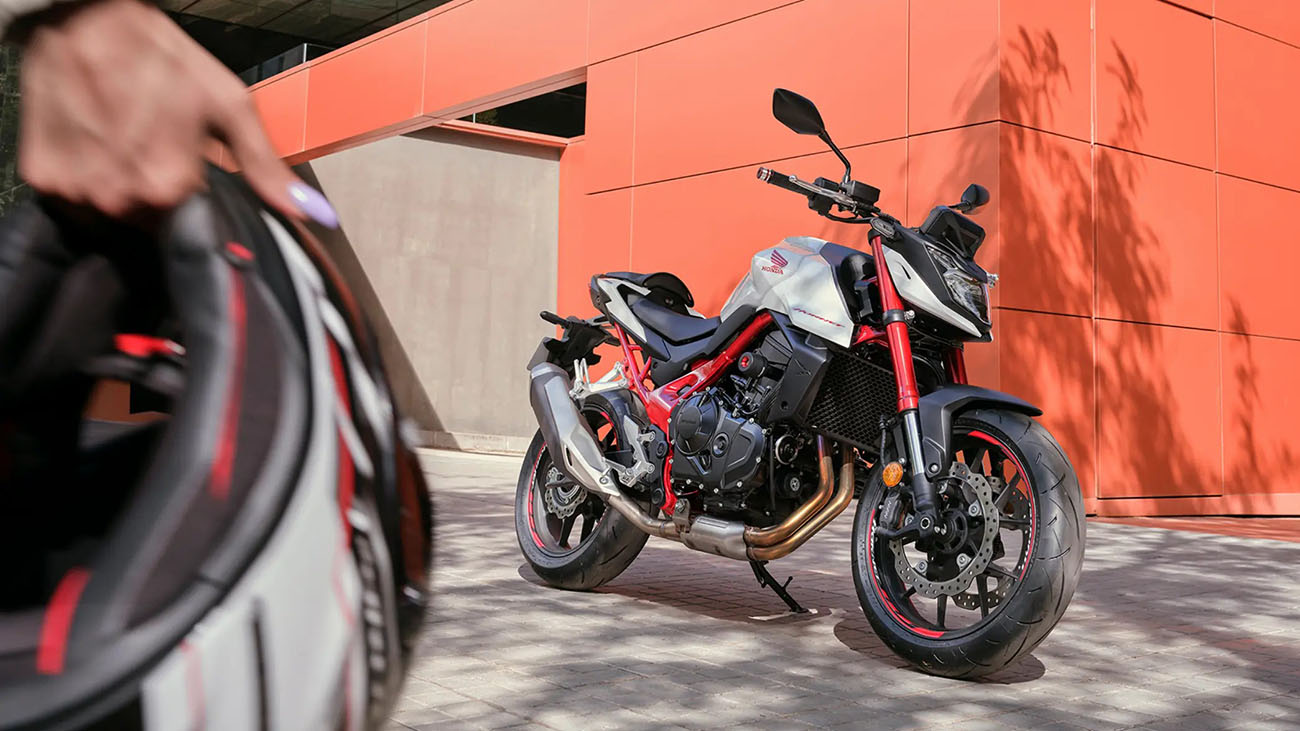 Videos
---
---
*Disclaimer: The prices mentioned in this article may vary depending on the dealership and location. Additionally, the specifications mentioned, such as horsepower and top speed, may vary from different sources as they are often tested under different conditions.