In This Article:
A new version of the Honda CB500X has been released. This versatile and adventure-ready motorcycle has been designed for riders who want the perfect balance of performance, agility, and comfort on and off-road conditions. It has a sophisticated parallel-twin, liquid-cooled engine producing outstanding power and torque throughout the rpm range.
Plus, this machine from Honda is also equipped with a number of cutting-edge innovations. One of which is the bike's PGM-FI fuel injection, which can deliver fuel precisely for optimum performance. Other elements like the slipper clutch are also put in the model to lessen assist clutch lever strain and chattering from the rear wheels when downshifting.
The 2023 Honda CB500X comes with a long-travel suspension system that can handle rough terrain with ease. Honda has also made improvements to the suspension system of the 2023 CB500X. The bike now comes with a new 41mm Showa front fork that offers a smoother ride and better handling.
When it comes to the styling design, if you don't look closely, you might not see the subtle change compared to its predecessor. It still has the clean, rough-and-ready look that has become the iconic aesthetic of the Honda adventure bike line. Still, now it comes with a taller two-position windscreen and a new 4.7-gallon fuel tank design that provides a more ergonomic and upright seating position.
With an attractive price of only $7,299 – according to Honda, this machine can be suitable for everyone regardless of experience level or budget.
---
2023 Honda CB500X Key Specs
Make: Honda
Model Year: 2023
Type: Adventure
Color: Green
MSRP Price: $7,299
Warranty: 1 year
Warranty Plus: Extended coverage
Engine: 471cc liquid-cooled parallel-twin four-stroke
Power: 47 HP
Mileage: 64 mpg (27.2 km/l)
Transmission: 6-speed Manual
Fuel Tank Capacity: 4.7 gal. (17.7 l)
Seat Height: 32.8 in. (834 mm)
Curb Weight: 439 lb. (199 kg)
---
2023 Honda CB500X Specifications
Engine
| | |
| --- | --- |
| Engine | 471cc liquid-cooled parallel-twin four-stroke |
| Power | 47 horsepower |
| Torque | 31.7 lb-ft (43.2 Nm) |
| Bore x Stroke | 67.0mm x 66.8mm |
| Compression Ratio | 10.7:1 |
| Valve Train | DOHC; four valves per cylinder |
| Induction | PGM-FI with 34mm throttle bodies |
Drivetrain
| | |
| --- | --- |
| Transmission | 6-speed Manual |
| Final Drive | #520 O-ring-sealed chain; 15T/41T |
Chassis
| | |
| --- | --- |
| Suspension Front | 41mm fork; 5.9-inch travel |
| Suspension Rear | Pro-Link® single shock with nine-position spring preload adjustability; 5.3-inch travel |
| Brakes Front | Dual 296mm discs with four-piston calipers; ABS |
| Brakes Rear | 240mm disc; ABS |
| Tires Front | 110/80-19 |
| Tires Rear | 160/60-17 |
Dimensions
| | |
| --- | --- |
| Rake | 27.5° |
| Trail | 4.3 in. (109.22) |
| Wheelbase | 56.8 in. (1442.72 mm) |
| Fuel Capacity | 4.7 gal. (17.7 l) |
| Seat Height | 32.8 in. (833 mm) |
| Curb Weight | 439 lb. (199 kg) |
Competitors
| Model | Price | Engine | Top Speed |
| --- | --- | --- | --- |
| 2023 Kawasaki Versys 650 | $10,999 | 649cc | 125 mph |
| 2023 Yamaha Tracer 700 | £8,699 | 689cc | 120 mph |
| 2023 BMW F 750 GS | $10,995 | 853cc | 119 mph |
2023 Honda CB500X Features
ENGINEERING
DOHC TWIN-CYLINDER ENGINE
Offering plenty of power and torque in the midrange, the CB500X features a 471cc, liquid-cooled parallel-twin engine. Light, narrow, and powerful, it just strikes the perfect balance of what a mid-sized motorcycle engine should be.
ANTI-LOCK BRAKES
ABS comes standard on the CB500X, helping you make smoother, more controlled stops under less-than-ideal riding conditions.
EXHAUST
Who doesn't love the sound of a twin-cylinder motorcycle? We gave the muffler on the CB500X twin mufflers. It's a little thing, but it'll make you smile every time you ride.
PROGRAMMED FUEL INJECTION PGM-FI
The injector bodies help the CB500X make even more power. The bike's PGM-FI continuously monitors several variables to ensure the correct fuel mixture is delivered for the existing riding and atmospheric conditions for crisp throttle response throughout a wide variety of riding conditions.
SLIPPER ASSIST CLUTCH
The slipper/assist clutch lets us lighten up the clutch-lever effort by 45 percent compared to previous systems, but automatically locks up tight when you release it.
HANDLING
UPSIDE-DOWN FORK
The CB500X features an inverted-fork design that makes the front end much more rigid, for more precise steering input and feedback. The fork itself is a Showa Separate Function Fork–Big Piston (SFF-BP) design—one of the best in its class.
DISC BRAKES
The CB500X features large twin front disc brakes so you get strong, predictable stopping power. The front-brake lever is also adjustable for a perfect fit.
PRO-LINK® REAR SUSPENSION
A sophisticated chassis with Honda Pro-Link® rear suspension features a shock with nine-stage adjustable spring preload to increase riding comfort and handling. The shock absorber features large-diameter internals for even better damping characteristics and a smoother ride.
LIGHT SWINGARM CONSTRUCTION
The CB500X uses a swingarm that's over two pounds lighter than the previous design, but is just as strong. It's one of the reasons the entire Honda 500 family handles so well.
SMOOTHER TRANSMISSION
Our engineers profiled the shift dogs in the transmission, to help you get smoother shifts every time. You'll never see these parts, but you'll feel their effects.
STEEL-TUBE FRAME
A motorcycle's frame is the basis for its handling. The CB500X's diamond-shaped steel-tube mainframe connects to the engine with four mounts, offering a rock-solid foundation for superior ride and handling. It also contributes to the CB500X's generous ground clearance.
STYLE
UNIQUE STYLE
The CB500X just looks right—tough, capable, no-nonsense. Plus, the adventure-bike posture and seating position let you move around freely.
DIGITAL INSTRUMENTATION
An easy-to-read LCD screen features a digital speedometer, tachometer and more, including a clock, odometer, trip meter, real-time and average fuel consumption meters and illuminated engine diagnostic indicators.
LED LIGHTING
With a clean, rough-and-ready look, the CB500X's LED headlight and multi-facet reflector project plenty of light on the road for visibility.
MULTI-SPOKE CAST WHEELS
Strong and stylish, the CB500X's lightweight multi-spoke cast-aluminum wheels are easy to keep clean, look great, enhance handling and are another CB500X feature that just makes sense.
TWO-POSITION WINDSCREEN
Want to fine-tune your CB500X to your height or to changing riding conditions? No worries—the CB500X features a two-position windscreen. Want more airflow? Set it lower. Want improved wind and weather protection? Just set it to the taller position.
COMFORT
TALL WINDSCREEN
The CB500X's windscreen offers excellent wind protection.
PASSENGER HANDHOLDS
Sturdy passenger handholds provide security for your passenger or tie-down points for smaller items.
STEP SEAT
The CB500X seat gives you an open, unrestricted riding position that's perfect for both touring and commuting, and that still offers room for a passenger. The seat's narrow width makes it easier to put your feet down at stoplights or in parking lots.
Performance And Handling
Let's take a closer look at the characteristics of this new Honda generation.
2023 Honda CB500X Top Speed
Equipped with a potent 471cc parallel-twin engine, this 2023 CB500X can produce up to 47 horsepower and 31.7 lb-ft of torque, which is not impressive in the industry but still delivers great acceleration and top-speed capabilities. With its lightweight design and smooth power delivery, the CB500X's mid-size engine can reach a top speed of around 112 mph.
Another key factor that contributes to its ability to perform at such high speed is aerodynamics. The sharp, angular design has been optimized for improved wind resistance and overall efficiency. This means that at high rates, the 2023 Honda CB500X is able to cut through the air with minimal resistance, allowing it to maintain momentum for longer periods.
Braking Performance
Similar to many other motorcycles, this CB500X machine comes with a standard ABS. It can prevent the wheels from locking up during hard braking, which might cause the bike to skid or lose control. Thanks to this assistive feature, you can have peace of mind knowing that you will be safe, even when riding on wet or slippery surfaces.
The front brake lever is adjustable to accommodate different hand sizes, and it has a progressive feel that provides excellent feedback to the rider. The rear brake pedal is also adjustable to fit the rider's foot size and preference.
Cornering And Handling Characteristics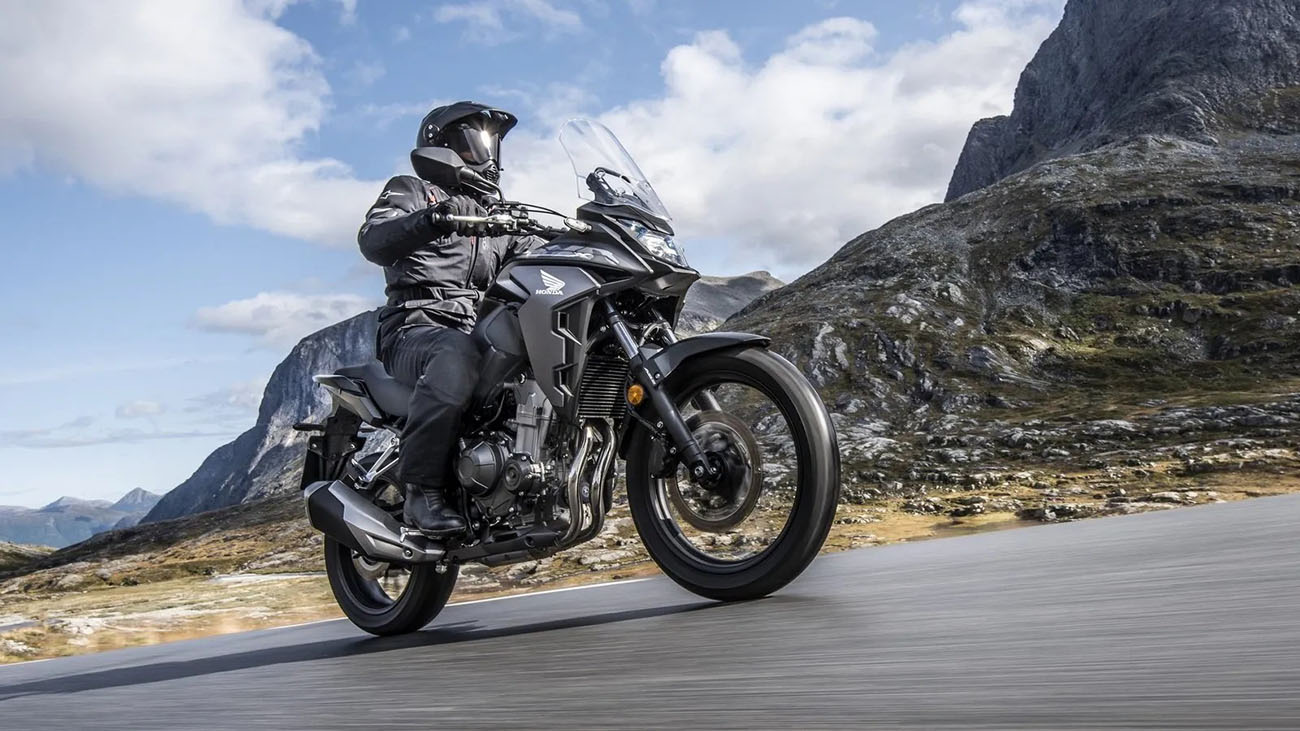 The lightweight chassis brings the Honda CB500X's cornering and handling ability up a notch. Its high-strength steel frame provides excellent rigidity while also keeping the weight down to a manageable level. This makes the bike easy to control and maneuver, allowing you to navigate through tight turns and corners with ease.
Moreover, the 2023 CB500X version features a sophisticated suspension system and smoother transmission created to provide optimal performance on both on and off-road terrains. It comes with a 41mm telescopic fork in the front and a Pro-Link mono-shock in the rear, both of which are fully adjustable. Due to these elements, you can customize the suspension to your specific needs, giving excellent stability and control in any situation.
2023 CB500X: A Brief Review
Due to the improvement that the dealer set for their product, this 2023 CB5000X has satisfied many bikers. Some have noted that the twin-cylinder motorcycle is agile and easy to maneuver, making it a good option for both commuting and long-trip motorcycle adventures.
They also appreciate the CB500X's comfort and ergonomics. The 2023 model features a spacious and comfortable seat, as well as an adjustable windscreen that provides excellent wind protection. Additionally, its upright riding position and wide handlebars make it easy for riders to maintain control and reduce fatigue on long rides.
Another advantage of the braking system is its precision and control. Many claim that the wave-style single disc brake on the front and a single-piston caliper on the rear make them love to ride the new 2023 version. The anti-lock brakes are responsive and deliver the right amount of stopping power, enabling the bikers to stop the bike smoothly and quickly when needed.
Due to its impressive fuel efficiency, the 2023 CB500X version has drawn several motorcyclists' attention. With a claimed fuel economy of around 60-70 miles per gallon, this model is one of the most fuel-efficient bikes in its class. This makes it a great choice for riders who want to save money on gas while still enjoying the thrill of riding a motorcycle.
So far, so good; but we must say that the non-adjustable front shocking part is off-putting. If we can change the height, the bike will suit every biker's height and prevent nose-diving during braking, thus giving you a smoother ride. Many bikers wish Honda will consider this point in the next version.
Also, as mentioned, don't expect this bike to deliver plenty of power for your races.
That said, this CB500X new generation is an affordable adventure bike that offers great value for money. It has a lower price than many other adventure bikes in its class, making it accessible to a wider range of bikers.
2023 Honda CB500X Photos & Videos
Photos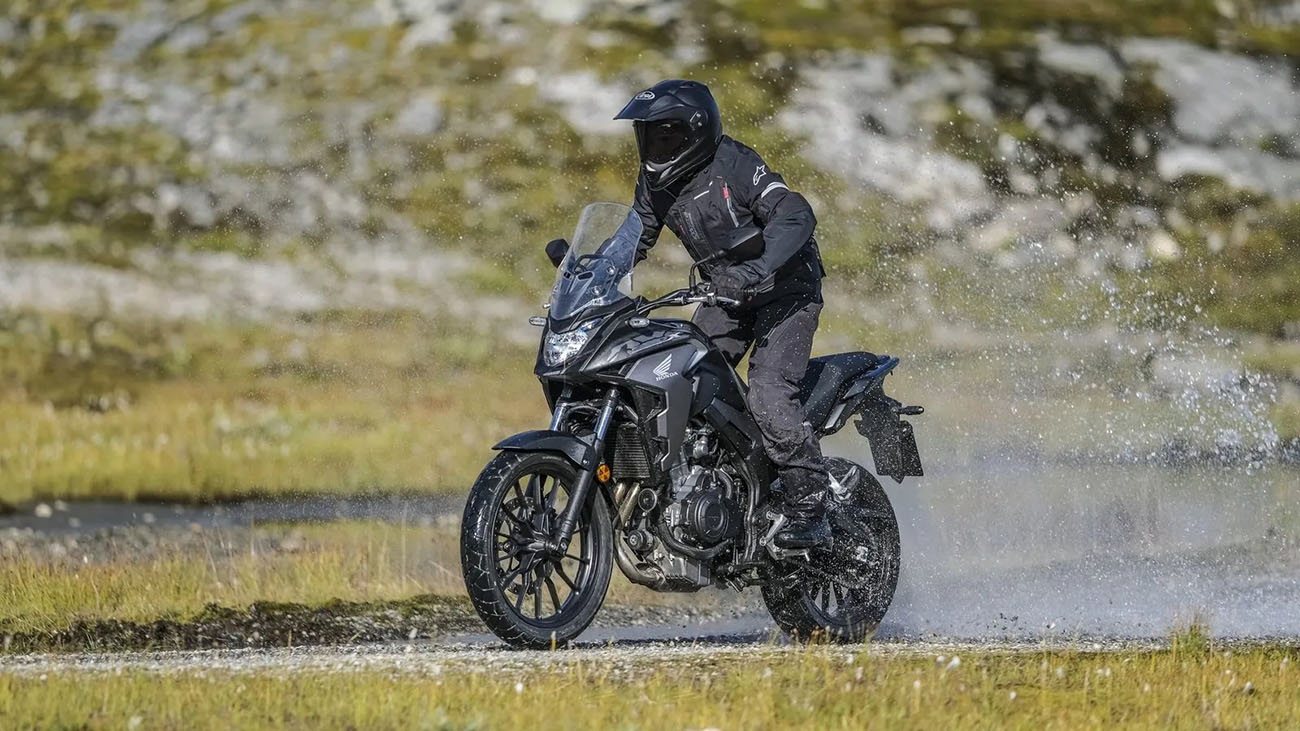 Videos
---
---
*Disclaimer: The prices mentioned in this article may vary depending on the dealership and location. Additionally, the specifications mentioned, such as horsepower and top speed, may vary from different sources as they are often tested under different conditions.