In This Article:
The Sportster S, a modernized version of the venerable Sportster family, is carried over by Harley Davidson until 2023 with some modifications. The Revolution Max 1250T engine joins ride-control electronics to advance this storied model line further into the high-performance space.
Davidson equipped its beast with advanced electronics to ensure optimized engine performance. The bike features a Ride-by-Wire system, which replaces the traditional throttle cable with an electronic control system. This allows for precise control of the engine's power output while ensuring smooth and consistent acceleration.
Moreover, this product from Davidson also comes standard with premium suspension components that have been fine-tuned to provide optimal performance.
For this new 2023 model, the motorcycle dealer still gave it an advanced braking system that includes an anti-lock braking system (ABS), a rear-wheel lift mitigation add-on, and a cornering enhanced traction control system (C-TCS), similar to the previous ones.
The tire grip will be lessened when cornering, and the ABS plus the C-TCS will make up for this loss to optimize the bike's stability. In sharp corners, there is a good chance that the wheel will lift up and lose traction; this is when the rear-wheel lift mitigation comes to the rescue. These features assist in preventing wheel lock-up and wheel spin during acceleration, offering you more control over the bike agility and a safer riding experience.
In terms of design, the 2023 Sportster S retains the classic Harley Davidson series look. Similar to its predecessor, it features a low-slung profile, a muscular tank, and a sleek tail section.
The overall styling design doesn't change much, except for the more aggressive headlight. The new LED headlight with signature position lighting is smaller and more streamlined than the previous motorcycle model, giving the bike a sleeker and more modern look.
Since it is the newest generation in the series, the cost is slightly higher than the previous one. Starting at the dealer price of $16,399 (custom mode and custom color not included) – as per Harley Davidson, we would say this price tag is quite reasonable, considering the reputation of the brand and what the bike has to offer.
---
2023 Harley Davidson Sportster S Key Specs
Make: Harley Davidson
Model Year: 2023
Type: Sport Bike
Color: Vivid Black, White And Pearl, Gray Haze, Bright Billiard Blue.
MSRP Price: $16,399
Warranty: 24 months (unlimited mileage)
Engine: 1,252 cc
Power: 121 HP
Mileage: 49 mpg (20.8 km/l)
Transmission: 6-speed
Fuel Tank Capacity: 3.1 gal. (11.7 l)
Seat Height: 28.9 in. (734.06 mm)
Curb Weight: 502 lb. (227.25 kg)
---
2023 Harley Davidson Sportster S Specifications
Engine & Performance
| | |
| --- | --- |
| Engine Type | Revolution Max 1250T |
| Displacement | 1,252 cc (76.4 cu in) |
| Power | 121 HP / 90 kW @ 7500 rpm |
| Torque | 94 lb-ft (127.4 Nm) |
| Bore x Stroke | 4.134 in. x 2.846 in |
| Compression Ratio | 12.0:1 |
| Fuel System | Electronic Sequential Port Fuel Injection (ESPFI) |
| Exhaust | 2-into-1-into-2; catalyst in muffler |
| Lean Angle (Left x Right in Deg.) | 34 x 34 |
| Fuel Economy | 49 mpg (20.8 km/l) |
Drivetrain
| | |
| --- | --- |
| Clutch | Mechanical, 8 plate wet, assist & slip, 1090N |
| Transmission | 6-Speed Manual |
| Final Drive | Belt, 34/80 ratio |
Chassis
| | |
| --- | --- |
| Front Suspension Travel | 43 mm inverted fork with compression, rebound and spring preload adjustability. Aluminum fork triple clamps. |
| Rear Suspension Travel | Linkage-mounted, piggyback monoshock with compression, rebound and hydraulic spring preload adjustability |
| Front Brakes | radially mounted, monoblock, 4-piston caliper |
| Rear Brakes | loating, single piston caliper |
| Front Wheels | Aluminum cast, satin black |
| Rear Wheels | Aluminum cast, satin black |
Electrical
| | |
| --- | --- |
| Lights | All LED headlamp, low and high beam with signature position lighting. All LED Tail/Stop lamp with signature tail lighting |
| Gauges | 4 inch viewable area TFT display with speedometer, gear, odometer, fuel level, clock, trip, ambient temp, low temp alert, side stand down alert, TIP over alert, cruise, range and tachometer indication BT capable – phone pairing to access phone calls, music, navigation (H-D App ONLY) |
Dimensions
| | |
| --- | --- |
| Overall Length | 89.4 in. (2270.76 mm) |
| Rake | 30 |
| Trail | 5.8 in. (147.32 mm) |
| Wheelbase | 59.8 in. (1518.92 mm) |
| Front Tire | 160/70R17 73V |
| Rear Tire | 180/70R16 77V |
| Ground Clearance | 3.5 in. (88.9 mm) |
| Seat Height | 28.9 in. (734.06 mm) |
| Dry Weight | 487 lb. (220.95 kg) |
| Curb Weight | 502 lb. (227.25 kg) |
| Fuel Tank Capacity | 3.1 gal. (11.7 l) |
| Oil Capacity | 4.75 qt. |
Competitor
| Bike Model | Price | Engine | Top Speed |
| --- | --- | --- | --- |
| 2023 Ducati Monster | $13,995 | 937cc | 158 mph |
| 2023 Triumph Speed Triple | $18,500 | 1160 cc | 136.7 mph |
| 2023 Yamaha MT-09 | $9,799 | 847cc | 147.9 mph |
2023 Harley Davidson Sportster S Features
HIGH EXHAUST MOUNT
Inspired by the glory days of H-D flat-track racing, the pipes are crafted from corrosion-resistant 304-series stainless steel and engineered to deflect exhaust heat away from the rider's legs and tail section.
INSTRUMENTATION
Bluetooth-equipped, 4" round thin-film transistor LCD display: digital gauges, indicators, ride modes, and turn-by-turn navigation with the Harley-Davidson app. All functions are accessed via buttons on the left- and right-hand controls.
CHASSIS
The Revolution Max 1250T is a structural component of the motorcycle chassis, eliminating a traditional frame — which significantly reduces overall weight and keeps handling precise. This is performance you can feel, with the center of gravity low and the chassis super rigid.
REVOLUTIONARY POWER AND TECHNOLOGY
REVOLUTION MAX 1250T
The Revolution Max is a liquid-cooled powertrain with double overhead camshafts and variable valve timing: offering ample torque and an immediate powerband tuned to maximize rider control.
RIDER TECHNOLOGY
Choose from 3 pre-programmed Ride Modes (Sport, Road, and Rain) or create your own custom mode — tuning your bike with a specific combination of power delivery, engine braking, Cornering Enhanced Antilock Braking System (C-ABS) and Cornering Enhanced Traction Control System (C-TCS) settings.
Performance And Handling
Here is what this new version can bring to the table. The numbers below are based on the Harley Davidson Sportster S specs.
2023 Harley Davidson Sportster S Top Speed
Harley Davidson Heritage Classic brings you a 1252cc Revolution Max engine size, delivering an impressive 121 horsepower and 94 ft-lb of torque. This powerful engine is paired with enhanced features, such as variable valve timing and dual overhead camshafts. Thanks to this notable engine update, the Sportster S can reach a speed of approximately 143 mph.
Besides, the 2023 Harley Sportster S also has a six-speed transmission system that provides smooth and precise gear changes. This gearbox can handle the engine's maximum torque output, and the compression ratios are optimized for better acceleration and top speed.
Braking Performance
One of the standout features of the 2023 Sportster S is the radial-mounted monobloc front brake calipers. These single piston calipers are made from high-strength aluminum and provide increased rigidity and engine braking performance compared to traditional ones. This monobloc design means the caliper is machined from a single block of material, offering a more consistent and uniform brake force.
Besides this, the machine also has a new front brake master cylinder with a higher-capacity piston. This construction improves brake feel, better foot controls, and proper left- and right-hand controls, especially during hard braking. Also, the caliper rear has been updated with a distinctive styling that can enhance heat dissipation and reduce curb weight.
Cornering And Handling Characteristics
Regarding the cornering and handling abilities, we must mention the 2023 Harley Davidson Motorcycle's frame design. The frame is made of lightweight aluminum featuring a mid-mounted footpeg position that places the rider in a more aggressive and forward-leaning position. This setup allows for better central control and responsiveness when cornering, as the rider's weight is shifted toward the front of the bike.
Its high-performance braking system is also a significant feature that provides excellent stopping power. The dual-disc front and single-disc rear brakes, coupled with a high-performance Brembo braking system, deliver smooth and precise braking performance. This enables you to confidently tackle any corner while maintaining safety.
2023 Sportster S: A Brief Review
Overall, many can agree that the 2023 Harley Davidson Sportster S is a significant upgrade over the 2022 version. With its new engine, improved suspension system, advanced technology features, and multiple control accessories, the Sportster S offers better performance and a more aggressive riding experience.
The 2023 version's suspension system has also been updated with a piggyback reservoir rear shock and spring preload adjustability. Some have reported that the bike handles corners with ease and is well-balanced, providing a smooth drive even on bumpy roads.
The stunning style of the 2023 Harley Davidson model has also received praise from the biking community. The bike has a muscular and aggressive appearance, with a low, sleek profile that is sure to impress everyone.
Motorcycle enthusiasts have commented on the bike's comfortable seat ergonomics, saying it offers a relaxed riding position that allows for longer rides without experiencing any discomfort. Still, we found that sitting and touring on this bike for an extended time, say more than 3 hours, would make us tired.
Plus, features like 4-inch color TFT, film transistor LCD display, 3 pre-programmed ride mode options, and phone pairing function are also big-time bonuses to enhance bikers' riding experience.
Despite its relatively small fuel capacity of 3.1 gallons, the fuel tank on the Sportster S provides ample range for most riders. With an estimated fuel economy test of 49 mpg, Sportster S is still a great option for both short and long rides.
Of course, like any other motorcycle, the 2023 Sportster S is not at all flawless. Some less-experienced bikers have commented on the motorcycle's weight, making it challenging to maneuver in tight spaces or at low speeds.
Others have noted that the retail price of the Sportster S is relatively high compared to other base models in its class. This may make it out of reach for some riders who are on a budget or looking for a more entry-level motorcycle.
2023 Sportster S Photos & Videos
Photos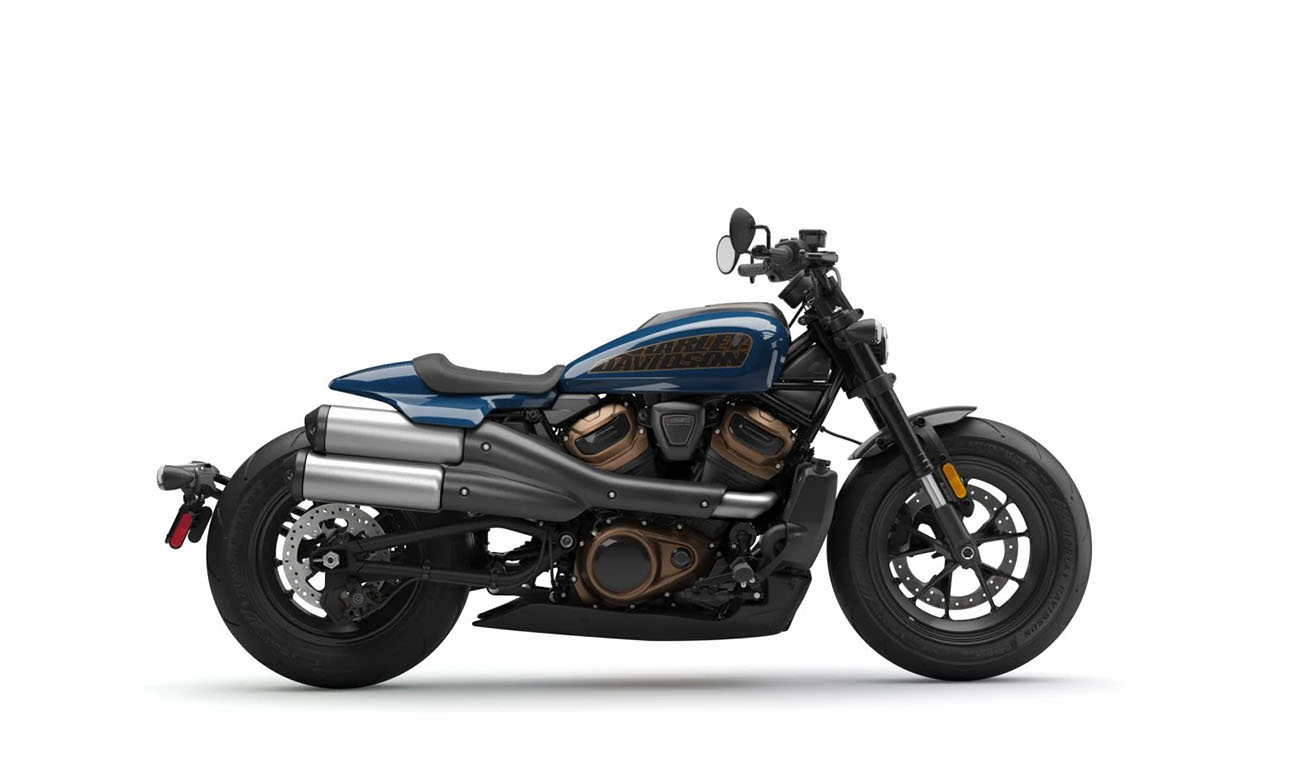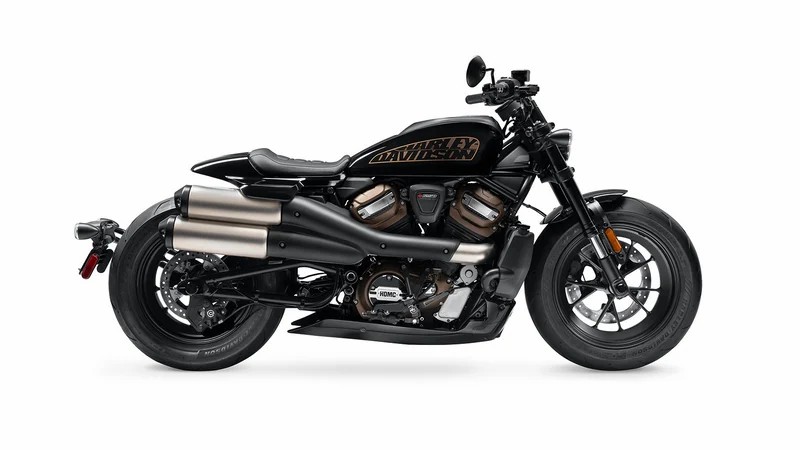 Videos
---
---
*Disclaimer: The prices mentioned in this article may vary depending on the dealership and location. Additionally, the specifications mentioned, such as horsepower and top speed, may vary from different sources as they are often tested under different conditions.