In This Article:
One of the most significant upgrades to the Harley Davidson Low Rider S 2023 model is the Milwaukee-Eight 117 V-twin engine, which offers unapologetic power and torque compared to the previous models. This engine can deliver a powerful and smooth performance, making it the perfect choice for riders who enjoy a thrilling and responsive ride.
If you're unsatisfied with the non-adjustable rear suspension, we have good news for you. The 2023 upgrade now features a high-performance cartridge fork in the front and a premium adjustable rear suspension that can be dialed in to suit the rider's preferences.
When it comes to the design, the signature Harley Davidson for the Low Rider series remains. Still, the fuel capacity is 5 gallons, the same as the 2022 Harley Davidson Low Rider S version, providing the rider with an extended range and reducing the need for frequent fuel stops during long-distance travel. Plus, it comes with a lower profile, enabling it to provide better handling on the road.
Harley Davidson brought you an upgrade on the infotainment system. The new system is larger than the previous one, which includes a high-resolution touchscreen display that is more responsive and user-friendly. The voice recognition technology is also ready for you to use, bringing you an easier way to access various features during the rides.
Moving on to the price, Harley Davidson bikes are often seen as luxury options, and as such, they come with a higher price tag than many other dealers. This model is no exception. With the motorcycle pricing starting at $18,199 (as per Harley Davidson), it won't be the most affordable bike on the market. That being said, the quality and brand value are 100% worth the investment.
---
2023 Harley Davidson Low Rider S Key Specs
Make: Harley Davidson
Model Year: 2023
Type: Cruiser
Color: Vivid Black, White Sand Pearl
MSRP Price: $18,199
Warranty: 24 months (unlimited mileage)
Engine: 1,923 cc
Power: 103 HP
Mileage: 47 mpg (19.98 km/l)
Transmission: 6-speed
Fuel Tank Capacity: 5 gal. (18.93 L)
Seat Height: 27 in. (685.8 mm)
Curb Weight: 679 lb. (308.44 kg)
---
2023 Harley Davidson Low Rider S Specifications
Engine & Performance
| | |
| --- | --- |
| Engine Type | Milwaukee-Eight 117 |
| Displacement | 1,923 cc (117 cu in) |
| Power | 103 HP / 77 kW @ 4750 rpm |
| Torque | 125 ft-lb (169 Nm) |
| Bore x Stroke | 4.075 in. x 4.5 in. |
| Compression Ratio | 10.2:1 |
| Fuel System | Electronic Sequential Port Fuel Injection (ESPFI) |
| Exhaust | 2-into-2 offset shotgun; catalyst in muffler |
| Lean Angle (Left x Right in Deg.) | 31.3 x 31.3 |
| Fuel Economy | 47 mpg (19.98 km/l) |
Drivetrain
| | |
| --- | --- |
| Transmission | 6-speed transmission |
| Primary Drive | Chain, 34/46 ratio |
Chassis
| | |
| --- | --- |
| Front Suspension Travel | Single cartridge 43 mm inverted with aluminum fork triple clamps; triple rate spring |
| Rear Suspension Travel | Hidden, free piston, coil-over monoshock; 56 mm stroke; hydraulic preload adjustment |
| Brakes Type | Front and rear black, Split 7-spoke floating rotors |
| Brakes Caliper Type | 4-piston fixed front and 2-piston floating rear |
| Front Wheels | Dark bronze, Radiate cast aluminum wheel |
| Rear Wheels | Dark bronze, Radiate cast aluminum wheel |
Electrical
| | |
| --- | --- |
| Lights | All LED, low beam, high beam and signature position lamp, LED Zeppelin tail lamp, Incandescent bullet turn signals |
| Gauges | 4-inch analog tachometer with digital speedometer, gear, odometer, fuel level, clock, trip and range indication |
Dimensions
| | |
| --- | --- |
| Overall Length | 93.1 in. (2362.74 mm) |
| Rake | 28 |
| Trail | 5.7 in. (144.78 mm) |
| Wheelbase | 63.6 in. (1615.44 mm) |
| Front Tire | 110/90B19,62H,BW |
| Rear Tire | 180/70B16,77H,BW |
| Ground Clearance | 5.7 in. (144.78 mm) |
| Seat Height | 27 in. (685.8 mm) |
| Dry Weight | 650 lb. (294.83 kg) |
| Curb Weight | 679 lb. (308.44 kg) |
| Fuel Tank Capacity | 5 gal. (18.93 L) |
| Oil Capacity | 5 qt. (4.73 L) |
Competitor
| Model | Price | Engine | Top Speed |
| --- | --- | --- | --- |
| 2023 Triumph Tiger 900 | $12,500 | 888cc | 135 mph |
| 2023 Ducati Multistrada 950 | $14,495 | 937cc | 113.09 mph |
| 2023 Suzuki Hayabusa | $18,799 | 1340cc | 186 mph |
2023 Harley Davidson Low Rider S Features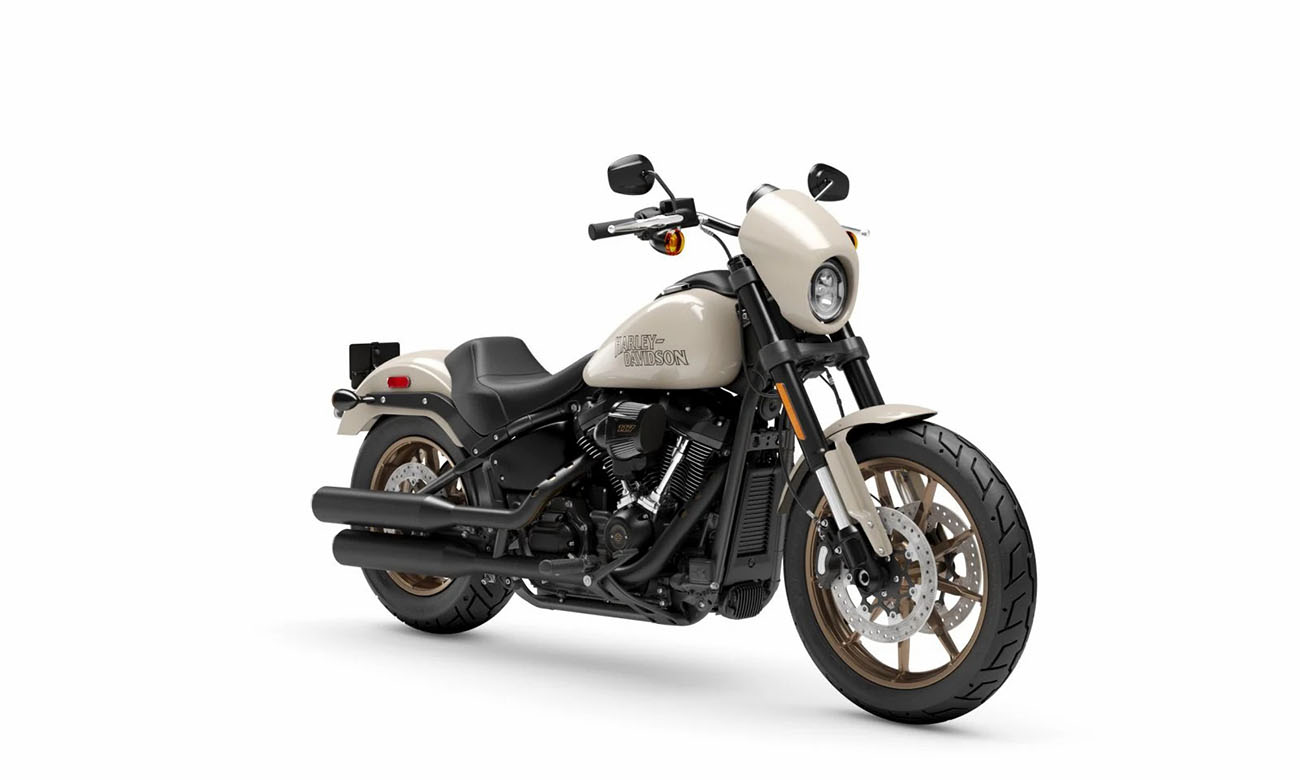 PERFORMANCE AND HANDLING
MILWAUKEE-EIGHT® 117
High-performance engine with precision oil/air cooling is the new pinnacle of torque and displacement in a factory-installed Harley-Davidson® powertrain. And if that's not enough, boost performance further with Dealer-installed Screamin' Eagle® Performance Parts Stage Upgrades from Harley-Davidson® Genuine Motor Parts & Accessories.
ELECTRONIC CRUISE CONTROL
For long-distance runs, there's nothing better than letting your bike do all the work. Cruise Control puts you just minutes away from true riding bliss.
REAR SHOCKS
Preload adjustable monoshock.
SPEEDOMETER
Handlebar mounted speedometer makes it easy to view while on the roll. Tucking it behind the fairing helps the bike keep its sleek look.
HANDLEBARS
One-inch moto handlebar mounted on four-inch risers gives the overall look of the bike a Coastal style element that puts the rider in an aggressive posture on the bike.
TANK STYLING
Features an FXLRS badge cover and a throw-back dropped "H" logo–like that seen on early H-D race bikes–adorns each side of the tank.
2023 Harley Davidson Low Rider S Top Speed
Low Rider S motorcycles are part of the 2023 Harley-Davidson Softail Standard series. A Milwaukee-Eight 117 engine powers the motorcycle, allowing it to produce a maximum torque of 125 lb-ft at 3,500 rpm.
This engine is mated to a six-speed transmission with a displacement of 117 cu-in or 1,923 cc. Thanks to this powertrain, the 2023 Harley Davidson heritage classic model is capable of achieving a top speed of 120 mph.
Its aerodynamic design is also a contributing factor to its top speed and bike agility. The sleek and streamlined appearance assists in minimizing wind resistance and drag, allowing for higher rates while maintaining stability and cruise control.
Braking Performance
The braking performance of the new Low Rider S is impressive. You can count on this powerful and responsive braking system, providing you with the confidence to push the bike to its limits while ensuring you will safely bring it to a stop.
Harley Davidson has equipped this machine with high-performance Brembo Monoblock brake calipers to offer excellent stopping power. The dual front disc brakes measure 300mm, while the single rear brake is 292mm, providing a firm and responsive brake feel for confident riding.
Cornering And Handling Characteristics
The bike's front and rear premium suspension systems provide a comfortable ride, even on bumpy roads. Its front suspension features Showa Dual Bending Valve (SDBV) technology, providing smooth and stable ride modes. Meanwhile, the rear suspension features an emulsion shock that is easy to adjust, allowing bikers to customize their ride to their liking.
The Harley Low Rider S also features dual disc brakes in the front and a single disc brake in the rear. The brakes provide excellent stopping power and are easy to modulate, making it easy to slow down and stop the bike in any situation.
Besides, this American V-Twin sport-touring bike also has a respectable 31.3-degree lean angle. So riders can confidently take tight corners and curves at moderate speeds without worrying about losing traction or scraping their foot pegs.
2023 Low Rider S: A Brief Review
In terms of riding experience, there is no doubt that the 2023 Harley Davidson Low Rider S still keeps the brand's reputation. Due to the small upgrades in the engine, it can offer you a better chance to adjust the bike based on your preferences, giving you more control on the road.
Also, the most significant improvement lies in the suspension system. Most bikers who have experienced this beast claim it helps enhance their comfort and control during the rides. The front and rear suspension have been upgraded with Showa BFF forks and a piggyback-reservoir shock, respectively. This gives them better handling and stability, even in challenging road conditions.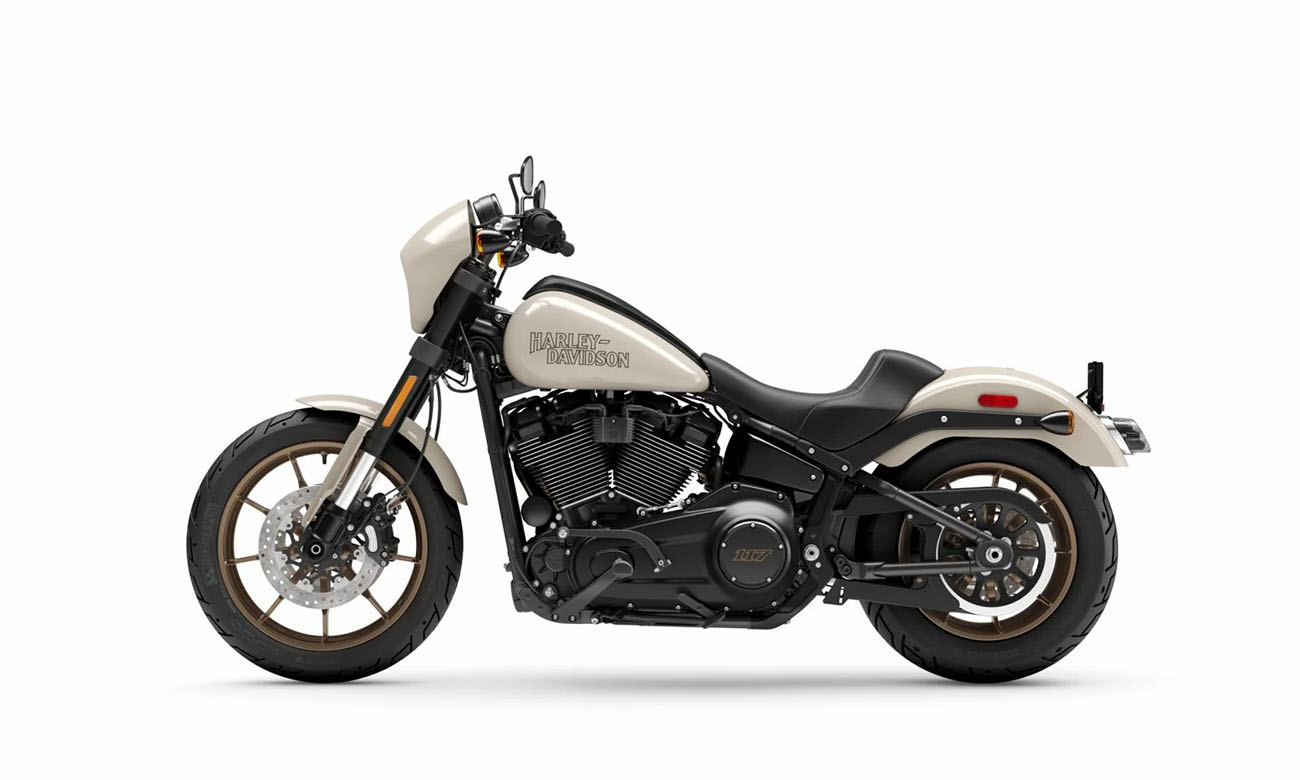 However, some bikers stated that they expected to see more renovations in the design. Compared to the previous version, we can say that the 2023 doesn't change much aesthetically, from the glossy finish, the drag-style handlebars to the contoured seat height. Still, this appearance is timeless and classy, and the upright riding position is comfortable, so many still want to invest in this 2023 generation.
There have been some complaints about the tank-mounted instrument design since the first time Harley Davidson released the Low Rider series. Some stated they are not a fan, as they have to look down at the gauges during the rides. The new LRS now keeps riders looking up to see the LCD bar-mounted cluster while keeping them focused on the road.Overall, this new version of Harley Davidson Low Rider ST offers a slight upgrade from the previous base models. Some changes, such as the improved moto, adjustable suspension, etc., help deliver an unrelenting performance and riding experience. Therefore, it is still a worth-investing bike model for this year.
2023 Low Rider S Photos & Videos
Photos
Videos
---
---
*Disclaimer: The prices mentioned in this article may vary depending on the dealership and location. Additionally, the specifications mentioned, such as horsepower and top speed, may vary from different sources as they are often tested under different conditions.