In This Article:
The new G 310 R generation of BMW in 2023 is a small yet mighty motorcycle designed for those with a passion for biking. With a sporty and modern design, it packs a punch with its advanced technology and impressive performance capabilities.
In terms of design, it doesn't change much. This lightweight roadster still has a conventional design for BMW as the previous models, with an aggressive front fascia, muscular tank, and sharp lines, giving it a sporty edge. The four-valve DOHC and an electronic fuel injection system still make it to the 2023 version, offering precise fuel delivery for optimal performance.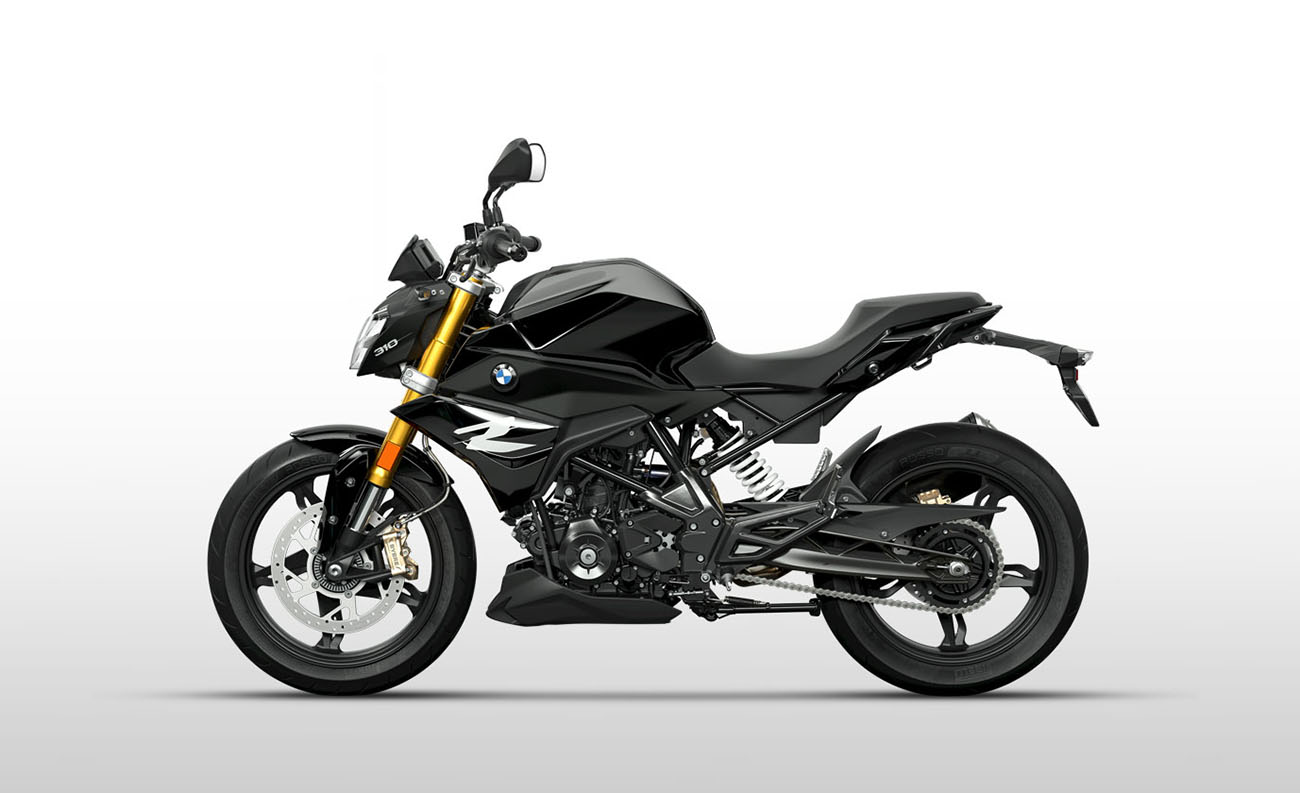 The bike's frame is made from tubular steel, which is both lightweight and strong. This striking design contributes to the bike's agile handling and helps reduce the overall weight of the machine. The bike's low rally seat height also makes it easy for riders of all sizes to reach the ground and maintain bike control.
Another key feature of the 2023 G 310 R machine is its ride-by-wire throttle system. This system eliminates the need for a traditional throttle cable, replacing it with electronic sensors that control the throttle opening.
Due to this, it provides a smoother and more precise engine throttle response, which is particularly useful in cornering or other high-speed situations.
Here comes the good news for bike enthusiasts with limited budgets. BMW offers this bike at the price of only around $5,190 (as per BMW Motorcycles – the price varies a bit among sellers), making it cost-friendly for a wider range of bikers out there.
---
2023 BMW G 310 R Key Specs
Make: BMW
Model Year: 2023
Type: Roadster / naked
Color: Polar White/Racing Blue Metallic, Racing Red, Cosmic Black
MSRP Price: $5,190
Warranty: 3-year
Engine: 313cc, 4-stroke
Power: 34 HP
Mileage: 71.27 mpg (30.30 km/l)
Transmission: 6-speed
Fuel Tank Capacity: 2.9 gal. (11 l)
Seat Height: 30.9 in. (784.86 mm)
Curb Weight: 362 lbs. (164.2 kg)
---
2023 BMW G 310 R Specifications
Engine
| | |
| --- | --- |
| Type | Water-cooled, single-cylinder 4-stroke engine, four valves, two overhead camshafts and wet sump lubrication |
| Engine | 313 cc |
| Power | 34 horsepower @ 9,250 rpm |
| Torque | 20.6 lb-ft (27.9 Nm) @ 7,500 rpm |
| Bore x Stroke | 3.0 in. x 2.4 in. |
| Compression Ratio | 10.9 : 1 |
| Mixture control | Electronic fuel injection |
Drivetrain
| | |
| --- | --- |
| Clutch | Multi-disc oil bath (anti-hopping) with self-reinforcement |
| Transmission | Constant mesh 6-speed gearbox |
| Final Drive | X-ring chain with shock absorption in the real wheel hub |
Chassis
| | |
| --- | --- |
| Frame | Tubular space frame |
| Front Suspension | Inverted fork, 1.6 in. (41.0 mm) |
| Rear Suspension | Cast aluminum dual swing arm, central spring strut, spring pre-load adjustable |
| Front Suspension Travel | 5.5 in. (139.7 mm) |
| Front Suspension Rear | 5.2 in. (132.1 mm) |
| Wheelbase | 54.3 in. (1379.22 mm) |
| Caster | 4.5 in. (114.3 mm) |
| Steering head angle | 64.9° |
| Wheels | Cast aluminum |
| Front Tire | 110/70 R17 |
| Rear Tire | 150/60 R17 |
| Front Rim | 3.00 x 17 in. (76.2 x 431.8 mm) |
| Rear Rim | 4.00 x 17 in. (101.6 x 431.8 mm) |
| Front Brakes | Single disc, diameter 11.8 in. (299.72 mm), 4-piston fixed caliper, radially bolted |
| Rear Brakes | Single disc, diameter 9.5 in. (241.3 mm), single-piston floating caliper |
| ABS | BMW Motorrad ABS |
Electrical
| | |
| --- | --- |
| Alternator | Three-phase alternator with 308 W |
| Battery | 12 V / 8 Ah |
Dimensions / Weights
Overall Length
78.9 in. (2005.46 mm)
Overall Width
33.4 in. (848.36 mm)
Overall Height
42.5 in. (1079.5 mm)
Seat Height
30.9 in. (784.86 mm)
(OE low seat: 30.3 in. (771.62 mm), OE high seat: 31.5 in. (800.1 mm))
Inner leg curve
69.2 (1757.68 mm)
(OE low seat: 68.1 in. (1730.74 mm), OE high seat: 70.4 in. (1788.16 mm))
Fuel Tank Capacity
2.9 gal. (11 l)
Curb Weight
362 lbs. (164.2 kg)
Maximum Permissible Total weight
760 lbs. (345.0 kg)
Payload
399 lbs. (181.0 kg)
Competitors
2023 BMW G 310 R Features
Ergonomic handlebar and control elements
Provide an exceptional ride experience and give you full view of the big-city tumult.
LED headlights and LED indicators as standard
Turn night into day: You not only have a better view, you can also be seen better by other motorists.
Ergonomic seat
Available in three different sizes as a special accessory so that you can move through your city in comfort.
Standard ABS
Prevents the tires from locking in precarious situations, such as on wet or loose pavement.
Cast aluminum wheels
With their sporty design, these wheels help the bike run efficiently in all road conditions.
Precise single-cylinder engine
Designed with Ride by Wire, the throttle response is more effortless, making the engine respond better and allowing you to apply the power precisely.
Adjustable clutch and brake levers
Reduce the distance to the handlebar by up to six millimeters over four levels – for more comfort and control.
High-quality aluminum swingarm
Lightness and stability for when you snake through the city traffic.
Performance And Handling
Let's take a closer look at what this 2023 beast has to offer. The specs are based on the information at BMW Motorcycles.
2023 BMW G 310 R Top Speed
The 2023 G 310 R's unconventional single-cylinder engine can produce 34 horsepower and 20.6 lb-ft of max torque. Plus, you can maximize the bike's power output thanks to the engine's six-speed transmission and precise steering, which offers smooth shifting.
The bike's top speed of 88 mph, which is better compared to the former versions, is sufficient for commuting or weekend outings. Meanwhile, the bike's quickness and agility enable it to rapidly and effortlessly maneuver through traffic and negotiate tight curves.
Braking Performance
This 2023 machine features a single-disc brake on the front wheel and a single-piston floating caliper with a 11.8" disc on the rear wheel. For optimal stopping power, the front brake system has a 11.8" disc and a 4-piston fixed caliper. As a result of the front and rear brake designs working together, braking performance can be smooth and accurate.
Moreover, the front brake comes standard with ABS (Anti-lock Braking System) and X-ring chain with shock absorption, which helps avoid wheel locking and enables more controlled braking, even in harsh driving conditions.
Cornering And Handling Characteristics
The G310R features a front USD fork and a rear mono-shock, providing a smooth and agile ride even on bumpy road conditions. The suspension system is also responsive and agile, allowing the rider to quickly and easily adjust the handling characteristics to suit their riding style and preferences.
BMW G310R offers a tubular space frame for the machine, which is not only lightweight but also offers excellent rigidity. This provides a stable platform that allows you to control the bike more precisely, bringing you safe riding experience.
Furthermore, the well-known brand has even included a self-reinforcing slipper clutch in its design to prevent rear-wheel hopping during aggressive downshifting, allowing for smoother and more controlled corner entry. Overall, the lightweight chassis, coupled with a low center of gravity design, enable you to change direction and lean into corners with ease.
A Brief Review
Although this water-cooled, single-cylinder 4-stroke engine bike is considered for riders of all levels, many claim that the speed is more suitable for beginners. With a maximum speed of roughly 90 mph, it is not as quick as some more expensive sports motorcycles, making it a turn-off for some advanced bikers.
That being said, the latest BMW G 310 R in 2023 is still recommended across the biking community due to its compact size. Most bikers who have experienced this version before stated that this sporty design does not compromise a noticeable level of comfort.
The slim and ergonomic design of the seat and handlebars provides a natural riding position, allowing for confident control elements and a clear view of the street ahead.
Other features like LED headlights, comfort turn indicator, USB ports, sturdy luggage carrier, and several optional accessories also contribute in bringing you the best bike in this price range.
When it comes to fuel consumption, we consider it a proper pick for urban commuting and longer rides. Many bikers have noted that the motorcycle's usable tank capacity and fuel economy are impressive, allowing them to travel long distances without the need for frequent refueling stops.
We also give our thumbs up for the performance and handling of the 2023 G 310 R. We could feel its agility and responsiveness, making it a perfect motorcycle for both city riding and long-distance touring.
BMW motorcycles are generally put in the high-end category compared to other dealers on the market. Still, despite its recent release, the 2023 version comes at such an affordable price, giving more people a chance to lay their hands on the product.
Therefore, many bikers appreciate this 313cc single-cylinder engine model for its affordability while giving a decent ride experience. But speed lovers will not have a soft spot for this bike.
2023 BMW G 310 R Photos & Videos
Photos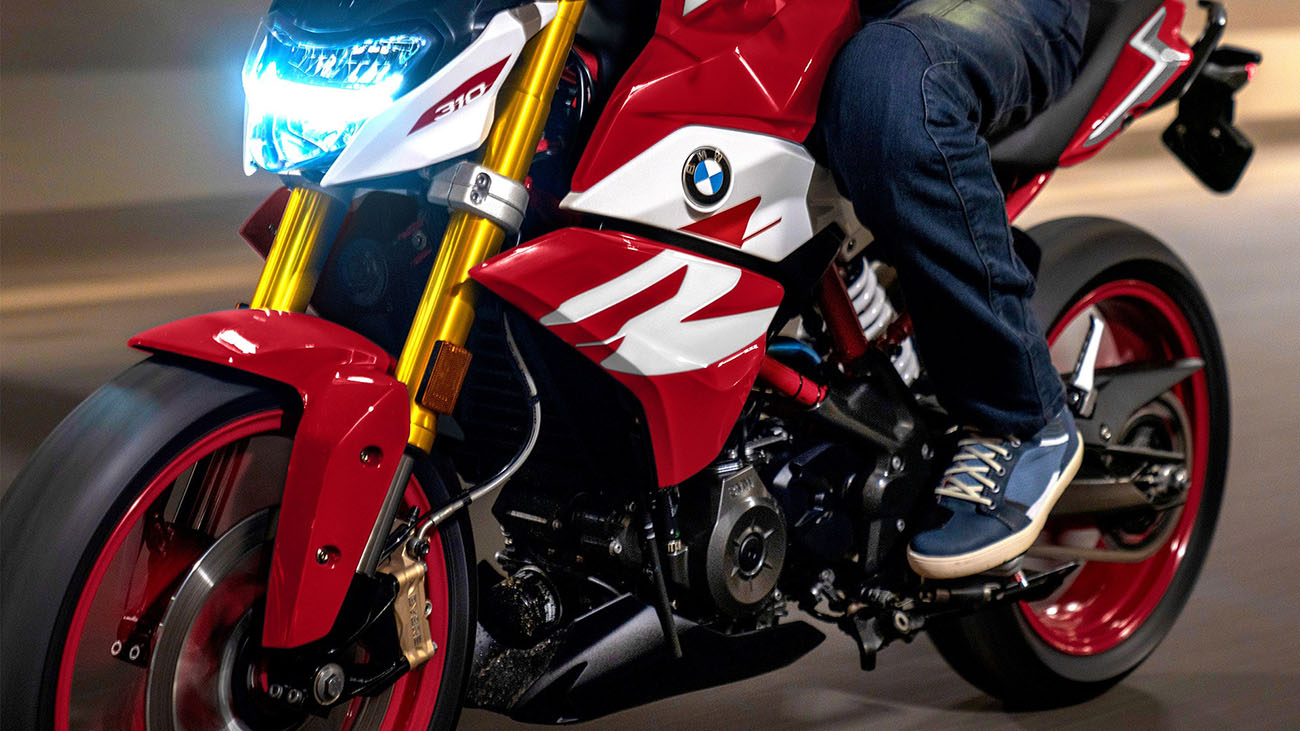 Videos
---
---
*Disclaimer: The prices mentioned in this article may vary depending on the dealership and location. Additionally, the specifications mentioned, such as horsepower and top speed, may vary from different sources as they are often tested under different conditions.