Bicycles are a means of choice for many people to exercise their health and protect the environment. However, "Do you have to wear a helmet on a bicycle?" is a question that few people ignore. Many people are unaware of the need to wear a bicycle helmet when cycling on the road to avoid head injuries. Residents in some US states can be fined for not wearing a helmet on the bike cycle because they violate bike helmet laws.
This article will provide notes about bike helmet laws in some areas of the US, especially when you Vehicular Travel to a city.
Table of Contents
Helmet Laws By States
States Require And Don't Require Helmets.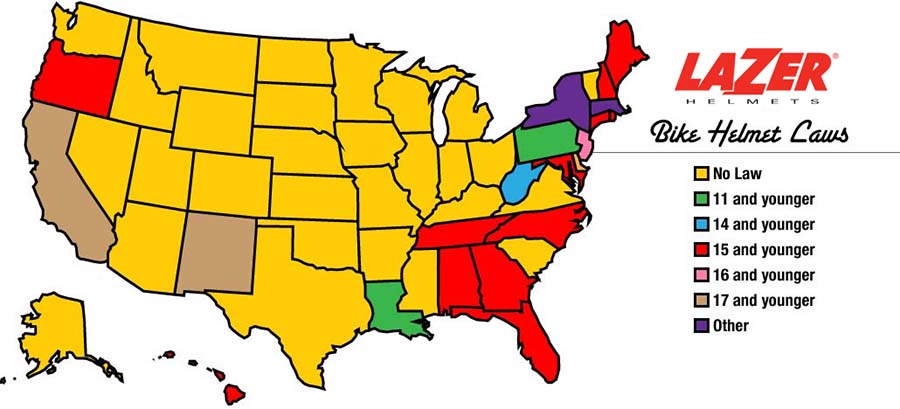 States require cyclists to wear helmets: District of Columbia, California, Florida, Alabama, Alaska, Connecticut, Delaware, Georgia, Hawaii, Kansas, Kentucky, New York, Louisiana, Maine, Maryland, Massachusetts, Oregon, Michigan, Missouri, Montana, Pennsylvania, Nevada, Arizona, New Hampshire, New Jersey, Washington, New Mexico, Ohio, Oklahoma, Rhode Island, Tennessee, Texas, North Carolina, Illinois, Virginia, and Wisconsin.
States that do not require bicycle helmet laws: Colorado, North Dakota, Idaho, Iowa, Indiana, Wyoming, Minnesota, Nebraska, Arkansas, South Dakota, South Carolina, Utah, and Vermont.
Some Statewide Laws About Wearing Helmets While Riding a Bike.
No US states require adults to wear helmets when riding bicycles, but half of them need cyclists under a certain age to wear helmets, which is the law for cyclists.
This law is fundamental and should be kept in mind, as some cities or towns may have regulations regarding the wearing of bicycle helmets that are more stringent than state laws. Therefore, the answer to "Is it illegal to ride a bike without a helmet?" is always "yes" to people in some areas.
For example, Texas does not have a bicycle helmet law. Still, in some cities, there are laws requiring children under 18 to wear helmets when participating in bicycle traffic, such as Dallas, Houston…
Or Washington state does not have a law that requires citizens to wear helmets on bicycles. But there are quite a few cities in Washington that need all cyclists of all ages to wear helmets to reduce injuries from bicycle crashes.
Some other states that require cyclists under the age of 15, who are required to wear a bicycle helmet include Florida, Alabama, the District of Columbia, Georgia, Maine, Maryland, Hawaii, North Carolina, Tennessee, Rhode Island, New Hampshire, and Oregon.
Experience Of Wearing a Bicycle Helmet
Choose The Right Cycling Helmet Size.
Before learning how to wear a bike helmet, you must get a helmet that is the right size. If the helmet does not fit or is too wide, it will cause discomfort and create high risks when moving. So we advise buying bike insurance directly at a reputable shop to try the product before purchasing.
Because bicycle helmets in stores are usually standard sizes, please measure your head circumference first. Based on the following size chart, you easily determine your helmet size: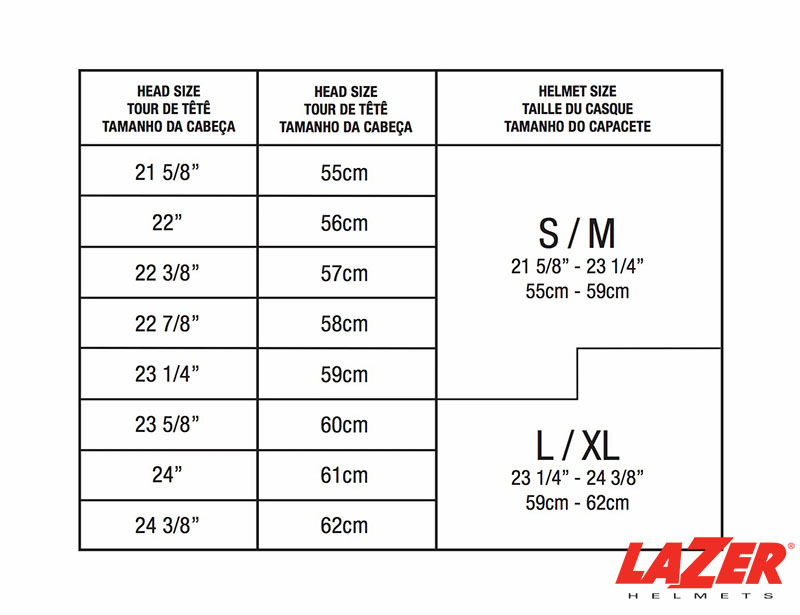 Place The Helmet In The Correct Position To Protect The Forehead.
Many first-time bike helmet riders wear the helmet too far back and expose the forehead; if involved in an accident, road hazards can lead to fatal head injuries. This is the wrong way to wear a bicycle helmet because it causes the strap to loosen and not fit in place.
The correct way to wear a bicycle helmet according to the safety standard is to wear the helmet in the proper position so that the front rim is parallel to the eyebrows. The distance from the tip of the hat to the eyebrows should be about two fingers apart. Protecting the forehead is essential because the forehead bone connects with other parts.
Adjust The Cycling Helmet To Fit The Head.
Each cycling helmet will come in a different size. You are adjusting the belt on the back of your head every time you put on a helmet is how to wear a bike helmet properly. The hat fits snugly on the head and will not cause discomfort when wearing. If the helmet is loose or too wide, you should replace it with another helmet.
Adjust The Helmet Straps To Fit.
The Helmet Straps fit well to increase user safety and comfort. The correct way to wear a bicycle hat is when the strap fits snugly against the chin; the two sides of the helmet should be close to the ears. Besides, we need to fasten the bike helmet buckle; the buckle part is in the recess in the upper throat.
The cyclist's helmet is wrong if the buckle is at the top of the chin. Try hooking one finger into the helmet strap to measure the distance for an accurate, safe fit.
You should pay attention to the case of wearing the hat too far and mainly leaning forward, revealing the back of the head. If the strap is not adjusted correctly, the belt may be tightened, causing discomfort. This is the wrong way to wear a bike helmet and should be avoided.
How To Choose a Safety Helmet?
To choose the correct helmet for your vehicle, you need to note the following:
For a road bike, you should select a helmet that is light in weight and has lots of openings.
For mountain bikes, it is recommended to choose a helmet with a heavier weight, large ventilation holes, better protection for the head, and comfort when moving.
Quality helmets for riders are usually made of popular materials such as PolyPropylene, Polyurethane…
Choosing a helmet with an inner lining would be best because it reduces brain injury when impacted by bike accidents.
Meet the standards of technical, structural safety, good impact resistance…
Helmets must have the manufacturer's stamp, logo, or brand name.
Helmets must have all parts, such as helmet straps, safety buckles, and inner lining…
The material must be sturdy, without scratches or cracks.
The product's price is not too low, in line with the general market price.
How To Take Care Of A Bicycle Helmet?
The solution to clean helmets and keep their shine forever is shampoo and warm water. You should not use chemicals or solvents because they will easily damage the helmet's shell. On the other hand, people need to thoroughly clean the lining so the helmet can be used for a long time.
When coming back from the rain, you should pay attention to drying the helmet to avoid rainwater seeping in and quickly damaging the helmet. Also, check your helmet regularly for damage. If so, you need to change the helmet immediately to protect yourself. Poor quality helmets can be dangerous even if people know how to wear helmets when cycling correctly.
FAQ
What Are The Bicycle Laws in Florida?
Some basic information about Florida's Bicycle Law is as follows:
Bicyclists must obey traffic lights and traffic control when participating in traffic on the public bicycle path.
The number of people loaded on any bicycle is limited; you cannot carry more than several people compared to the seat design of the bike.
Don't let go of both hands when riding a bicycle.
Some states require bike helmet laws.
What Are Bike Helmet Laws Like in California?
Vehicle drivers under the age of 18 must wear a helmet in California. Adults riding bicycles with children under 5 must also wear helmets for the child when sitting in the back. They are laws for children.
Do Cyclists Have The Right Of Way Over Cars?
Yes, cyclists have the right to way over a car and other motor vehicles under California's traffic laws. When there are no traffic signs at the intersection, the bicycle will be way over cars if it has reached the previous intersection or is moving on the right.
Conclusion
Above is an article about the law of wearing bicycle helmets, how to use bicycle helmets safely, and how to choose to buy and clean helmets. Although Bike Helmet Laws are not widely available throughout the United States, you should still wear a helmet when participating in bicycle traffic to ensure your safety.
See also: Motorcycle helmet size chart